Ranch dressing is a beloved American salad dressing and it makes a flavorful addition to this Vegetable Ranch Pasta Salad.
Pasta Salads make a great side dish for summer cookouts. They can be prepared ahead of time and they contain both filling carbs and vegetables. If you have a favorite ranch dressing recipe you can add that or simply use a prepared dressing.
This pasta salad is simple to make in just a few minutes. It would go well with just about anything you would be grilling.
This recipe calls for Radiatore pasta. This is a small, squat pasta shape with ripples. If you cannot locate this at your store you could substitute Rotelle or Rotini pasta.
If you want some other pasta salad ideas, check out Southwest Pasta Salad, Mediterranean Pasta Salad, Greek Orzo Salad, Tortellini Salad, Chicken Caesar Pasta Salad and Orzo Salad.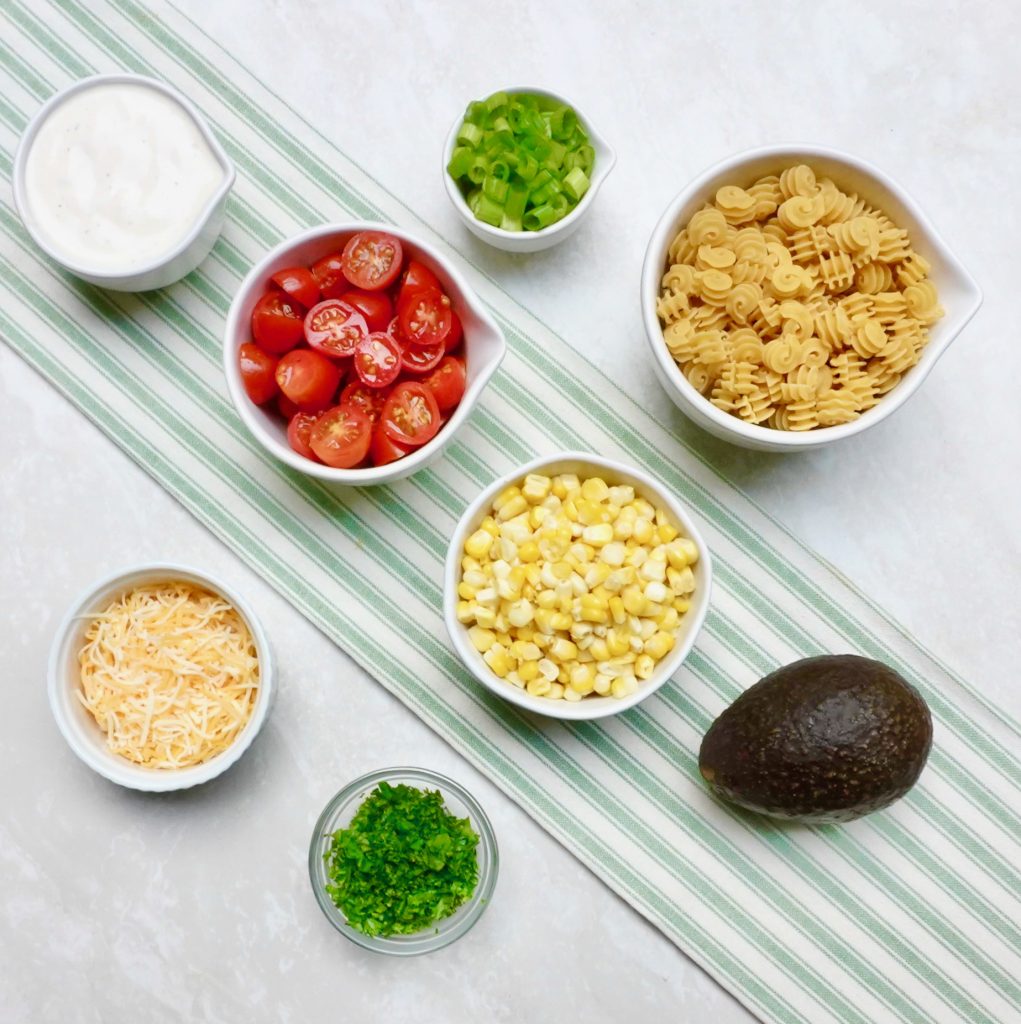 Vegetable Ranch Pasta Salad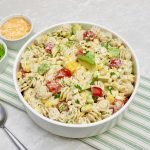 Print This
Ingredients
1 ½ cups radiatore pasta

1 avocado cut into 1 inch cubes

2 ears fresh corn on the cob, blanched (see directions below)

1 cup grape or cherry tomatoes, halved

½ cup green onions, sliced

½ cup ranch dressing

½ cup Mexican blend shredded cheese

2 tablespoons fresh parsley, chopped
Instructions
To blanch the corn, husk the ears and remove the silk from the cob. Bring 6 to 8 quarts of water to a boil over high heat. Place the corn into the water and cook for 4 minutes. Remove the corn from the pan and place it into ice water for 4 minutes to stop the cooking process. Drain the corn.
Cut the kernels from the cob. An easy way to do this is to place the tip of the cob into the center hole of a bundt or angel food cake pan. Hold the top of the cob with your hand and run a knife down the cob to cut off the corn. It will go right into the pan and avoid a lot of mess. 
Cook the radiatore pasta according to the directions on the box for the firmness that you prefer. Drain and rinse with cold water to stop the cooking process.
In a large bowl, combine the radiatore, avocado, corn, tomatoes, green onions, ranch dressing, Mexican cheese and fresh parsley. Mix together well.
This can be made up to a day ahead of time. 
If you are making it ahead, do not cut and add the avocado as it will turn brown. Add the avocado when you are ready to serve it.
A bit more dressing may need to be added if this is made ahead of time as well. The pasta will absorb it while sitting.