Blueberry Sparkling Lemonade is a pretty and refreshing summer drink. It is a perfect combination of summer berries and lemon juice. You will never make plain lemonade again! A large pitcher of this would surely be a hit at your summer gatherings. It is the perfect way to refresh yourself on a hot day.
This is made with both fresh blueberries and freshly squeezed lemon juice. The blueberries are cooked down with some sugar in water and then strained to make a blueberry simple syrup that is not overly sweet. 
The blueberry syrup is combined with fresh lemon juice and sparkling water. You can easily adjust the intensity and sweetness of the drink by adding more sparkling water.
Fruity drinks are always fun in the summer. Check out Watermelon Cooler for another option to serve on a hot summer day. You can easily add some vodka, rum or gin to either the Blueberry Sparkling  Lemonade or the Watermelon Cooler to create a cocktail. A Greyhound Cocktail made with fresh squeezed grapefruit juice is another refreshing summer cocktail.
If you are looking for another refreshing summer blueberry recipe like this sparking blueberry lemonade, check out Homemade Blueberry Gelato.  If you like homemade lemonade, check out Italian Lemon Sorbet.
You might also like 20 Easy Recipes to Make With Fresh Summer Blueberries.
SOME THINGS TO KNOW: FAQ'S
INGREDIENT TIP:
SPECIAL EQUIPMENT NEEDED:
Small saucepan
Fine Mesh Strainer or fine sieve.
Food processor or potato masher
SUBSTITUTIONS:
You can substitute the sparkling water with seltzer water or club soda.
If you do not have fresh lemons to squeeze fresh lemon juice, you can use a bottled lemon juice like real lemon juice.
If you do not have pure granulated sugar, you can use pure cane sugar or superfine sugar.
You can substitute fresh blueberries with frozen berries.
ADDITIONS:
Turn this into a cocktail for a fun twist! Vodka, Gin or White Rum would all be good additions. 1.5 ounces of alcohol would be a good amount for an 8 ounce glass of lemonade.
STORING LEFTOVER BLUEBERRY SPARKLING LEMONADE: 
You can store the homemade blueberry lemonade for a day in the refrigerator. Make sure to cover the pitcher or place it into mason jars with covers. The sparking water will go flat after a day or so but the lemonade will still taste delicious.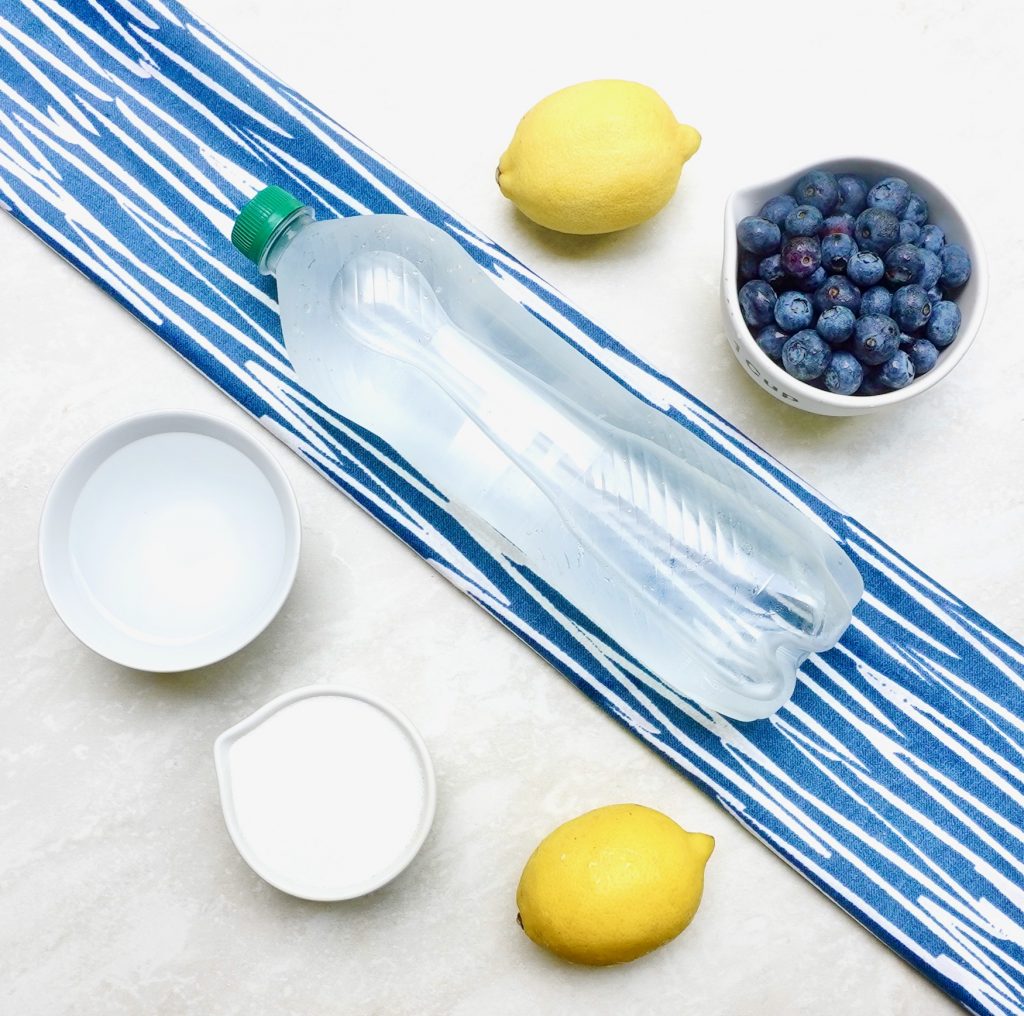 Blueberry Sparkling Lemonade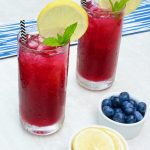 Print This
Ingredients
1 cup water

1 cup fresh blueberries

½ cup granulated sugar

1 cup lemon juice, freshly squeezed

5 cups sparkling water or seltzer water

Optional garnish:

lemon slices

fresh mint leaves

straws
Instructions
Bring the water, blueberries and sugar to a boil in a small saucepan over high heat. Turn the burner down to medium low heat and let them simmer for 5 minutes, stirring occasionally until they are broken down.
You can mash the cooked blueberries by hand with a potato masher, or pulse them in a food processor. Pour them into a fine mesh strainer placed over a large bowl,  and let them sit until all of the syrup has drained through. You will only be using the strained syrup.
Add the homemade blueberry syrup to a large pitcher. Stir in the lemon juice and sparkling water.
You may want to start out with only 4 cups of the sparkling water if you like a sweeter drink. You can taste it and add additional sparkling water if you want to. 5 cups is just right for a slightly sweet lemonade. 
Fill a tall glass with ice and pour the lemonade over it.
Add the option garnishes lemon slice,  a sprig of mint and a straw if you are using them. 
Enjoy your sparkling lemonade!