Margherita Pasta is a fun twist on the classic Italian pizza in a cheesy pasta form. This quick fix pasta dish gets a lot of fresh flavor from a few simple ingredients. The ripe tomatoes and basil leaves are the stars here. They make this easy recipe taste incredible! When tomatoes are in season, this would make a perfect summer meal.
This pasta dish captures the essence of a Margherita pizza, featuring fresh cherry tomatoes, creamy mozzarella, and fragrant basil. The large shell pasta perfectly cradles the sauce, ensuring that you get a burst of flavor in every bite. Whether you're hosting a dinner party or just looking for a new pasta dish to try for a busy weeknight meal, this recipe is for you!
Basil is one of the best fresh herbs of summer. If you would like to try some other pasta recipes that combine it with tomatoes and other fresh ingredients, check out One Pot Tomato Basil Penne  and Fresh Tomato Basil Sauce. You might also like Tomato Basil Quiche and Zucchini Tomato Sauce which is a tomato sauce made with sweet basil.
SOME THINGS TO KNOW:FAQ'S
WHAT IS MARGHERITA PIZZA?:
Margherita pizza is an Italian pizza that is made with fresh tomatoes, mozzarella cheese and fresh basil. It has the colors of the Italian flag.
INGREDIENT TIPS:
SPECIAL EQUIPMENT NEEDED:
Large pot to cook the pasta.
Large skillet
Colander to drain the pasta.
SUBSTITUTIONS:
If you do not have cherry tomatoes, fresh grape tomatoes, Roma tomatoes or any ripe summer tomato will work.
If you cannot find large shell pasta at your local grocery stores, you can use any type of pasta you have on hand. Penne, fusilli, or farfalle would all work well.
If you don't have fresh mozzarella, you can use shredded mozzarella, mozzarella balls or even burrata.
If you don't have fresh basil, you can use a smaller amount of dried basil. One teaspoon of dried basil should be used to replace 1 tablespoon of fresh basil.
Black pepper can be substituted for the red pepper flakes.
HOW TO STORE LEFTOVER MARGHERITA PASTA:
You can keep the leftover pasta in a bowl tightly covered with plastic wrap or in an airtight container for 2-3 days.
You can freeze the pasta in an airtight freezer container for up to 3 months.
HOW TO REHEAT MARGHERITA PASTA:
You could reheat this the next day in the oven as a Margherita pasta bake by placing it into a preheated 350 degree oven in a baking dish that is covered with foil. It should heat through in 15 -20 minutes, depending on the quantity that is being heated.
You could reheat this covered on the microwave in a microwave safe dish. The reheating time will depend on the amount of pasta you are trying to reheat. Heat at intervals of 1-2 minutes until the pasta is heated through.
You can reheat the pasta on the stovetop in a medium saucepan over medium low heat. You may need to add a few tablespoons of water to the pasta to bring the sauce back.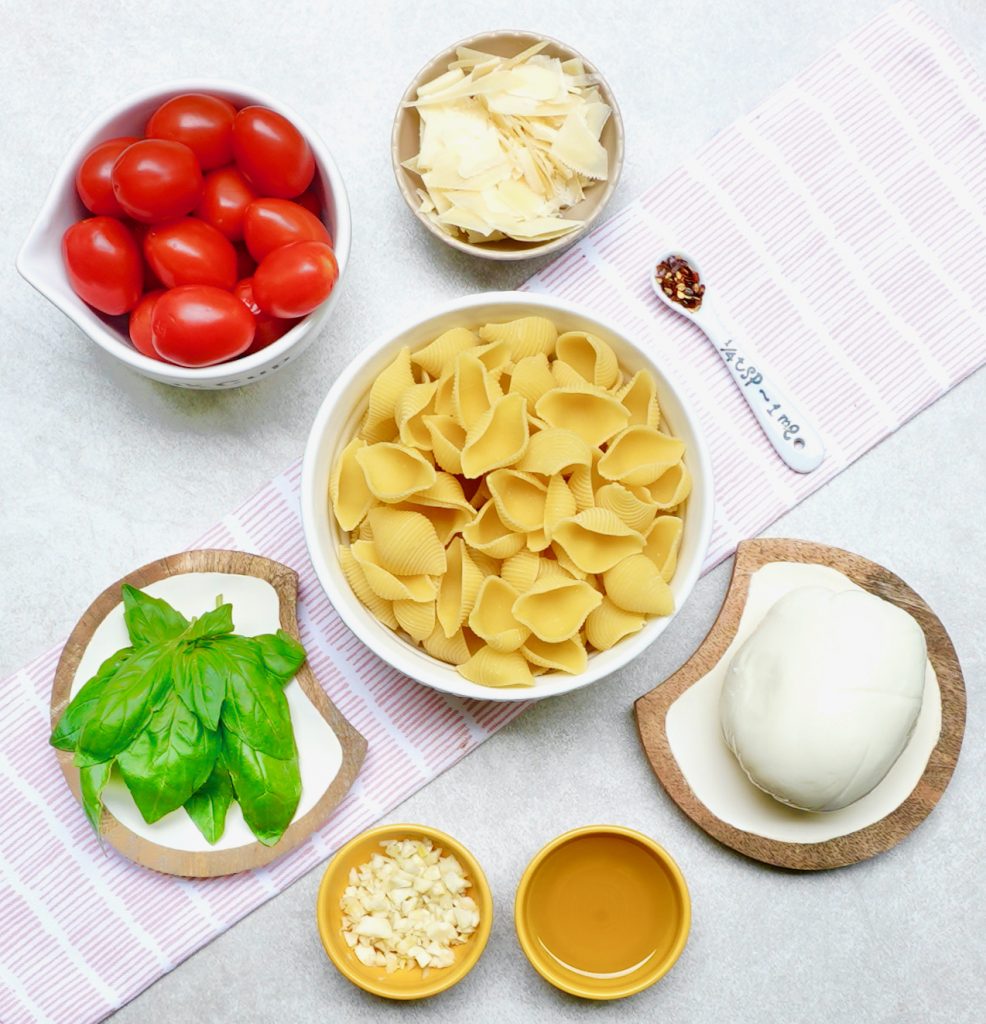 Cook and drain the shell pasta.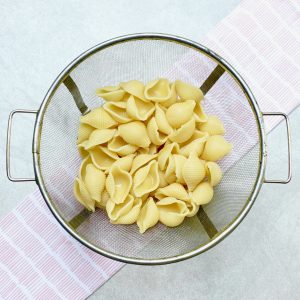 Add the olive oil to a large skillet. Add the garlic and tomatoes.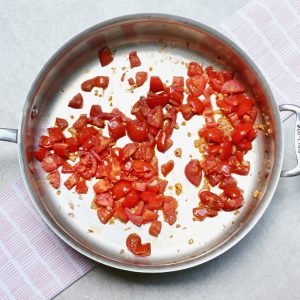 Add the cooked pasta to the tomato mixture in the skillet with the mozzarella cheese, parmesan cheese, red pepper flakes and basil.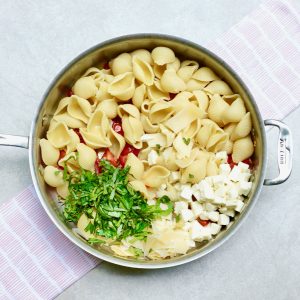 Add the reserved pasta water and stir to combine. Heat until the cheese is melted and the pasta is warmed through.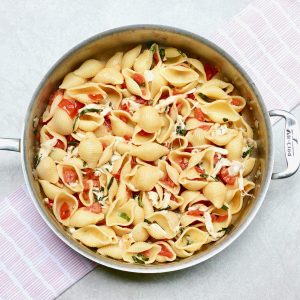 Margherita Pasta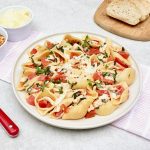 Print This
Ingredients
8 ounces large shell pasta

3 tablespoons extra virgin olive oil

2 garlic cloves, minced

1½ cups cherry tomatoes, halved

½ cup fresh mozzarella cheese

½ cup grated Parmesan cheese

¼ teaspoon red pepper flakes

¼ cup fresh basil leaves, chopped

½ cup reserved pasta cooking water
Instructions
Bring a large pot of salted water to a boil over medium high heat.
Cook pasta according to the package directions for al dente. Reserve ½ cup of the pasta cooking water before draining the pasta.
 While you have the pasta cooking, in a large skillet, heat the olive oil over medium low heat. Add the minced garlic and sauté until fragrant, about 1 minute.
Add the halved cherry tomatoes to the skillet and cook until they begin to soften. This will take 2-3 minutes.
Add the cooked pasta to the skillet and toss to combine.
Stir in the fresh mozzarella cheese, grated Parmesan cheese, and red pepper flakes and chopped basil.
If the pasta has low water content, add some of the reserved pasta water a little at a time until you reach your desired consistency.
Serve the pasta hot in a large bowl with a sprinkle of extra Parmesan cheese on top. Enjoy the flavors of your favorite Margherita pizza!