Apple Walnut Honey Bran Muffins make a great healthy breakfast or after-school snack. With the goodness of bran, the natural sweetness of honey, grated apple and walnuts these muffins offer a delicious way to kickstart your day.
This moist muffin is very easy recipe to make without a mixer. You can put them together, bake them and have them on the breakfast table in just 30 minutes. Apple Walnut Honey Bran Muffins would be a great baking project for the weekend so you could eat apple bran muffins all week!
Muffins are always a special treat for breakfast. If you like a blueberry muffin check out Blueberry Lemon Muffins and Blueberry Muffins. If you like banana muffins check out Strawberry Banana Muffins and Banana Chocolate Chip Muffins. If you would like another recipe like these healthy bran muffins check out Whole Grain Kitchen Sink Muffins.
You might also like Orange Muffins, Pumpkin Crumble Muffins and Cranberry Orange Muffins.
SOME THINGS TO KNOW: FAQ'S
INGREDIENT TIPS:
Wheat bran is one of the three layers of a wheat kernel. It is the hard outer layer of the wheat kernel which is removed during the milling process. It is rich in minerals and a great source of fiber. It has a sweet, nutty flavor and adds texture to bread, muffins and other baked goods. Check out Wheat Bran Nutritional Facts.
Make sure that your wheat bran is fresh. Stale bran can result in a rancid taste. Store the wheat bran in a cool, dry place, preferably in an airtight container. You can also refrigerate it to prolong its shelf life.
There are many types of honey, each with its unique flavor profile. For baking, clover honey is commonly used due to its mild flavor but you can experiment with wildflower, orange blossom, or buckwheat honey for different flavor.
Some apples are firmer than others. For baking, choose varieties that retain their shape and texture, such as Granny Smith, Honeycrisp, or Braeburn.
SPECIAL EQUIPMENT NEEDED: 
Muffin Pan(or Cupcake Pan): This is needed to bake the muffins. Depending on the size you prefer, you can use a standard 12-cup muffin pan, 2-6 cup muffin pans or an 8 cup muffin pan to bake this recipe.
Muffin Liners or Paper Cups: These are not mandatory but can make cleanup easier and can prevent muffins from sticking to the pan. If you don't use liners, just make sure to grease the muffin pan well.
Mixing Bowls: Two mixing bowls are needed One medium bowl for dry ingredients and another large bowl for wet the ingredients and finishing the batter.This helps in ensuring an even mix when combining the two.
Whisk: This is needed for thoroughly mixing the wet ingredients, especially for breaking up and blending the egg.
Spatula: A rubber or silicone spatula is useful for scraping every bit of the batter out of the bowl and into the muffin pan. It also helps in stirring in the apple and walnuts gently.
Wire Cooling Rack: Once the muffins are baked,  a wire cooling rack helps them cool evenly evenly from all sides.
SUBSTITUTIONS:
Oat Bran can be a direct substitute for wheat bran.
Almond milk, Soy milk, or Coconut milk can be substituted for the Oat milk. You could also use whole milk.
You can substitute the honey with maple syrup or agave.
The canola oil can be substituted with vegetable oil, a light olive oil or coconut oil. You could also use melted butter.
All purpose flour can be used in a 1:1 ratio for the whole wheat flour although the muffins may be lighter and less dense.
​HOW TO STORE APPLE WALNUT HONEY BRAN MUFFINS:
Once the muffins have cooled completely, place them in an airtight container or a resealable plastic bag. Store the muffins at room temperature in a cool, dry place for up to 2-3 days.
You can store the muffins in the refrigerator for up to 5 days. Make sure that the muffins have cooled completely to room temperature. Place them into into an airtight container or a resealable plastic bag to prevent them from absorbing other food odors.
The muffins can be stored in the freezer for up to 3 months. Wrap each muffin tightly in plastic wrap or aluminum foil. This not only protects them from freezer burn but also allows for easy individual removal. After individually wrapping, place the muffins in a large resealable freezer bag or an airtight container.
For best results, let the muffin thaw at room temperature for a couple hours or overnight in the refrigerator.
HOW TO REHEAT APPLE WALNUT HONEY BRAN MUFFINS:
To reheat the muffins in the oven, preheat your oven or toaster oven to 350°F (175°C). Place the muffins on a baking sheet and heat for about 5-10 minutes, or until warmed through.
To reheat the muffins in the microwave, place the muffin on a microwave-safe plate and heat on medium power for about 15-30 seconds, or until warmed through.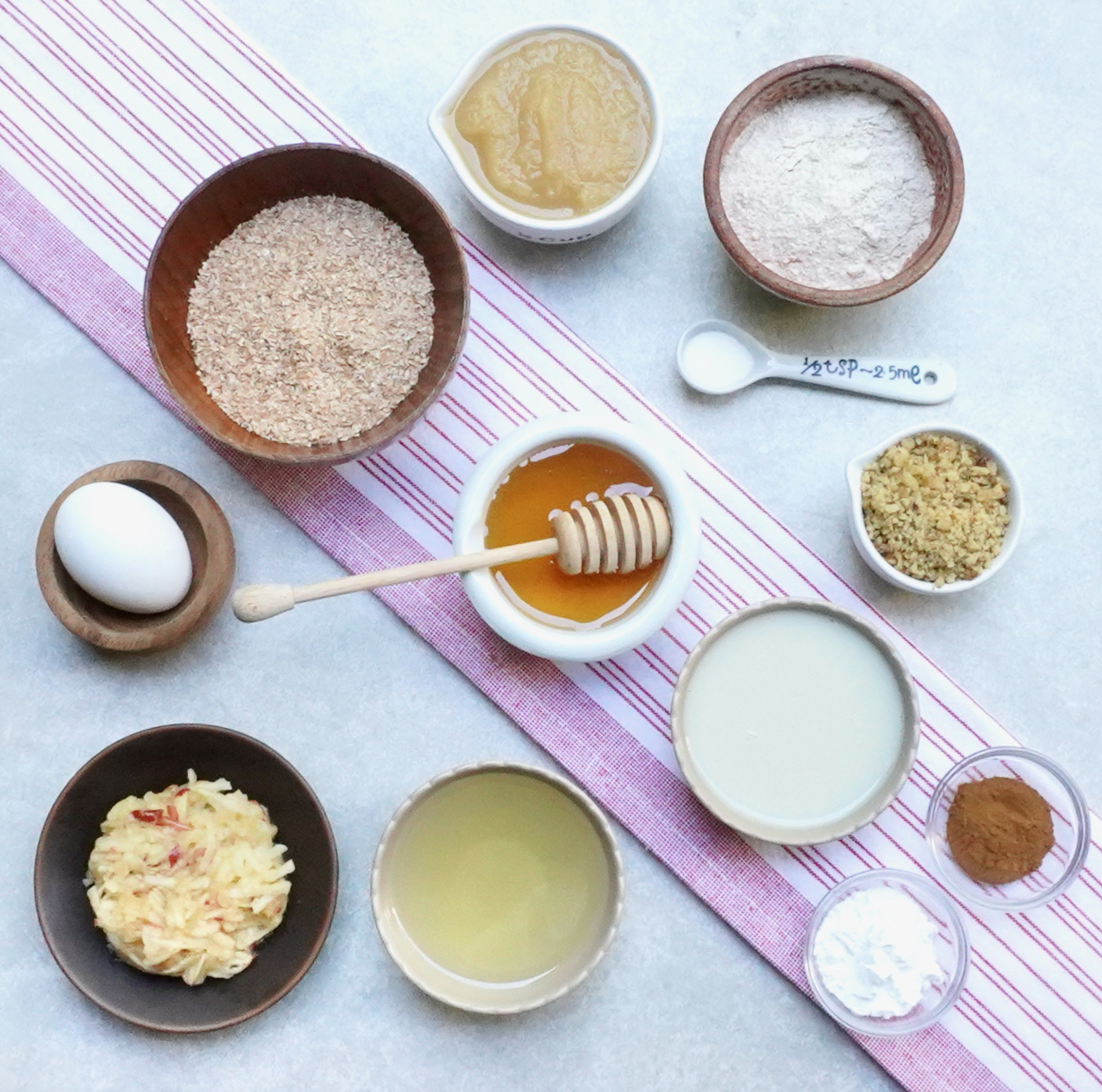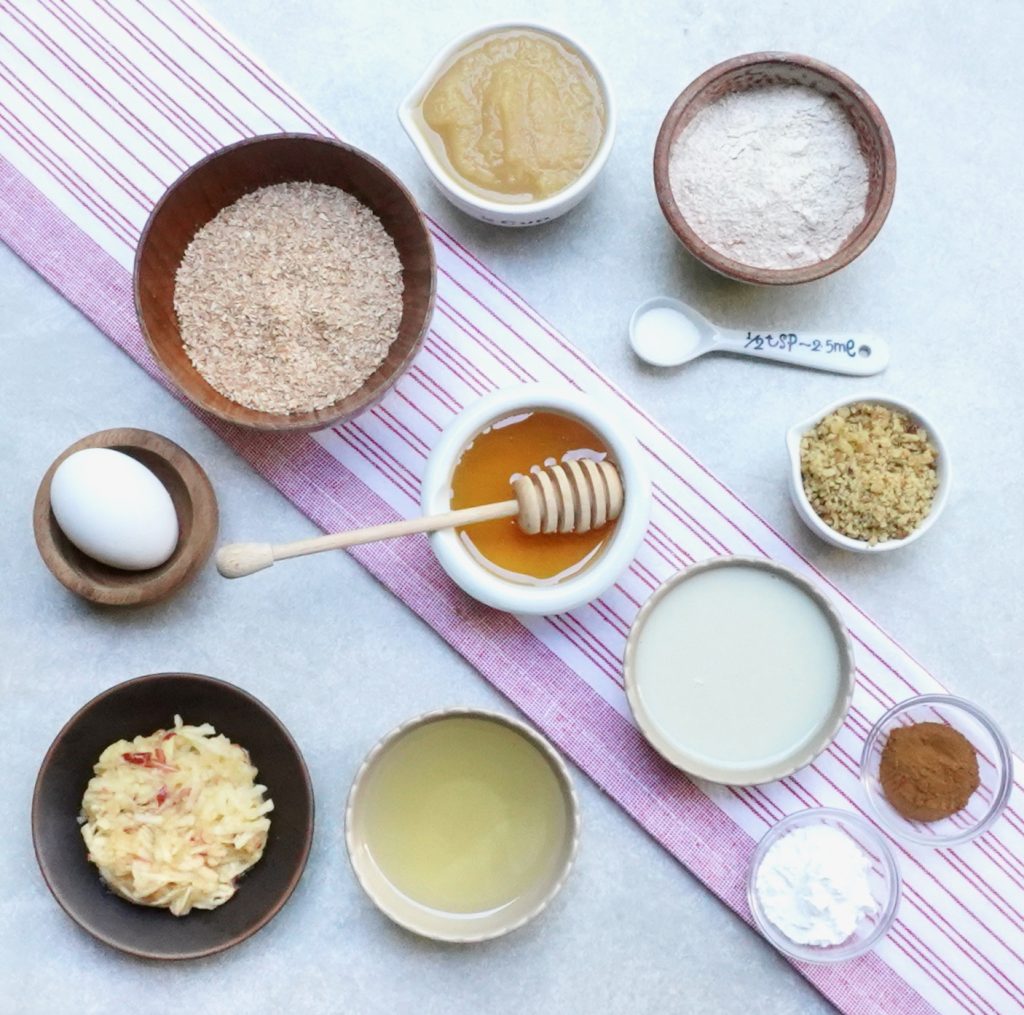 In a large mixing bowl whisk the egg and the other wet ingredients.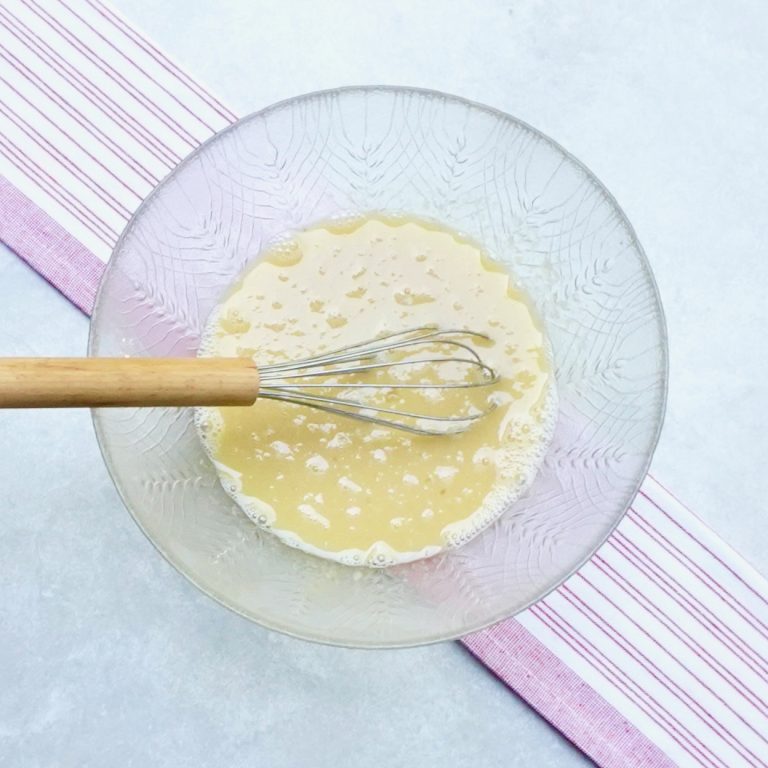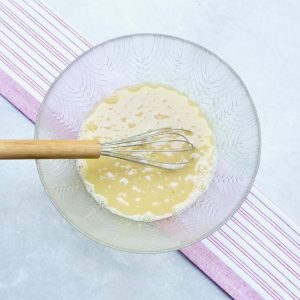 Add the dry ingredients and combine.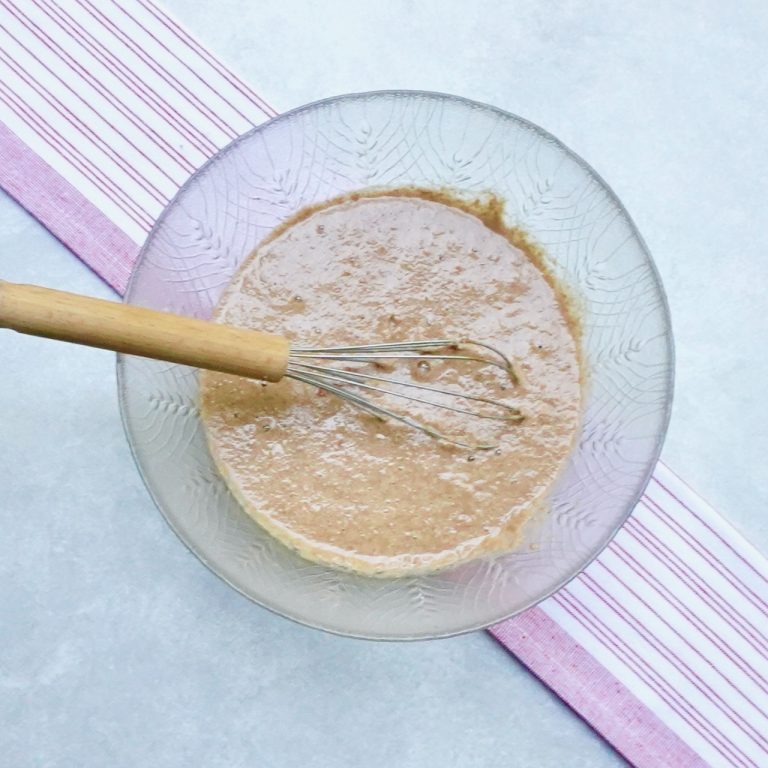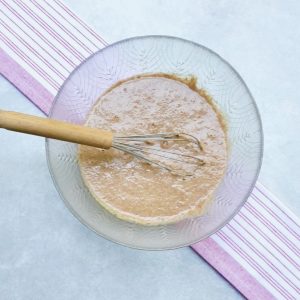 Stir in the grated apples and chopped walnuts.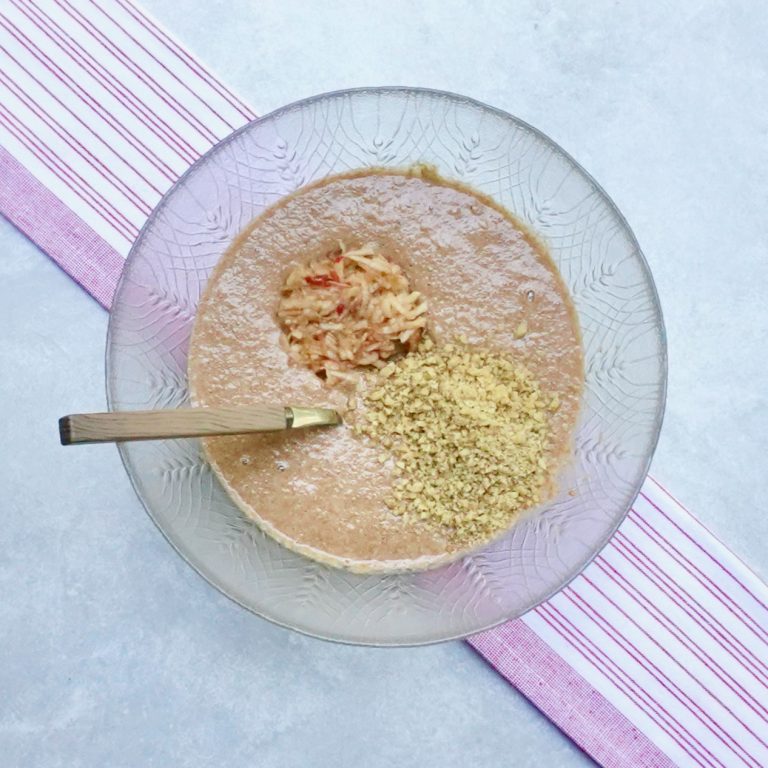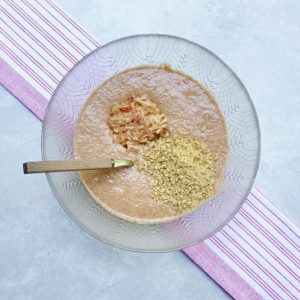 Spoon the batter into muffin pans with paper liners or that have been greased well. Cooking spray is not recommended.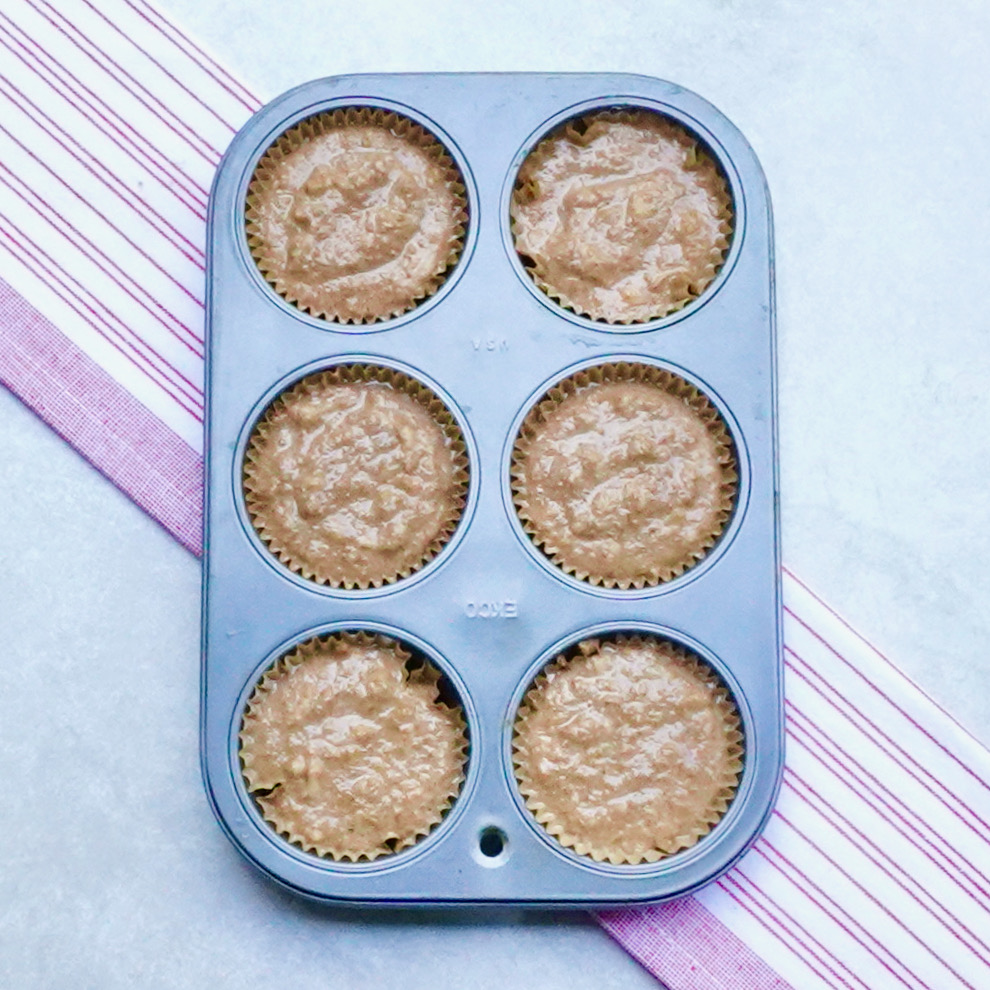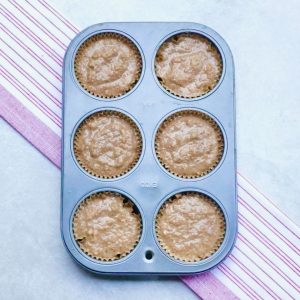 Apple Walnut Honey Bran Muffins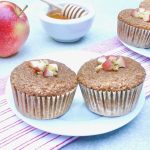 Print This
Ingredients
1 large egg

½ cup honey

½ cup oat milk

¼ cup canola oil

½ cup unsweetened applesauce

1 cup wheat bran

½ cup whole wheat flour

1 tsp baking powder

1 tsp baking soda

½ tsp salt

½ cup grated fresh apple

¼ cup chopped walnuts
Instructions
Preheat the oven to 375°F and grease a muffin tin or line it with paper muffin cups.
In a large mixing bowl, whisk the egg. Add the honey, oat milk, canola oil and applesauce. Combine well.
In another medium mixing bowl, stir together the bran, flour, baking powder, baking soda, and salt.
Add the flour mixture to the wet ingredients. Combine the wet ingredients and the dry ingredients, mixing until just blended.
Stir in  the grated apples and chopped walnuts to the muffin batter.
Spoon the batter into muffin tins, filling each cup about ⅔ full. You should have enough batter for 8 muffins.
Place the muffin tin into the preheated oven.
Bake for 15-20 minutes or until a toothpick inserted into the center of the muffin comes out clean.
Allow the muffins to cool in the pan for 5 minutes, then transfer them to a wire rack to cool. Serve them slightly warm with a pat of butter.