What's better than fluffy pancakes for breakfast? They are easy to make from scratch with ingredients that you most likely already have in your pantry. Strawberry Banana Pancakes bring the experience up a notch because fresh strawberries and bananas are baked right into the pancakes, making them fruity and delicious. 
This recipe is a simple batter of eggs, milk, flour, sugar, and baking powder. It only takes a couple of minutes to put together and the pancakes cook pretty quickly. There really is no need to purchase a pancake mix when they are so simple to make from scratch.
Strawberry Banana Pancakes would make a special treat for your weekend breakfast. Top them with a tablespoon of butter and some pure maple syrup. 
If you have leftover strawberries and bananas make some Strawberry Banana Muffins to eat during the week! You could also make Strawberry Streusel Banana Bread.
If you want to try another banana pancake recipe, check out Bananas Foster Pancakes. It is a perfect pancake for a special occasion.
If you would like to try another recipe for strawberry pancakes, check out Strawberry Whole Grain Pancakes. Blackberry Pancakes are another whole grain pancake recipe.
You might also like 20 Simple Summer Strawberry Recipes.
SOME THINGS TO KNOW:FAQ'S
SPECIAL EQUIPMENT NEEDED:
Griddle, large frying pan or large non-stick pan
Spatula
INGREDIENT TIPS:
Room temperature eggs are the best for baking. The egg yolks will break up easier and mix with the egg whites and other ingredients better.
The pancakes will have a natural sweetness if you use ripe fruit. You do not want overripe bananas just fully ripened so they are sweet but firm enough to hold their shape. You will also get a more intense strawberry flavor from fully ripened berries.
SUBSTITUTIONS:
There are several kinds of milk that you could substitute for the whole milk. Almond milk, soy milk, or oat milk would all be good choices. You could also use half and half and get similar results.
If you do not have fresh fruit, frozen bananas and strawberry slices can be used. They will need to be defrosted first. Place them onto a paper towel to absorb any excess moisture while they are defrosting.
If you do not have vegetable oil, you can use melted butter, light olive oil, canola oil, or coconut oil instead.
You can replace some or all of the all purpose flour in the recipe. If you are not familiar with how to do this, check out How to Substitute Whole Wheat for White Flour in Baking.
STORAGE:
You can keep any leftover Strawberry Banana Pancakes in an airtight container in the refrigerator for 3-5 days.
You can also freeze the leftover pancakes for 2- 3 months. Place the pancakes on a parchment paper lined baking sheet in a single layer. Place the  baking sheet into the freezer. Once the pancakes are frozen, remove them from the baking sheet and place them into an airtight freezer container. Return them to the freezer.
Defrost the pancakes by placing them onto a wire rack until they are at room temperature.
REHEATING:
You can reheat the pancakes in an oven on a baking sheet or in a toaster oven. Set the temperature at 350 degrees. It will take about 5 minutes to heat them through.
You can also reheat the pancakes in a microwave oven. Line a microwave proof plate with a paper towel. Lay a few of the pancakes onto the paper towel. Cover the pancakes with another paper towel. The pancakes will take about 5-10 seconds to reheat depending on the strength of the microwave.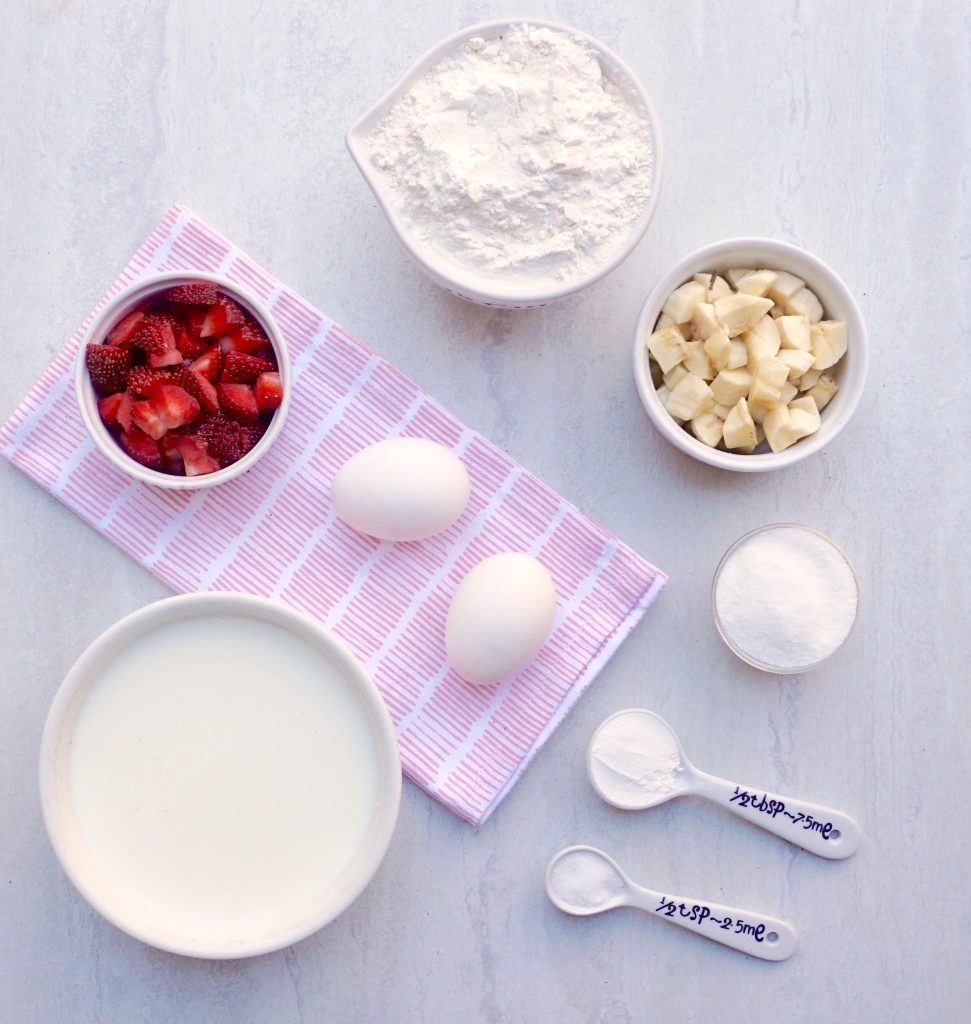 Strawberry Banana Pancakes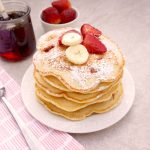 Print This
Ingredients
1 ¾ cups all-purpose flour

3 tablespoons sugar

2 ½ teaspoons baking powder

½ teaspoon salt

2 large eggs

1 ½ cups whole milk

3 tablespoons vegetable oil (not pictured)

1 cup fresh strawberries, diced

1 banana, cut into small cubes

Non stick cooking spray
Instructions
In a large bowl, mix the flour, sugar, baking powder and salt.
In a small bowl, beat the eggs. Stir in the milk and vegetable oil.
Pour the wet ingredients over the flour mixture and gently whisk them with the dry ingredients until they are well  combined.
Stir in the strawberries and banana slices.
Spray a griddle or a large skillet with non stick spray and heat over medium heat.
Pour ⅓ measuring cup of the pancake batter onto the hot griddle or hot pan for each pancake. Cook until the top of each pancake is speckled with small bubbles and some bubbles have popped open, about 2 minutes.  With a spatula, turn the pancakes over and cook until the underside is lightly browned. This will take a couple of minutes.
Serve immediately or keep warm in a preheated 200 degree oven on a baking sheet while you finish cooking the rest.
If you are working in batches to cook the pancakes, keep the rest of the batter in the refrigerator until you are ready to use it.
Serve with butter and  maple syrup.