Blackberry Pancakes are a great way to start the day. They are a wholesome breakfast that is easy to make. These pancakes are not just delicious but also packed with nutrients.  There should never be a need to buy a pancake mix as they as easy to make from scratch.
Blackberry Pancakes are made with whole wheat flour and ground oats, giving them a hearty texture and a boost of fiber. The addition of fresh blackberries adds a burst of fruity flavor and a wealth of antioxidants. Topped with a drizzle of maple syrup or a dollop of Greek yogurt, these pancakes are a breakfast treat that's both delicious and nutritious. They would also be the perfect pancakes for a summer brunch.
If you are a fan of fluffy pancakes made with fresh berries for breakfast, check out Strawberry Whole Grain Pancakes, Blueberry Cinnamon Pancakes and Strawberry Banana Pancakes. Dutch babies are baked pancakes. It you would like to try one check out Strawberry Ricotta Dutch Baby.
If you love eating oatmeal for breakfast with fresh fruits and berries, check out Blueberry Baked Oatmeal, Strawberry Banana Baked Oatmeal, Cranberry Orange Oatmeal and Banana Cinnamon Oatmeal.
Check out the Breakfast category for other easy breakfast ideas.
SOME THINGS TO KNOW: FAQ'S
INGREDIENT TIP:
SPECIAL EQUIPMENT NEEDED:
Electric griddle, large non stick skillet.or large skillet
Large mixing bowl, medium bowl
Spatula
Nonstick spray
SUBSTITUTIONS:
You can use all purpose flour if you don't have whole wheat flour.
Quick oats can be used in place of old fashioned oats.
If you don't have Greek yogurt, you can use regular yogurt or sour cream.
If fresh blackberries aren't available, you can use frozen blackberries or substitute with another type of berry.
If you do not have canola oil you could use some vegetable oil, coconut oil or melted butter.
If you do not have vanilla extract, use a teaspoon of lemon juice and some lemon zest.
HOW TO STORE LEFTOVER BLACKBERRY PANCAKES:
You can keep the leftover pancakes in an airtight container or tightly wrapped in plastic wrap in the refrigerator for 3-5 days.
You can freeze the pancakes for 2-3 months. To freeze them, place them into the freezer on a baking sheet in a single layer. Once they are frozen, place them into a freezer bag or airtight freezer container and return them to the freezer.
Defrost the pancakes on a wire rack.
HOW TO REHEAT BLACKBERRY PANCAKES:
You can reheat the pancakes in the microwave on a microwave safe plate. Place the pancakes on the plate in a single layer. Cover the pancakes with a paper towel. It should take about 20 seconds per pancake to reheat them.
You can reheat the pancakes in a preheated 350 degree oven. Place the pancakes onto a baking sheet in a single layer. Cover the pancakes with foil. Heat them for 5 minutes until they are heated through.
To reheat the pancakes in a toaster oven, set the oven to bake at 350 degrees. Add the pancakes in a single layer and bake for 3-5 minutes until they are warmed through.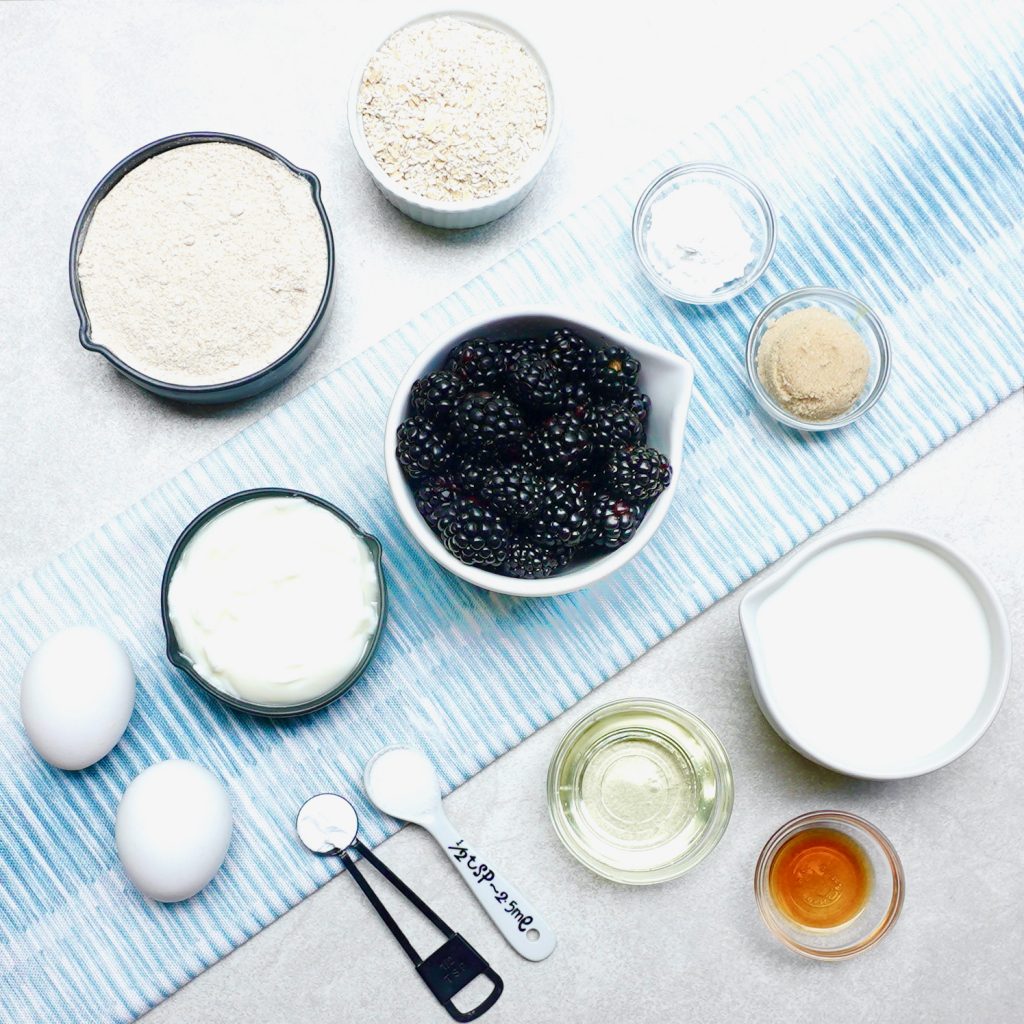 Mix together the whole wheat flour, ground oats, brown sugar, baking powder, baking soda and salt in a large bowl.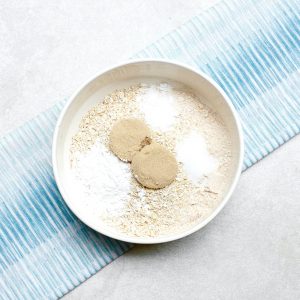 In a small bowl whisk the eggs. Add the milk, yogurt, vanilla extract and canola oil. Combine well.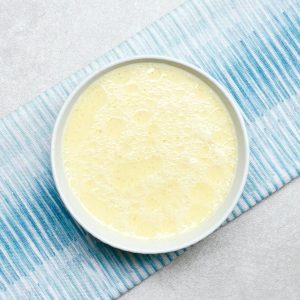 Pour the wet ingredients into the dry ingredients and stir to combine well to form the pancake batter.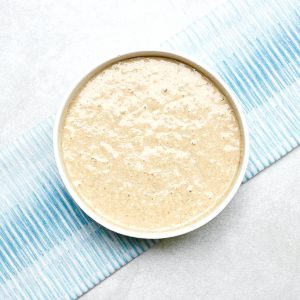 Gently fold the chopped blackberries into the batter.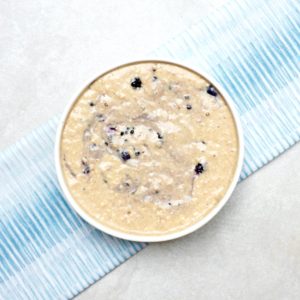 Blackberry Pancakes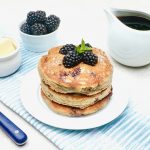 Print This
Ingredients
1 cup whole wheat flour

¾ cup old fashioned oats, ground

2 tablespoons light brown sugar

2 teaspoons baking powder

½ teaspoon baking soda

½ teaspoon salt

2 large eggs, room temperature

1 cup whole milk

½ cup plain Greek yogurt

3 tablespoons canola oil

1 teaspoon vanilla extract

1½ cups fresh blackberries, coarsely chopped
Instructions
In a large bowl, combine the whole wheat flour, ground oats, light brown sugar, baking powder, baking soda, and salt. Stir the flour mixture well.
In a separate bowl, whisk together the eggs, milk, Greek yogurt, canola oil, and vanilla extract.
Gradually add the wet ingredients to the dry ingredients, stirring until just combined.
Gently fold in the chopped blackberries.
Heat a griddle or frying pan over medium heat and lightly oil it or spray it with non stick cooking spray.
Pour ¼ cup of batter onto the griddle for each pancake. Cook pancakes until air bubbles form on the surface, then flip the pancakes and cook them on the other side until they are golden brown. This should take about 2 minutes on each side.
Serve the pancakes warm with your favorite toppings. They would be delicious with a bit of unsalted butter and real maple syrup. Enjoy!