Strawberry Ricotta Dutch Baby is a delicious breakfast or brunch recipe that the entire family will love. This giant pancake is a great way to serve a few people at a time and it is a very easy recipe to make. The next time that you want a special breakfast, you should give this recipe a try!
There are so many variations of what you can add to the basic recipe for dutch baby pancake batter both before or after baking. Before baking you could change the fruit filling and add different types of fresh berries or slices of your favorite fruit.
Once baked, you can add different fruits and syrups or keep it simple and just dust the top with powdered sugar. You could also leave the batter plain and create a savory meal, topping it with cheese, mushrooms and bacon. You can take this simple, basic recipe and turn it into almost anything you can imagine.
Strawberry Ricotta Dutch Baby would make an amazing brunch dish on a special occasion like Mother's Day.
If you like a baked pancake, you might also like, Baked Berry Pancake. If you have never made popovers before, check out Parmesan Chive Popovers.
For other pancake ideas for breakfast check out Bananas Foster Pancakes, Strawberry Whole Grain Pancakes, Red Velvet Pancakes, Pumpkin Oatmeal Pancakes, Caramel Apple Pancakes, Blueberry Cinnamon Pancakes, Gingerbread Pancakes and Strawberry Banana Pancakes.
SOME THINGS TO KNOW: (FAQ'S)
WHAT IS A DUTCH BABY?
A Dutch Baby is a German pancake. It is a cross between a pancake and a popover. If you have ever had a popover, which is an airy pastry that rises high into a dome and has a moist, airy, eggy center, you will see that this is a similar concept just on a larger scale. The batter is quickly made in a blender, then baked in a cast iron skillet which you preheat in the oven so the batter is poured into a hot pan.
IS RICOTTA CHEESE A GOOD ADDITION?
Adding ricotta cheese to the dutch baby creates a slightly dense Dutch Baby. You can omit the ricotta if you want a lighter puffier version.
IS RICOTTA CHEESE EASY TO MAKE AT HOME?
Ricotta Cheese is something that you can make at home using pantry ingredients. . It is incredibly easy, fast and tastes much fresher than the store bought brands. Check out this easy recipe for Ricotta Cheese.
SPECIAL EQUIPMENT NEEDED:
SUBSTITUTIONS:
You could replace the all purpose flour in the recipe with whole wheat flour.
The whole milk can be substituted  with 2% milk, half and half, almond milk or oat milk ,at a one to one cup milk even swap.
Any fresh berry could be used in this recipe.
You can leave out the ricotta cheese if you want a lighter batter. You can replace the ½ cup of ricotta with an extra ½ of milk.
HOW TO STORE, FREEZE AND REHEAT LEFTOVER STRAWBERRY RICOTTA DUTCH BABY:
This dutch baby pancake will be best served directly from the oven. It will start to deflate soon after being removed from the oven. That being said, you can certainly save the leftovers if you have any!
Place leftovers into the refrigerator in an airtight container for 2-3 days.
You can freeze this in an airtight freezer container for 2-3 months. Defrost in the refrigerator.
You can heat this in the microwave for 1-2 minutes. You can also place it on a baking sheet into a preheated oven at 350 degrees for 5-10 minutes until it is warmed through.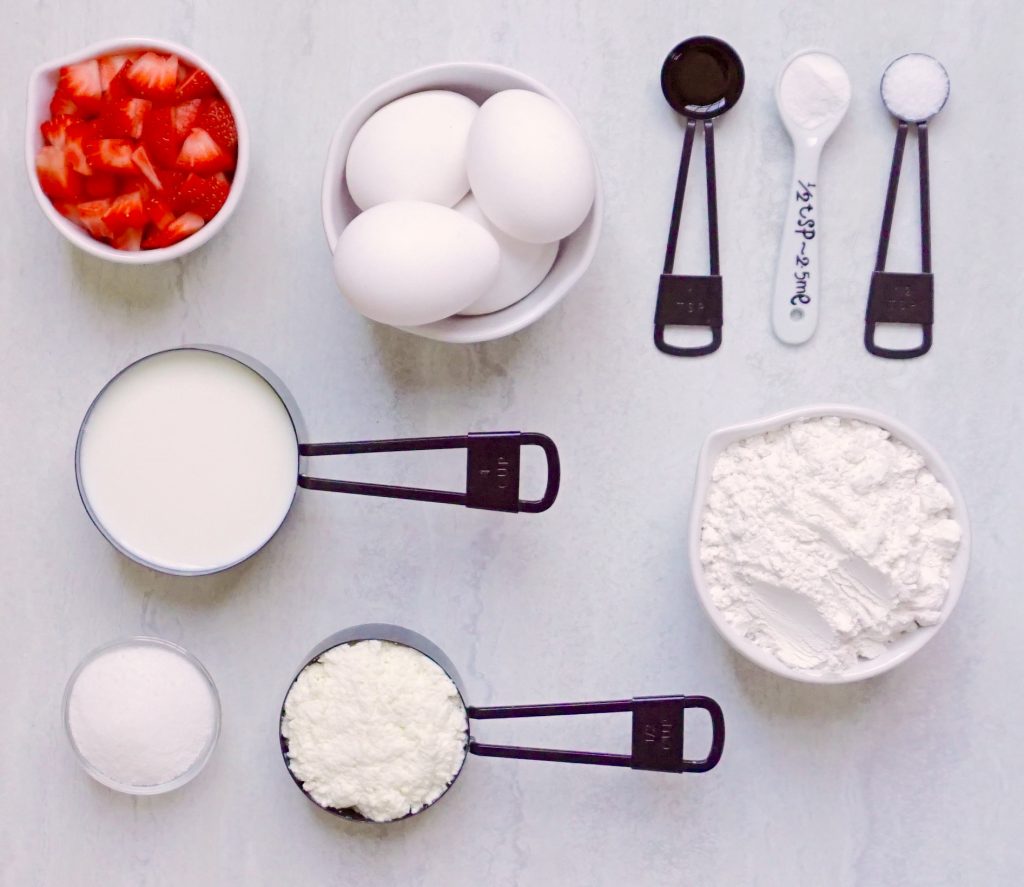 Strawberry Ricotta Dutch baby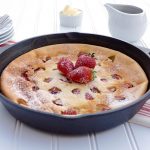 Print This
Ingredients
4 large eggs (room temperature)
1 teaspoon vanilla extract
½ cup ricotta cheese
1 cup whole milk
3 tablespoons granulated sugar
1 cup all purpose flour
½ teaspoon baking powder
½ teaspoon salt
½ cup fresh strawberries, rinsed, stem removed and diced
2 tablespoons unsalted butter or cooking spray to coat skillet
Instructions
Preheat the oven to 400 degrees
Place a 10-12 inch cast iron skillet into the hot oven. Heat the pan for 10 minutes.
While the pan is heating, combine your pancake batter ingredients.
Add the eggs, vanilla, ricotta cheese, milk, sugar, flour, baking powder and salt into a blender. Blend about 30 seconds until the batter is smooth with no lumps. You could do this in a food processor as well.
You can also mix the batter by hand in a large bowl with an electric mixer or whisk. Start by beating the eggs. Add the vanilla, ricotta and milk. Combine them well. Add the sugar, flour, baking powder and salt. Mix them into the wet ingredients until they are thoroughly combined and you have a smooth batter.
Remove the skillet from the oven. Add 2 tablespoons of butter to coat the pan or spray cooking spray to coat. Use a pastry brush to coat the entire inside of the pan with the melted butter.
Pour batter into the hot skillet and sprinkle the strawberries over the batter.
Bake for 20- 25 minutes until puffed and golden brown. Do not open the oven until it has been in for 20 minutes or you could cause it to fall.
Remove the pancake from the oven and serve it at once with a drizzle of maple syrup, honey or sprinkled powdered sugar.