Olive oil cakes are some of the easiest cakes to make. You can put them together in one bowl without using a mixer. They are very moist and stay that way for days. Apple Cinnamon Olive Oil Cake is a good version for the fall with a cup of coffee or for afternoon tea.
Grated apples are stirred into the batter. Cinnamon and ginger are warming spices found in apple pie that give the cake a special aroma and wonderful flavor. You could serve this Apple Cinnamon Olive Oil Cake just as it is, or you could sprinkle the top with powdered sugar. I have also given the directions below in the notes to make the apple slices if you would like to add them to the top of the cake.
This recipe will make three 6 inch round cakes or one 10 inch round cake. Baking directions are given for both size pans.
If you want to try some other olive oil cakes check out Blueberry Lemon Olive Oil Cake which is made with lemon juice and lemon zest,  Pumpkin Olive Oil Cake,  Orange Olive Oil Cake, Cherry Olive Oil Cake, Strawberry Olive Oil Cake and Chocolate Olive Oil Cake.
if you would like to try another moist apple cake recipe, check out Applesauce Coffee Cake with a crumble topping. You might also Apple Coffee Cake.
SOME THINGS TO KNOW:FAQ'S
INGREDIENT TIPS:
Some of the best varieties of apples to use in this cake are Granny Smith apples, Honey Crisp apples, Fuji apples and Gala apples. You could also use a mixture of these apples to get different sweetness levels and textures.
Read How to Grease and Flour Cake Pans if you have never done this before.
SPECIAL EQUIPMENT NEEDED:
3-6″ round cake pans or 1-10″ cake pan or 10″ springform pan
Large mixing bowl
Whisk, electric mixer or stand mixer
Box grater for the grated/shredded apples
SUBSTITUTIONS:
If you do not have extra-virgin olive oil you can substitute refined olive oil, pure olive oil or vegetable oils.
You can substitute some or all of the granulated sugar with light brown sugar.
You can substitute the all purpose flour with cake flour or whole wheat flour.
If you do not have whole milk, 2% milk or skim milk can be substituted. You could also us a non- dairy milk like oat milk or almond milk.
HOW TO STORE APPLE CINNAMON OLIVE OIL CAKE:
You can store the cake wrapped in plastic wrap or in an airtight container at room temperature for 3-4 days.
You can freeze the cake wrapped in freezer wrap or in a freezer bag for 3 months. Place the frozen cake on a wire rack at room temperature to defrost.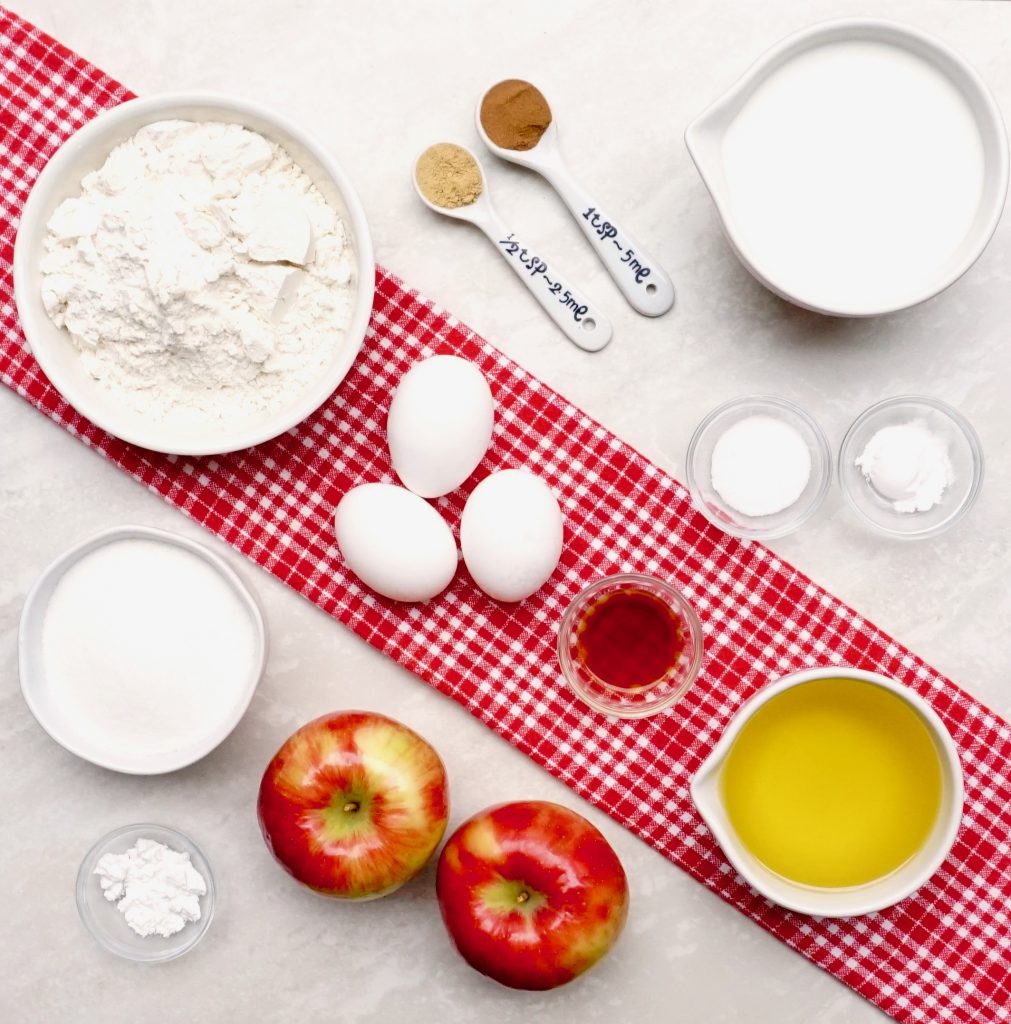 Apple Cinnamon Olive Oil Cake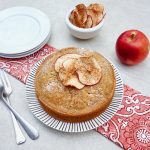 Print This
Ingredients
3 large eggs

1 cup extra virgin olive oil

1 ¼ cups whole milk

1 teaspoon vanilla extract

1½ cups granulated sugar

2 cups all purpose flour

1 ½ teaspoons salt

½ teaspoon baking powder

½ teaspoon baking soda

1 teaspoon cinnamon

½ teaspoon ground ginger

2 large apples, peeled, cored and grated
Instructions
Preheat your oven to 350 degrees.
Place your oven rack in the center of the oven.
Prepare your cake pans by greasing them with vegetable shortening and then flour. With a paper towel rub the shortening on the bottom and the sides of the pan. Make sure that the surfaces are covered completely to prevent sticking. Spoon a heaping teaspoon of flour to the pan and tap the pan moving it around so the flour covers all surfaces as well. The flour will allow you to see if you have missed covering a section with the shortening. If you have missed a spot, add more shortening to that spot and then add more flour.
Whisk the eggs in a large bowl. Add the olive oil, milk and vanilla extract. Whisk together well.
Add the sugar to the olive oil mixture and combine well.
Add the flour, salt, baking powder, baking soda, cinnamon and ginger. Slowly whisk the dry ingredients into the wet ingredients. Continue until everything is completely combined and the batter is smooth and free of lumps.
Add the grated apples to the batter and stir them in with a rubber spatula.
Spoon the cake batter into the prepared pans or pan.
If you are using 6 inch round  pans, you will need to measure out 2 ½ cups cake batter for each of the cakes. If you need to bake in batches, place the batter into the refrigerator until the first cakes have baked.
6 inch round pans will have a baking time of 35-40 minutes. A 10 inch round pan will have a bake time of 50 minutes.
Make sure that the top of the cake is full set and golden brown.
Remove the cakes  from the oven and let the cake cool in the pan for 10 minutes. Remove the cakes from the pan and place on a wire rack to cool completely to room temperature.
Notes
To make the apple slices to top the cake. Preheat your oven to 225 degrees. Use a mandolin or knife, to cut the apples into round slices that are 1/8 inch thick. Remove any seeds from the center of the slice. Place the slices on a baking sheet lined with parchment paper. Sprinkle the tops of the apples with cinnamon. Bake for 1 hour. They will not be as crisp as an apple chip but more pliable and easier to mound as a decoration on the cakes.