Who doesn't love an ice cream sandwich? It is the perfect summer dessert. Chocolate Waffle Ice Cream Sandwich is a little different than most, which makes it something fun to try this summer.
If you have a waffle maker that you never use try these! You can make them ahead, keep them in the freezer and serve them at your summer cookouts and parties.
The amount of ice cream sandwiches that this recipe will make may vary a bit as there are different size waffle makers. You may have small round forms or large square forms. The batter will work in any waffle maker but the number of sandwiches will vary depending on the size.
The Chocolate Waffle Ice Cream Sandwiches that are pictured were made on a 4 ½ x 4 ½ inch waffle maker. That is a large waffle so they are cut on the diagonal. The cut edge is dipped in chocolate glaze and sprinkles.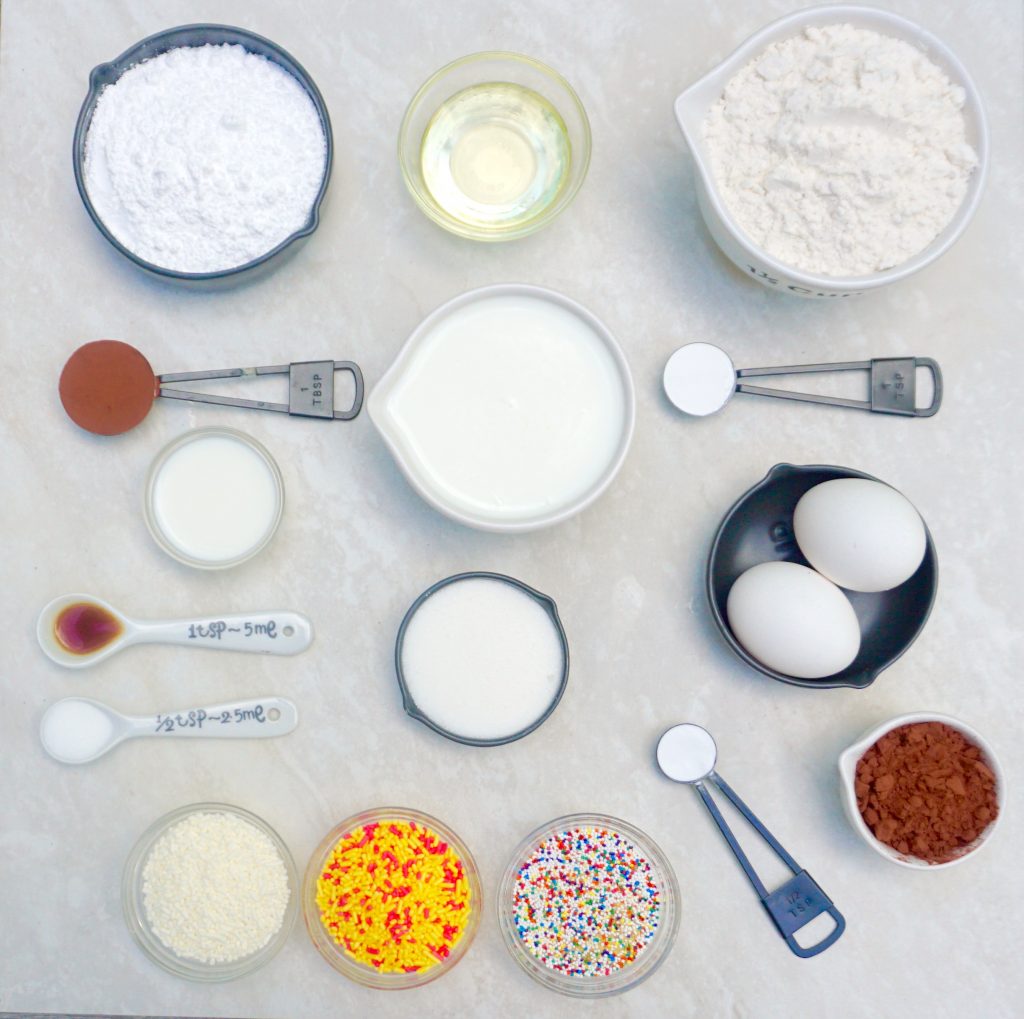 Chocolate Waffle Ice Cream Sandwich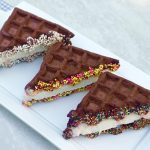 Print This
Ingredients
WAFFLES:

1 ½ cups all purpose flour

¼ cup granulated sugar

¼ cup cocoa powder

1 teaspoon baking powder

½ teaspoon baking soda

½ teaspoon salt

2 large eggs

1 cup buttermilk

4 tablespoons canola oil

1 teaspoon vanilla extract

DECORATIONS:

1 cup confectionary sugar

1 tablespoon cocoa powder

2 tablespoons milk

Assorted sprinkles

Half gallon Vanilla Ice cream

Non stick cooking spray
Instructions
WAFFLES:
In a large bowl, combine the flour, sugar, cocoa powder, baking powder, baking soda, and salt.
In a small bowl, beat the eggs. Stir in the buttermilk, canola oil and vanilla extract.
Add the wet ingredients to the dry ingredients and combine well.
Heat a waffle maker and spray the top and bottom forms with cooking spray.
Fill the maker with batter and close the lid. Cook for 3-4 minutes until completely set.
Depending on the size waffle maker you are using, you may want to cut the waffle in half as pictured in this post.
DECORATIONS:
In a small, shallow bowl combine the confectionary sugar, cocoa powder and milk.
Pour  the sprinkles onto small plates.
Dip the cut end of the waffle into the chocolate glaze then dip into the sprinkles. 
Place the dipped waffles on a baking rack until the glaze has hardened.
ASSEMBLY:
Remove the vanilla ice cream from the container in one piece. Use a large knife to cut slices ½ – ¾ inches thick. Lay the slice on a cutting board and slice it again into the size that will fit your waffles.
Place the slice of ice cream between two waffles. Press down slightly. 
Keep frozen until you are ready to serve.
The best way to freeze the sandwiches is to wrap each one individually and store in a plastic bag.
Notes
You can make your own buttermilk by adding 1 tablespoon of white vinegar, or 1 tablespoon of lemon juice to 1 cup of whole milk. Let it sit for 15 minutes.