Mezze Dips  are simple to make dips that can be served as part of a Mezze type spread.  
Mezze is a way of dining, in which a selection of small dishes are served. They are meant to be shared, either as an appetizer or a light meal. This can include vegetables, olives, salads, cheese, falafel, hummus and Mezze Dips served with pita bread or crackers.. You can vary the assortment based on what you like.
In this post you will find the recipes for three dips.
The first one is Red Pepper Feta Dip. It is a creamy, flavorful, colorful cheese dip made with roasted peppers, feta, garlic, olive oil, red wine vinegar and spices. 
The second one is Greek Eggplant Spread. This is made with roasted eggplant, red onions, garlic, red wine vinegar, lemon juice, olive oil and seasonings. It is a spread that is light and full of flavor.
 The third one is Tzatziki. This is  made from Greek yogurt, lemon, shallots and dill. Tzatziki  is pictured here but the recipe is on a previous post. Simply click on the link and you will go to the recipe.
Mezze Platters are a casual way to entertain and are perfect for appetizers or a light meal. Check out the post to get the links to all of the recipes for the items on the platter. You might want to serve them with Air Fryer Pita Chips.
Another good healthy way to entertain is with a Roasted Vegetable Crudite Platter. You might also like Carrot Fries and Leek Dip.
Mezze Dips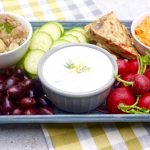 Print This
Ingredients
RED PEPPER FETA DIP:

4 whole roasted red bell peppers, sliced and seeds removed. 16 ounce jar prepared.

2 garlic cloves, minced

2 cups Feta cheese, crumbled

¼ cup olive oil

1 tablespoon red wine vinegar

¼ teaspoon crushed red pepper

½ teaspoon dried oregano

.

.

GREEK EGGPLANT SPREAD:

2 large eggplant

½ cup red onion, diced small

1 clove garlic, minced

¼ cup olive oil

1 tablespoon lemon juice

2 tablespoon red wine vinegar

1 tablespoon fresh parsley, chopped

½ teaspoon kosher salt

½ teaspoon black pepper
Instructions
Red Pepper Feta Dip
Add either to the bowl of a food processor or a blender, the red peppers, garlic, feta cheese, olive oil, red wine vinegar, crushed red pepper and oregano.
Pulse the ingredients until they are all combined and the dip is smooth and creamy.
Greek Eggplant Spread
Preheat the oven to 400 degrees.
Cut the eggplants in half, lengthwise and place, cut side down onto a baking sheet. Bake for 30 – 35 minutes until the eggplant is soft and lightly browned. Cool.
Scoop the eggplant from the shell, removing all the seeds and finely chop.
Place the eggplant into a large bowl. Add the red onion, garlic, olive oil,  lemon juice, red wine vinegar, parsley, salt and pepper. Combine well.