A crudité platter is an easy way to entertain. While we mostly think of them as raw vegetables served with a dip, you can make them roasted as well with this Roasted Vegetable Crudité Platter.
This platter is made with root vegetables that are roasted and served with a creamy and flavorful horseradish dip. You can easily substitute the vegetables for ones you have on hand. Sweet potatoes or butternut squash would work well. You just need to make sure you are using vegetables of a similar density and that you cut them all about the same size so they will all roast together in the same amount of time.
Vegetables and a simple dip are always a good choice. Check out Mezze Dips for some other healthy and flavorful options. Check out Lime Aioli for another dip to serve the vegetables with.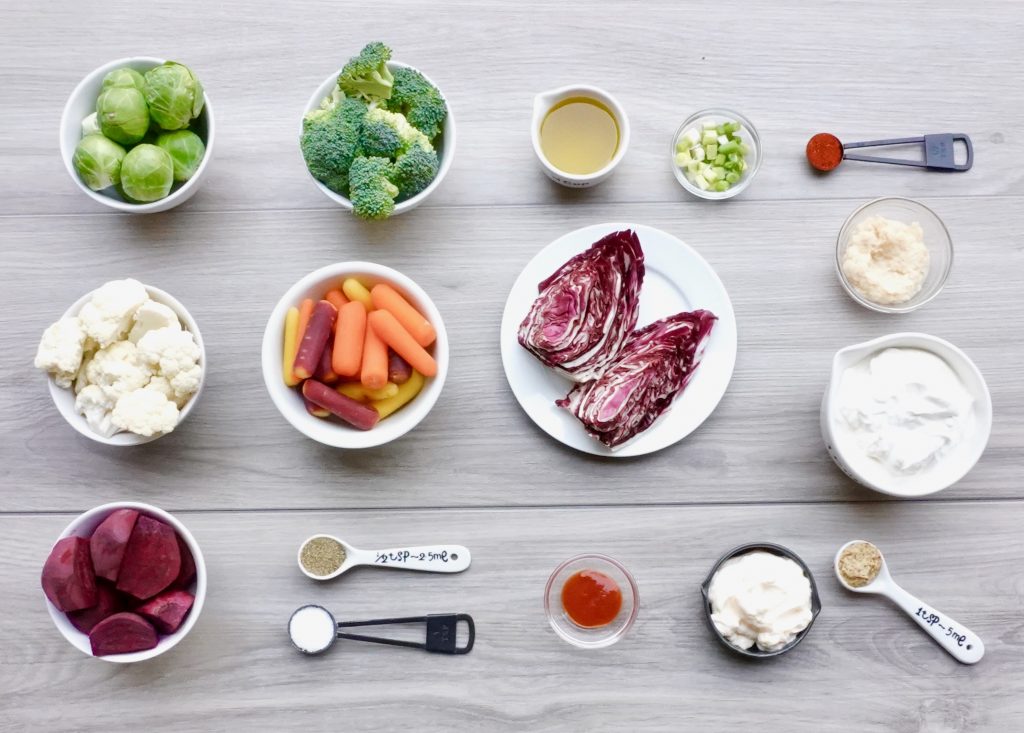 Roasted Vegetable Crudité Platter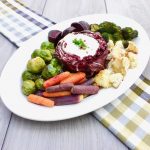 Print This
Ingredients
ROASTED VEGETABLES:

3 fresh beets, cut into four cubes each

1 cup broccoli florets

1 cup cauliflower florets

1 cup mini rainbow carrots

1 cup fresh brussels sprouts, bottom end cut off

¼ cup olive oil

1 teaspoon kosher salt

½ teaspoon black pepper

.

.

DIP:

1 cup sour cream

½ cup mayonnaise

3 tablespoons prepared horseradish

1 teaspoon dijon mustard

½ teaspoon sriracha sauce

½ teaspoon paprika

pinch kosher salt

2 teaspoons green onion, chopped

.

OPTIONAL:

1 large radicchio for serving the dip
Instructions
ROASTED VEGETABLES:
Preheat the oven to 425 degrees
Line a large baking sheet with either parchment paper or foil for easy clean up.
Add the beets, broccoli, cauliflower, carrots and brussels sprouts to the sheet.
Pour the olive oil over the vegetables and sprinkle them with the salt and pepper.
Stir the vegetables so they are evenly coated with the oil, salt and pepper.
Spread the vegetables so that they are in a single layer.
Roast for 15 minutes, checking them halfway through and turning them on the other side.
.
DIP:
In a medium size bowl add the sour cream, mayonnaise, horseradish, dijon mustard, sriracha sauce, paprika, kosher salt and green onions.
Stir to combine well.
.
OPTIONAL SERVING VESSEL:
Cut the bottom of the radicchio so that it is flat. Carefully cut a large hole in the center to create a bowl to serve the dip.