Margherita Chicken is an easy to make, flavorful dish. Cherry tomatoes, pesto and mozzarella cheese top boneless chicken cutlets for a simple, delicious meal.
This is a meal that you can put together fairly fast. The chicken cutlets are sliced thin so they cook through in just a a few minutes. The tomato topping is ready in about 5 minutes. Once the dish is assembled, it is heated in the oven to melt the cheese and ready to serve.
Easy chicken dishes with lots of flavor are great for weeknight meals. If you want some other ideas, check out Greek Salad Chicken, Roasted Tomato Herb Chicken, Turmeric Chicken, and French Onion Chicken Thighs.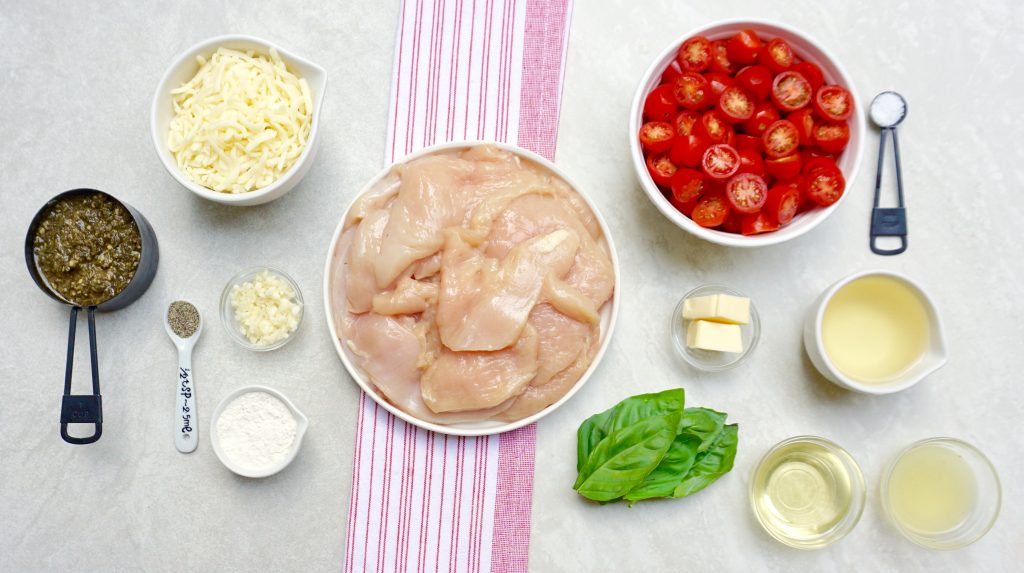 Chicken Margherita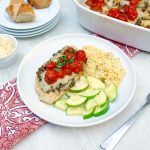 Print This
Ingredients
2 pounds boneless chicken breast

3 tablespoons olive oil, divided

½ cup all purpose flour

½ teaspoon kosher salt

½ black pepper

½ cup white wine

2 tablespoons butter

3 tablespoons lemon juice

3 cups cherry or grape tomatoes, sliced in half

3 cloves garlic, minced

6 leaves fresh basil, chopped

1 cup pesto

1½ cups mozzarella cheese, shredded
Instructions
Preheat your oven to 350 degrees.
Slice the boneless chicken breasts into cutlets. Pound the cutlets to ½ inch thickness.
Place the flour, salt and pepper into a plastic bag or shallow pie plate. Combine well. Add the chicken cutlets, one at a time and coat with the flour mixture on both sides.
Add 2 tablespoons of the olive oil to a large skillet over medium heat. Add as many chicken cutlets as you can in a single layer. Cook on the first side 3-4 minutes until lightly browned. Turn and cook the other side for 3- 4 minutes until lightly browned and cooked through. Repeat the process until all of the chicken cutlets are cooked. If you need to cook them in more that one batch you may need to add some more olive oil.
Place the browned chicken cutlets into a 9″ x 13″ baking pan.
Pour the wine into the pan, whisking to scrape up the browned bits. Add the butter and lemon juice. Stir until the butter is melted. Spoon the mixture over the chicken cutlets in the baking pan.
Add the remaining 1 tablespoon of olive to the pan, over medium low heat. Add the halved cherry tomatoes to the skillet and cook for 2 minutes. Add the garlic to the skillet and cook for 3 additional minutes. Stir in the chopped basil. Remove from the heat.
Lightly spread some pesto over the tops of the chicken cutlets. Sprinkle mozzarella cheese evenly over the tops of the cutlets. Spoon the tomato mixture over the mozzarella.
Bake the chicken for 10-15 minutes until the cheese is melted and the cutlets are heated through.