Bell Pepper Salsa combines four different color bell peppers with fresh tomato and red onion. It has a slight touch of citrus with the addition of orange and lime juice. Fresh cilantro adds a nice flavor. This fresh salsa recipe does not call for the addition of hot peppers. If you are a fan of heat you could certainly add some jalapeño peppers or chili peppers to taste.
This homemade salsa recipe does have four different colors of fresh bell pepper. While it makes it visually interesting you can make it with one or two different types and it will still taste pretty much the same. Resist the urge to chop the peppers in the food processor! You will get a much more uniform consistency if you cut the peppers by hand.
I used this tasty salsa as a topping for Summer Shrimp Quesadilla. It would also be good with Mexican Pulled Chicken tacos or you could just dip some tortilla chips into it! If you want to try another fun salsa, check out Pickle Salsa. You might also like Zucchini Salsa and this fresh Tomato Salsa. Salsa Taquera is another tomato salsa recipe that has a bit of heat.
SOME THINGS TO KNOW:FAQ'S
INGREDIENT TIPS:
SPECIAL EQUIPMENT NEEDED:
Cutting board
Mixing bowl
SUBSTITUTIONS:
If you do not have red onion, white onion, sweet onions  or green onion can be substituted.
If you do not have fresh cilantro, 2 teaspoons of dried cilantro can be substituted.
HOW TO STORE BELL PEPPER SALSA:
You can store the leftover salsa in the refrigerator in an airtight container for up to 3 days.
You can freeze the salsa is a freezer-safe container for 2-3 months. Be aware that the peppers will lose some of their crunchy texture when they thaw out.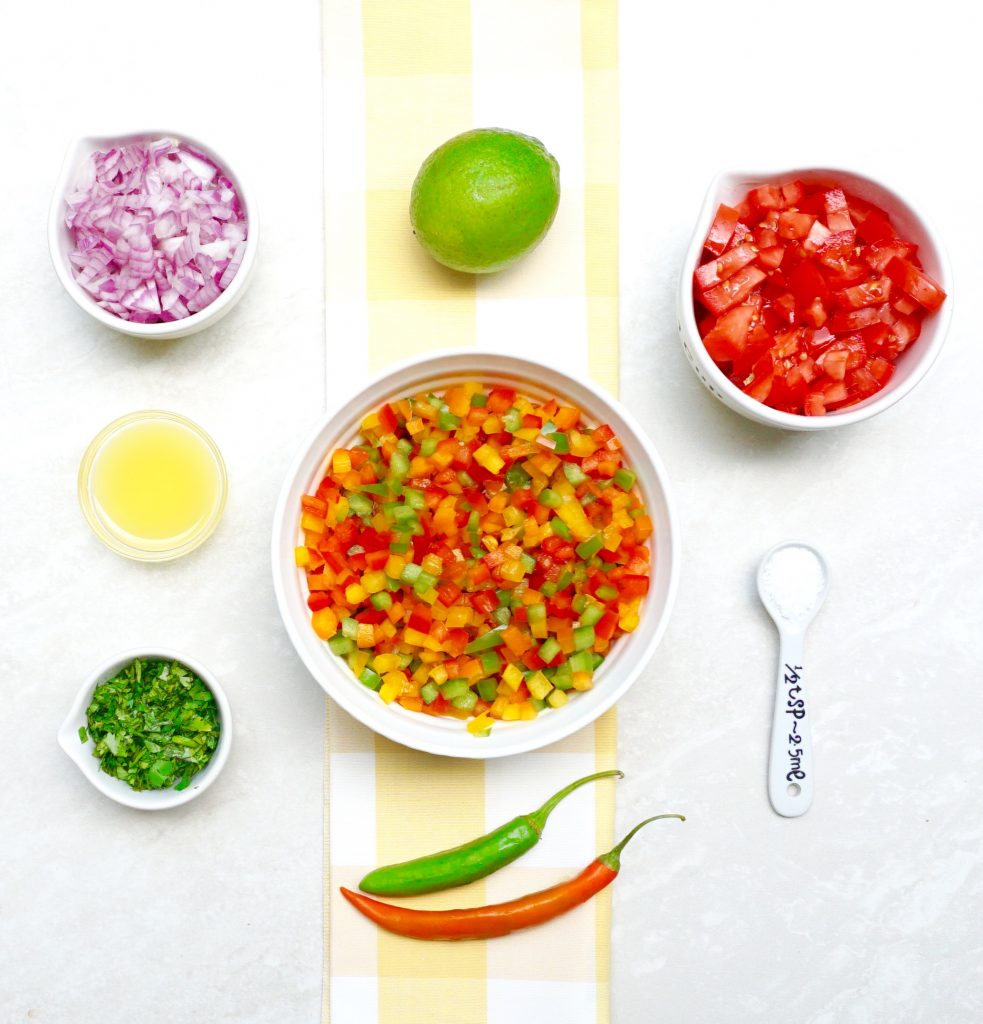 Bell Pepper Salsa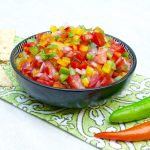 Print This
Ingredients
2 cups bell peppers, diced small (red, green bell peppers, orange and yellow bell pepper)

1 cup fresh tomatoes , diced small (Roma tomatoes or plum tomatoes)

½ cup red onion, diced small

2 tablespoons orange juice

2 tablespoons fresh lime juice

¼ cup fresh cilantro, chopped

½ teaspoon kosher salt

Optional: jalapeno pepper or red pepper flakes
Instructions
Combine all of the ingredients together in a large bowl. Make sure they are mixed together well.
Serve chilled or at room temperature.