Roasted Summer Vegetable Penne is a simple and delicious way to enjoy some of the best summer vegetables in an easy vegetarian meal. It would also make a perfect summer side dish.
One pot pasta meets sheet pan dinner in this quick fix recipe. You can cook the pasta while you are roasting the vegetables and have this done in 20 minutes.
This recipe combines some of the best vegetables that are at peak right now. Eggplant, yellow squash, zucchini and tomatoes are mixed with penne pasta in a simple sauce made with ricotta cheese, parmesan cheese and reserved pasta cooking water.
If you are a fan of one pot vegetarian pasta meals check out Lemon Asparagus Pasta, Tomato Broccoli One Pot Pasta, and One Pot Asparagus Gnocchi.
If you would like to try another vegetable pasta combination, check out Rotelle Ratatouille.
For more ways to cook with seasonal squash, check out 15 Simple Summer Squash Recipes.
SOME THINGS TO KNOW:FAQ'S:
INGREDIENT TIPS:
SPECIAL EQUIPMENT NEEDED:
Large pot to cook the pasta.
Large baking sheet
Foil or parchment paper for easy clean up
SUBSTITUTIONS:
If you cannot find penne pasta at the grocery store, use another kind of pasta. You will need a pound of pasta. Rigatoni or ziti would be good substitutes. You can also use whole wheat pasta, quinoa pasta or gluten free pasta.
If you do not have fresh basil, use any fresh herbs that you have on hand or 2 teaspoons of dried basil. You could also use Italian seasoning.
You could substitute shredded mozzarella cheese for the grated parmesan cheese.
HOW TO STORE ROASTED SUMMER VEGETABLE PENNE:
You can store the leftover pasta in an airtight container or tightly covered with plastic wrap for 2-3 days.
You can freeze this in an airtight freezer container for 2-3 months. Note that the consistency of the vegetables may change during the freezing process.
HOW TO REHEAT ROASTED SUMMER VEGETABLE PENNE:
You can reheat this on the stovetop in a large skillet over medium-low heat. You may need to add a couple tablespoons of water to keep the pasta from drying out.
You can also reheat this covered in a microwave safe dish in the microwave. Heat it at 1-2 minute intervals until it is heated through.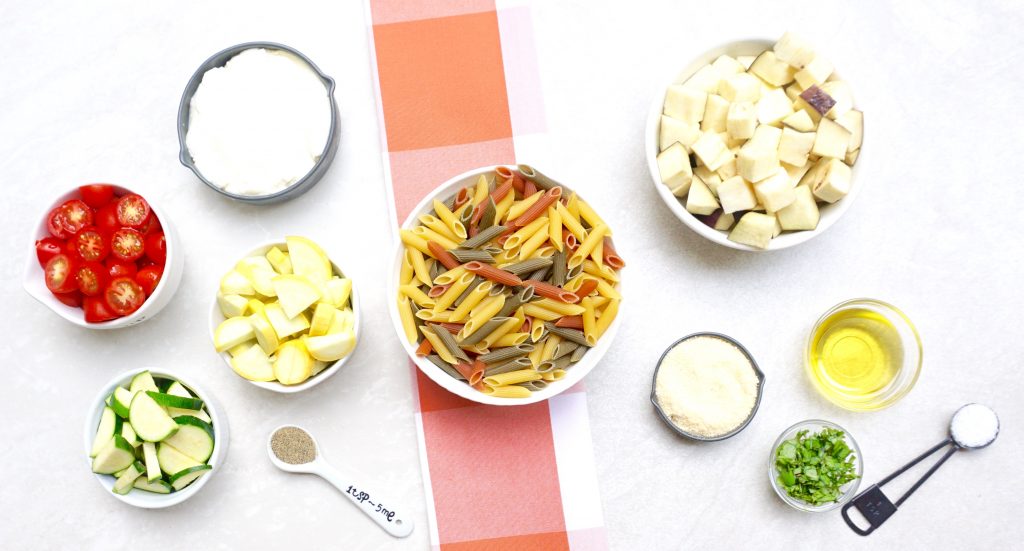 Roasted Summer Vegetable Penne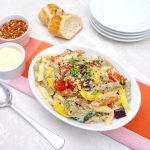 Print This
Ingredients
2 cups eggplant, skin on, cut into 1 inch cubes

1 medium zucchini, skin on, cut into 1 inch cubes

1 medium yellow squash, skin on, cut into 1 inch cubes

1 cup cherry or grape tomatoes, cut in half

3 tablespoons olive oil

1 teaspoon kosher salt

1 teaspoon black pepper

1 pound penne pasta

1 cup ricotta cheese

¼ grated parmesan cheese

1 cup reserved pasta water

2 tablespoons fresh basil, chopped
Instructions
Preheat your oven to 400 degrees.
Line a large baking sheet pan with foil or parchment paper for easy clean up.
Combine the eggplant, zucchini, yellow squash, grape tomatoes, olive oil, kosher salt and teaspoon pepper on the baking sheet. Use a spatula or wooden spoon to stir and make sure that all of the diced vegetables are coated with olive oil.
Fill a large pot of salted water for the pasta and place it on high heat.
Place the vegetables into the preheated oven. Roast vegetables for 10 minutes. Remove them from the oven. Stir them and return to the oven for an additional 10 minutes.
Once the water boils, add the penne and cook according to the package directions for al dente. Make sure to reserve a cup of the the pasta cooking water, then drain the pasta.
Add the drained pasta back to the pot. Stir in the ricotta and parmesan cheese over low heat.
Stir in the roasted vegetables and ½ cup of the reserved pasta cooking water. This should create a creamy sauce. If you prefer it a bit more creamy, add more water, a slight bit at a time.
Stir in the basil and serve in a large bowl.
Notes
This is tri color penne pasta pictured but any penne would work.