One Pot Asparagus Gnocchi is a hearty, vegetarian meal that is perfect for a busy weeknight. It is all done in one pot and it is ready in minutes!
Gnocchi is actually a type of pasta which is shaped into dumplings. You can sometimes find them fresh or you can buy them packaged. They can be made of different types of flour and sometimes include potato. You can make them from scratch if you are in the mood for a project!
This meal is ready from start to finish in about 15 minutes. One Pot Gnocchi has veggies, protein and a creamy, cheesy sauce. You might also like Vegetable Gnocchi.
If you like simple one pot pasta meals check out Tomato Broccoli  One Pot Pasta and Lemon Asparagus Pasta.
If you are a fan of asparagus, you might like Raspberry Asparagus.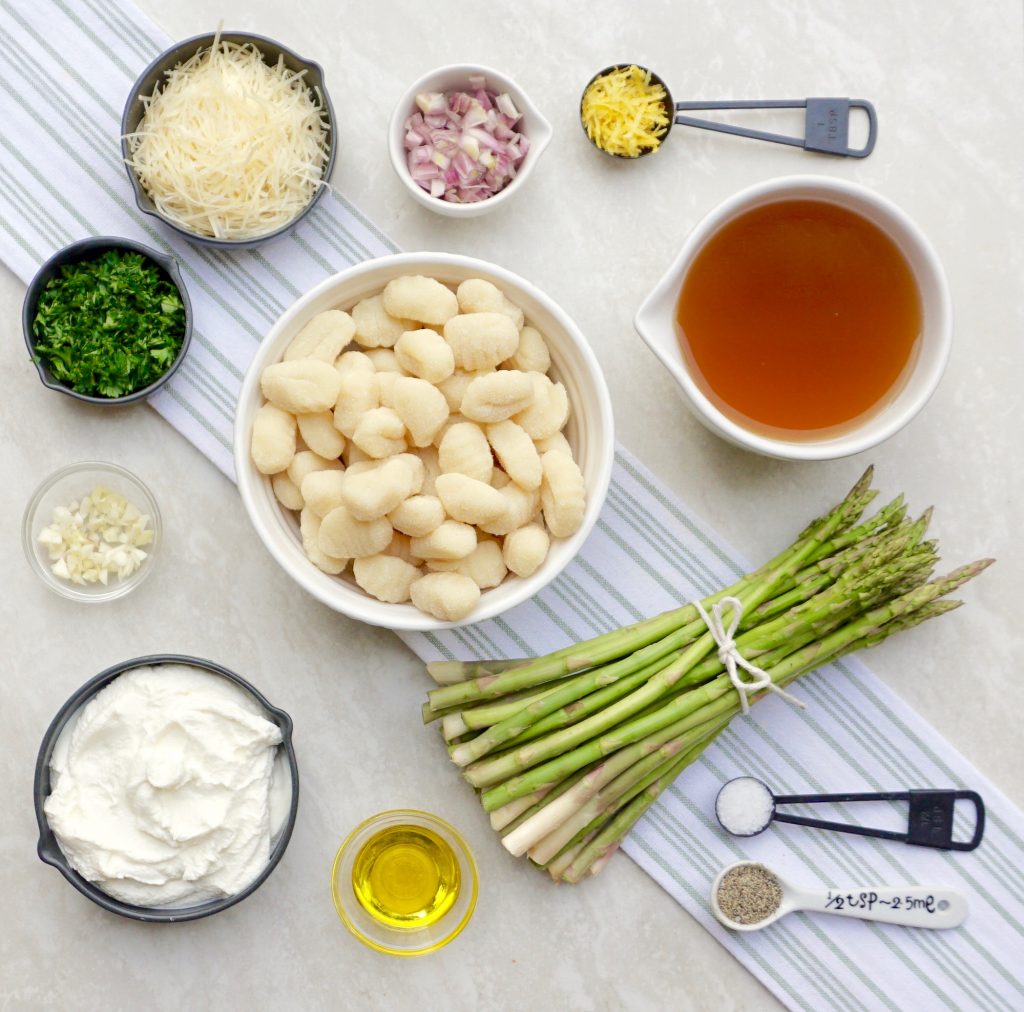 One Pot Asparagus Gnocchi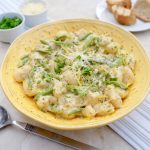 Print This
Ingredients
1 tablespoon olive oil

¼ cup shallots, chopped

2 cloves garlic, minced

8 ounces fresh asparagus cut into 1 ½ inch pieces

1 ¼ cup vegetable stock

1 pound gnocchi

1 cup ricotta cheese

½ cup grated parmesan cheese

¼ cup fresh parsley, chopped

1 tablespoon lemon zest

½ teaspoon kosher salt

½ teaspoon black pepper
Instructions
Heat the olive oil over medium low heat in a large skillet. Add the shallots, garlic and asparagus to the skillet. Cook , stirring occasionally for 2 minutes until they begin to soften.
Add the broth to the pan and raise the heat to high until it starts to boil. Add the gnocchi, then lower the heat back to medium low and cook for about 5 minutes, stirring often until most of the broth has been absorbed and the gnocchi are tender. 
Stir in the ricotta cheese, parmesan cheese, parsley and lemon zest. 
Season with salt and pepper to taste.