One Pot Asparagus Gnocchi is a hearty, vegetarian meal that is perfect for a busy weeknight. It is all done in one pot and it is ready in minutes! This is a good spring gnocchi dish to make during asparagus season. Ricotta cheese and vegetable broth create a cream sauce while shallots, garlic, lemon zest, and parmesan cheese add some great flavor. This lovely seasonal dish is easy and fast enough to be a weeknight dinner.
This quick dinner is ready from start to finish in about 15 minutes. One Pot Gnocchi has veggies, pillowy gnocchi, protein and a creamy, cheesy sauce. You might also like Vegetable Gnocchi which is made with cherry tomatoes, corn, zucchini and yellow squash.
If you like simple one pot pasta meals check out Tomato Broccoli One Pot Pasta and Lemon Asparagus Pasta which is another one-pot asparagus and pasta recipe made with lemon juice and zest.
If you are a fan of crunchy asparagus, you might like Raspberry Asparagus.
SOME THINGS TO KNOW:FAQ'S
INGREDIENT TIPS:
Gnocchi is actually a type of pasta which is shaped into dumplings. You can sometimes find them fresh or you can buy them packaged. They can be made of different types of flour and sometimes include potato. You can make them from scratch if you are in the mood for a project! Read Easy Homemade Potato Gnocchi to learn how.
Ricotta Cheese is something that you can make at home using pantry ingredients. . It is incredibly easy, fast and tastes much fresher than the store bought brands.
SPECIAL EQUIPMENT NEEDED:
Large skillet
Lemon zester or small box grater
SUBSTITUTIONS:
 If  you do not have shallots, substitute yellow or red onion for a similar flavor profile.
Green beans or sweet green peas make a great alternative to asparagus while maintaining that crunchy texture.
 Cottage cheese or goat cheese can be used as a replacement for ricotta, offering a similar creaminess.
Grated Pecorino Romano or Asiago cheese can be substituted for Parmesan, adding a sharp and salty kick.
 Fresh basil or fresh cilantro can be used if parsley is unavailable, lending a different flavor. You could also use 4 teaspoons of dried parsley flakes.
Orange zest can be a refreshing alternative to the lemon zest, providing a sweeter citrus note.
If you do not have garlic cloves, you can substitute a teaspoon of garlic powder.
HOW TO STORE ONE POT ASPARAGUS GNOCCHI:
You can store the gnocchi in the fridge if you plan on eating it within 3-5 days. Allow the gnocchi to cool to room temperature.Place the gnocchi in an airtight container or resealable plastic bag.
The  gnocchi dish can be frozen for 2 -3 months.Place it into an airtight container or a heavy-duty freezer bag to prevent freezer burn.
For best results, thaw frozen gnocchi in the refrigerator overnight. This slow thawing helps maintain the texture and flavor of the dish.
HOW TO REHEAT ONE POT ASPARAGUS GNOCCHI:
You can reheat the gnocchi on the stovetop in a skillet  over medium-low heat. Add a splash of vegetable stock or water and gently reheat the gnocchi, stirring occasionally, until it is warmed through.
To reheat the gnocchi in a microwave oven, place the gnocchi in a microwave-safe container and cover it loosely with a microwave-safe lid or plastic wrap. Heat on medium power, stirring occasionally, until the dish is heated through. This method is quick but may result in a slightly altered texture.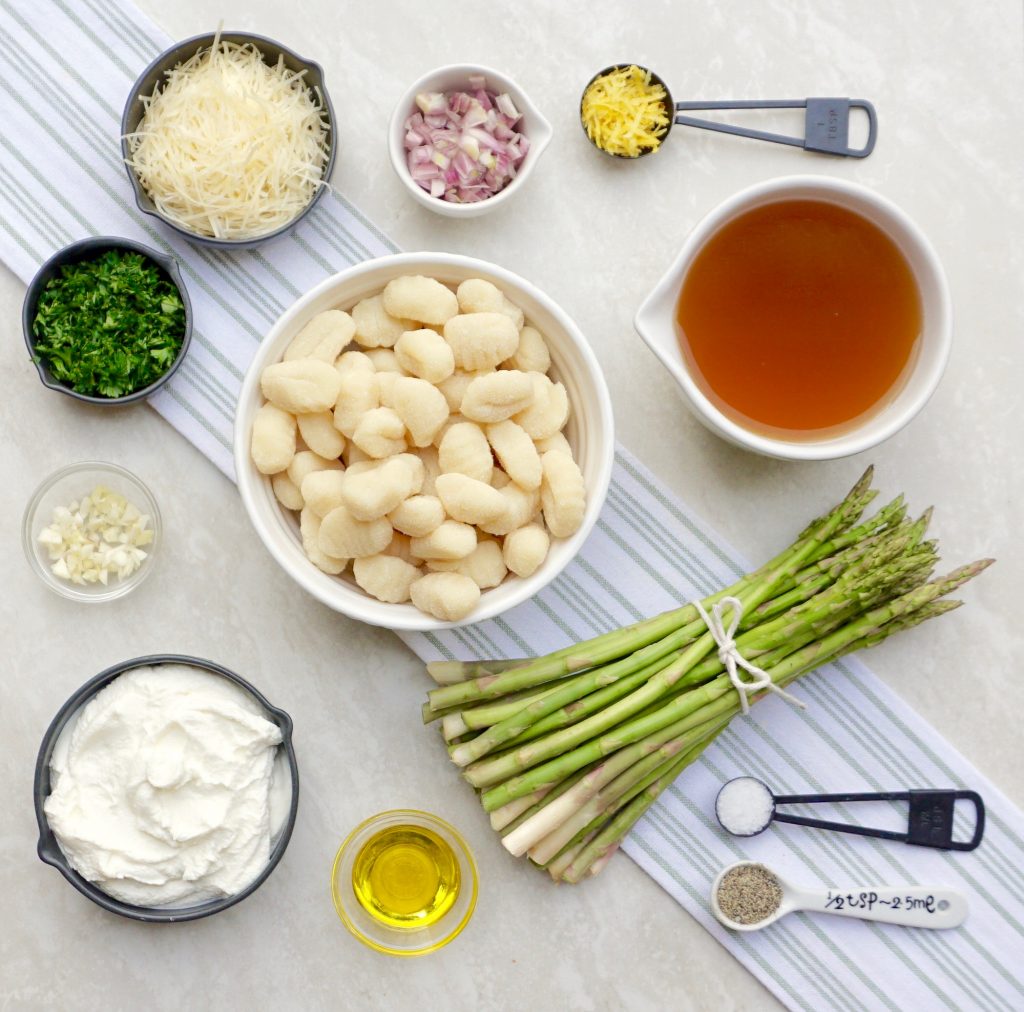 One Pot Asparagus Gnocchi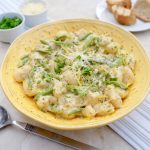 Print This
Ingredients
1 tablespoon extra virgin olive oil

¼ cup shallots, chopped

2 cloves garlic, minced

8 ounces fresh asparagus cut into 1 ½ inch pieces

1 ¼ cup vegetable stock

1 pound potato gnocchi, store-bought gnocchi or homemade gnocchi

1 cup ricotta cheese

½ cup grated parmesan cheese

¼ cup fresh parsley, chopped

1 tablespoon lemon zest

½ teaspoon kosher salt

½ teaspoon black pepper
Instructions
Heat the olive oil over medium heat in a large skillet. Add the shallots, garlic and asparagus to the skillet. Cook,stirring occasionally for 2 minutes until they begin to soften.
Add the broth to the pan over medium-high heat until it starts to boil. Add the gnocchi, then lower the heat to medium low and cook for about 5 minutes, stirring often until most of the broth has been absorbed and the gnocchi are tender.
Stir in the ricotta cheese, parmesan cheese, parsley and lemon zest.
Season with salt and pepper to taste.
Serve with some additional parmesan cheese and red pepper flakes.