Raspberry Asparagus is a flavorful side dish that tastes delicious with minimal effort. Fresh asparagus is blanched until tender crisp and served with a flavorful dressing that it a combination of sweet and savory. If you want to add some extra crunch, crushed pistachio nuts make an interesting topping.
The best part about this recipe is that it can be served warm, cold or at room temperature. It is great for entertaining as you can make it ahead of time.
Asparagus is readily available year round but is best in the spring when you can find the slender stalks. If you want to try some other asparagus recipes this spring check out Lemon Asparagus Risotto, Asparagus Fried Brown Rice, Asparagus Quiche Cups, One Pot Asparagus Gnocchi, Asparagus Quiche, Mushroom Asparagus Tortellini, Lemon Asparagus Pasta, Mushroom Asparagus Frittata, Lemon Shrimp Orzo with Asparagus, and Lemon Asparagus Quinoa.
SOME THINGS TO KNOW:
Cooked asparagus will last 3-5 days in the refrigerator when stored in an airtight container.
Blanched asparagus can be frozen for 2-3 months. Once you have blanched it and placed it into an ice water bath to stop the cooking process, drain the asparagus and lay it on a baking sheet. Once frozen, place the frozen spears into an airtight freezer container.
The raspberry dressing can also be stored in in airtight container in the refrigerator for 3- 5 days.
Freezing the dressing may change the consistency and cause the dressing to separate. It is not recommended.
When asparagus starts to grow in the spring, the spears will be thin. As the season progresses the spears will become thicker.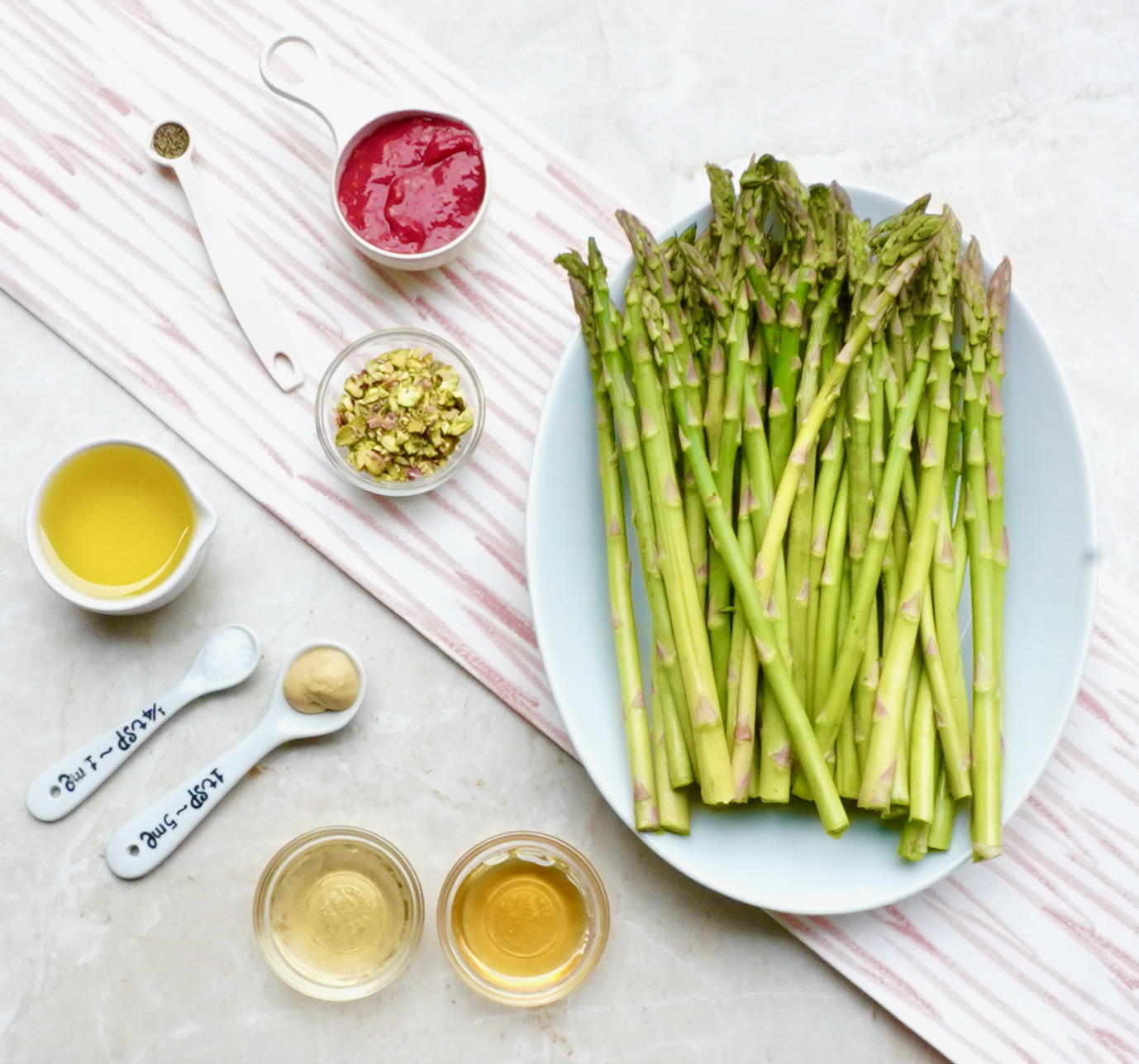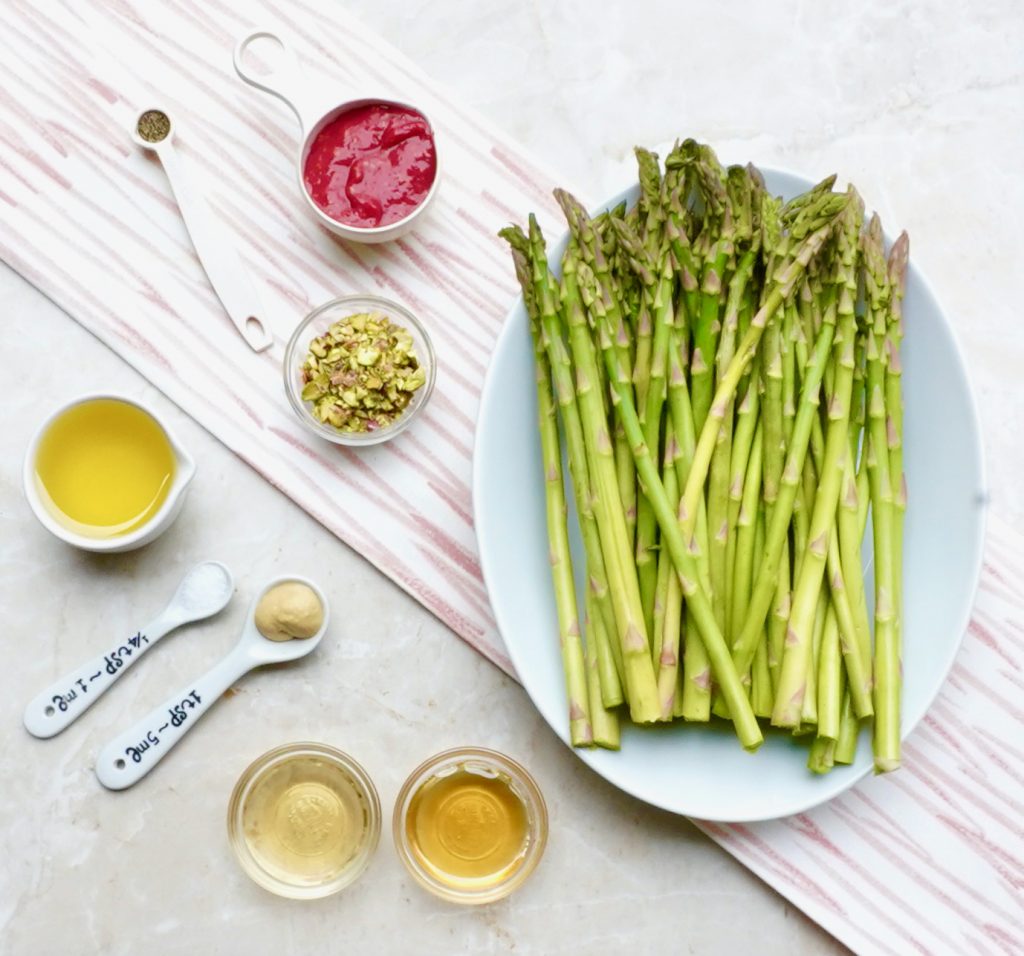 Raspberry Asparagus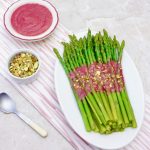 Print This
Ingredients
1 pound asparagus, ends trimmed

¼ cup raspberries, pureed

2 tablespoons apple cider vinegar

¼ cup olive oil

1 tablespoon honey

¼ teaspoon kosher salt

¼ teaspoon black pepper

1 teaspoon Dijon mustard

Optional topping: crushed pistachio nuts
Instructions
Bring a large skillet of water to a boil and add the asparagus to the skillet. Let it simmer for 3 minutes until it is tender but not too soft.
Make an ice water bath by filling a shallow long bowl with water and ice. Place the cooked asparagus directly into the water to stop the cooking process.
In a small bowl combine the raspberry puree, cider vinegar, olive oil, honey, salt, pepper and Dijon mustard.
To serve you can toss the asparagus with the dressing to completely coat it. You can also place the asparagus onto a platter and drizzle the dressing over it or you can place the dressing into a small bowl and let people add it for themselves.
If you are using the pistachio nuts as a topping, lightly sprinkle them on top of the dressing.