Lemon Asparagus Risotto is a versatile recipe that makes a great side dish or a vegetarian meal. While it can be made at any time of the year, it is best in the spring when you can find the slender stalks of asparagus.
It will only take you about 20 minutes of cooking time to make this but it is all active time. The process of adding the broth to the rice needs to be done slowly and it needs to be stirred into the rice. You just might find this process to be relaxing!
There are so many great ways to prepare risotto. Check out Red Pepper Corn Risotto, Sun Dried Tomato Risotto, Roasted Shrimp Risotto and Orzo Risotto for some other options.
If you are a fan of asparagus, you might like Raspberry Asparagus.
SOME THINGS TO KNOW:
Arborio rice is an Italian short grain rice. It has a high starch content and when it is cooked, it releases the starch and results in a firm, creamy rice.
Arborio rice is more expensive than most rice and is sometimes not readily available. If you cannot find it you can substitute any kind of short or medium grain rice. It will not be exactly the same but it will work.
Do not use long grain rice in this recipe. Long grain rice does not have enough starch content and you will not get a creamy risotto.
Lemon Asparagus Risotto is best served when it has just been made.
Risotto should not be frozen. The rice can become hard and grainy in the freezing process.
You can keep leftovers in in airtight container in the refrigerator for up to 5 days. To reheat it, place it into a saucepan over low heat with vegetable broth that is about one quarter of the amount of the rice. Let it heat slowly, stirring occasionally until it is heated through.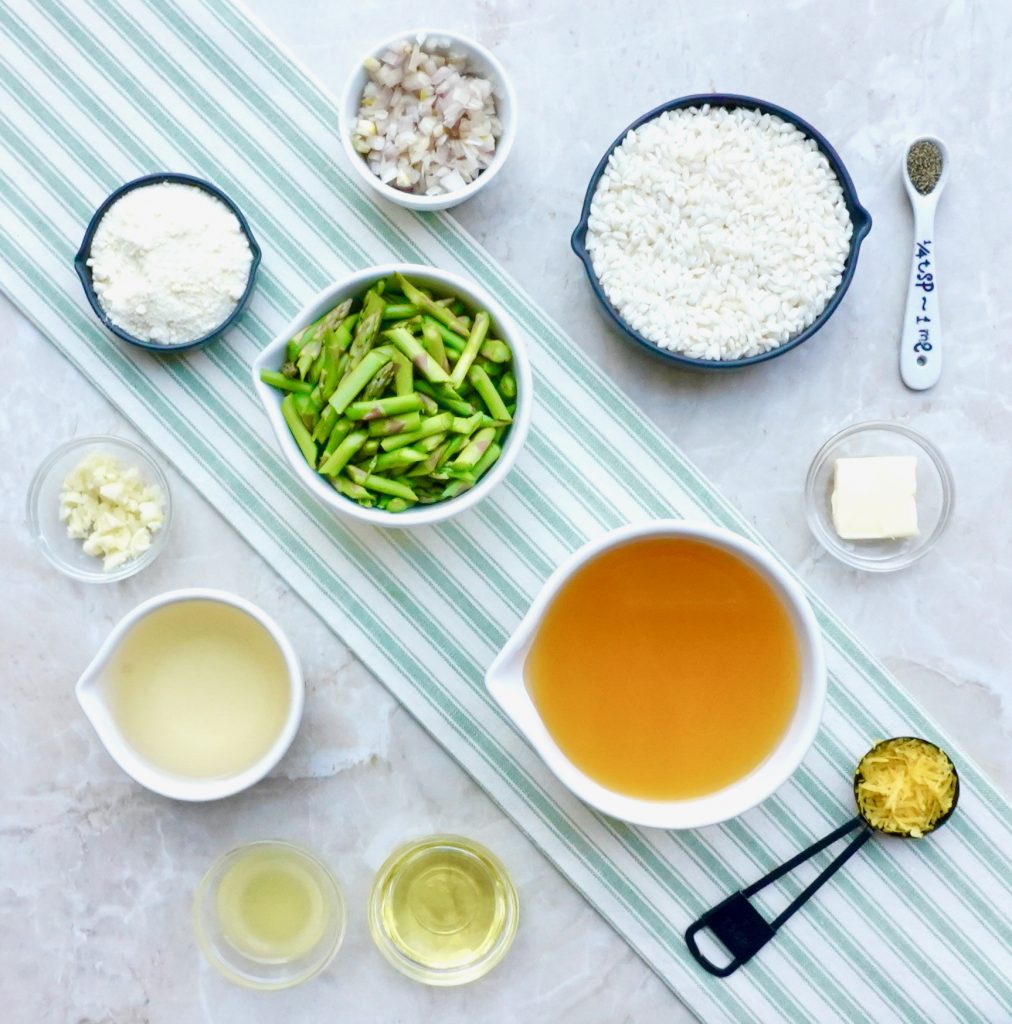 Lemon Asparagus Risotto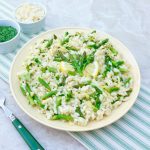 Print This
Ingredients
1 tablespoon butter

1 tablespoon olive oil

1 small shallot, minced

2 cloves garlic, minced

1 cup arborio rice

½ cup white wine

1 teaspoon lemon juice

2 teaspoons lemon zest

4 cups vegetable broth

I cup fresh asparagus, cut into 1" pieces

¼ cup parmesan cheese, grated
Instructions
Place the vegetable broth into a medium size saucepan over high heat. Heat it until it comes to a boil. Turn the heat to the low setting. You will need to keep the broth warm during the entire process of making the risotto.
Add the butter and olive oil to a large saucepan over medium low heat.
Once the butter has melted add the shallots and garlic to the pan and cook, stirring occasionally for 2 minutes.
Add the rice to the pan and stir to make sure that it is evenly coated with the butter mixture. Cook stirring often for 1 minute.
Add the wine, lemon juice and lemon zest to the pan and cook stirring almost constantly until it is completely absorbed into the rice.
Add ½ cup of the warm vegetable broth to the rice and stir until it has been completely absorbed. Continue the process, adding ½ cup of the broth at a time and stirring it until the broth is completely absorbed. You will be doing this until all of the broth has been added to the rice. This will take just about 18 minutes.
When you are down to your last cup of broth to be added, stir the asparagus into the rice so it can cook.
When all of the broth has been added and absorbed, stir in the parmesan cheese. Serve.