Risotto takes a little bit of effort but it is well worth it. It has a nice creamy texture and tastes delicious. Roasted Shrimp Risotto combines risotto with shrimp to make a dinner that is worthy of a special occasion like Valentine's Day or a birthday dinner, yet it is easy and fast enough for a weeknight dinner.
It is not actually hard to make but you need to make sure you have the right ingredients and be willing to stand and stir for a while.  You need to use Arborio rice in this dish. This is a short grain rice with a lot of starch in it. As it is combined with the warm broth and stirred it will release the starch and become very creamy. You also need to keep your broth warming on the stove throughout the entire process.
This is actually a meal that comes together pretty quickly. It takes the risotto about 20 minutes to cook and you can roast the shrimp while you are cooking the risotto.
Shrimp is a good choice when you are looking for a meal to make fast as it cooks very quickly. Check out Shrimp Tomato Wine Sauce, Creamy Lemon Shrimp, Honey Garlic Shrimp, Creamy Tuscan Shrimp Fusilli, and Lemon Shrimp Orzo with Asparagus which is made with lemon juice and lemon zest for some other options. You might also like Easy Breaded Fried Butterfly Shrimp Recipe which is quickly made with a few simple ingredients.
If you want to try some more easy risotto recipes, check out Lemon Asparagus Risotto, Red Pepper Corn Risotto, Sun Dried Tomato Risotto and Orzo Risotto. They are all simple to make, creamy risotto recipes.
SOME THINGS TO KNOW: FAQ'S
INGREDIENT TIPS:
Arborio rice is an Italian rice that has short rice grains.used for risotto with a high starch content. Cooking arborio rice releases its starch, giving risotto its creamy texture.
SPECIAL EQUIPMENT NEEDED:
Large saucepan or dutch oven
Baking sheet
SUBSTITUTIONS:
If you cannot find Arborio at your grocery store, sushi rice is another short grain sticky rice. Jasmine rice would also work.
You can substitute red or yellow onion for the shallot.
1 teaspoon garlic powder can be used in place of the garlic cloves.
If you do not have fresh parsley, substitute 2 teaspoons dried parsley flakes or other fresh herbs that you have on hand.
You can substitute vegetable broth for the chicken broth, or chicken stock.
If you do not have olive oil, canola oil or vegetable oil can be substituted.
The best substitutes for Parmesan cheese are Romano cheese or Asiago cheese.
HOW TO STORE LEFTOVER ROASTED SHRIMP RISOTTO:
Store the leftover shrimp and risotto separately in airtight containers into the refrigerator for 1-2 days.
You can also freeze them in freezer containers for up to 2 months.
HOW TO REHEAT ROASTED SHRIMP RISOTTO:
You can reheat the risotto covered in the microwave in a microwave safe baking dish. Cook at 1-2 minute intervals, stirring until heated through.
You can heat the risotto in a medium saucepan on the stove top over medium low heat, stirring occasionally until heated through.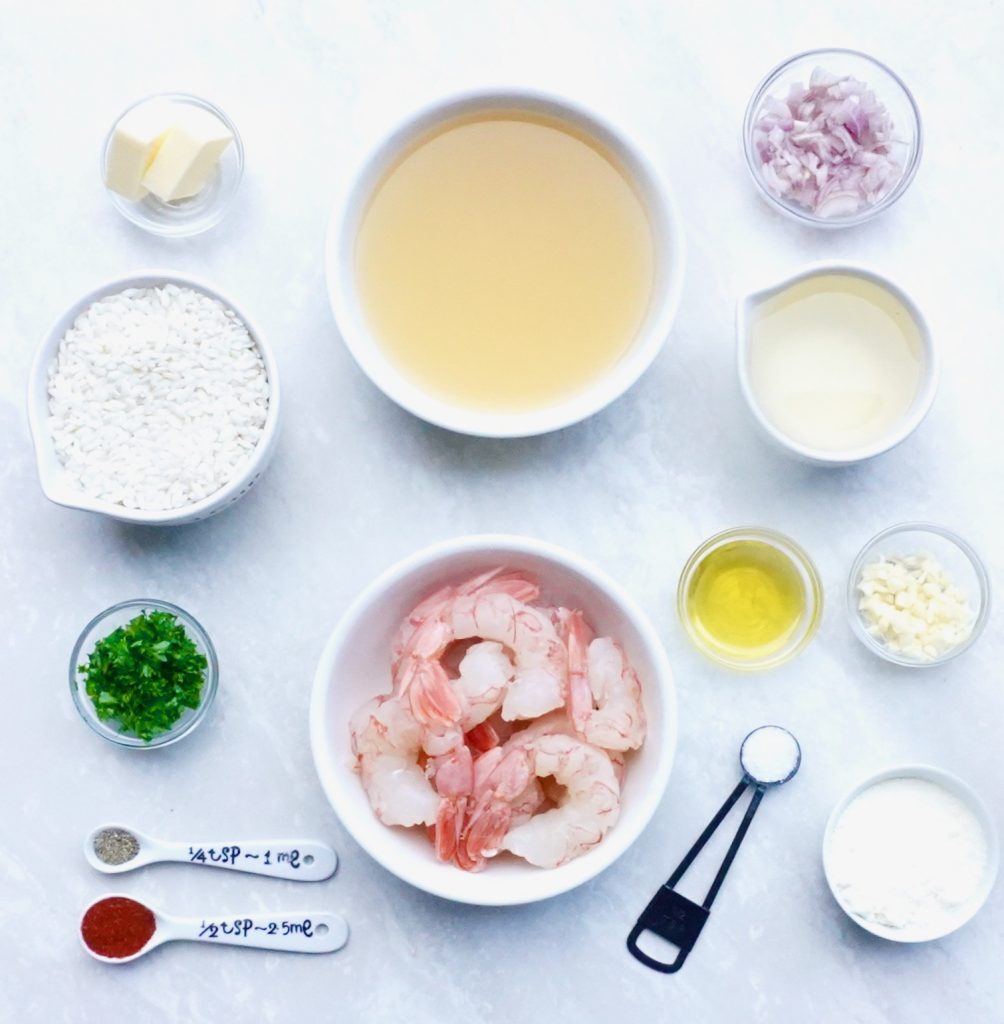 Roasted Shrimp Risotto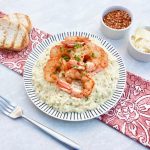 Print This
Ingredients
¾ pound large shrimp, peeled and deveined

1 tablespoon extra virgin olive oil

½ teaspoon kosher salt

¼ teaspoon black pepper

½ teaspoon paprika

2 tablespoon butter

1 small shallot, diced

2 cloves garlic, minced

1 cup Arborio rice

½ cup dry white wine ( Chardonnay, Pinot Grigio or Sauvignon Blanc)

4 cups chicken broth

¼ cup parmesan cheese

2 tablespoons fresh parsley, chopped
Instructions
Preheat the oven to 400 degrees.
In a medium bowl add the shrimp, olive oil, salt, pepper and paprika. Combine well so the shrimp are fully coated with the oil and seasonings. Line a baking sheet pan with foil and place shrimp onto  to the pan in a single layer. Set aside.
In a medium size saucepan, bring the chicken broth almost to a boil over medium heat.
Once it comes to this point, turn the heat down to the low setting.  You need to keep the broth warm throughout the process.
Add the butter to a large saucepan over medium low heat. Add the shallots and garlic and cook, stirring occasionally for 2 minutes.
Add the rice to the pan and stir it so that all of the grains become coated with butter. Let it cook for 1 minute.
Add the wine to the pan and stir it in completely. Cook, stirring until it has been entirely absorbed by the rice.
Set a timer for 13 minutes
Add a half cup of the warm broth to the pan and stir it in to the rice. You need to stir this almost constantly until it has been entirely absorbed.
Turn your heat down to the low setting. You want the rice to absorb the broth very slowly so that it releases its starch and becomes creamy.
Once the first addition of broth is absorbed, add another half cup of broth and stir until that has been absorbed as well. Keep repeating the process of adding the broth a half cup at a time until it is absorbed while stirring almost constantly at a gentle simmer.
It is going to take just about 18 minutes for the broth to be absorbed and the risotto to be finished to al dente.
When the timer goes off at 13 minutes, add the shrimp to the preheated oven. Roast for 5 minutes. They should be firm and cooked through at this point.
As you are reaching the end of the process of adding broth, taste the rice to see if it is still too firm or ready to serve. If it is a tenderness you like, you may not need to add all of the broth.
Once the risotto has absorbed most or all of the broth and the creamy rice is ready to serve, stir in the parmesan cheese and parsley.
Place the risotto on a serving platter and top it with the roasted shrimp.