Fall Simple Skillet Drumsticks is the dish you didn't know you needed.  Chicken drumsticks are marinated in apple cider and fragrant spices. The drumsticks are cooked golden brown to perfection right in your skillet. They finish cooking with the addition of onions, apple slices, fresh thyme and chicken broth.
This simple recipe will have your kitchen smelling amazing. The best part is that  with a cooking time of under 30 minutes these juicy drumsticks will be on the dinner table fast and the whole family will be happy. Fall Simple Skillet Drumsticks made with simple ingredients is an easy meal for weeknight dinners.
If you like this  chicken drumsticks recipe and want to try another delicious pan recipe made with bone-in thighs and baked chicken legs check out Lemon Chicken.
If you are looking for a great recipe for boneless chicken breast check out Lemon Chicken Milanese which is a pan-fried chicken recipe, Apple Brie Stuffed Chicken Breasts and Imperial Baked Chicken which is an easy crispy oven recipe.
If you would like a flavorful recipe for boneless chicken thighs try French Onion Chicken Thighs and Apple Cider Chicken Thighs.
If you are looking for a side dish to serve with the drumsticks Curried Apple Rice would work well. Twice Baked Sweet Potatoes, Twice Baked Acorn Squash, Roasted Butternut Brussel Sprout Salad, Roasted Butternut Squash and Herb Roasted Turmeric Potatoes would all be good choices.
SOME THINGS TO KNOW:FAQ'S
INGREDIENT TIPS:
Choose drumsticks that are roughly the same size for even cooking. Pat them dry before marinating to allow the marinade to adhere better.
Opt for fresh, unfiltered apple cider for the best flavor. Avoid cider with added sugars.
Choose a firm and tart variety like Granny Smith for cooking, as they hold their shape and provide a nice contrast to the savory ingredients. Read 17 Types of Apples for Your Fall Cooking and Baking for some other options.
Don't peel the apples – the skin adds color, texture, and additional nutrients.
SPECIAL EQUIPMENT NEEDED:
Large skillet, cast iron pan, or large pan
Meat thermometer
Small bowl or mixing bowl for the marinade.
Zip top bag  or large bowl to marinade the chicken.
SUBSTITUTIONS: 
If you don't have apple cider, apple juice can be a suitable alternative. For an adult twist, you can even use hard cider.
Canola or vegetable oil can work in place of the olive oil.
Dried thyme can be used as a substitute for fresh thyme. Use 1 teaspoon of dried thyme for every 3 sprigs of fresh thyme. You could also use other fresh herbs like rosemary or sage if you have them on hand.
Vegetable broth or water can replace chicken broth if needed.
Pear slices can be used instead of apple for a different fall flavor.
 Garlic powder can be used in place of fresh garlic cloves. Use ½ teaspoon of garlic powder  for every clove.
If you prefer bone in chicken thighs for dark meat, use them in place of the drumsticks. You could also substitute chicken leg quarters.
HOW TO STORE FALL SIMPLE SKILLET DRUMSTICKS:
You can store the  chicken in the refrigerator for up to 3-4 days. Allow the drumsticks to cool to room temperature. Place the drumsticks into an airtight container or wrap them tightly with aluminum foil or plastic wrap.
You can store the chicken in the freezer for up to 2-3 months. Wrap each drumstick individually in plastic wrap or aluminum foil. Place the wrapped drumsticks in a freezer bag or airtight container. Squeeze out as much air as possible to prevent freezer burn.
Defrost the drumsticks overnight in the refrigerator.
HOW TO REHEAT FALL SIMPLE SKILLET DRUMSTICKS:
To reheat the drumsticks in the oven, Preheat your oven to 350°F . Place the drumsticks into a baking dish and cover the dish with foil. Reheat for about 20-25 minutes or until heated through.
To reheat the drumsticks in a microwave oven, place the  drumsticks onto a microwave-safe plate, cover with a microwave-safe lid or plastic wrap. Reheat on medium power for 2-3 minutes per drumstick, turning halfway through, until heated through.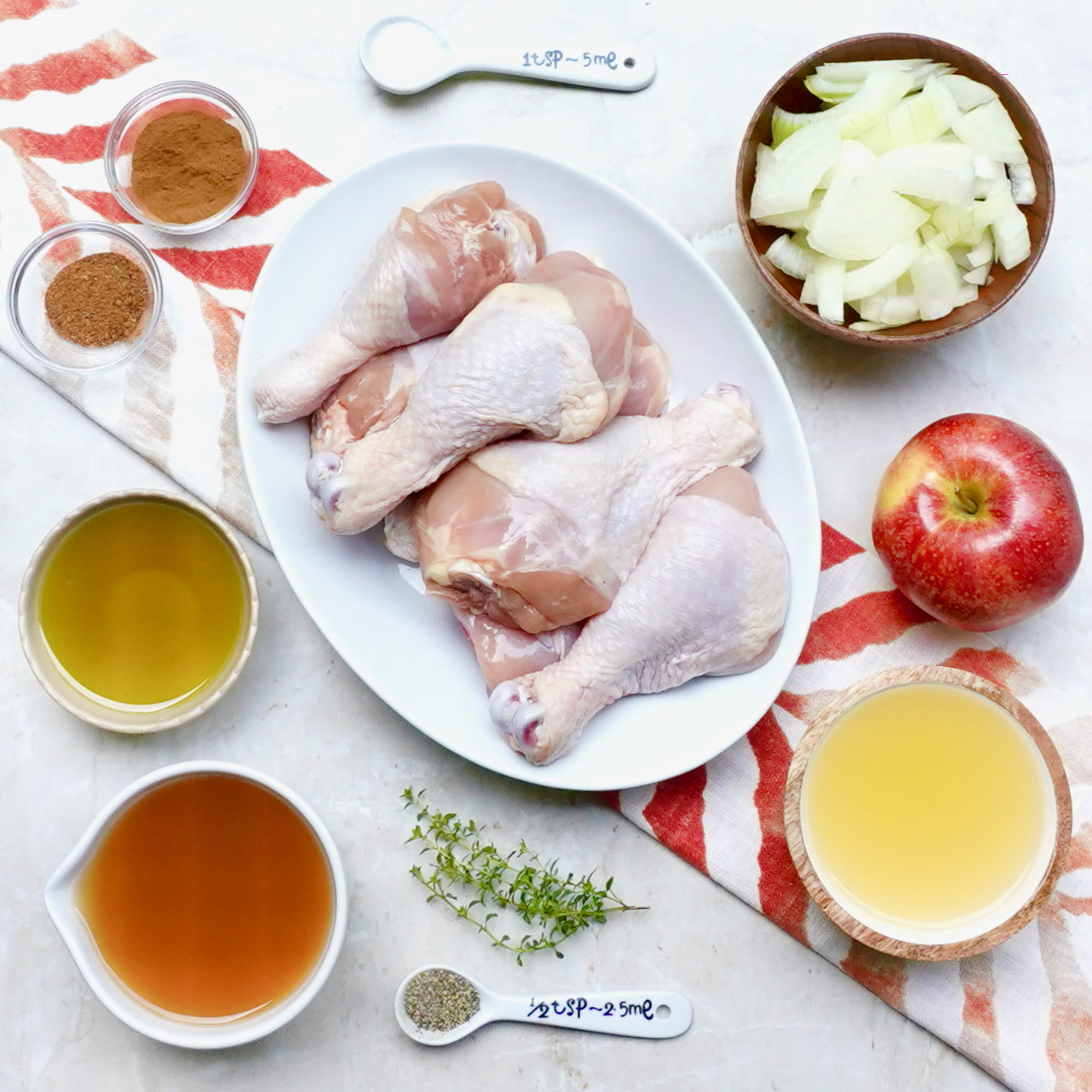 In a small bowl, combine apple cider, olive oil, minced garlic, salt, black pepper, cinnamon, and nutmeg.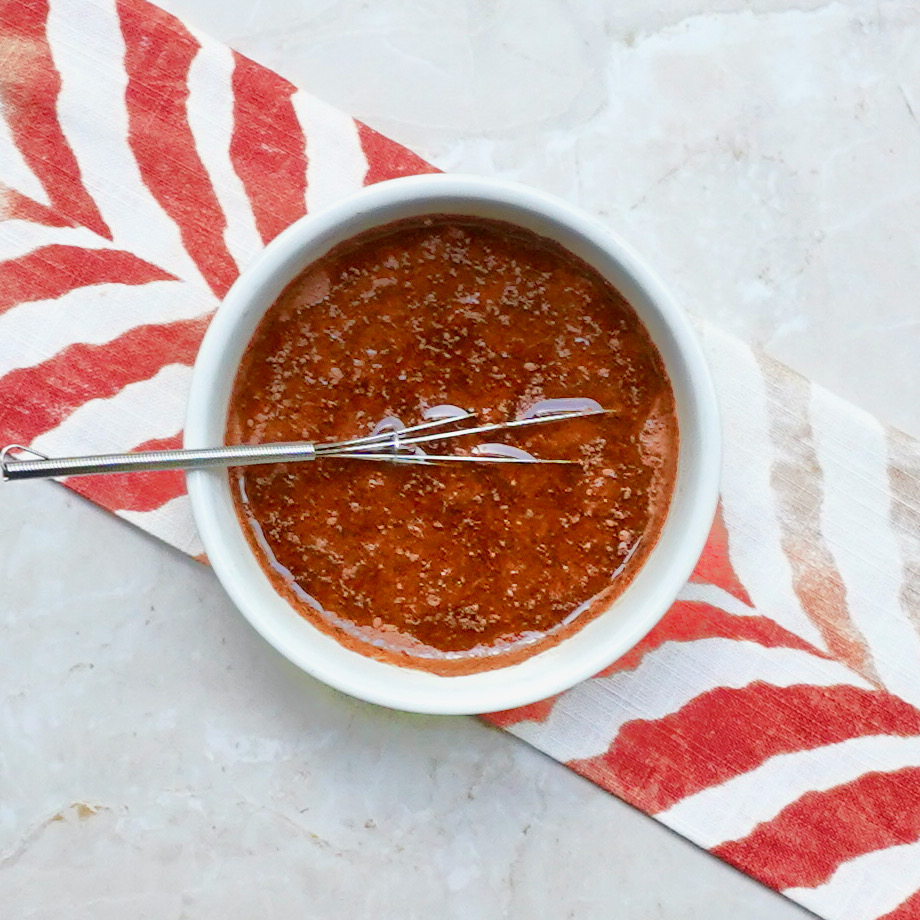 Place the chicken drumsticks in a zip-top bag or large bowl and pour the marinade over them.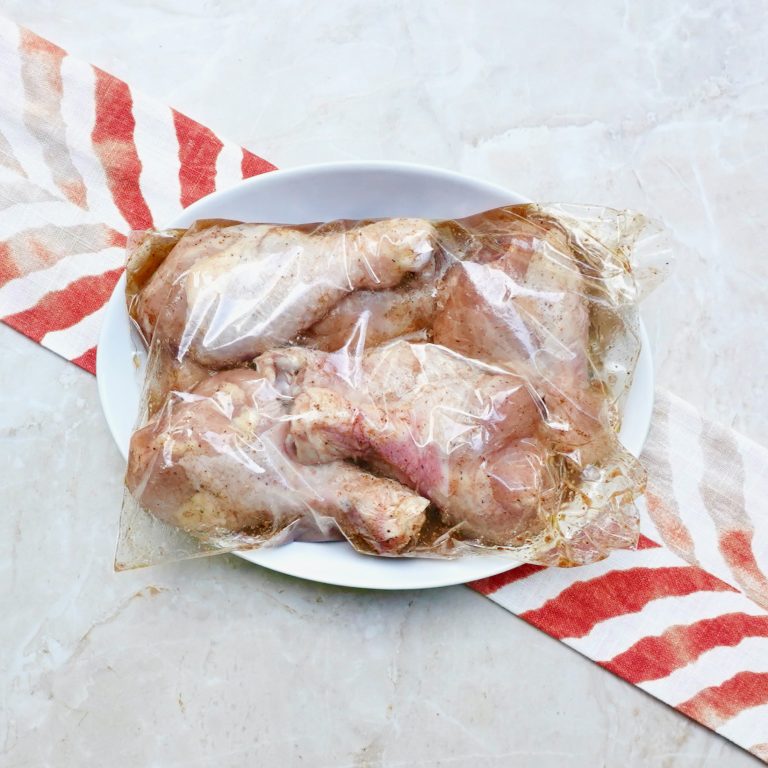 Brown the drumsticks on all sides.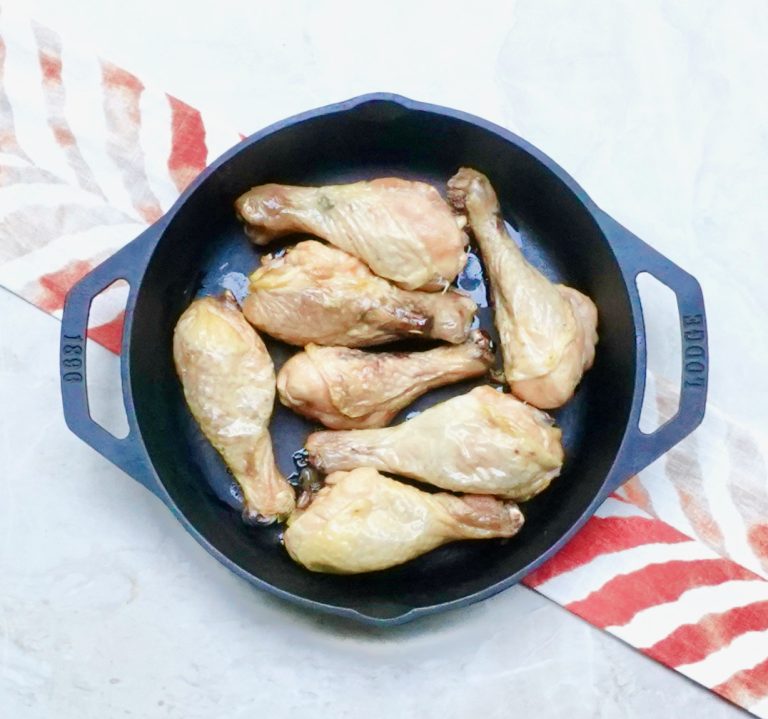 Cook the onions and the apples. Add the thyme.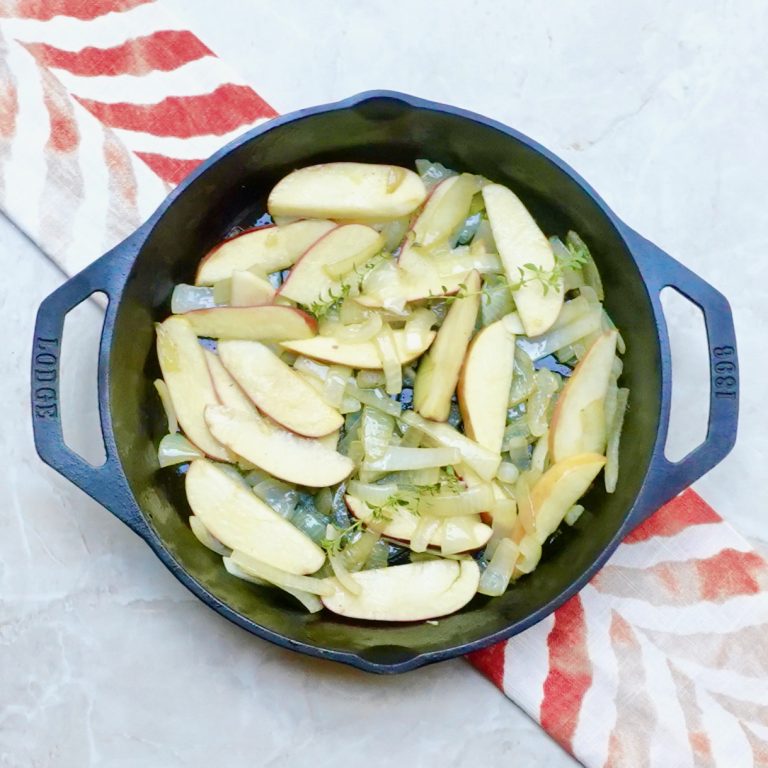 Add the drumsticks back to the skillet. Add the chicken broth. Cover and cook for 20 minutes until the drumsticks cooked through and have an internal temperature of 165 degrees.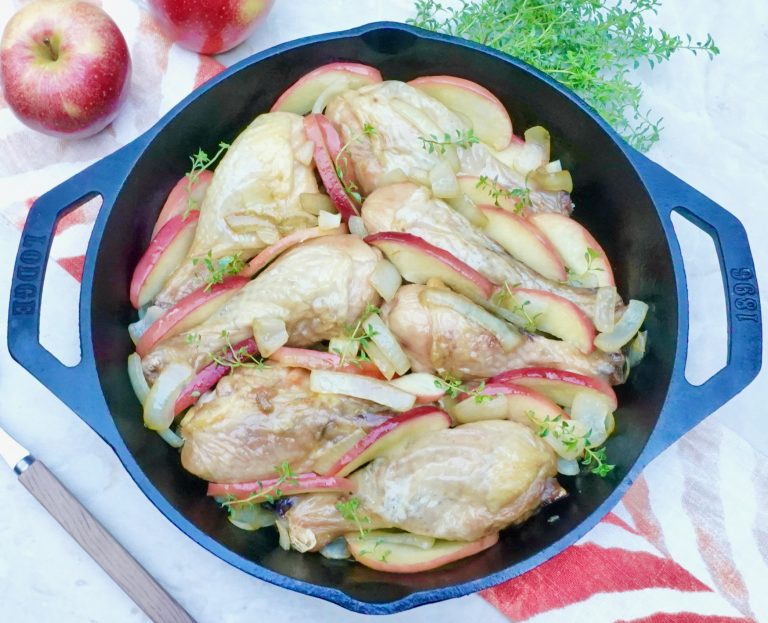 Fall Simple Skillet Drumsticks
Print This
Ingredients
MARINADE:

1 cup apple cider

2 tablespoons olive oil

2 cloves garlic, minced

1 teaspoon salt

½ teaspoon black pepper

1 teaspoon cinnamon

½ teaspoon nutmeg

8 chicken drumsticks

SKILLET:

2 tablespoons olive oil

1 medium onion, sliced

1 apple, sliced thinly with the skin on

2-3 sprigs of fresh thyme

1 cup chicken broth
Instructions
MARINADE:
In a small bowl, combine apple cider, olive oil, minced garlic, salt, black pepper, cinnamon, and nutmeg.
Place the chicken drumsticks in a zip-top bag or large bowl and pour the marinade over them.
Seal the bag or cover the dish and refrigerate for at least 2-4 hours, preferably 8 hours for more flavor.
COOKING THE DRUMSTICKS:
Remove drumsticks from the refrigerator and let them come to room temperature for about 15 minutes.
Rinse the drumsticks with cold water and pat them dry with paper towels.
Heat a large skillet over medium heat. Add 2 tablespoons of olive oil.
Once the oil is hot, add the marinated drumsticks to the hot skillet.  Brown each side of the drumstick so you will have crispy skin, about 2-3 minutes per side.
Remove the drumsticks from the skillet to a plate and set aside.
COOKING THE ONIONS AND APPLES:
In the same skillet, add sliced onions and cook until translucent, about 1-2 minutes.
Add the apple slices and cook for another 2 minutes.
Add the sprigs of fresh thyme.
TO FINISH COOKING:
Place the browned drumsticks back into the skillet.
Pour in the chicken broth.
Cover the skillet with a lid or foil and lower the heat to medium-low.
Simmer and let the chicken cook for 20-25 minutes, or until the chicken is cooked through and reaches an internal temperature of 165°F (75°C). Use a meat thermometer to check the internal temperature.
Before serving, you could garnish with some extra fresh thyme or a sprinkle of cinnamon for added fall flavor.
---