I have been making this Lemon Chicken recipe for many years now. It is so simple to make and it's really good. All you are doing is browning the chicken thighs and then roasting  them in wine, garlic, lemon and spices. The chicken is so tender cooked this way and full of flavor.
This chicken is great for entertaining.  It tastes great, feeds a crowd and you get to avoid any last minute preparation and enjoy your guests.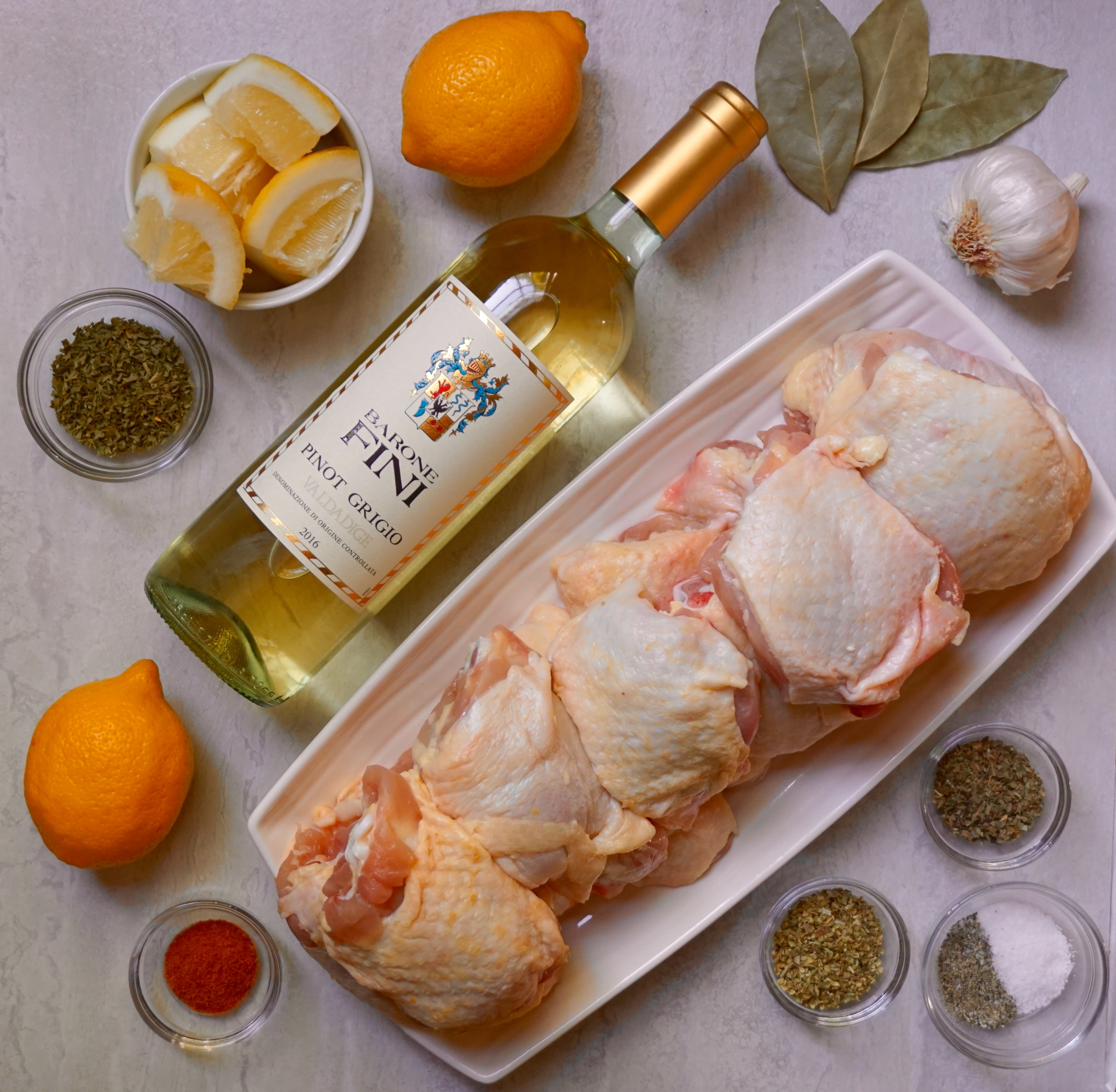 Lemon Chicken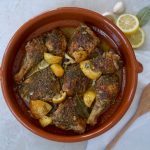 Print This
Ingredients
12 bone in chicken thighs

2 teaspoons kosher salt

2 teaspoons black pepper

1 teaspoon cayenne (to taste)

8 garlic cloves, peeled and halved

1/4 cup olive oil

2 cups white wine

3 lemons quartered

1 1/2 teaspoons dried basil

1 1/2 teaspoons dried oregano

1/2 teaspoons dried parsley

3 bay leaves
Instructions
Preheat the oven to 350 degrees
Lightly sprinkle salt, pepper and cayenne on both sides of the chicken thighs. Heat the olive oil over medium low heat. Add the chicken thighs and sear on both sides until they are lightly browned.
Remove from the heat, and place the thighs single layer in a 9 x 13 inch or larger baking pan. Place the quartered lemons and sliced garlic cloves between the thighs. Sprinkle the basil, oregano and parsley flakes over the tops of the thighs. Crush the bay leaves into small pieces and sprinkle over the tops of the thighs.
Pour the wine into the baking pan. Take care not to wash the seasonings off the top of the thighs!
Tightly cover the baking dish with foil and bake for 45 minutes. Remove the foil from the pan. Baste the chicken with the pan juices  Put the chicken  back into the oven to bake uncovered for an additional 45 minutes.
To serve, place on a serving platter and spoon the pan juices over the chicken.
Notes
This dish can be partially prepared the day before. Follow the instructions but stop before adding the wine and baking the chicken. At this point, the pan can be covered with foil and placed in the refrigerator. When you are ready to bake the dish, remove the foil, add the 2 cups of wine, replace the foil and then follow the baking instructions.