Once the summer hits I basically move all cooking outside to the grill. I have a Weber kettle and I grill everything from pizzas to peaches and everything that falls between. This Lemon Yogurt Chicken Kabob with Chimichurri sauce is a really nice recipe to grill outside. Boneless chicken thighs stay moist while grilling and the kebobs have a lot of flavor from the marinade. The Chimichurri sauce, with the fresh herbs and garlic, is a very flavorful addition!
You will see in the instructions that I am telling you to marinate the chicken overnight. This is a step that I really think is necessary. You sometimes see recipes that instruct you to marinate for an hour or two. With the exception of fish, most meats or poultry will not absorb enough flavor or become tender with such a short marinating time. Plan ahead- it will be worth it!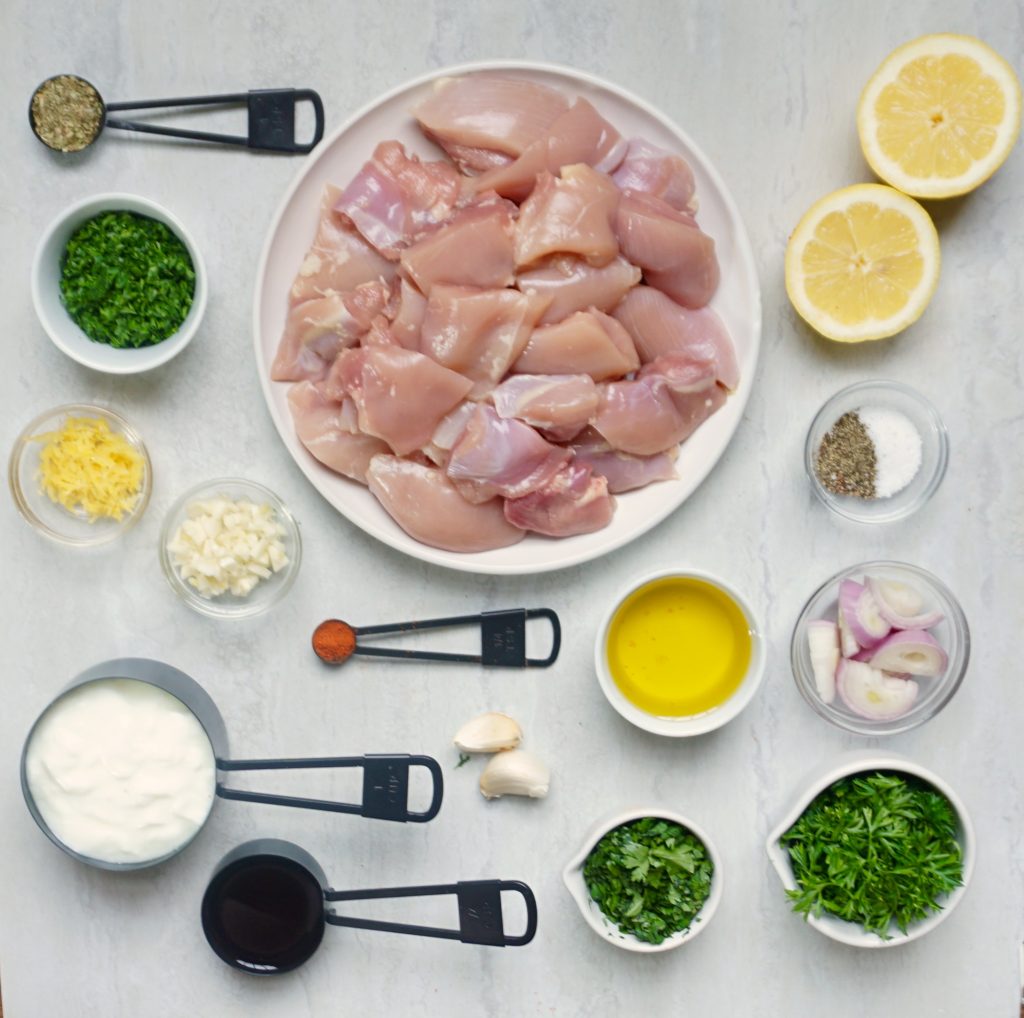 Lemon Yogurt Chicken Kabobs with Chimichurri Sauce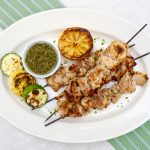 Print This
Ingredients
CHICKEN:

2 pounds boneless chicken thighs, cut into 2 inch chunks

1 cup plain Greek yogurt

3 cloves garlic, minced

2 tablespoons fresh parsley, chopped

¼ cup lemon juice

1 tablespoon lemon zest

¼ teaspoon cayenne pepper

1 teaspoon dried oregano

1 teaspoon kosher salt

½ teaspoon black pepper

CHIMICHURRI SAUCE:

½ cup fresh parsley

¼ cup fresh cilantro

½ cup olive oil

¼ cup red wine vinegar

2 garlic cloves, minced

1 small shallot, minced

½ teaspoon kosher salt

½ teaspoon black pepper
Instructions
In a medium size bowl, mix together the Greek yogurt, garlic, parsley, lemon juice, lemon zest, cayenne pepper, oregano, salt and pepper. Mix well.
Pour this mixture into a 9 x 13 inch baking pan. Add the chicken cubes and stir so that all off the cubes are completely covered in the yogurt marinade. Cover the pan with plastic wrap and refrigerate for at least 24 hours.
For the Chimichurri Sauce, combine the parsley, cilantro, olive oil, red wine vinegar, garlic, shallot, salt and pepper in either a small food processor or blender. Pulse the mixture until it is smooth.
About an hour before you are ready to assemble the kebabs for grilling, place your bamboo skewers in a pan of water and let them soak. This will help prevent them from burning during the grilling process.
Place 5-6 chunks of chicken on each skewer, making sure that the skewer is in the center of the kabob.
Place on your prepared grill and cook for 10-15 minutes, turning the kabobs occasionally until they are browned and cooked through.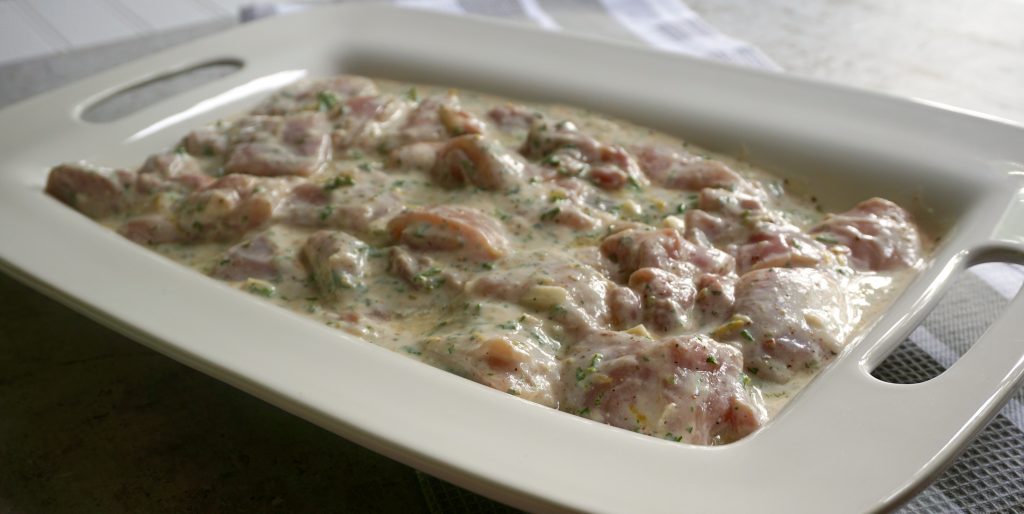 The chicken will be the most flavorful if it is marinated overnight.