Zucchini Salsa takes the traditional tomato-based dip and adds a healthy twist with the addition of fresh zucchini. The combination of zucchini, cherry tomatoes, bell pepper, and red onion creates a colorful and nutritious blend. A squeeze of fresh lime juice, a drizzle of extra virgin olive oil, and a sprinkle of spices add a zesty kick.If you add the jalapeno pepper, it will give the salsa medium heat. Whether you're hosting a party or just looking for a healthy snack, this Zucchini Salsa is a must-try. It is a perfect way to enjoy the summer fresh produce at their peak and a good way to use up an abundance of zucchini coming out of the garden!
Salsa can be served so many different ways. You can serve it simply in a bowl with tortilla chips. It would also make a fresh topping for grilled chicken, meats or fish. You can also serve it as a flavorful side dish, it is similar to a fresh salad.
If you like this zucchini salsa recipe, you might also like, Cherry Salsa, Cantaloupe Salsa, Bell Pepper Salsa, Pineapple Radish Salsa, Watermelon Salsa and Black Bean Corn Salsa if you love black beans.They are a great way to enjoy summertime fruits and vegetables.
If you have extra zucchini, you might want to try, Bisquick Zucchini Bread, Zucchini Tomato Sauce, Corn Zucchini Fritters, Zucchini Corn Saute, Zucchini Herb Frittata, Zucchini Corn Quinoa Salad or Lemon Zucchini Cake.
Check out 15 Simple Summer Squash Recipes for additional ways to use these seasonal vegetables.
SOME THINGS TO KNOW: FAQ'S
SPECIAL EQUIPMENT NEEDED:
INGREDIENT INFORMATION:
If you are going to try adding the jalapeño peppers to the salsa, remove the seeds and ribs from the pepper if you want it to be less hot. Most of the heat is contained in them. Check out How Do You Calm the Heat From a Jalapeno Pepper? for some tips on handling them.
SUBSTITUTIONS: 
 If you don't have zucchini, yellow squash is the best substitute. These summer squash are interchangeable. You can also use cucumber for a similar texture.
If you don't have cherry tomatoes, you can use regular tomatoes, just make sure to remove the seeds. Roma tomatoes would be a good choice.
 Any color of bell peppers can be used. Green peppers, red peppers, yellow or orange are interchangeable. You can use a poblano pepper for a slightly different flavor.
If you don't have limes, you can use lemon juice. You could also use apple cider vinegar.
You can use chili peppers other than jalapeno in the recipe. Fresno, poblano or cayenne peppers would all make good substitutes.
HOW TO STORE LEFTOVER ZUCCHINI SALSA:
You can store any leftover salsa in an airtight container for 3-4 days.
Freezing the salsa is not recommended as the raw vegetables will change texture if frozen.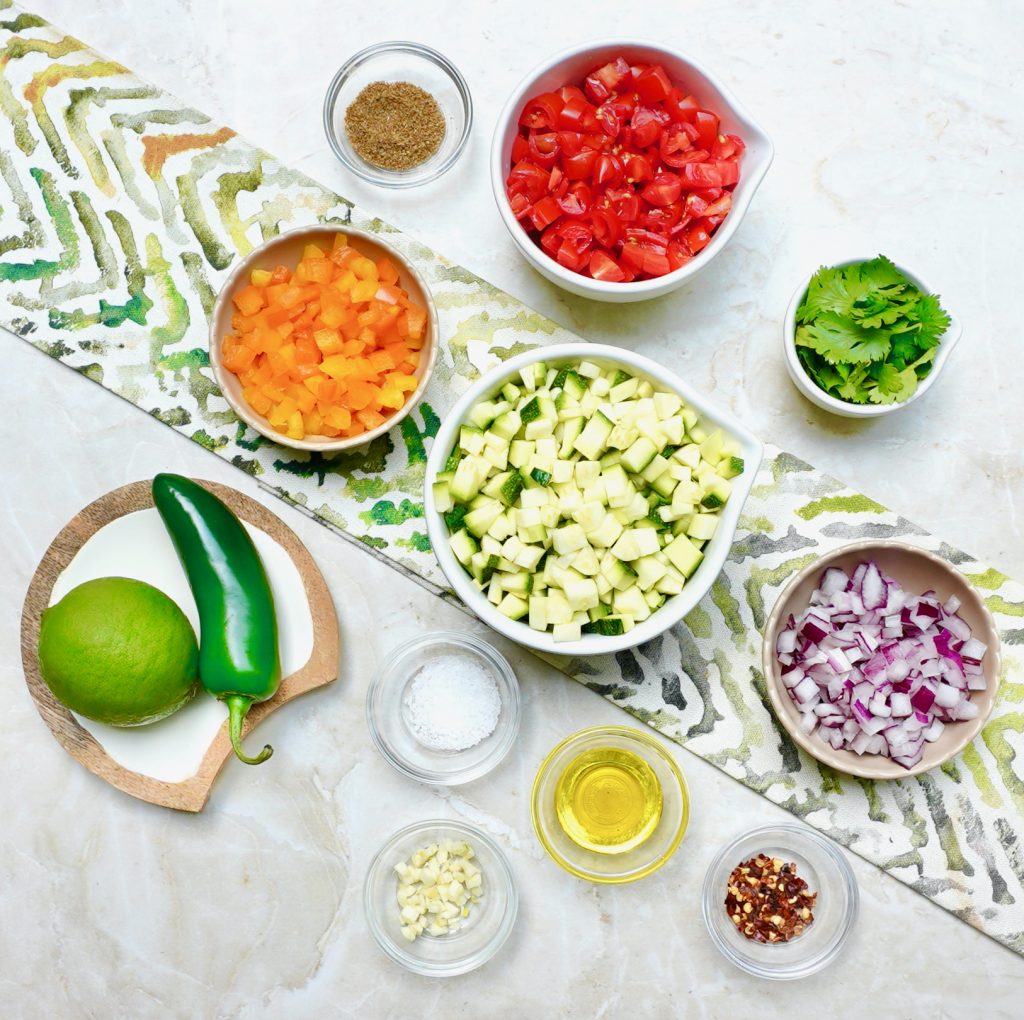 Add all of the vegetables to a large bowl. Combine the olive oil, lime juice, salt, red pepper and cumin. Add to the vegetables.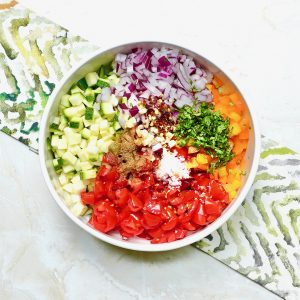 Stir to combine the ingredients.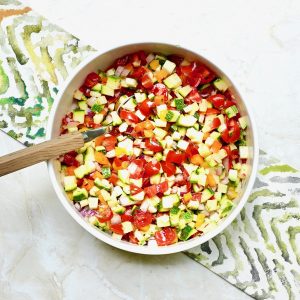 Zucchini Salsa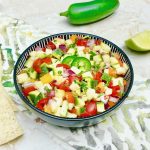 Print This
Ingredients
1½ cups fresh zucchini, chopped small
1 cup cherry tomatoes, cut into quarters
½ cup red onion, chopped
½ cup bell pepper, chopped
1 garlic clove, chopped
2 tablespoons fresh lime juice
1 tablespoon extra virgin olive oil
½ teaspoon kosher salt
¼ teaspoon red pepper flakes
½ teaspoon ground cumin
Optional:
1 jalapeno pepper, finely chopped
Instructions
Prepare the vegetables. You can cut them into small dice hand. You could also pulse the vegetables a few times in the bowl of a food processor if you are not concerned with them being uniform.
In a large bowl, combine the diced zucchini, cherry tomatoes, red onion, bell pepper, and garlic.
In a separate bowl, whisk together the lime juice, olive oil, salt, red pepper flakes, and cumin.
Pour the dressing over the vegetables and toss until everything is well coated.
If you like a bit of heat, add the chopped jalapeno pepper.
Chill the salsa in the refrigerator for at least an hour before serving to allow the flavors to meld together or serve it at room temperature.
Serve with your favorite tortilla chips and enjoy this simple zucchini recipe!