Summer is the best time of the year to make a fruit salsa and Cherry Salsa is a good one. This fresh cherry salsa is a combination of sweet and savory ingredients that also gets a bit of heat from a jalapeño pepper. It's a good one to try while it is cherry season and the stores are full of fresh cherries.
This easy recipe can be served in several ways. It would make a delicious topping for grilled chicken, pork chops or steak. You could also serve it on the side at your summer cookouts. Check out 30 Simple Summer Cookout Side Dishes for some other recipes using summer ingredients.
Cherry Salsa would make an amazing crostini topping over some fresh ricotta or goat cheese or you could simply put out a large bowl of salty tortilla chips or corn chips and serve it as a dip.
Summer Fruit Salsa can be made in so many different ways. Check out Cantaloupe Salsa, Pineapple Radish Salsa, and Watermelon Salsa for some other summer fruit combinations.You might also like Zucchini Salsa.
If you would like to try some other delicious recipes that use sweet cherries, check out Cherry Olive Oil Cake, Cherry Clafoutis,  Roasted Cherry No Churn Ice Cream, Cherry Cobbler Cake, and Cherry Nectarine Compote.
SOME THINGS TO KNOW: FAQ'S
INGREDIENT TIPS:
Most of the heat of a jalapeño pepper is in the seeds and the white ribs inside of the pepper. If you want a spicy salsa you can leave them intact and chop them with the pepper. If you want a touch of heat without the burning sensation, make sure to remove both the seeds and the ribs before you chop the pepper.
Bing cherries are the most popular cherries and they are most likely the ones that you will see at the grocery store. They are sweet cherries with a deep red to mahogany color. Allow some time to pit the cherries and watch Four Ways to Pit a Cherry if you have never done this before.
RECIPE TIPS:
This salsa will be best if it is roughly chopped by hand. Resist the urge to put it into your food processor!
You can make this a day ahead of time. It will be more flavorful as it sits. Make sure it is tightly covered and refrigerated.
SUBSTITUTIONS:
If you do not have a red onion or prefer a slightly intense onion flavor, green onions would be a good substitute.
Fresh cilantro is used in this recipe. If you are not a fan, try using fresh basil instead.
If you do not have apple cider vinegar, substitute balsamic or red wine vinegar.
HOW TO STORE LEFTOVER CHERRY SALSA: 
You can keep any leftovers in an airtight container in the refrigerator for 3 days.
Fresh uncooked fruits and vegetables will change in consistency if frozen. This should be consumed while it is fresh.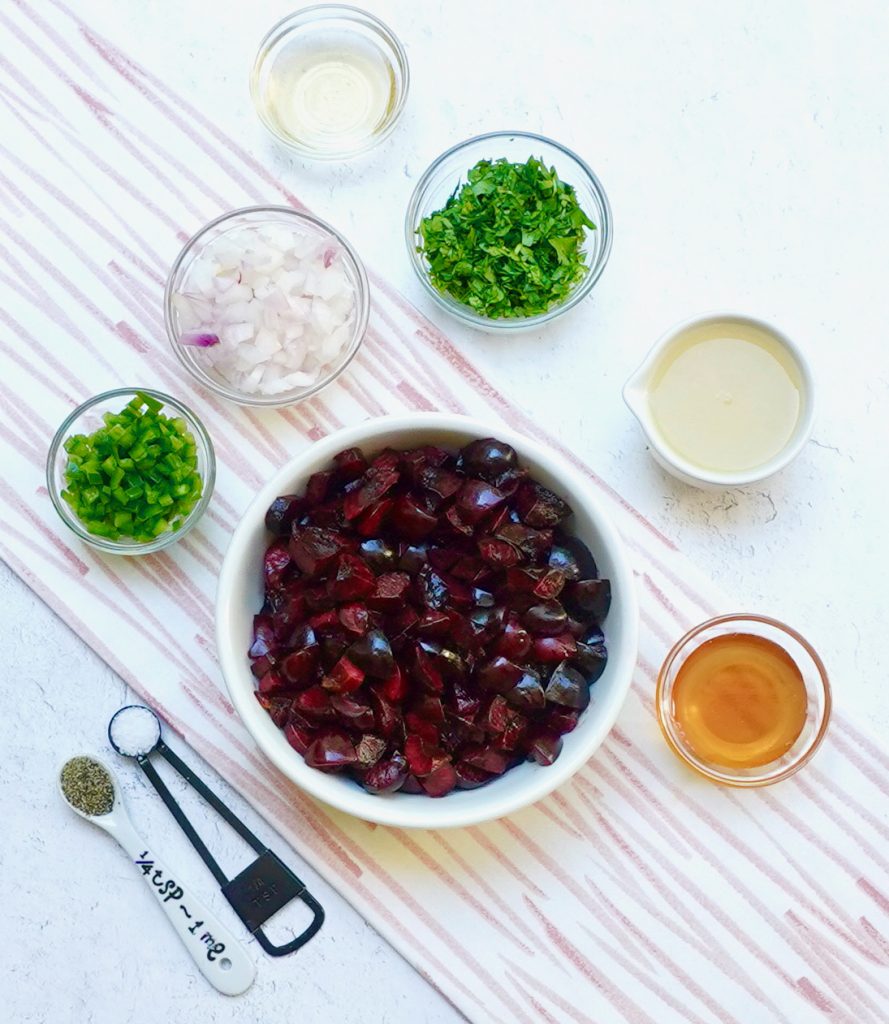 Cherry Salsa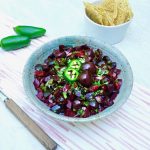 Print This
Ingredients
2 cups fresh cherries, pitted and finely chopped

¼ cup red onion

1 jalapeño pepper, seeds and ribs removed and minced

¼ cup fresh cilantro, chopped

¼ cup fresh squeezed lime juice

2 tablespoons honey

2 teaspoons apple cider vinegar

¼ teaspoon kosher salt

¼ teaspoon black pepper
Instructions
In a medium bowl, combine cherries, red onion, jalapeño pepper, cilantro, lime juice, honey, apple cider vinegar, salt and pepper. Stir everything together well.
Serve at once or cover tightly  and place into the refrigerator until you are ready to serve it.