Cherry Cobbler Cake is a creation that is somewhere between and cobbler and a cake.It is moist and delicious using fresh cherries. Cherries take a bit of time to pit, but it is time well spent. The rest of the recipe is simple and fast, using a few pantry ingredients with no mixer required.
A simple batter is layered with fresh, sweetened cherries and baked until it is golden brown. Cherry Cobbler Cake is best served warm with whipped cream or vanilla ice cream.
Fresh cherries are perfect for baking. Check out Cherry Olive Oil Cake, Cherry Clafoutis, and Cherry Blueberry Crumble Cake for some other ways to bake with them.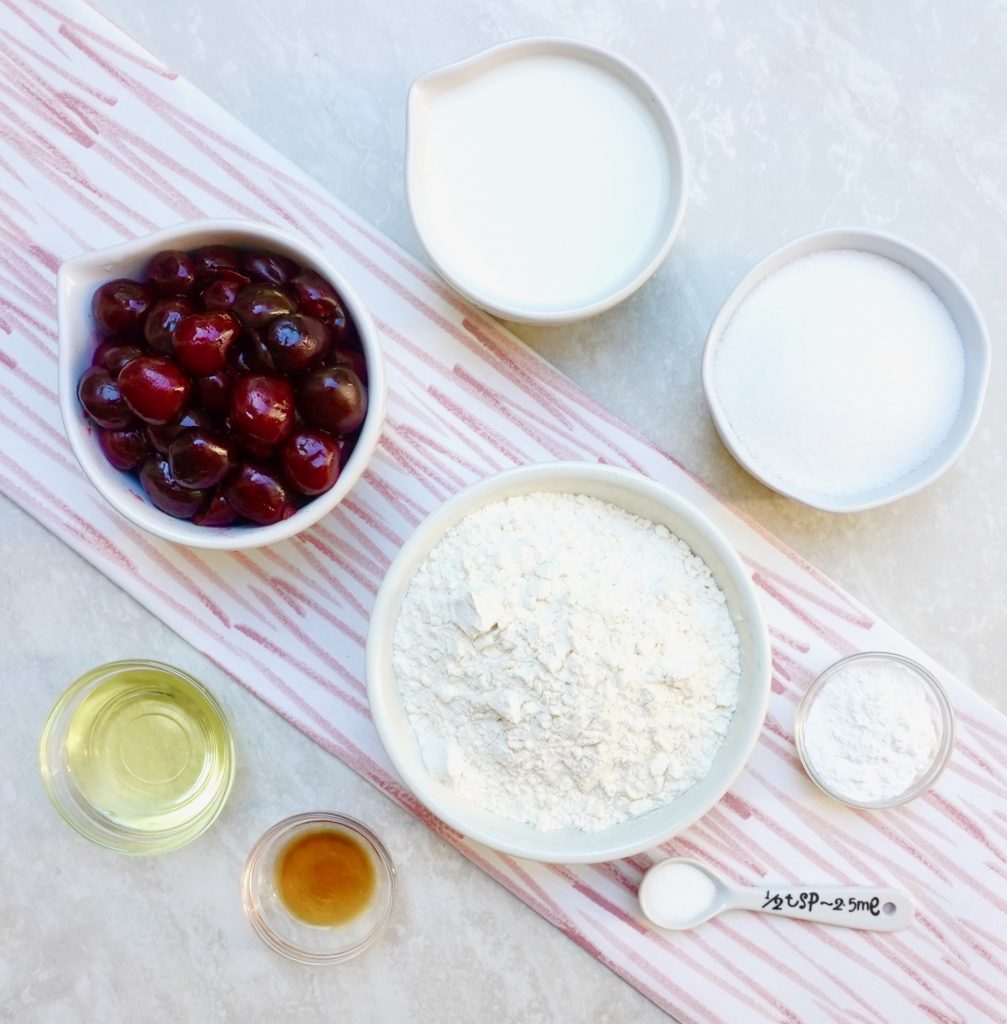 Cherry Cobbler Cake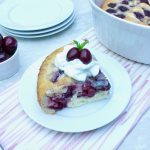 Print This
Ingredients
1½ cups fresh cherries, cut in half and pitted

1 ¼ cups sugar, divided

2 cups all purpose flour

1 tablespoon baking powder

½ teaspoon iodized salt

1 cup whole milk

2 teaspoons vanilla extract

2 tablespoons canola oil
Instructions
Preheat the oven to 350 degrees.
Grease either an 8″x 11″ or 9″ x 13 " baking pan. This is best done by rubbing vegetable shortening over the entire surface of the baking dish with a paper towel.
in a small bowl, combine the cherries with ¼ cup of the sugar. Let them sit while you prepare the batter.
In a large bowl combine the remaining cup of sugar, flour, baking powder and salt. Mix together well with a spatula.
Add the milk, vanilla, and canola oil to the flour mixture. Combine well.
Add the batter to the baking pan and smooth it out evenly using a rubber spatula.
Either spoon the cherries over the batter or place them evenly over the batter.
If you are using the 8″ x 11″ pan the baking time will be about 40 minutes. A 9″ x 13 " pan will be about 35 minutes.