Cherry Blueberry Crumble Cake is a coffee cake that is perfect in the summer when sweet cherries and blueberries are in season. This cake is moist and can be made in one bowl with no mixer required.
The cake is topped with a simple crumble. It adds another layer of cinnamon goodness to the cake. This is the perfect Sunday morning coffee cake or a wonderful fruit filled cake for a great dessert. If you like a crumble topping check out Blueberry Crumble Bars. If you want to try another delicious coffee cake for the fall, check out Apple Coffee Cake.
If you want some more ideas for easy recipes for cakes to bake with seasonal berries check out Blueberry Orange Yogurt Cake ,Lemon Blueberry Olive Oil Cake, Strawberry Olive Oil Cake and Strawberry Ricotta Cake.
If you are a fan of fresh cherries, Cherry Salsa, Roasted Cherry No Churn Ice Cream ,Cherry Olive Oil Cake  , Cherry Cobbler Cake, Cherry Nectarine Compote and Cherry Clafoutis are easy cherry cake and fruity desserts to try while it is the summer cherry season.
If you are a fan of fresh blueberries, check out 20 Easy Recipes to Make with Fresh Summer Blueberries.
SOME THINGS TO KNOW: FAQ'S
INGREDIENT TIPS:
SPECIAL EQUIPMENT NEEDED:
Large bowl
Cherry Pitter (not required but helpful)
Wire cooling racks
10″ Round Cake Pan, 10″ Springform pan or 9″ square pan
SUBSTITUTIONS:
If you do not have vanilla extract, almond extract would be a good substitute. If you want a stronger vanilla flavor, use 2 teaspoons of vanilla extract.
You can use whole wheat flour in the same proportion as the all purpose flour in the recipe.
If fresh blueberries or cherries are not available at your grocery store, frozen will work fine. You can also swap them out for another fresh fruit.
If you do not have granulated sugar, pure cane sugar or light brown sugar can be used.
HOW TO STORE LEFTOVER CHERRY BLUEBERRY CRUMBLE CAKE:
You can store any leftover cake at room temperature wrapped in plastic wrap or in an airtight container for 2-3 days.
You can freeze the cake in a freezer bag, wrapped in freezer wrap or in an airtight freezer container for up to 3 months.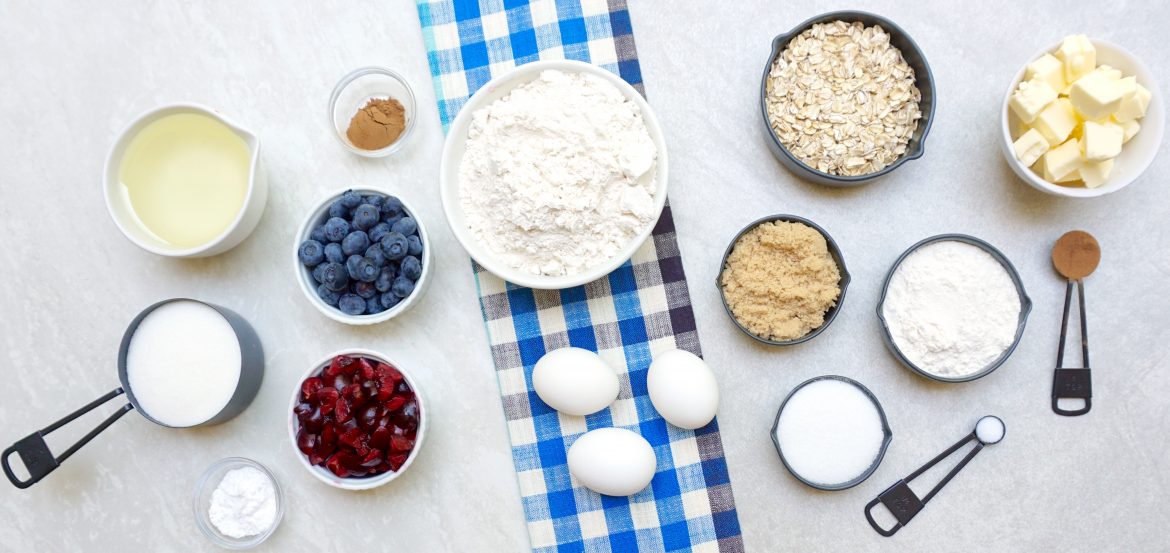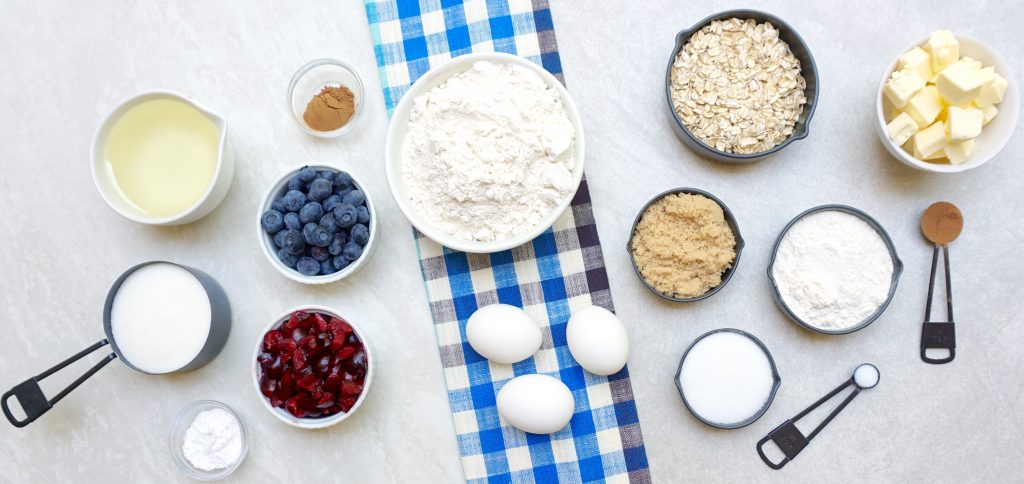 Cherry Blueberry Crumble Cake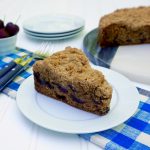 Print This
Ingredients
CAKE:

3 large eggs

1 cup canola oil

1 cup sugar (granulated)

2 cups all purpose flour

1 teaspoon baking soda

1 teaspoon cinnamon

1 teaspoon vanilla extract

1 cup fresh blueberries

1 cup fresh cherries, pitted and chopped small

.

CRUMBLE TOPPING

½ cup all purpose flour

⅓ cup brown sugar

¼ granulated white sugar

1 cup old fashioned oats

1 teaspoon cinnamon

¼ teaspoon salt

1 stick cold unsalted butter, cut into cubes
Instructions
CAKE:
Preheat the oven to 350 degrees. 
Grease and flour a 10" round cake pan.
Beat the eggs in a large mixing bowl.
Whisk in the canola oil, sugar, flour, baking soda, cinnamon and vanilla extract. Combine the flour mixture in well. (You can also do this in the bowl of a stand mixer with a paddle attachment.)
Stir in the blueberries  and cherries.
Pour the cake batter into the prepared pan.
.
CRUMBLE TOPPING:
Topping option #1
Place the flour, brown sugar, sugar, oats, cinnamon, and salt into the bowl of a food processor. Pulse a few times to combine. Add the butter cubes to the dry ingredients and pulse until the butter is totally mixed in and the mixture is crumbly.
Topping option #2
Place the flour, brown sugar, sugar, oats, cinnamon, and salt into a large bowl. Add the butter and cut it into the mixture with either a pastry cutter, two knives, or your hands.  Continue until the butter is totally mixed in and the mixture is crumbly.
Spread the crumb topping evenly over the top of the cake in the baking pan..
Bake for 45 minutes until the top is completely set and golden brown.
Remove the cake from the oven and let it sit in the pan for 10 minutes. This is important because as the cake cools, the buttery crumbs with become firm and will not fall off when you turn the cake over.
To remove the cake from the pan, place a sheet of wax paper over a wire cooling rack. Place the lined rack over the top of the cake. Turn the cake upside down onto the wax paper. Pull the pan off of the cake. Place a second baking rack on top of the overturned cake. Lift both racks and turn them over. Remove the top rack and take off the wax paper.
You can serve the warm cake with a scoop of vanilla ice cream or let the cake cool to room temperature before serving.
Enjoy!
Notes
In order for the crumb topping to work the butter must be very cold.