Loaded Beef Nachos are warm tortilla chips layered with melted cheese and lots of toppings. The more toppings the better! They have taco seasoned beef and lots of veggies to make this nacho experience hearty enough to be a meal.
The basis for the Loaded Beef Nachos is taco seasoned ground beef. It is really easy to make your own taco seasoning if you happen to keep a lot of different spices on hand but you can easily substitute a 1.25 package of taco seasoning mix if you do not have all of the spices.
It's that time of year when we are heading into football playoffs and the Super Bowl is only a few weeks away. Nachos should be a part of the football watching experience! If you prefer your nachos without meat, check out this Vegetable Nacho recipe. You might also like  Dorito Nachos which are made with ground chicken.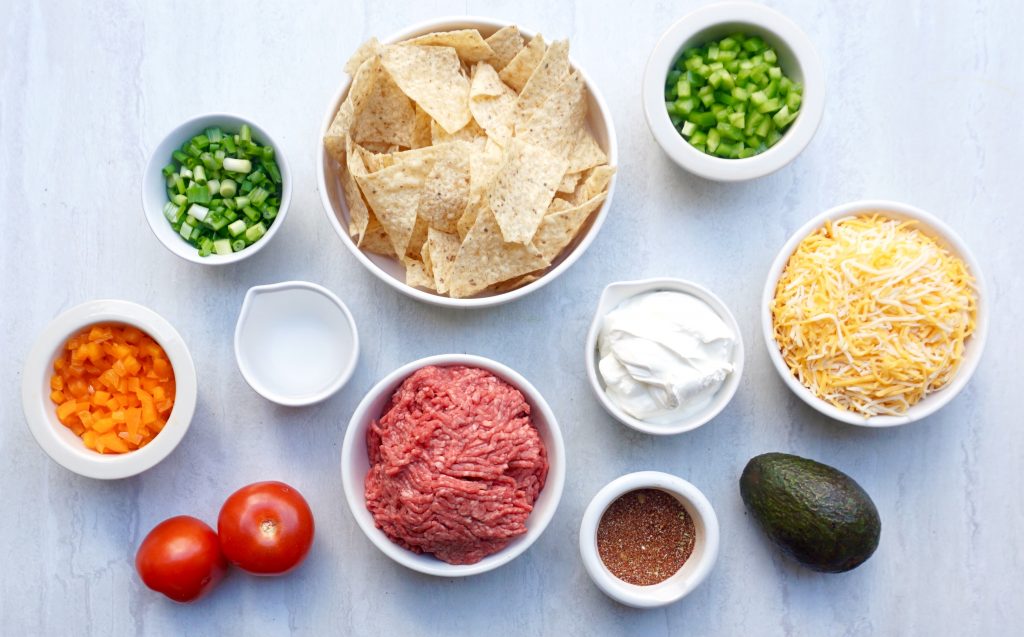 Loaded Beef Nachos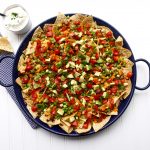 Print This
Ingredients
1 pound lean ground beef

1 tablespoon chili powder

1 teaspoon cumin

½ teaspoon dried oregano

½ teaspoon garlic powder

½ teaspoon onion powder

1 teaspoon kosher salt

1 teaspoon black pepper

1 pound lean ground beef

½ cup water

13 ounce bag tortilla chips

8 ounce bag shredded Colby jack cheese

1 green bell pepper, chopped

1 orange bell pepper, chopped

2 medium tomatoes, cut into dice

½ cup green onions, white and green parts, chopped

1 avocado cut into ½ cubes

*substitute a 1.25 package taco seasoning for the spices if desired
Instructions
Preheat the oven to 350 degrees.
In a small bowl, combine the chili powder, cumin, oregano, garlic powder, onion powder, salt and pepper. Set aside.
Add the ground beef to a large skillet over medium low heat and cook until it cooked through and browned, about 8- 10 minutes. As it is cooking, break up any chunks by pressing down with a fork. Drain off the fat.
Add the seasoning mixture and water. Cook over low heat until all of the water is evaporated.
Line a large rimmed baking sheet (21" x 15" or 18" x 13") or any large flat pan with a layer of chips that are overlapping to completely cover the pan. You want to use the entire bag of chips. The pan pictured is a 13″ round Paella Pan.
Cover the chips evenly with the ground beef. Next add your cheese, then the green bell pepper and orange bell pepper. Bake for 7- 10 minutes until the cheese is melted and starting to brown around the edges.
Remove from the oven. Sprinkle the tomatoes, green onions and avocado cubes evenly over the nachos.
Serve at once with sour cream on the side.