Cranberry Brie Pull Apart Bread is an easy to make appetizer that combines the tanginess of fresh cranberries with the creamy richness of melty brie. They are baked in a round sourdough bread loaf. It makes a delicious appetizer for holiday gatherings, family dinners, or as a cozy treat on a chilly evening. This pull apart bread is as nice to look at as it is to eat.
Cranberry Brie Pull Apart Bread would make a perfect centerpiece for your holiday table. It is pretty and colorful. Place some sprigs of fresh thyme on the top to make it look more festive. If you would like to try another delicious appetizer for the holidays that could use as a centerpiece check out Wreath Cheese Spread.
If you would like to try some other holiday appetizers with brie cheese check out Brie Fondue and Baked Brie with Honey and Dried Cranberries. If you have some extra cranberries left over make your own cranberry sauce with this Cranberry Orange Sauce recipe. You could also make Cranberry Orange Ricotta Cake, Cranberry Orange Clafoutis, Cranberry Orange Oatmeal or Cranberry Orange Muffins.
SOME THINGS TO KNOW:FAQ'S
INGREDIENT TIPS:
The white paper-like coating on Brie cheese is not paper at all. It is actually a layer of mold. The rind that forms as a result of this mold is perfectly edible and is considered by many to be a delicacy that adds flavor and texture to the cheese. It has a mild, somewhat earthy flavor that complements the creamy, buttery taste of the Brie inside. The rind is easy to remove by gently scraping it off with a vegetable peeler.
For the best flavor, use fresh cranberries as they provide the right balance of tartness and texture. If they are out of season, frozen cranberries can be a great alternative; just make sure they are thawed and well-drained before using them. Read How to Choose Cranberries and Keep Them Fresh.
SPECIAL EQUIPMENT NEEDED:
Sharp Knife: A sharp serrated knife is ideal for making the cuts in the bread without crushing it.
Cutting Board: Use a large, sturdy cutting board as a base for slicing the bread and preparing the cranberries and cheese.
Saucepan: You'll need a small to medium saucepan to cook the cranberry mixture.
Baking Sheet: A baking sheet will serve as the platform for your bread while it is in the oven.
Aluminum Foil: You will need foil to tent over the bread during the initial phase of baking to prevent excessive browning.
Parchment Paper: Optional to line the baking sheet for easy clean up.
Pastry Brush: This is for brushing the melted butter over the bread to give it a nice golden crust.
SUBSTITUTIONS:
If fresh cranberries aren't available, you can use frozen cranberries or dried cranberries soaked in warm water for 10-15 minutes to plump them up before using.
If you cannot find sourdough bread, any sturdy, crusty round loaf  of bread that can hold the fillings will do.
Similar in texture and flavor, camembert is a good substitute for the brie.
You can use white granulated sugar if you don't have light brown sugar. If you prefer a deeper molasses flavor, dark brown sugar can be a good substitute.
If you're avoiding butter, a good quality olive oil can be brushed on the top of the bread for a different flavor.
HOW TO STORE CRANBERRY BRIE PULL APART BREAD:
Store the bread in the refrigerator if you plan to eat it within 2-3 days. After baking, let the bread cool completely to room temperature to prevent condensation and sogginess when storing. Wrap the bread tightly in plastic wrap or aluminum foil. You can also place it into an airtight container if it fits.
Freeze the bread for up to one month for the best quality. Wrap the bread tightly in plastic wrap, then again in foil to protect against freezer burn. It is best to freeze the bread the same day it's baked for optimal freshness.
For frozen bread, it is best to thaw it overnight in the refrigerator before reheating
HOW TO REHEAT CRANBERRY BRIE PULL APART BREAD:
You can reheat the bread in an oven preheated to 350°F (175°C). Remove the plastic wrap and foil, then place the bread on a baking sheet. If it's a bit dry, you can brush it with some additional melted butter. Tent the bread with foil. Heat for about 15-20 minutes or until it's warm throughout and the cheese is soft.
While the oven is the best method to retain the texture, you can use a microwave the bread for quick reheating. Place a portion of the bread on a microwave-safe dish and heat on high for about 30 seconds to 1 minute. Be cautious as the microwave can make the bread a bit soggy.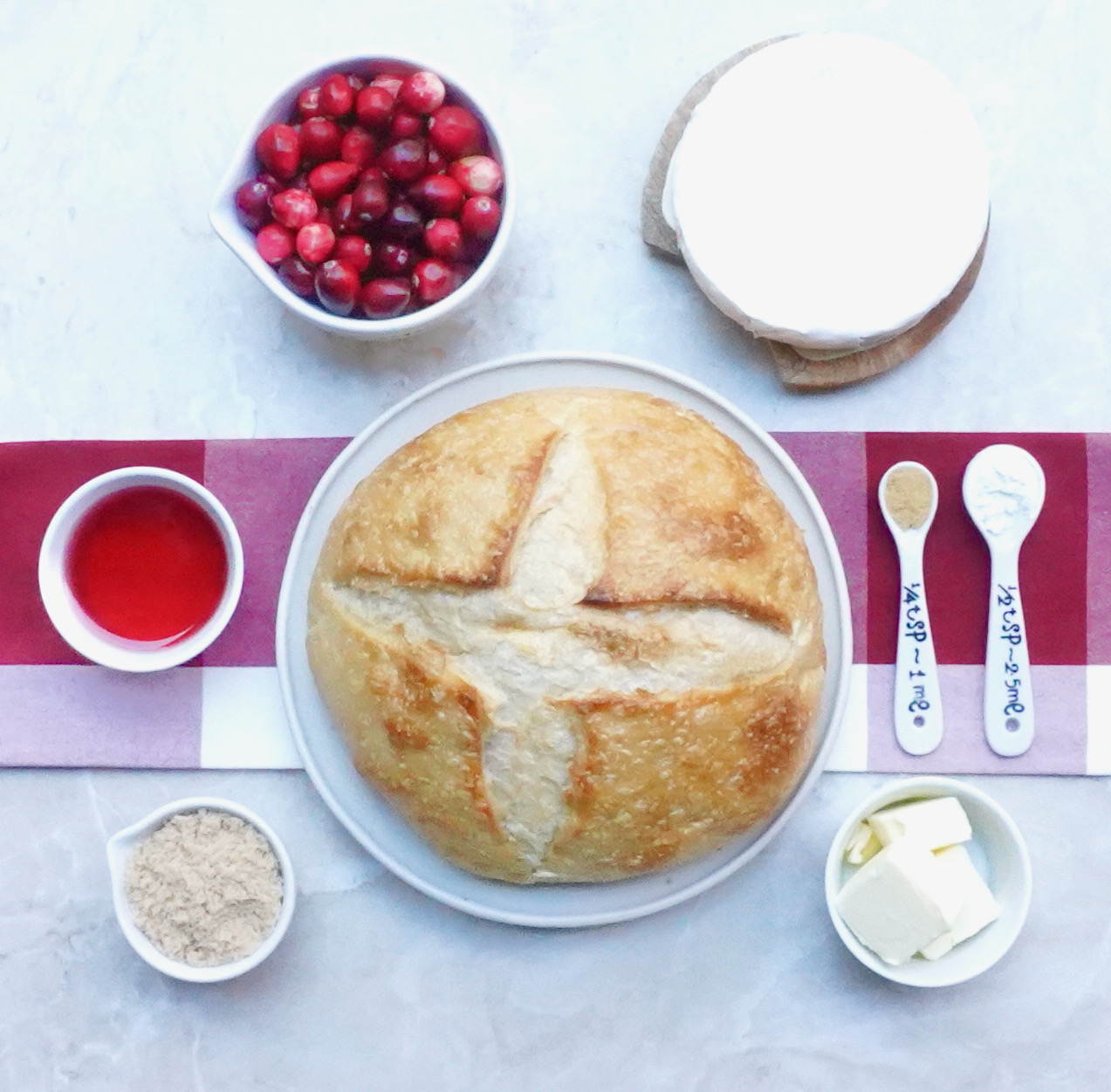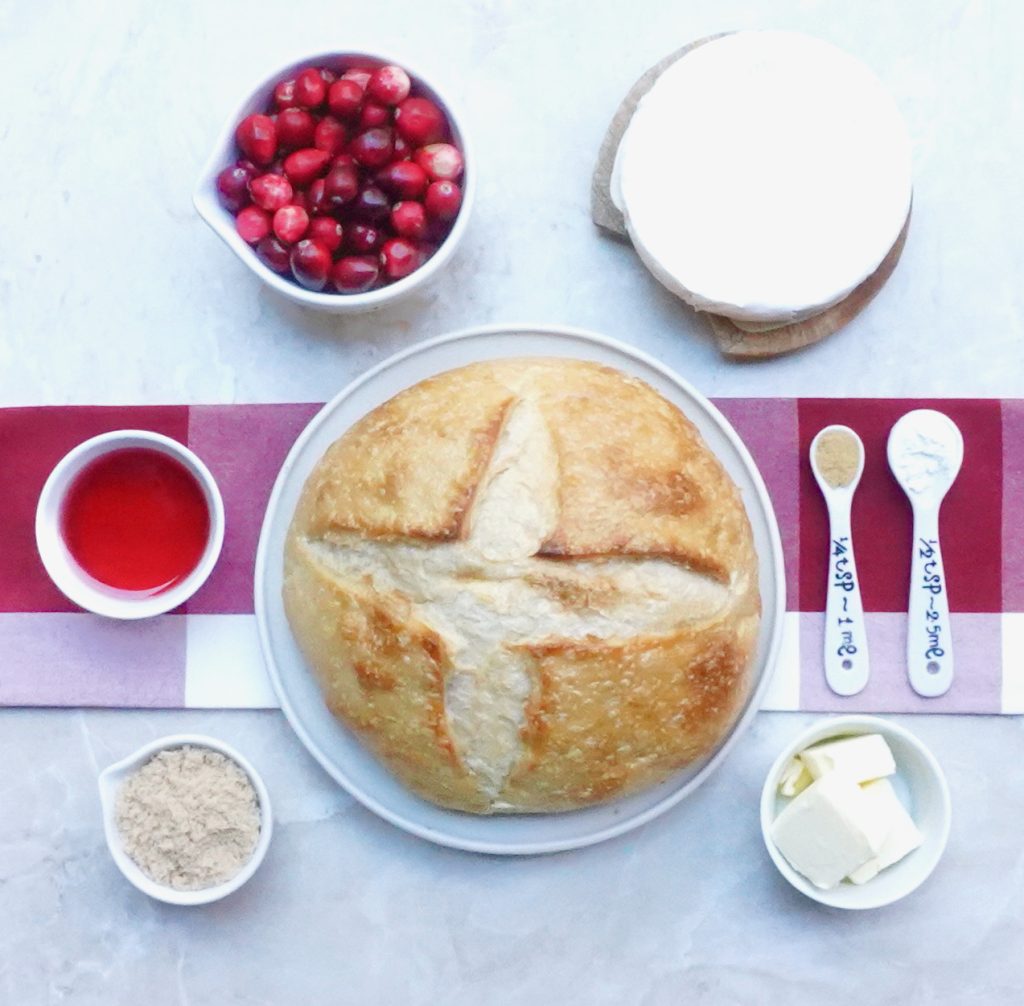 In a small saucepan, combine fresh cranberries, light brown sugar, cranberry juice and ground ginger. Cook until thick.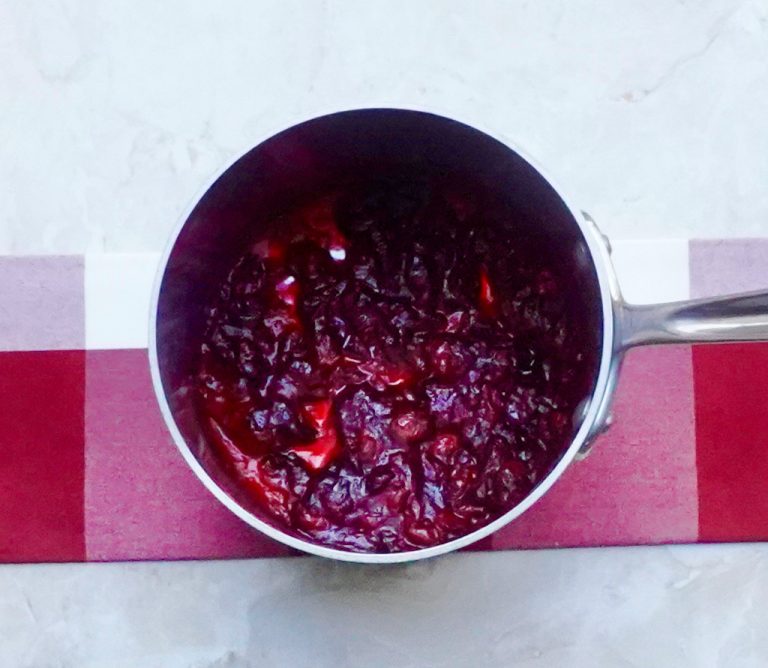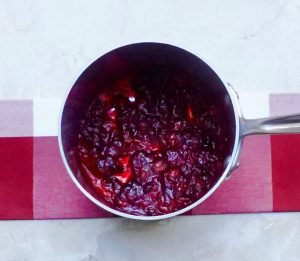 Cut one inch squares into the top of the bread.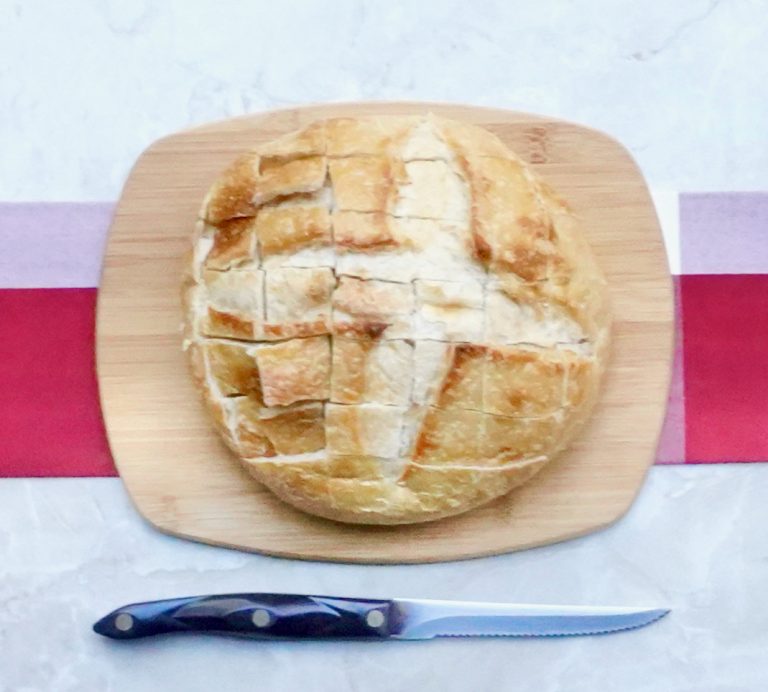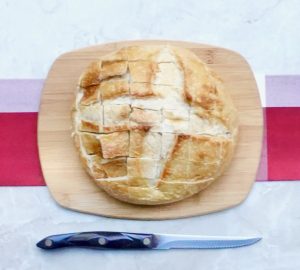 Slice the brie into thin slices then cut each slice into 3 equal pieces.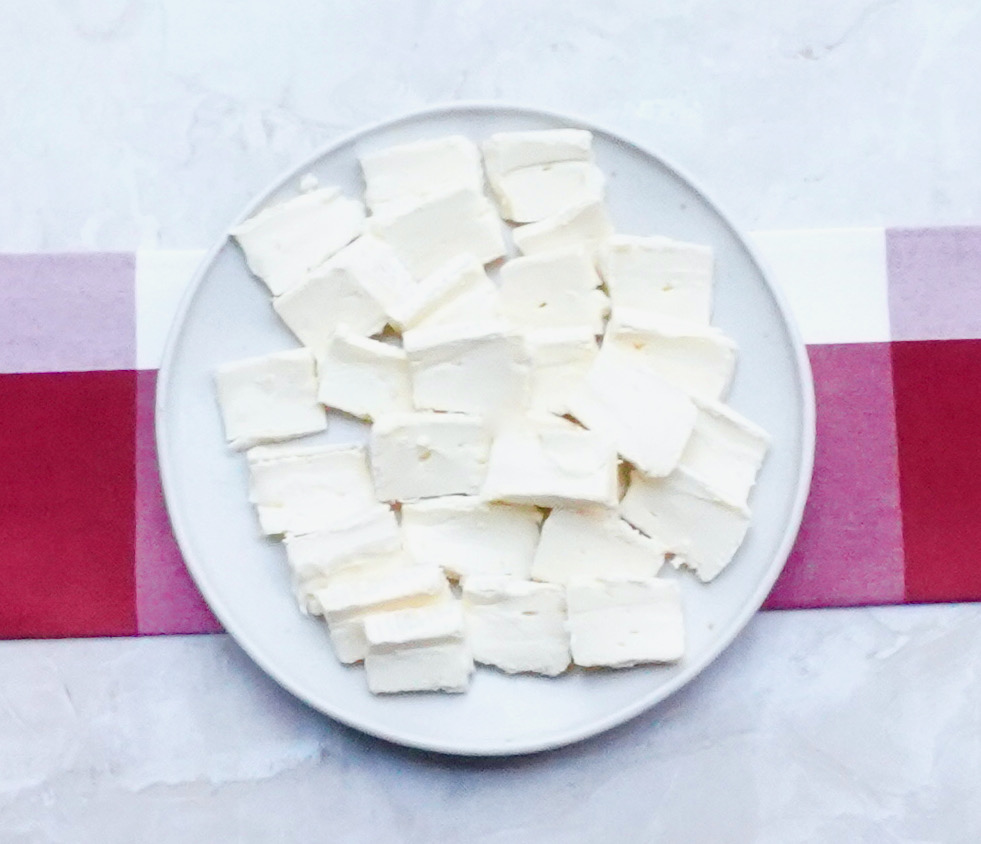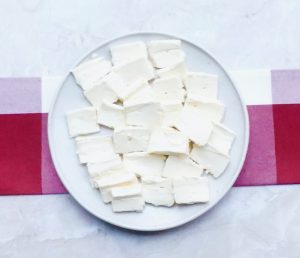 Place the slices of brie into the cuts of the bread and add cranberries. Brush the top of the bread with the melted butter.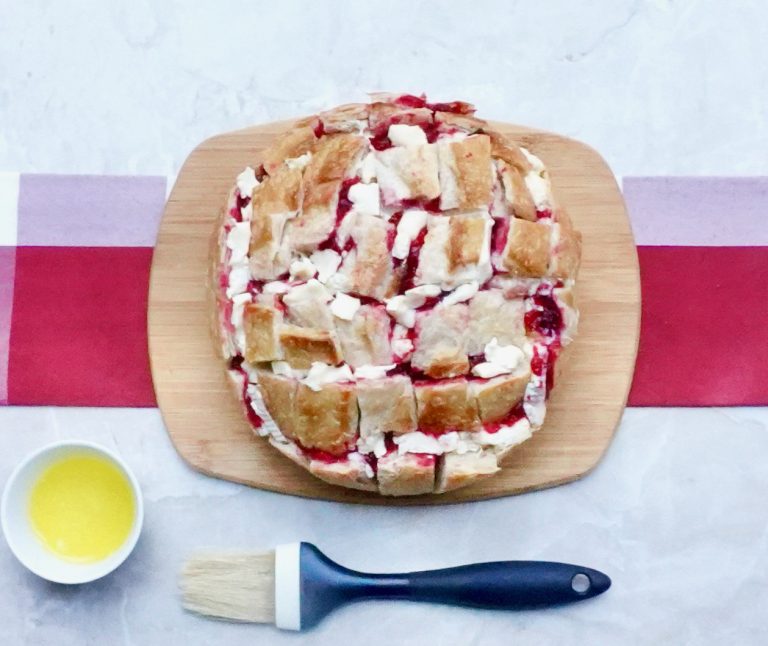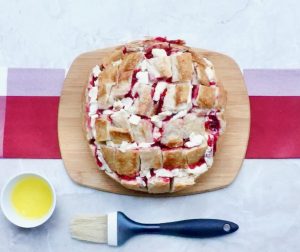 Cranberry Brie Pull Apart Bread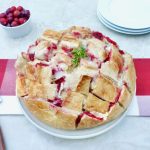 Print This
Ingredients
1 cup fresh cranberries

¼ cup light brown sugar

¼ cup cranberry juice

¼ teaspoon ground ginger

½ teaspoon cornstarch optional

1 pound loaf sourdough bread (use a round loaf of bread)

8 ounce brie wheel

2 tablespoons butter melted
Instructions
Preheat your oven to 350°F (175°C)
In a small saucepan, combine the fresh cranberries, light brown sugar, cranberry juice and ground ginger. If you prefer a thicker sauce, add the optional cornstarch that has been combined with a teaspoon of water to dissolve it.Cook over medium heat until the cranberries burst and the mixture thickens. This should take about 5 minutes. Set aside the mixture to cool.
Take your sourdough loaf and cut rows across the bread about 1 inch wide. Turn the bread and cut one inch rows across the bread again so that the entire loaf is cut into squares. Be careful not to slice all the way through to the bottom of the loaf. The bread should remain intact at the base.
Remove the outer white rind covering from the brie using a vegetable peeler. Cut your wheel of brie into thin slices, then cut each slice into three equal pieces. Tuck these slices of brie into the cuts in the bread.
Use a small knife to spread a small amount of the cranberry mixture into each of the cuts with the brie slices.
Brush the melted butter over the top of the bread. This will give the bread a beautiful golden brown finish.
Place your prepared bread on a baking sheet lined with parchment paper and tent it loosely with foil. Bake in the preheated oven for about 15-20 minutes, then remove the foil and bake for another 5-10 minutes or until the cheese is melted and bubbly.
Allow the bread to cool for a few minutes, then place it on a serving platter. It looks pretty with a fresh thyme garnish. Invite your guests to pull apart the pieces and enjoy the warm, gooey cheese goodness with a burst of cranberry this holiday season.