Let's go ahead and pull that electric fondue pot out of the closet and make Brie Fondue. It is a fun interactive way to entertain a group but would also be good for romantic dinners or a simple meal. Just hand out fondue forks and put out some bread cubes, apple slices and grapes and let everyone dip into the cheesy goodness of this brie fondue recipe.
Some other suggestions to serve with Brie Fondue are bell peppers, broccoli, asparagus spears, cauliflower, and cherry tomatoes.
The beauty of this recipe is that it comes together in minutes. It looks impressive and tastes delicious and is so very simple and fast.
If you are a fan of warm cheese dips, check out Queso Dip, Dubliner Cheese Dip and Rueben Melt Dip. The Queso Dip and Dubliner Cheese Dip could be served in a fondue pot!
SOME THINGS TO KNOW: FAQ'S
INGREDIENT TIPS:
Brie is a French cheese that is soft and mild. It melts well for fondue. It is sold in both one pound and half pound small wheels. You will need one of each brie cheese size for this recipe. Read What is Brie Cheese? to learn more.
You should try to use a crisp, dry white wine like Pinot Grigio or Sauvignon Blanc in the fondue. This will be a predominant flavor with the mild taste of the brie. While you do not have to go overboard with a very expensive wine, make sure that you chose a wine that you would actually enjoy drinking.
This fondue will be best made in a cooking pot on the stove rather than in the fondue pot. You will have better control over the heat. Once the cheese melts you can transfer it your fondue pot.
Brie has a white, paper like skin that surrounds it. In order to have a smooth fondue, this skin will have to be completely removed. A vegetable peeler or very sharp knife is a great way to do this. Start with the sides, cut edges and run the peeler or knife around the entire side of the cheese. Once you have the side skin off, continue to scrape the skin off both the top and bottom of the wheel of cheese.
If you want you could add some fresh herbs and pinch of black pepper to the fondue. Thyme would be a nice addition.You should add 1 tablespoon of chopped fresh herbs of your liking.
​SPECIAL EQUIPMENT NEEDED:
Fondue pot. You could also use a small chafing dish, slow cooker or double boiler.If you do not own a fondue pot and are interested in purchasing one, you should read 8 Best Fondue Pots.
Fondue forks
Medium saucepan
Wooden spoon or whisk
SUBSTITUTIONS:
If you are not a fan of brie, some good substitutions are Swiss cheese, Gouda and Gruyere cheese. Make sure that you add 1.5 pounds of cheese if you are substituting.
A french bread like a baguette is a good choice to serve with the fondue. Some other good options are sourdough bread, focaccia bread, ciabatta bread and even breadsticks.
If you do not have cornstarch substitute arrowroot, all purpose flour, tapioca flour, or potato starch.
HOW TO STORE BRIE FONDUE:
You can make this brie cheese fondue up to a day ahead of time. Keep it tightly covered in the refrigerator. Reheat it on the stove in a medium saucepan over low heat, stirring occasionally until it is heated through.
Store the leftovers in the refrigerator in an airtight container for 2-3 days.
You can freeze the brie fondue in an airtight freezer container for 2-3 months.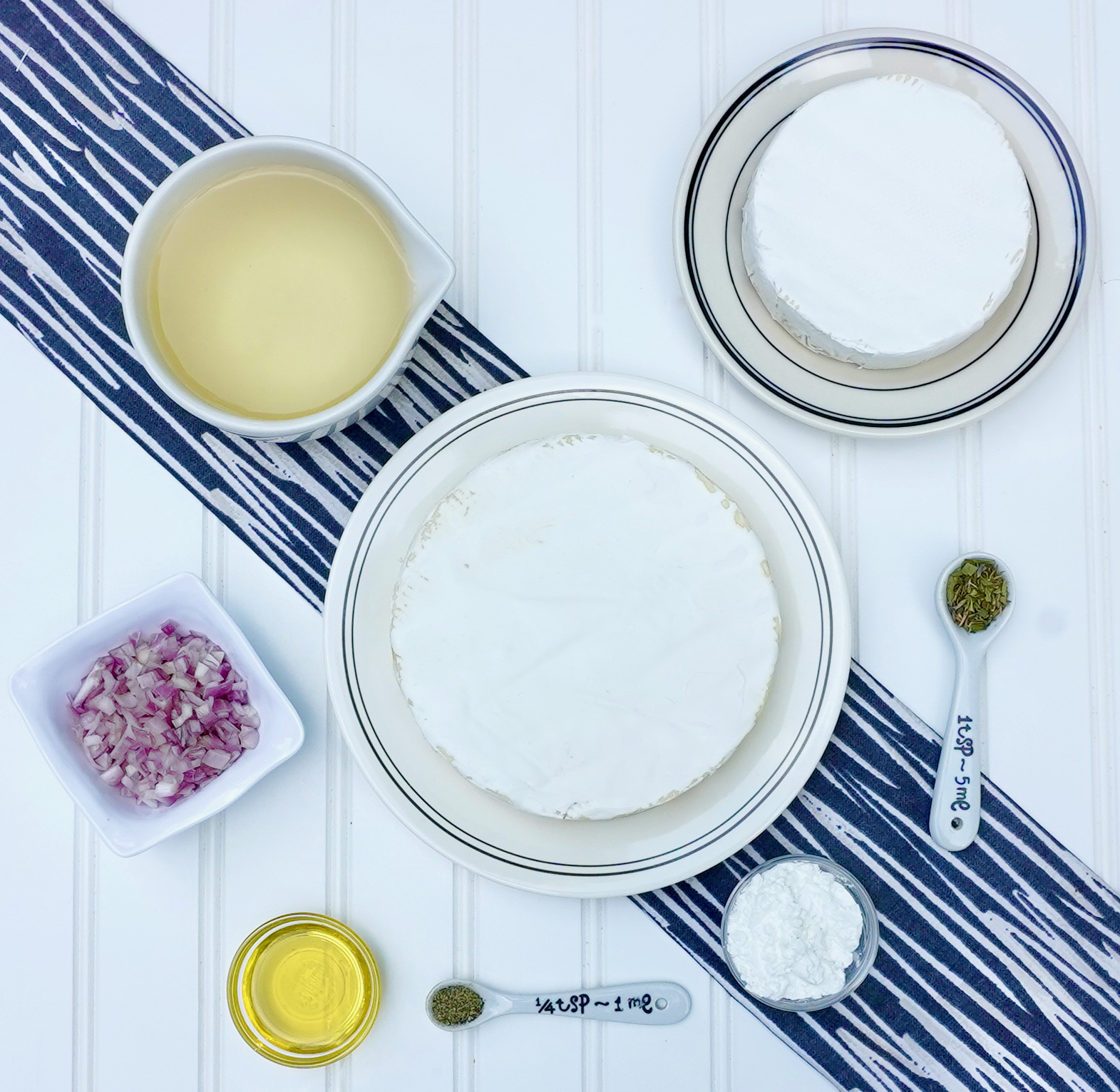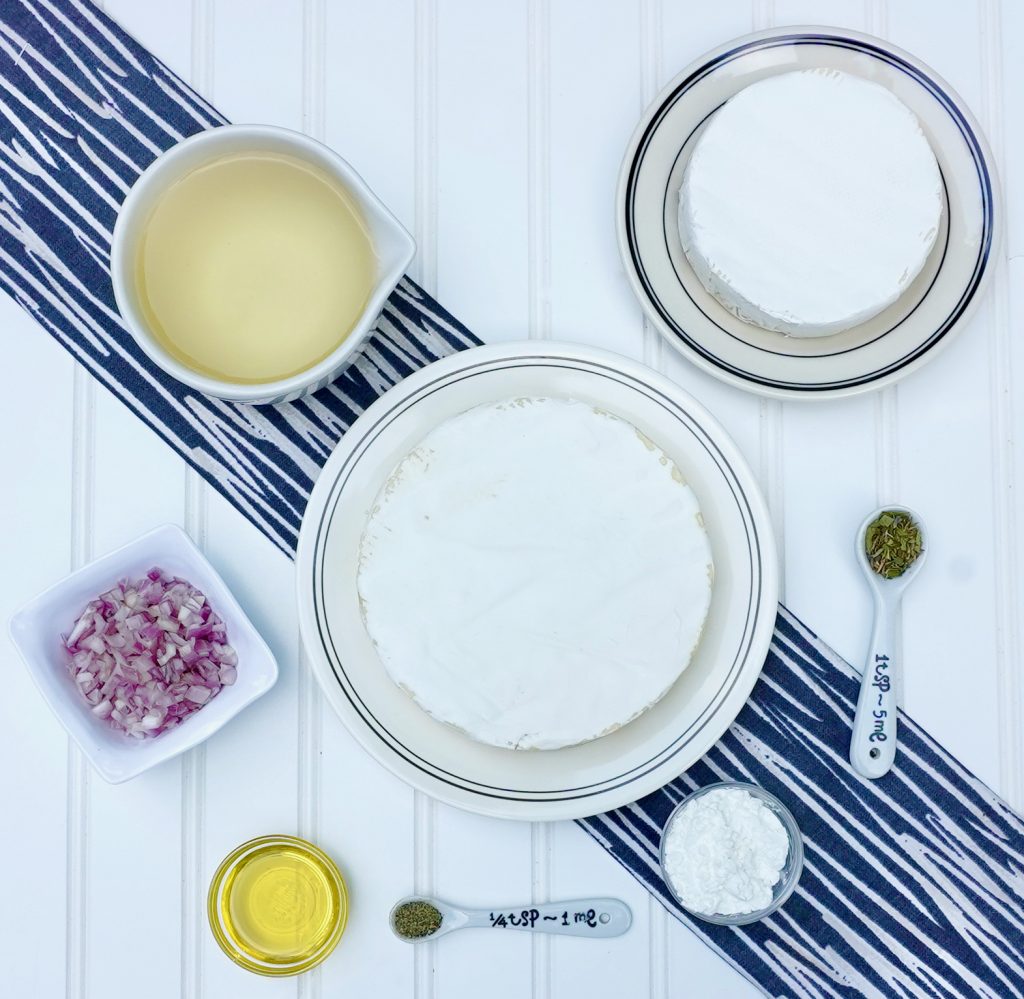 Brie Fondue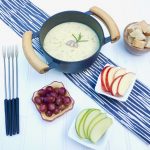 Print This
Ingredients
1 tablespoon olive oil

1 small shallot, minced

1½ cups white wine

1½ tablespoon cornstarch

1 tablespoon cold water

1½ pounds brie, white skin totally removed and cut into 1½ cubes
Instructions
Heat the olive oil in a medium saucepan over medium-low heat.
Add the shallots and cook for 2 minutes, stirring occasionally until soft. Do not let them brown.
Add the wine to the pot.
In a small bowl, combine the cornstarch and the cold water making sure that the cornstarch completely dissolves. Pour the mixture into the pot and stir to combine with the wine. You will notice it start to thicken as you stir.
Start to slowly add the cubes of brie to the pot, stirring after each addition. Once they have all been added, continue to stir until the cubes have all completely melted and you have a smooth fondue.
Pour the fondue into your fondue pot to serve. Keep the warm fondue over a sterno chafing fuel flame or plugged in over low heat.