Orange Ginger Chicken is an easy, Asian inspired meal that cooks in minutes. A bit of planning is needed to allow time to marinade the chicken but everything else goes very fast. 
This is a flavorful dish that would be a great weeknight dinner. Served with rice and scallions it is a healthier version of the favorite take out meal. Most of the ingredients here you may have in your pantry.
This Orange Ginger Chicken recipe would also be good with shrimp, pork or beef if you wanted to switch it up.
If you like Asian inspired foods check out Thai Peanut Chicken Wraps,  Korean Beef, Asian Salmon, Chinese Chicken Salad, Chicken Ramen, and Asian Slaw.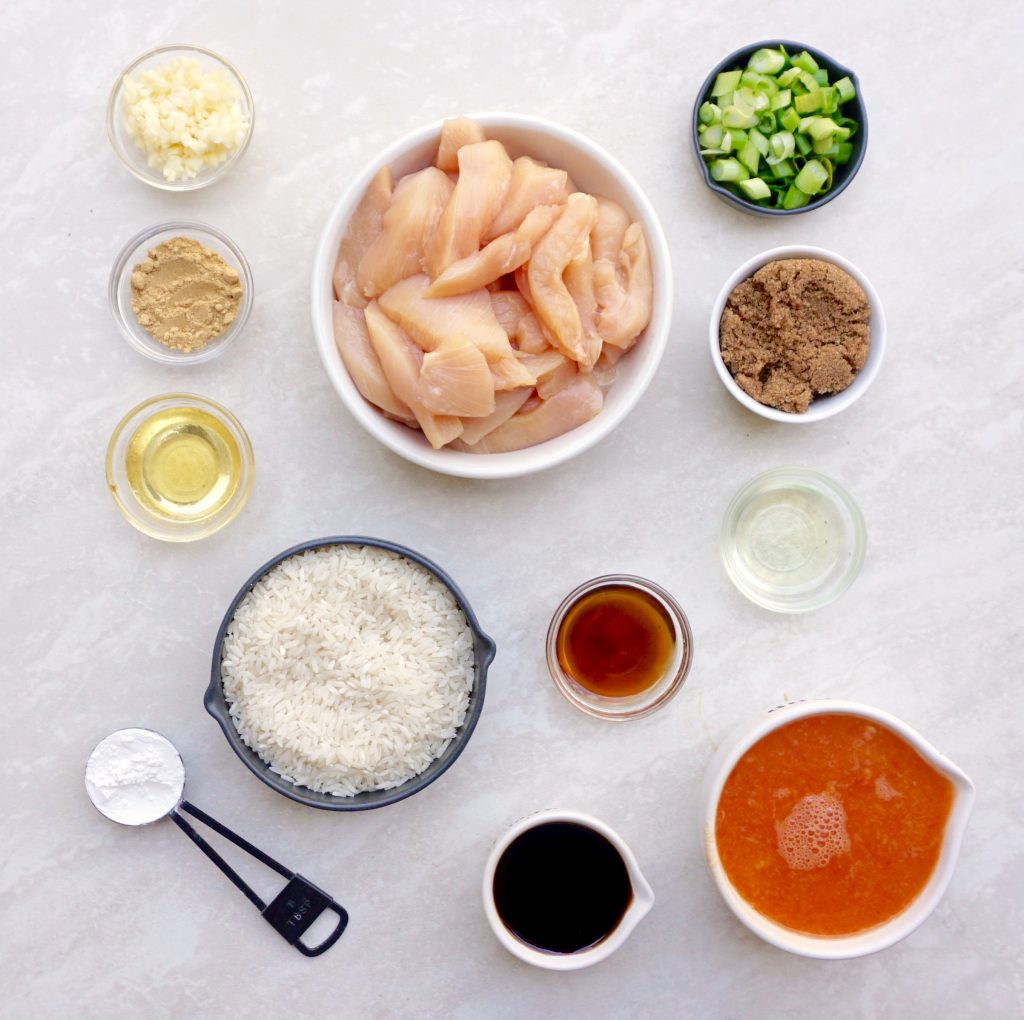 Orange Ginger Chicken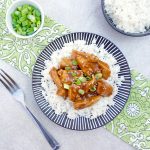 Print This
Ingredients
1 cup fresh orange juice

4 garlic cloves, minced

2 teaspoons dry ginger

¼ cup soy sauce

1 tablespoon sesame oil

1 tablespoon rice wine vinegar

¼ cup brown sugar

1 tablespoon canola oil

1 pound boneless chicken breast, sliced into strips

1 tablespoon cornstarch

¼ cup scallions, sliced

1 ½ cups white or brown rice
Instructions
In a medium bowl, combine the orange juice, garlic, ginger, soy sauce, sesame oil, rice wine vinegar, and brown sugar.
Place the chicken in a Ziploc bag or bowl and add ½ cup of the orange juice mixture to the chicken to use as a marinade. Reserve the rest of the juice mixture in the refrigerator covered until it is time to cook the chicken.
 Let the chicken marinade for at least one hour. 
Cook the rice by adding it to a saucepan with 3 cups of water and a pinch of salt. Bring it to a boil over high heat. Reduce the heat to low and cover the pan. Let the rice cook for the amount of time that the package specifies. White rice should take about 15-20 minutes. If you use brown rice it may be a bit longer.
Heat the canola oil in a large skillet over medium low heat. Add the chicken strips  to the skillet. Discard the marinade. Cook the strips, turning  them occasionally until they are browned on both sides and cooked through. This should take about 5 minutes. 
When the chicken is cooked, pour the remaining orange juice mixture into the skillet. Mix the tablespoon of cornstarch with a tablespoon of water and add it to the skillet.
Stir  and cook until the sauce  bubbles and thickens. 
Serve the chicken with rice and sprinkle with scallions.