Mushroom Spinach Orzo is a recipe that you can serve in different ways. It can be served as a side dish as it would go nicely with most meats and poultry. It can also be served as a vegetarian meal. Orzo is a rice shaped pasta so this is a hearty dish that has the vegetables added as well.
This is easy to make and comes together quickly. I have listed the cook time as 20- 25 minutes as I am accounting for the orzo cooking time. If you cook the orzo while you are making the sauce, the entire dish will be ready in about 15 minutes. This makes it a great choice for busy weeknights. Mushroom Spinach Orzo is creamy and comforting so it is perfect at the end of a long day!
If you are a fan of orzo, check out Greek Orzo Salad, Orzo Risotto, Farmer's Market Orzo, Orzo With Mint Tomato and Feta, Orzo Salad, and Lemon Shrimp Orzo with Asparagus.
If you are a fan of spinach, check out Asiago Creamed Spinach.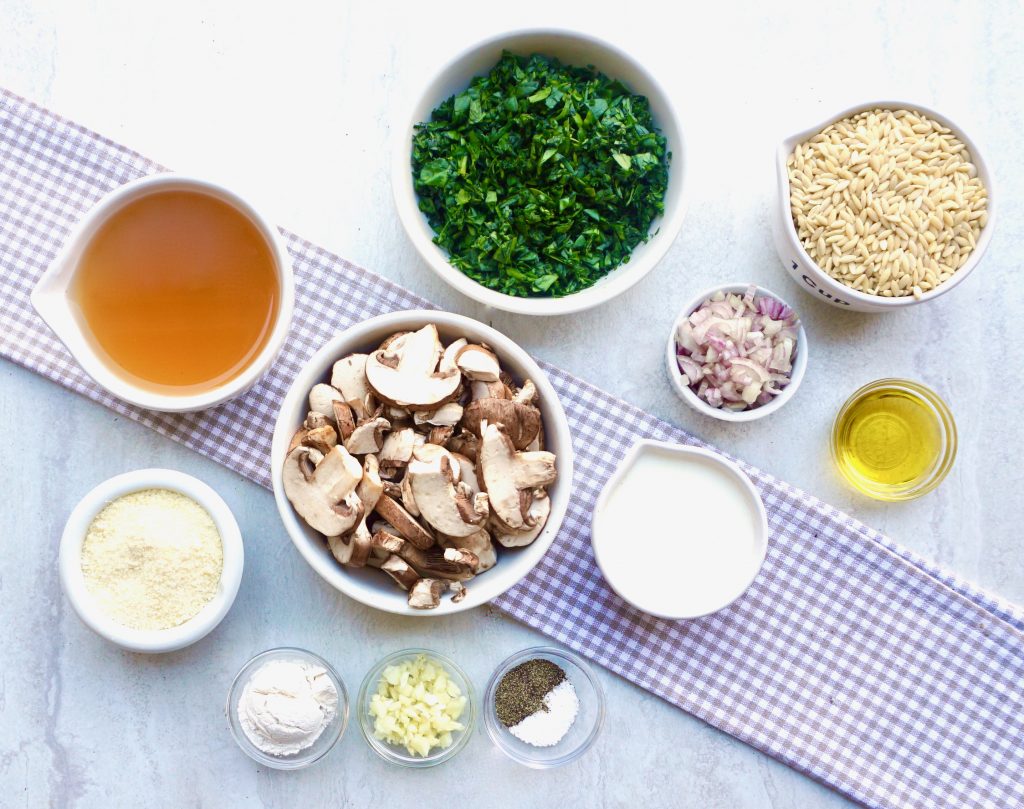 Mushroom Spinach Orzo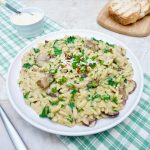 Print This
Ingredients
1 cup orzo, rice shaped pasta

2 tablespoons olive oil

1 large shallot, diced

8 ounces Baby Bella mushrooms,sliced

2 garlic cloves, minced

2 tablespoons all purpose flour

1 ½ cups vegetable broth

½ cup heavy cream

2 cups baby spinach, stems removed and chopped

½ cup grated parmesan cheese

salt and pepper
Instructions
Bring a large pot of water to a boil. Add the orzo and cook according to the package instructions for the tenderness that you like. When it has reached that point, drain and rinse in cold water. You should be doing this while you are making the sauce.
In a large skillet, heat the olive oil over medium high heat. Add the shallots and mushrooms to the pan. Cook over medium low heat until the mushrooms have rendered their liquid, stirring often. This will take about 4-5 minutes.
Add the garlic and cook for an additional 2 minutes, stirring.
Add the flour to the pan and using a spatula, mix it in to the vegetables. There should not be any dry flour in the pan. Slowly pour in the vegetable stock, whisking constantly so that is is thoroughly combined and there are no lumps. Continue to whisk until the mixture thickens, about 1 to 2 minutes.
Add the heavy cream and parmesan cheese and whisk constantly for about 2 minutes until the mixture thickens slightly. Add the orzo and spinach, stir in and cook until the spinach wilts, about 3 minutes.
Serve at once.