Cranberry Gingerbread Cake is a dense, flavorful cake that is perfect for the holidays. It is a great cake for winter baking that is made with dark unsulphured  molasses and brown sugar. It is spiced with the warm spices ginger, cloves and cinnamon. Chopped cranberries bring some color and a fresh tartness to the cake.
A simple cream cheese frosting that has a touch of maple syrup tops the cake. If you are not serving the cake at ounce it should be refrigerated due to the cream cheese. Or you could store the cake at room temperature and frost it when you are ready to serve it.
The cake is topped simply with some sugared cranberries and rosemary sprigs to add some holiday colors. Instructions on making the sugared cranberries can be found in the note section of Holiday Cape Codder.
If you are a fan of gingerbread check out Gingerbread Cookies, Gingerbread Pancakes and Pumpkin Gingerbread Trifle.
You can use your leftover fresh cranberries in Cranberry Orange Walnut Bread or Cranberry Orange Sauce.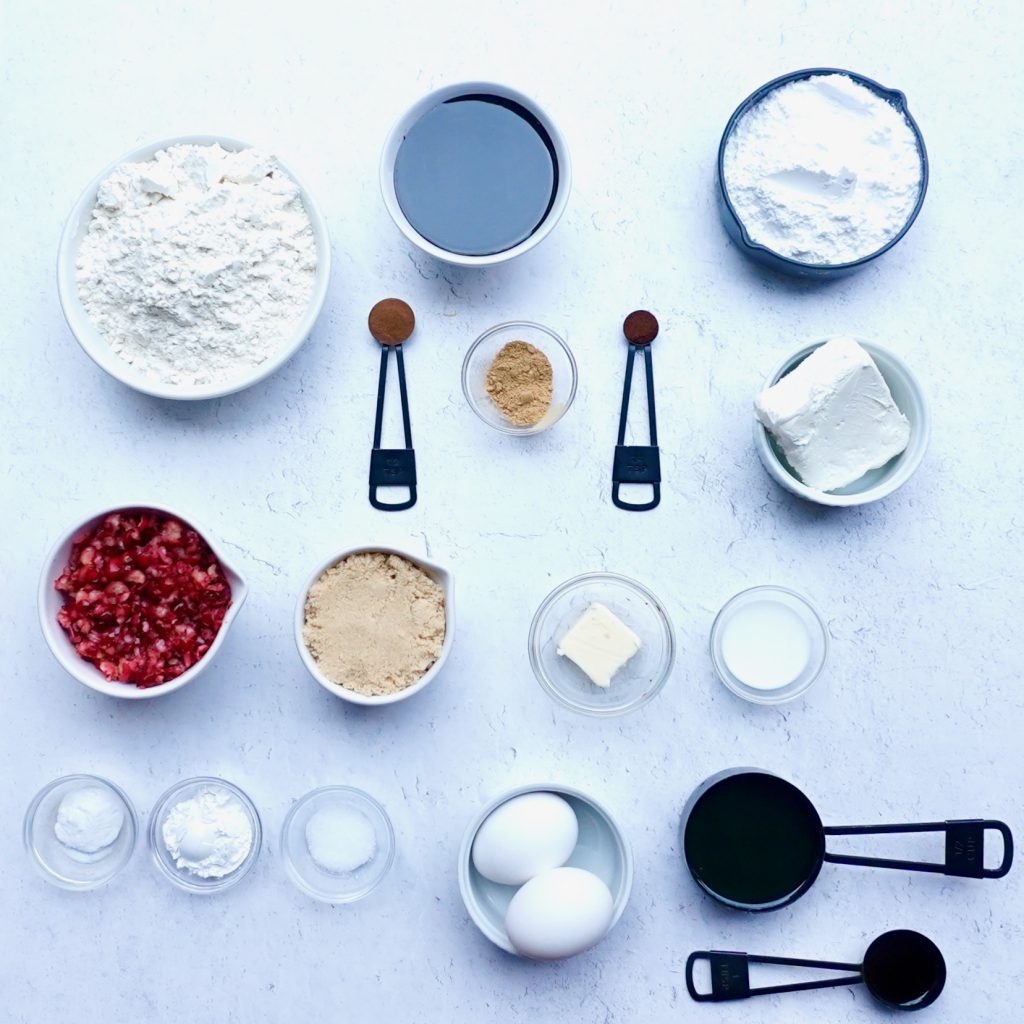 Cranberry Gingerbread Cake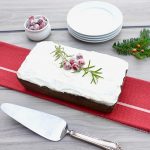 Print This
Ingredients
CAKE:

2 cups all- purpose flour

1 ½ teaspoons ground ginger

½ teaspoon cinnamon

¼ teaspoon ground cloves

2 teaspoons baking powder

½ teaspoon baking soda

½ teaspoon iodized salt

2 large eggs

½ cup canola oil

¾ cup unsulphered molasses

½ cup brown sugar

1 cup cranberries, chopped

.

FROSTING:

4 ounces cream cheese, at room temperature

1 tablespoon butter, at room temperature

1 ¼ cups powdered sugar

1 tablespoon maple syrup

1 tablespoon milk.
Instructions
CAKE:
Preheat the oven to 350. Place a rack in the middle of the oven to bake the cake.
Grease and flour a 9" x 5" loaf pan.
In a large bowl combine the flour, ginger, cinnamon, cloves, baking powder, baking soda and salt. Combine well. 
In a medium bowl, beat the eggs. Add the canola oil, molasses and brown sugar. Combine well.
Pour the wet ingredients into the bowl with the dry ingredients. Stir until everything is combined. 
Stir in the cranberries.
Pour the batter into the prepared pan. Bake for about 50 minutes until the top is full set and springs back. You should start checking on the cake at 45 minutes. Ovens bake differently and you do not want to over bake it.
Remove the cake from the oven and let it cool in the pan for 10 minutes.  Remove it from the pan and let it cool completely on a wire rack.
FROSTING:
Beat the creamy cheese and butter with an electric mixer until they are fluffy. Add the powdered sugar, maple syrup and combine well.
Spread the frosting over the top of the cooled cake.
Optional garnish is sugared cranberries .