Creamy Mushroom Rice Soup is a hearty vegetable soup recipe. It is a creamy soup that is flavorful and filling. The best part of soup season is having a large stockpot of delicious soup simmering on the stove top and eating a big bowl of it with some crusty bread. This soup is a good one to try
The recipe is made with brown rice to make it a bit healthier as it is not processed. Brown rice retains its  fiber so it will keep you full longer plus it has proteins and other nutrients. It does require a longer cooking time than white rice. If time is an issue for you or you simply prefer white rice, you can easily swap it in.
This hearty soup is packed with vegetables. Mushrooms, carrots, celery, and shallots combine to make a very flavorful soup. If you have been attempting to add more meatless recipes into your diet, this Creamy Mushroom Rice Soup is a recipe you should try!
If you are a fan of creamy rice soups you should check out Creamy Turkey Wild Rice Soup and Lemon Chicken Rice Soup which is made with white rice and chicken breast and brightened with lemon juice.
Meaty mushrooms make a good substitute for meat. If you would like to try some other mushroom recipes, check out Mushroom Feta Rotini, Creamy Mushroom Spinach Bowties, Mushroom Brown Rice Pilaf, Creamy Mushroom Pappardelle, Mushroom Bisque, Cheesy Mushroom Baked Rigatoni, Mushroom Gemelli, Mushroom Cacio e Pepe, Mushroom Bolognese, Mushroom Asparagus Tortellini, Mushroom Spinach Orzo, Mushroom Asparagus Frittata and Spinach Mushroom Quiche.
SOME THINGS TO KNOW:
SUBSTITUTIONS:
This recipe calls for Baby Bella mushrooms but there are several type of mushroom that you could also use. White button mushrooms, Cremini mushrooms, White Mushrooms, and Shiitake mushrooms in the same quantity would work equally as well.
You can substitute yellow or white onion for the shallots. Use ½ cup chopped onion.
Vegetable Stock and Vegetable Broth are both made by simmering vegetables. Vegetable stock does not get any added seasonings while vegetable broth is seasoned with salt and pepper. You can substitute the vegetable broth in the recipe for stock. Simply taste the soup and add some salt and pepper to taste. If you are not concerned about this being a vegetarian recipe, you could use chicken broth as well.
The rice choice is flexible here. If you do not have brown rice, you can use wild rice, a wild rice blend, black rice, white rice, red rice, or even an instant rice for this recipe. The directions in the recipe call for the rice to be cooked separate from the soup so just follow the cooking time directions for the type of rice you choose based on your personal preference.
If you want to make this a vegan soup, substitute coconut milk for the heavy cream one for one. Coconut milk is very rich in fat and it will work well in the recipe.
STORAGE:
You can store any leftover Creamy Mushroom Rice Soup in an airtight container for 3-5 days.
This soup can be frozen as long as you do it before the heavy cream is added. The cream can separate during the freezing process and the quality of the soup will be compromised. It can be frozen in an airtight freezer container for 2-3 months without the cream.
Reheat the soup in a saucepan over medium low heat, stirring occasionally.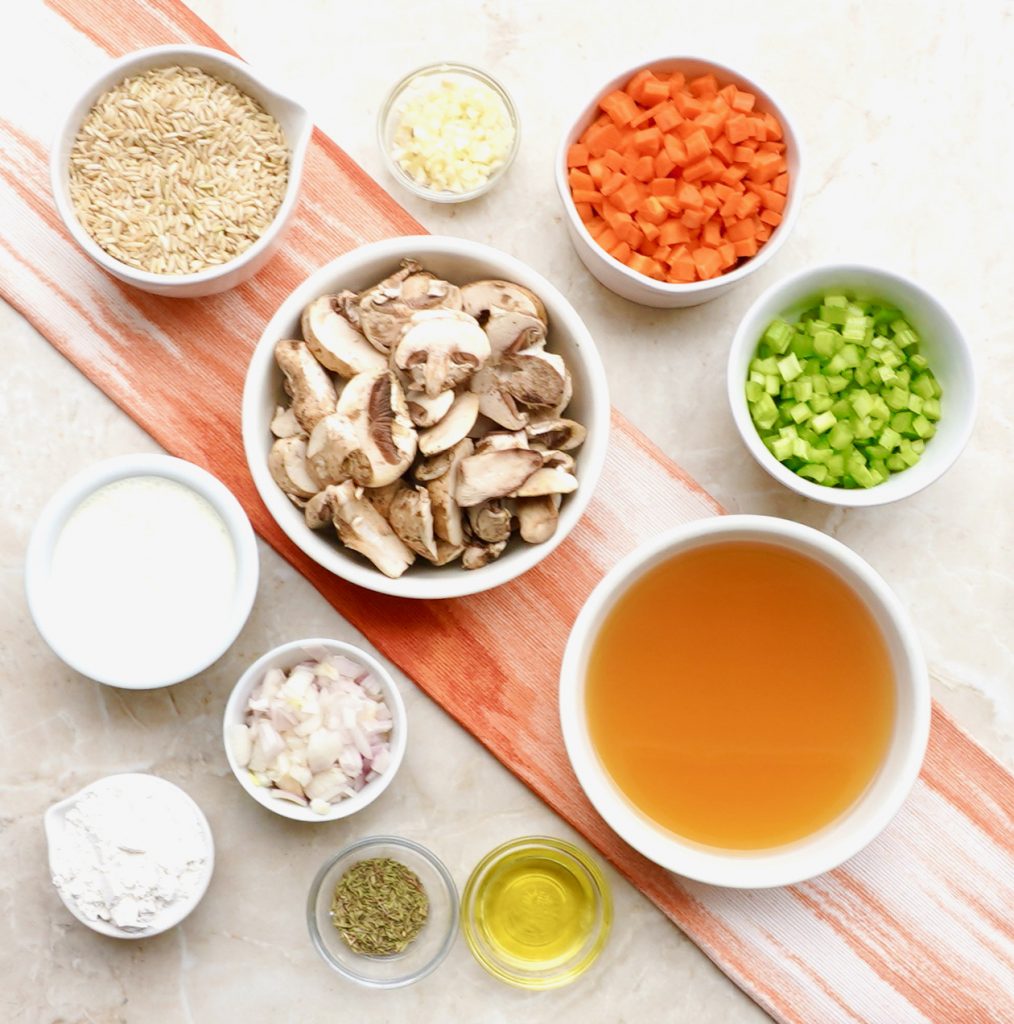 Creamy Mushroom Rice Soup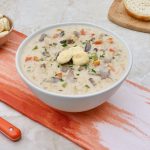 Print This
Ingredients
1 cup brown rice

1 tablespoon olive oil

8 ounces fresh mushrooms, cleaned and sliced (Baby Bella)

2 carrots, cut into small cubes

2 celery stalks, cut into small cubes

1 large shallot, minced

2 garlic cloves, minced

1 teaspoon dried thyme

¼ cup all purpose flour

6 cups vegetable broth

1 cup heavy cream
Instructions
In a medium pot, place two cups of water and the brown rice.  Follow these directions for Plain But Perfect Brown Rice!
While the rice is cooking.
In a large pot or dutch oven , heat the olive oil over medium low heat. Add the mushrooms, carrots and celery and cook for 5 minutes until the mushrooms have rendered their liquid and the carrots and celery are beginning to become tender.
Add the shallots, garlic and thyme. Cook for an additional 2 minutes.
Add the flour and stir in very well until it is thoroughly mixed in. Add the vegetable broth, one cup at a time, stirring constantly. You may want to use a whisk to prevent any lumps of flour.
When all of the broth has been added, raise the burner to medium-high heat and cook, stirring, until the soup starts to bubble and thicken. This will take a few minutes.
Turn the burner back down to medium low and let the soup simmer, uncovered for 15 minutes.
Stir in the heavy cream and cooked rice and simmer on low for 3-5 minutes to heat through.
Notes
The longest part of the cooking time is due to the brown rice. If you need this to be a quick fix, use white rice instead.