Creamy Mushroom Rice Soup is a hearty vegetarian recipe. It is a creamy and cozy soup that is flavorful and filling. The recipe is made with brown rice to make it a bit healthier as it is not processed. Brown rice retains it's fiber so it will keep you full longer plus it has proteins and other nutrients. It does require a longer cooking time than white rice. If time is an issue for you or you simply prefer white rice, you can easily swap it in.
This soup is packed with vegetables. Mushrooms, carrots, celery, and shallots combine to make a very flavorful soup. If you have been attempting to add more meatless recipes into your diet, this Creamy Mushroom Rice Soup is a recipe you should try!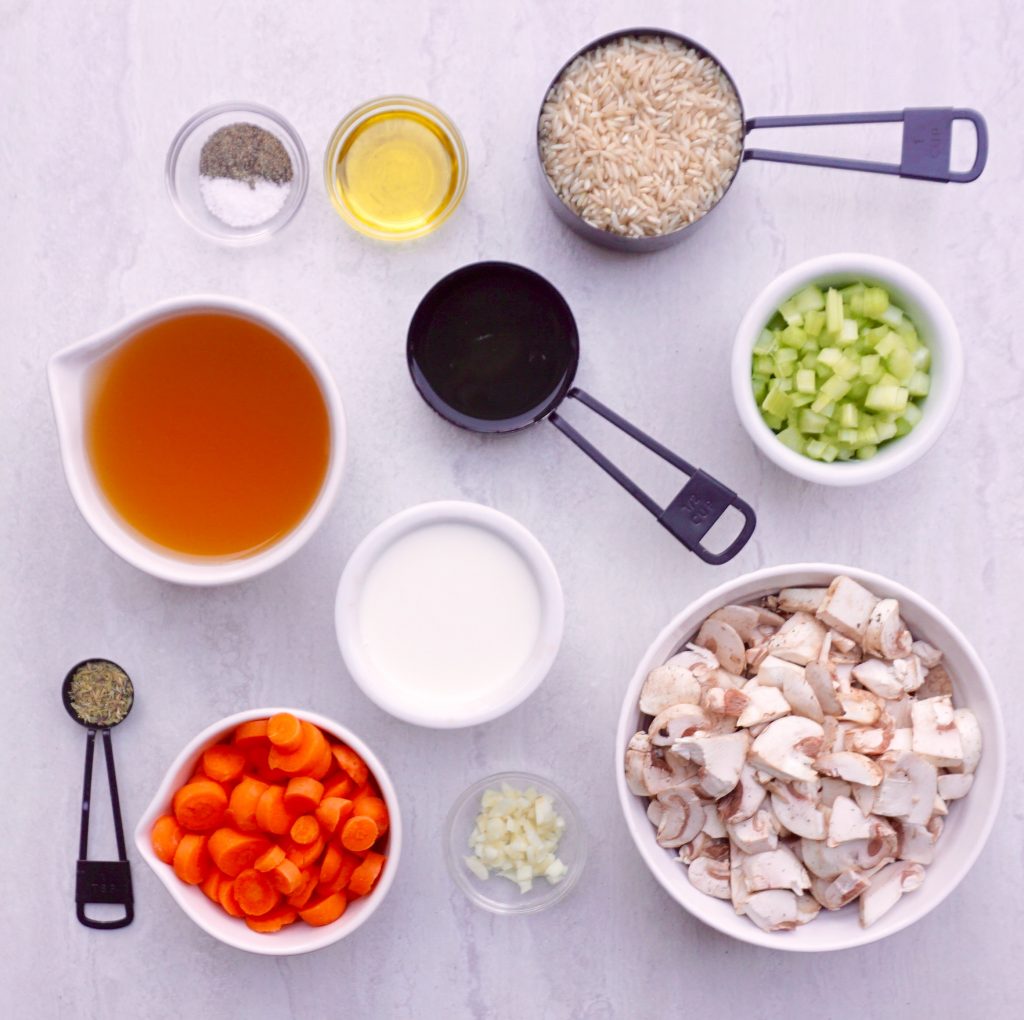 Creamy Mushroom Rice Soup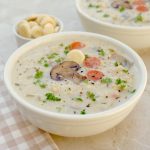 Print This
Ingredients
1 cup brown rice

1 tablespoon olive oil

8 ounces fresh mushrooms, cleaned and sliced

2 carrots, cut into small cubes

2 celery stalks, cut into small cubes

1 large shallot, minced

2 garlic cloves, minced

1 teaspoon dried thyme

½ cup white wine

¼ cup all purpose flour

6 cups vegetable broth

1 cup half and half
Instructions
In a medium pot, place two cups of water and the brown rice.  Follow these directions for Plain But Perfect Brown Rice!
In a large stockpot, heat the olive oil over medium low heat. Add the mushrooms, carrots and celery and cook for 4 minutes until the mushrooms have rendered their liquid and the carrots and celery are beginning to become tender.
Add the shallots, garlic and thyme. Cook for an additional 1 minute. Add the wine and simmer until it is reduced by half.
Add the flour and stir in very well until it is thoroughly mixed in. Add the vegetable broth, one cup at a time, stirring constantly. You may want to use a whisk to prevent any lumps.
When all of the broth has been added, raise the heat to medium and cook, stirring, until the soup thickens. This will take a few minutes.
Stir in the half and half and cooked rice and simmer on low for 3-5 minutes to heat through.