Mexican  Street Corn Pasta Salad is a flavorful way to enjoy summer corn. It has the flavors of the popular street food in a cool pasta salad with a creamy base.
Mexican Street Corn is grilled corn which is covered in mayonnaise then sprinkled with chili powder, grated Cojita cheese, and fresh cilantro. It is served with a squeeze of lime juice. This delicious pasta salad incorporates the same ingredients.
If you are having a summer bbq, Mexican Street Corn Pasta Salad would be a great dish to serve on the side. With all the great seasonings it just might turn out to be one of your favorite side dishes.It is also hearty enough to be a vegetarian main course.
If you are a fan of Mexican foods and corn, you should check out Mexican Corn Cakes and Mexican Street Corn Fritters. If you would like to try another easy pasta salad recipe that uses summer corn with black beans, red onion, tomato and avocado, check out Southwest Pasta Salad.
This would be so good served with Baja Chicken.
SOME THINGS TO KNOW:
Cotija is a Mexican cheese. If you cannot locate it at your grocery store, Feta cheese is similar and would be a great substitute.
One ear of corn will yield ½ cup of corn kernels. If you want to make this recipe using frozen or canned corn instead of fresh corn, you will need 1½  cups of corn.
Elote is a Mexican word that translates to corn cob.
If you do not have green onions on hand, red onions would be a good substitute.
Orecchiette is an Italian pasta that has a shape that resembles a small ear. If you cannot find it at your local grocery store, small penne, fusilli or bowtie pasta would be good substitutes.
If you want a bit of extra heat in the pasta salad dressing you can add ¼ to ½  teaspoon of cayenne pepper.
You can make this pasta salad a day before you plan to serve it. I will be more flavorful the next day.
You can keep any leftovers in an airtight container in the refrigerator for 2-3 days.
Because of the creamy mayo and sour cream mixture in the dressing, this will not freeze well. It is not  advised.
This recipe calls for a Jalapeño pepper. This is a spicy small green pepper. You can reduce the heat by removing the seeds and the inside ribs of the pepper.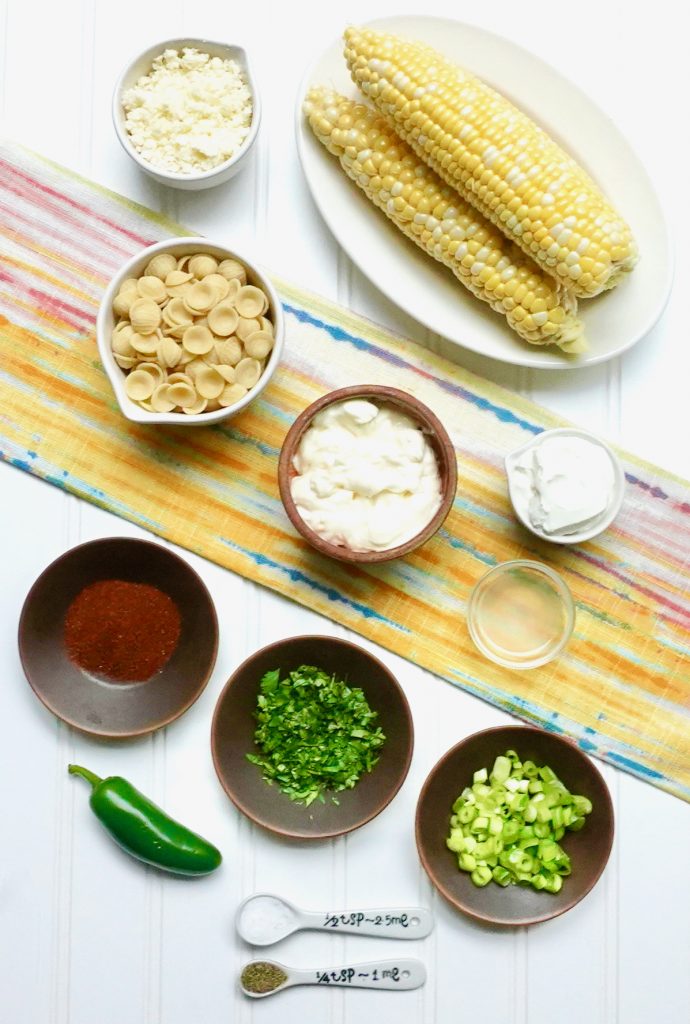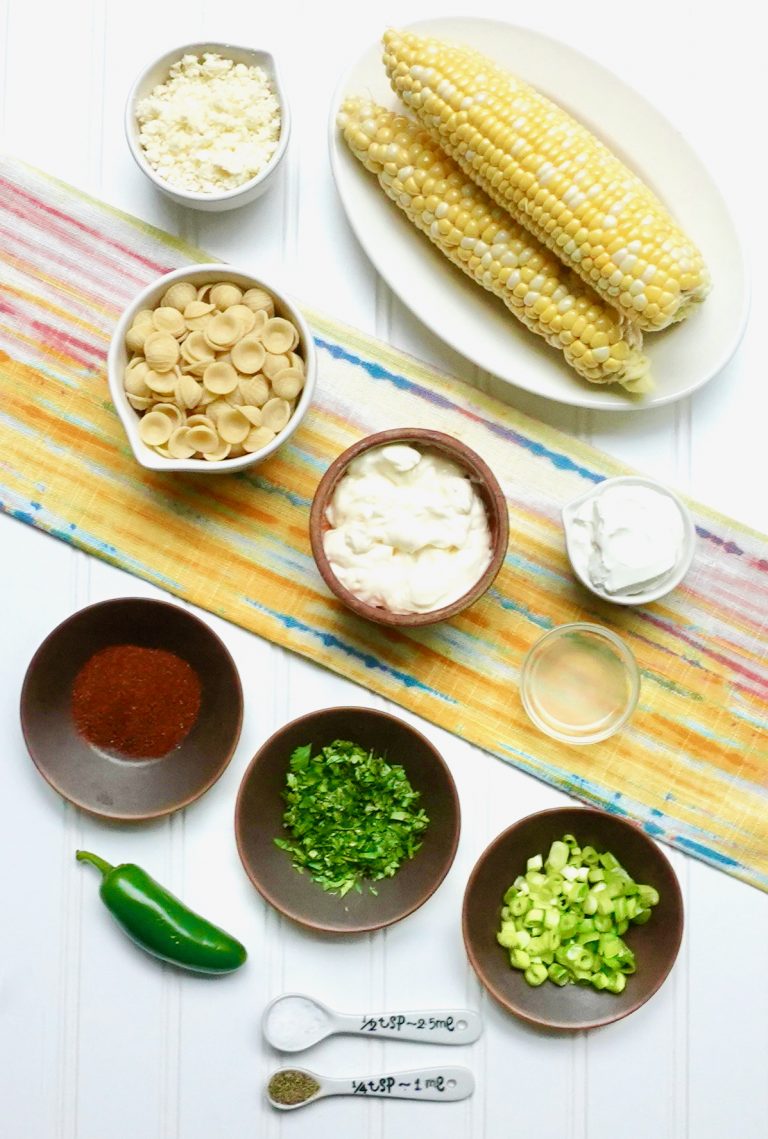 Mexican Street Corn Pasta Salad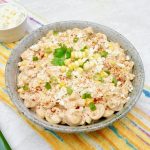 Print This
Ingredients
3 ear fresh corn on the cob

1 cup Orecchiette pasta

1⁄4 cup green onion, chopped

1 Jalapeño pepper, diced into tiny pieces

3⁄4 cup mayonnaise

1⁄4 cup sour cream

2 teaspoons chili powder

1 tablespoon fresh lime juice

½ teaspoon kosher salt

1⁄4 teaspoon black pepper

1⁄4 cup fresh cilantro, chopped

½ cup cojita cheese (reserve 2 tablespoons to sprinkle on top)
Instructions
If you have never grilled corn before, watch How To Grill Corn Three Ways.If you do not have an outdoor grill, you can check  out Oven Roasted Corn on the Cob.
Once the corn is finished being grilled or roasted, remove it from the cob using a sharp knife and place it into a large bowl. Let the corn cool to room temperature before mixing it with any of the other ingredients.
While you are grilling the corn,  bring a large pot of salted water to a boil over medium-high heat. Add the pasta and cook according to the package instructions for the tenderness you prefer. Al dente is the firmest and would stand up well in the salad.
When the pasta is cooked, drain it and rinse it with cold water. It must be cool before it is mixed with the dressing.
Add the pasta to the bowl with the corn.
Add the green onion and the Jalapeño pepper to the bowl.
Use a medium bowl to mix the dressing ingredients. Combine the mayonnaise, sour cream, chili powder, lime juice, salt and pepper. Mix them  together well.
Pour the dressing over the corn and pasta and stir it in. Make sure that is is thoroughly combined.
Add the cilantro and cojita cheese (less 2 tablespoons) and stir them into the pasta salad.
Sprinkle the remaining cojita over the top of the salad.