Sausage Cacciatore is a hearty, comforting meal that is easy to make. It has a flavorful sauce that is ready in 30 minutes and is served over pasta.
Cacciatore means "hunter" in Italian. This is a style of cooking that includes onions, herbs, tomato, bell peppers, mushrooms and wine. This recipe uses marinated mushrooms to add a bit more flavor to the sauce.  The Chicken Cacciatore recipe on the site uses fresh mushrooms.
Italian sausage is great combined with pasta and makes a hearty meal. Check out Creamy Mushroom Sausage Rigatoni, Sausage Tortellini Soup, Sausage Pepper Rigatoni, and Tomato Sausage Sauce for some other ways to prepare it.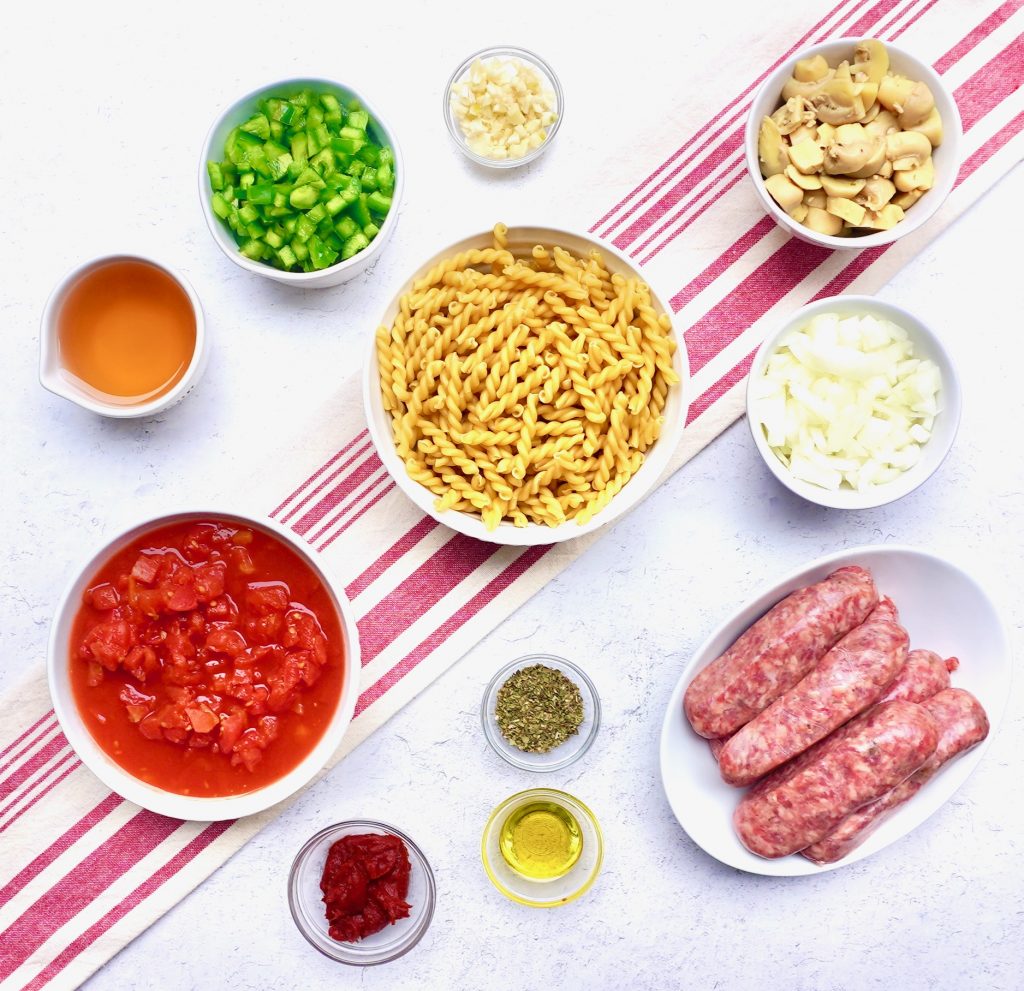 Sausage Cacciatore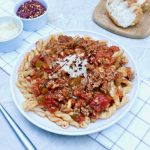 Print This
Ingredients
2 tablespoons olive oil

1 pound sweet Italian sausage, removed from casings

1 large green bell pepper, diced

1 cup yellow onion diced

2 garlic cloves, minced

28 ounce can diced tomatoes

2 tablespoons tomato paste

½ cup sherry wine

2 teaspoons dried oregano

12 ounce jar marinated mushrooms, drained and sliced

1 pound gemelli pasta
Instructions
SAUCE:
Heat the olive oil in a large skillet over medium low heat, 
Add the sausage to the pan and cook until it is browned. This will take about 4-5 minutes. While it is cooking use a fork and knife to break it up into small chunks.
Add the green peppers, onions and garlic to the skillet. Cook for 3 minutes, stirring occasionally.
Add the diced tomatoes, tomato paste, sherry wine and oregano to the skillet. Bring the heat up to high until the sauce comes to a boil.
Turn the heat back down to low and let the sauce simmer uncovered for 15 minutes, stirring occasionally.
Stir the marinated mushrooms into the sauce and let it simmer for an additional 5 minutes.
PASTA:
While the sauce is simmering, bring a large pot of water to a boil over high heat. Cook the gemelli according to the directions on the package for the doneness that you prefer.
Drain the pasta and place it in a large bowl or serving platter. Spoon the sauce over the top.