Zucchini Corn Fritters combine two of summer's favorite vegetables into a delicious side dish. They will go well with just about anything that you are grilling. They would also make a nice light vegetarian meal.
Zucchini Corn Fritters  are easy to make and have a short cooking time. They are lightly fried in a small amount of vegetable oil and only cook for 2 minutes on each side.  You can prepare them ahead of time and reheat them when you are ready to serve them.
If you like making fritters, check out Squash Fritters and Mexican Street Corn Fritters, Cheesy Cauliflower Fritters and Potato Fritters.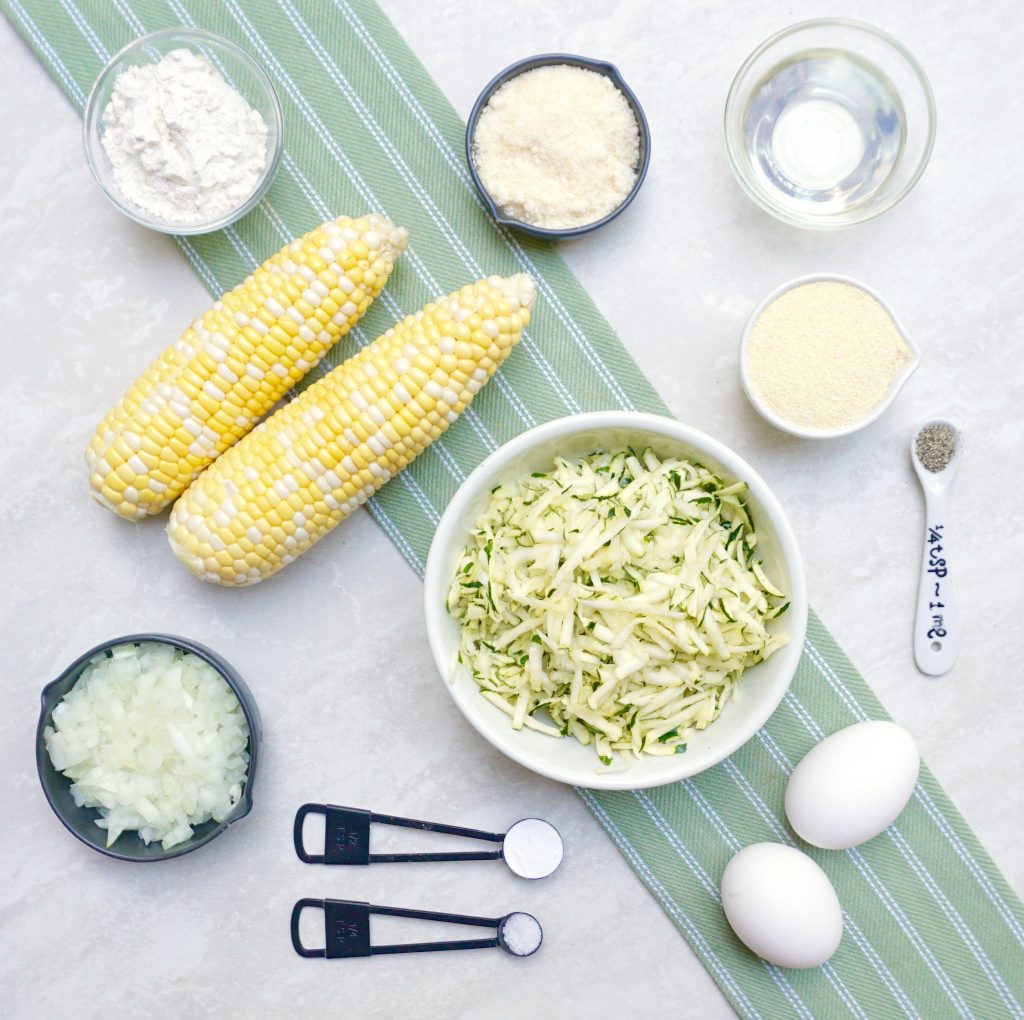 Zucchini Corn Fritters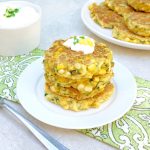 Print This
Ingredients
2 medium zucchini, grated

2 ear corn

½ cup yellow onion, diced

¼ cup all purpose flour

¼ cup cornmeal

¼ cup parmesan cheese

½ teaspoon baking soda

¼ teaspoon kosher salt

¼ teaspoon black pepper

2 large eggs, beaten

vegetable oil for frying
Instructions
Place your grated zucchini on paper towels or a clean dish towel and squeeze the moisture out.
In a large bowl combine the grated zucchini, corn, onions, flour, corn meal, baking soda, salt, pepper and eggs. Mix well until thoroughly combined.
In a large skillet heat 2 tablespoons of the olive oil over medium low heat. Measure a level ¼ cup of the zucchini corn mixture and add to the skillet. You should be able to fit 4-5 fritters at a time in a 10 inch skillet.
Fry for 2 minutes over medium high low until browned. Flip the fritters and cook the other side for 2 additional minutes until browned. Remove to a plate or baking sheet. You can keep them warm in a 200 degree over while the others are cooking.
Check the skillet to see if you need additional oil for the second batch. Add another tablespoon or two as needed.
Repeat the frying process with the second batch of fritters.