Zucchini Corn Fritters combine two of summer's favorite vegetables into a delicious easy side dish. Fresh sweet corn and summer zucchini are a great combination in these crispy fritters. They will go well with just about anything that you are grilling. They would also make a nice light vegetarian meal or a delicious appetizer.  If you want some other side dish ideas for summer grilling, check out 30 Simple Summer Side Dish Recipes.
Zucchini Corn Fritters are easy to make and have a short cooking time. They are lightly fried in a small amount of vegetable oil and only cook for 2 minutes on each side.  You can prepare them ahead of time and reheat them when you are ready to serve them.
If you like making fritters, check out Squash Fritters and Mexican Street Corn Fritters, Cheesy Cauliflower Fritters and Potato Fritters which are simple potato cakes.
Check out 15 Simple Summer Squash Recipes for ways to enjoy these seasonal vegetables.
SOME THINGS TO KNOW: FAQ'S
INGREDIENT TIPS:
SPECIAL EQUIPMENT NEEDED:
Large Skillet
Box grater
Large Mixing bowl
Sheet Pan (if cooking the fritters in batches)
SUBSTITUTIONS:
You can use yellow summer squash in place of the zucchini.
The all purpose flour can be replaced with whole wheat flour or chickpea flour.
The yellow onions can be substituted with red onions or green onions.
The best substitutes for Parmesan cheese are Asiago cheese and Romano cheese.
HOW TO STORE LEFTOVER ZUCCHINI CORN FRITTERS:
You can store the leftover fritters in an airtight container or wrapped with plastic wrap in the refrigerator for 3-5 days. Let the fritters cool to room temperature before placing them into the container.
You can freeze the fritters for up to 3 months. To freeze, place the fritters onto a baking sheet that has been lined with parchment paper in a single layer. Place the baking sheet into the freezer. Once the fritters are frozen, place them into an airtight freezer bag and return them to the freezer.
HOW TO REHEAT ZUCCHINI CORN FRITTERS:
The fritters can be reheated in a 350 degree oven on a baking sheet. It should take 5-10 minutes to heat them through.
You can also reheat them in a microwave oven covered. Heat them on a microwave safe plate at 1-2 minute intervals until they are heated through.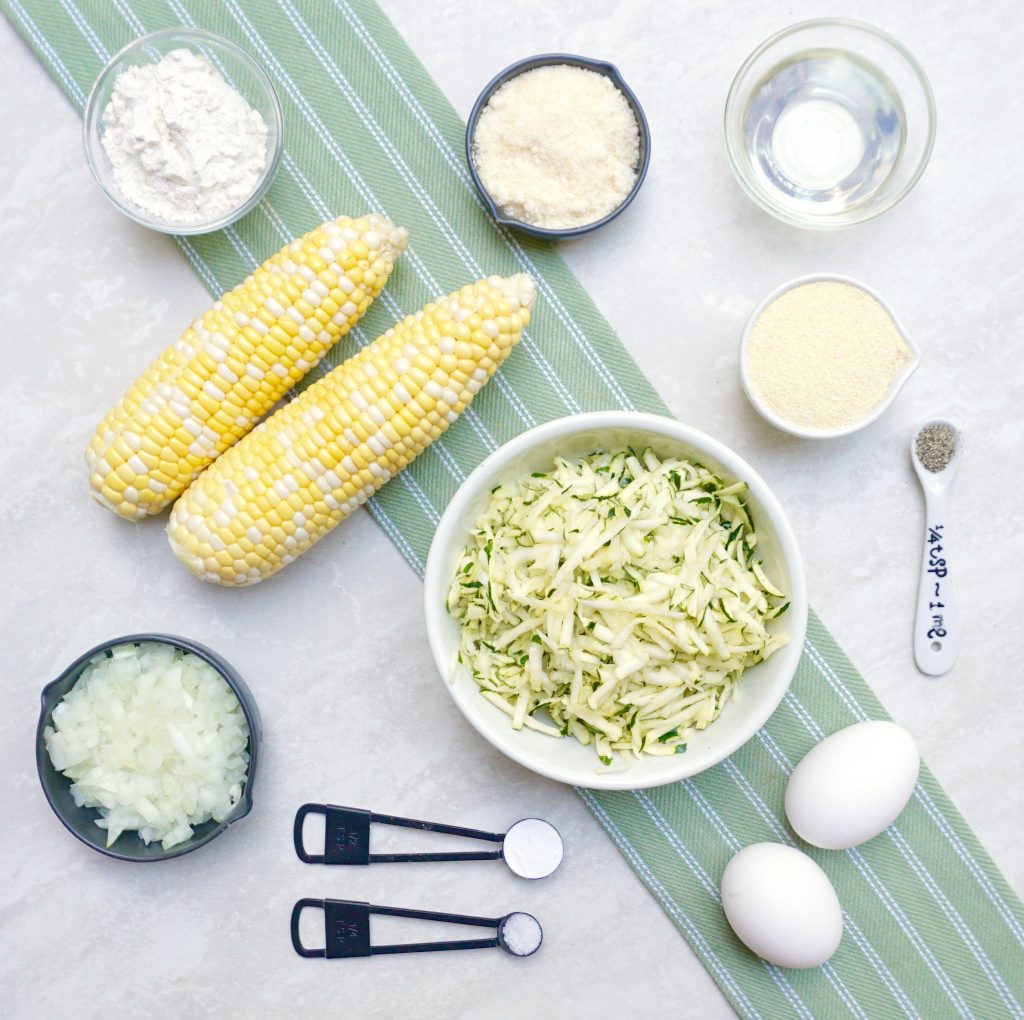 Zucchini Corn Fritters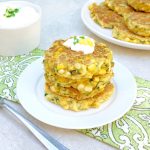 Print This
Ingredients
2 medium-sized fresh zucchini, grated

2 ear fresh corn kernels

½ cup yellow onion, diced

¼ cup all purpose flour

¼ cup cornmeal

¼ cup parmesan cheese

½ teaspoon baking soda

¼ teaspoon salt (Kosher)

¼ teaspoon black pepper

2 large eggs, beaten

vegetable oil for frying
Instructions
If you will be cooking the fritters in batches, preheat the oven to 200 degrees.
Place your grated zucchini on paper towels or a clean kitchen towel and squeeze the excess water out.
In a large bowl combine the shredded zucchini, corn, onions, flour, corn meal, baking soda, kosher salt, pepper and eggs. Mix well until thoroughly combined.
In a large skillet heat 2 tablespoons of the olive oil over medium low heat. Measure a level ¼ cup of the zucchini corn fritter batter and add it to the skillet with the hot oil. You should be able to fit 4-5 fritters at a time in a 10 inch skillet.
Fry for 2 minutes over medium heat until golden brown. Flip the fritters and cook the other side for an additional 2-3 minutes until browned. Remove to a plate or baking sheet. You can keep them warm in the 200 degree oven while the others are cooking.
Check the skillet to see if you need a little oil added for the second batch. Add another tablespoon or two as needed.
Repeat the frying process with the second batch of fritters.
Serve the fritters warm with sour cream or Greek yogurt.