Peach Clafoutis is one the easiest ways to enjoy them for dessert during the summer peach season. You can mix the simple batter in a blender, pour it over the fresh peach slices and bake. It is best served warm with a scoop of vanilla ice cream on top,  but you could also serve it at room temperature with a little bit of fresh whipped cream. This is a great summer dessert to feed a group with minimal effort.
This classic French dessert features fresh peach slices baked in a dense custard-like batter. The result is a dessert that's somewhere between a cake and a flan, with the sweet and tangy flavor of peaches shining through. Whether you're hosting a dinner party or just looking for a new dessert , this Peach Clafoutis recipe is a good one to try.
Clafoutis is easy make. You can either quickly combine the pancake-like batter in a blender or whisk it together in a bowl. If you would like to try some other delicious clafoutis recipes check out, Blueberry Clafoutis, Cherry Clafoutis and Cranberry Orange Clafoutis.
If you are a fan of stone fruits, check out Honey Lime Stone Fruit Salad. This simple fresh fruit salad features black cherries, plums, peaches and nectarines in a honey lime dressing with a touch of mint. This is a great way to enjoy seasonal fruit.
If you are looking for an even easier summer peach dessert, check out Honey Ricotta Grilled Peaches.
SOME THINGS TO KNOW:FAQ'S
INGREDIENT TIP:
SPECIAL EQUIPMENT NEEDED:
9″ x 13″ Baking dish
Blender or a large bowl and whisk
SUBSTITUTIONS:
If you don't have whole milk, you can use 2% milk, heavy cream, or a non-dairy milk like almond or soy milk.
If you don't have granulated sugar, you can use caster sugar, pure cane sugar or light brown sugar.
 If fresh peaches aren't available, you can use canned peaches (drained) or frozen peaches (thawed).
Almond extract can be substituted for the vanilla extract.
HOW TO STORE LEFTOVER PEACH CLAFOUTIS:
If you are not serving this at once, it will need to be refrigerated once it cools. Make sure that it is tightly covered with wrap.
You can store the leftover clafoutis in the refrigerator in the baking pan, covered with plastic or in an airtight container for 3 days.
Clafoutis is best when freshly made and will not freeze well. The fresh peaches and flan like consistency can become soggy when frozen.
HOW TO REHEAT PEACH CLAFOUTIS:
If you want to reheat the clafoutis in the oven, place it into a preheated 350 degree oven, covered with foil for about 10-15 minutes until it is warmed through.
You can also reheat The clafoutis in the microwave. Start with 20 seconds and depending on the quantity of what you are reheating, add additional intervals of 20 seconds until it is heated through.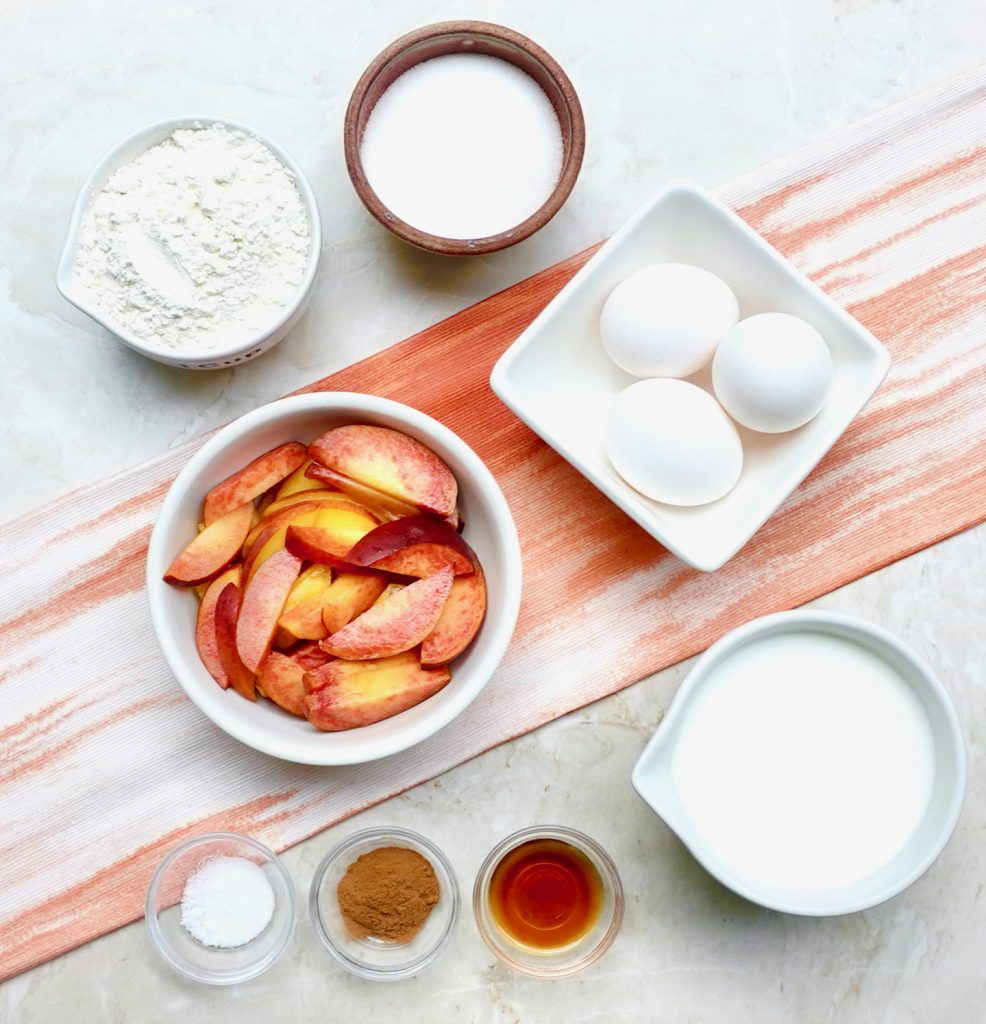 Bend the batter ingredients quickly in a blender.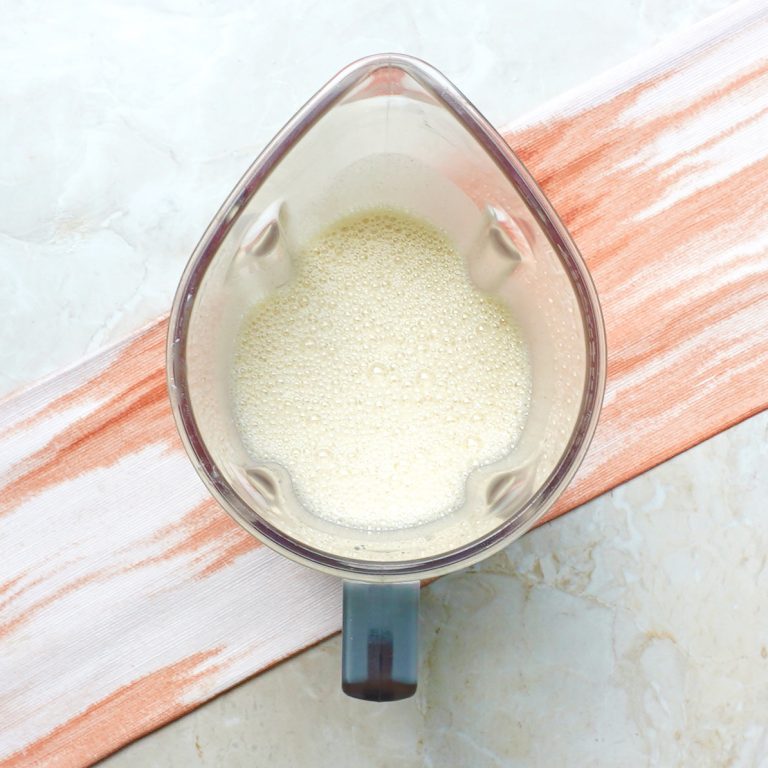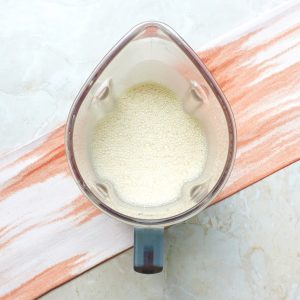 Line the peach slices on the bottom of a 9″ x 13″ baking pan.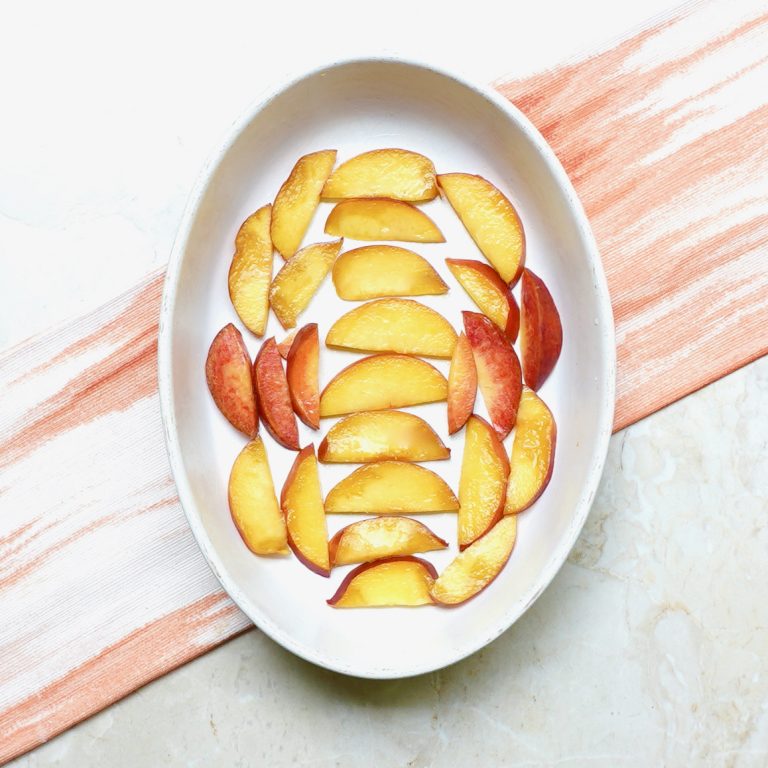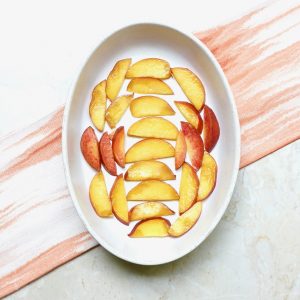 Pour the batter over the peaches in the pan.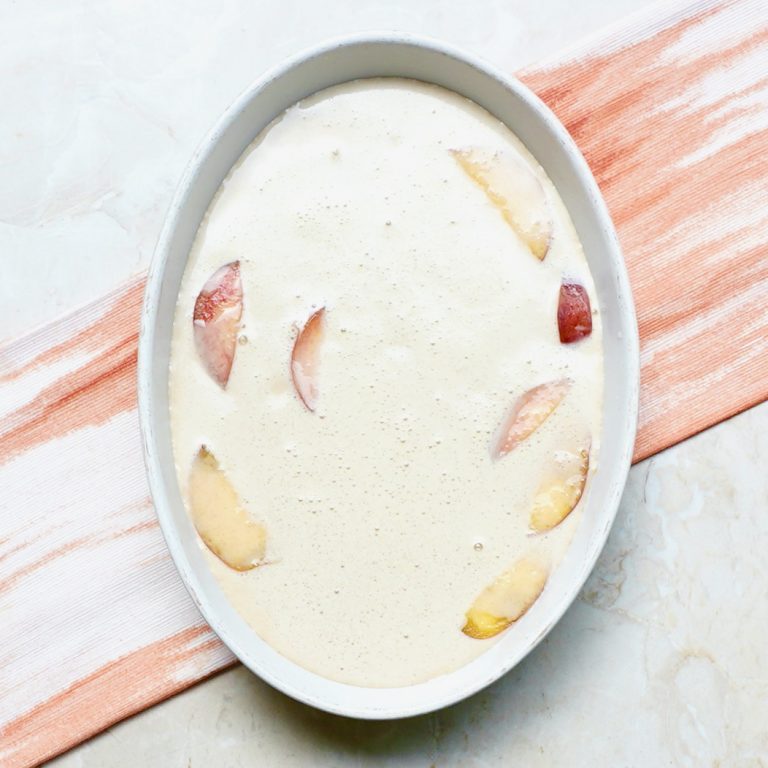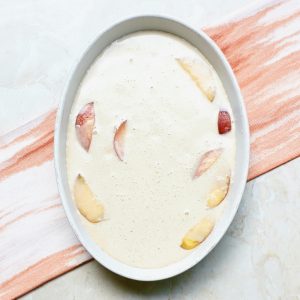 Peach Clafoutis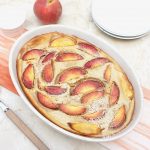 Print This
Ingredients
1¼ cup whole milk

3 large eggs

1½ teaspoons vanilla extract

⅔ cup of sugar (granulated)

1 cup all purpose flour

1 teaspoon cinnamon

½ teaspoon salt

2 cups fresh peaches, sliced with peach skin left on
Instructions
Preheat your oven temperature to 350°F (175°C) and lightly grease a baking dish.
MIXING METHOD#1 MIXING IN A BLENDER
Place the milk, eggs, vanilla extract , sugar, flour, cinnamon, and salt into a blender. Combine well. Scrape the sides of the blender with a rubber spatula to make sure that the dry ingredients are completely mixed in.
MIXING METHOD#2 MIXING IN A BOWL
In a large bowl, whisk together the milk, eggs, and vanilla extract until well combined. Make sure that the egg yolks are completely broken up.
In a separate bowl, combine the sugar, flour, cinnamon, and salt.
Gradually add the dry ingredients to the wet ingredients, stirring until just combined.
ASSEMBLING THE CLAFOUTIS:
Line the bottom of the pan with half of the sliced peaches in a single layer.
Pour the clafoutis batter into the baking dish over the peaches.
Scatter the additional sliced peaches evenly over the top of the batter.
The baking time will be 45-50 minutes, or until the clafoutis is puffed and golden brown, and a knife inserted into the center comes out clean.
Let the clafoutis cool slightly before serving. Enjoy with a scoop of ice cream on top!