Blueberry Clafoutis is the perfect way to enjoy blueberries this summer. It is one of the easiest desserts to make, and it is delicious.
Clafoutis is a classic French dessert made with fresh fruit or berries that are baked into a thick flan like batter. It is best served slightly warm with a little whipped cream or vanilla ice cream.
This Blueberry Clafoutis recipe has only a few ingredients and will only take a few minutes to put together in a blender. It is such an easy recipe! You could easily serve this for brunch or breakfast
When blueberries are in season, there are so many ways to bake with them. Blueberry Muffins , Blueberry Lemon Scones, and Blueberry Lemon Olive Cake are some other recipes that you may want to try. You might also like Homemade Blueberry Gelato.
You can also check out 20 Easy Recipes to Make With Fresh Summer Blueberries.
SOME THINGS TO KNOW: FAQ'S 
WHAT IS BLUEBERRY CLAFOUTIS?
Clafoutis is somewhat similar to a Dutch Baby Pancake. While the dutch baby will become puffy, the clafoutis is a cross between that and a thick custard or flan.
SPECIAL EQUIPMENT NEEDED:
9″ X 13″ baking pan
Blender
Don't worry if you do not own a blender. You can easily mix the batter together in a food processor, or in a bowl with an electric mixer or a whisk.
SUBSTITUTIONS:
Black cherries are another good option for clafoutis. Check out the Cherry Clafoutis recipe if you want to try it.
Fresh peaches would also be a good substitution. You would need 2 cups of thinly sliced peaches.
This recipe will be the best with fresh berries but if fresh blueberries are unavailable you can use some frozen blueberries.
HOW TO STORE BLUEBERRY CLAFOUTIS:
If you are not serving this at once, it will need to be refrigerated once it cools. Make sure that it is tightly covered with wrap.
You can keep this in the refrigerator for 2-3 days tightly covered.
Clafoutis is best when freshly made and will not freeze well. The fresh berries and flan like consistency can become soggy when frozen.
HOW TO REHEAT BLUEBERRY CLAFOUTIS:
If you want to reheat the clafoutis in the oven, place it into a preheated 350 degree oven, covered with foil for about 10-15 minutes until it is warmed through.
You can also reheat The blueberry clafoutis in the microwave. Start with 20 seconds and depending on the size of what you are reheating, add additional intervals of 20 seconds until it is heated through.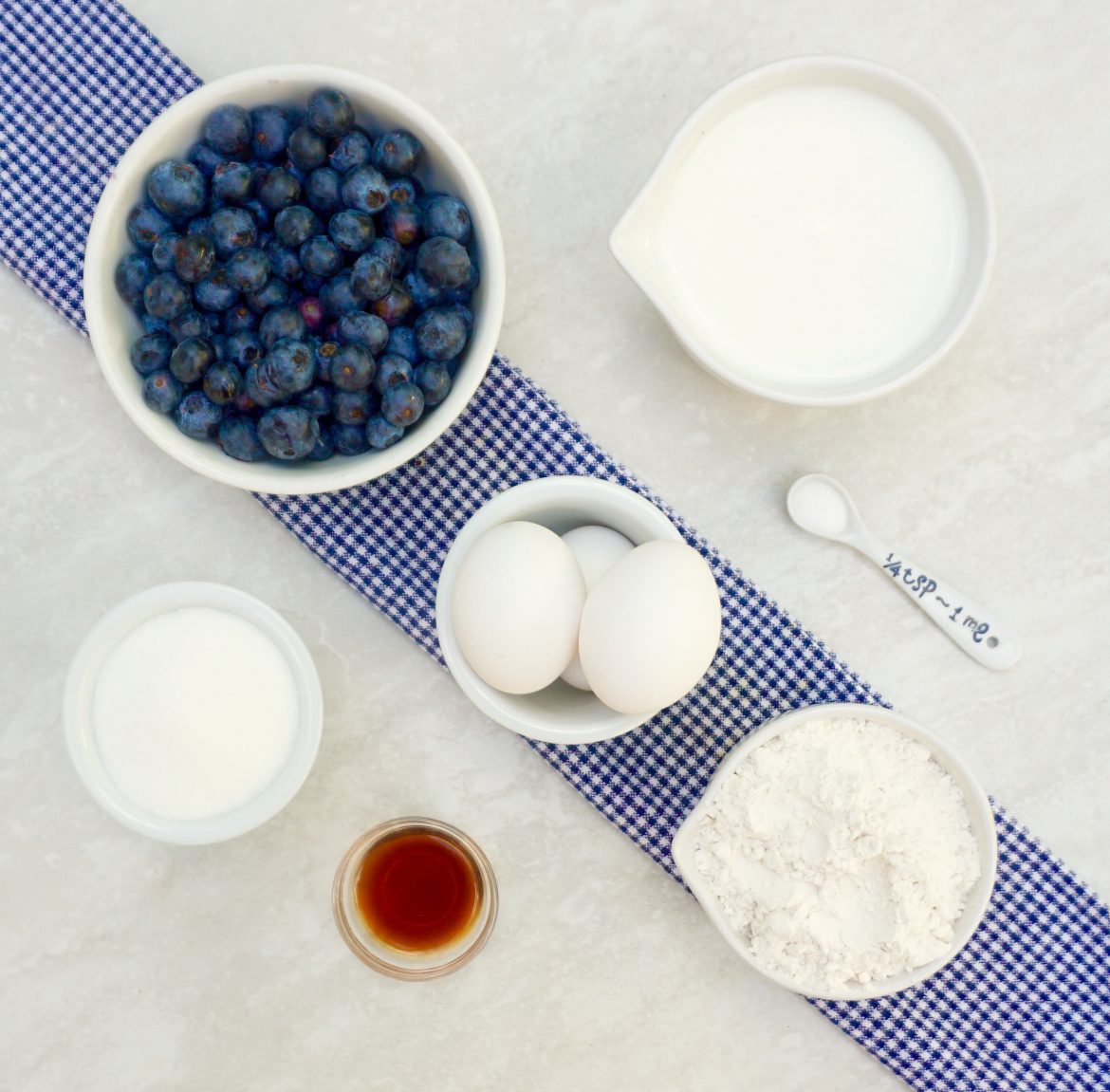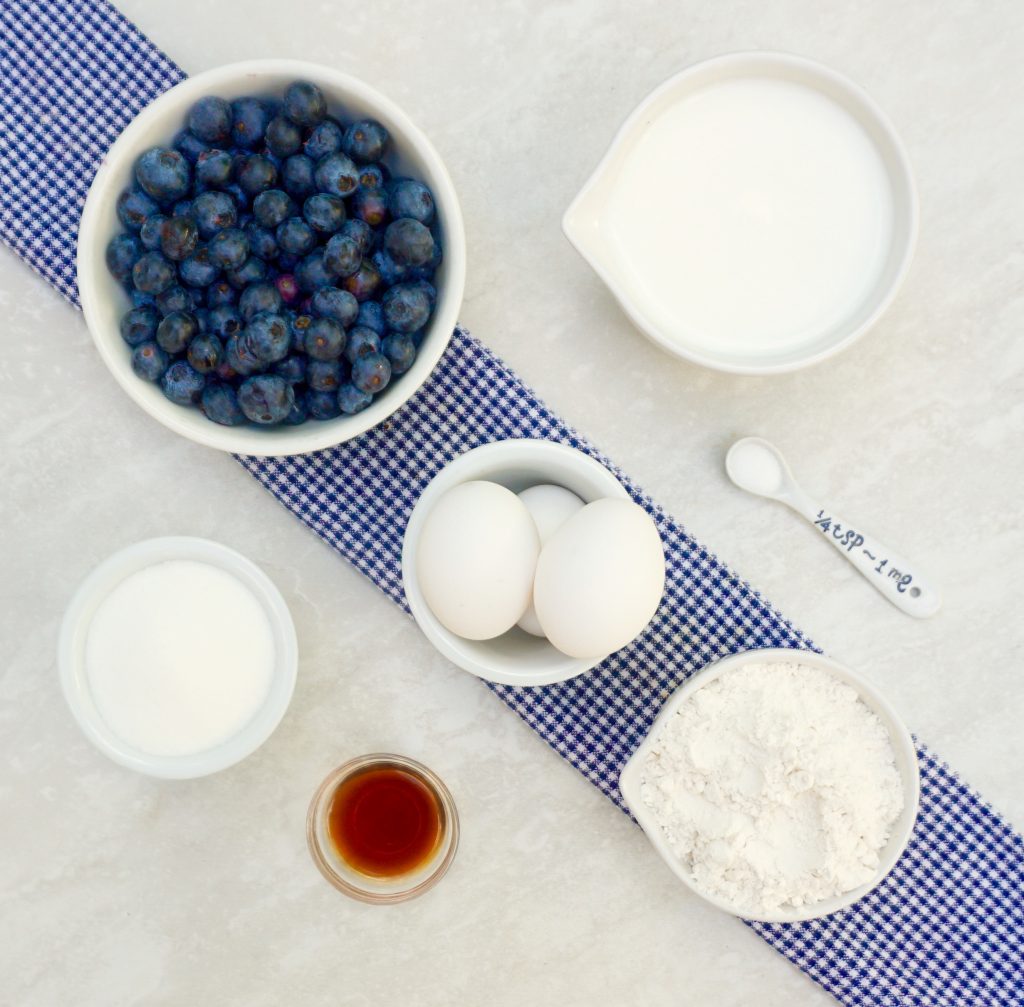 Blueberry Clafoutis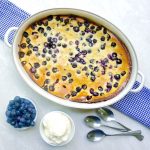 Print This
Ingredients
1 ¼ cup whole milk

⅔ cup granulated sugar

3 large eggs

2 teaspoons vanilla extract

1 cup all purpose flour

¼ teaspoon salt

1 pint fresh blueberries, washed and stems removed
Instructions
Preheat your oven to 350 degrees. Butter or grease a 9 x 13 inch baking dish making sure that you grease both the bottom and sides of the pan.
Add the milk, sugar, eggs, vanilla, flour and salt to a blender or food processor. You can also whisk these ingredients together in a mixing bowl or use an electric mixer.
Add the blueberries to the bottom of the dish and spread them out in an even layer.  Pour the batter over the blueberries.
Place the pan on a rack in the center of the oven.
Bake for 50 minutes until the top of the Clafoutis is puffed and browned. You can check to make sure that it cooked through by inserting a toothpick into the center. It should come out clean.
Remove the pan from the oven and place it onto a wire rack to cool for a few minutes.
Serve warm or at room temperature.