Apple Slaw makes a great salad for a summer cookout or for the fall months. It would be a perfect side dish to serve with a grilled chicken or pork or work equally well for a game day event with pulled chicken or pork sandwiches. Check out  30 Simple Summer Cookout Side Dishes for some other recipe ideas.
The addition of apples to the cabbage and green onions makes a nice contrast and change from a classic coleslaw. The light olive oil dressing is made with apple cider vinegar, dijon mustard and honey.
You can use your favorite apples to make this recipe. Granny Smith and Envy apples are pictured in the ingredients. Granny Smith apples have a sharp taste that works well in a salad. Envy apples are sweet and crunchy. Using one of each of these crisp apples creates another layer of contrast to the slaw. A couple other red apples you could try are Gala apples and Pink Lady Apples.
If you would like to try another coleslaw recipe, you you also check out Tri Color Coleslaw and Asian Slaw.  If you want to try another fall salad with apples, check out Apple Walnut Salad with Cheddar Croutons.
SOME THINGS TO KNOW:
You can easily shred the cabbage with a sharp knife or in a food processor. Check out How to Shred Cabbage in a Food Processor to learn how.
If you prefer red onions, they would work well in this apple slaw recipe.
You could use green cabbage in the recipe if that is what you have on hand. You could also use a bag of coleslaw mix if you do not want to chop the cabbage.
You can make Apple Slaw a couple hours before serving. Do not do it too far ahead of time as you want crunchy cabbage.
You can keep any leftover coleslaw in the refrigerator for 2-3 days in an airtight container. The cabbage will wilt a bit but the flavor will be fine.
This is not something that you should attempt to freeze.
Apple Slaw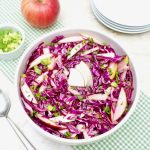 Print This
Ingredients
SLAW:

4 cups red cabbage, shredded

2 apples, cored and sliced into thin slices

2 green onions (scallions), chopped

2 tablespoons fresh parsley, chopped

DRESSING:

¼ cup extra virgin olive oil

2 tablespoons apple cider vinegar

1 tablespoon honey

1 teaspoon dijon mustard

¼ teaspoon salt

pinch black pepper
Instructions
In a large bowl, combine the cabbage, apples, green onions and parsley.
In a small bowl, whisk together the olive oil, apple cider vinegar, honey, dijon mustard, salt and pepper. Make sure that the dressing ingredients are combined thoroughly.
Add the dressing to the cabbage mixture and combine well.
If you are making this ahead of time, make sure to add the dressing. The apple cider vinegar in the dressing will prevent the apples from browning.