Apple Walnut Salad with Cheddar Croutons is a delicious fall salad that you should include with your fall meals. The combination of the fresh greens, apples, sweetened walnuts and cheddar croutons is delicious. The homemade dressing with the sweet flavor of apple cider as the base is amazing! This is a great salad for entertaining as well as for your family dinners because it looks as pretty as it tastes. This apple walnut salad recipe is one that I make every fall.
This salad has a few components that may seem daunting, but I would suggest you take the time to make them all. The end result is well worth it. You can make the crunchy walnuts a day or two in advance and the salad dressing as well. Just make sure to place the dressing into the refrigerator in an airtight container.
The croutons and apples will be the best made the day you are planning to serve the salad.
Apple Walnut Salad with Cheddar Croutons would make a light and fresh addition to your big holiday meals or a dinner party.
If you would like to try some other delicious salad recipes that have fruits added to them, check out Orange Beet Salad, Feta Peach Arugula Salad, and Strawberry Blue Cheese Salad.
SOME THINGS TO KNOW: FAQ'S
INGREDIENT TIPS:
This recipe calls for the apples to be lightly cooked. If you prefer the crunchy texture of crisp apples, simply keep the apple slices uncooked. If you do this you should squeeze some lemon juice over the slices to help keep them from browning.
Read How to Pick the Best Apples Every Time to make sure you choose great crispy apples.
Honey Crisp, Empire and Pink Lady are crunchy apples with sweet flavor that do not brown too quickly .They would be good choices for this salad. If you like a tart apple, you might want to use crisp Granny Smith apples. Check out this Fall Apple Guide for other suggestions.
This salad should not be put together before you plan to serve it. Once the salad greens are dressed they will start to wilt after a bit of time. You can mix together everything but the dressing a couple hours in advance and add the dressing at serving time.
SPECIAL EQUIPMENT NEEDED:
Large bowl
Pastry Brush
Baking Sheet
Large Skillet
SUBSTITUTIONS:
Shallots are used in this salad dressing but you can easily substitute red onion.
A bit if crumbled feta cheese or firm goat cheese can be used instead of the cheddar.
If you do not have apple cider vinegar, balsamic vinegar would be a good substitute.
This salad is made with spring mix but you could use other tender salad greens if you prefer. Do try to include some red leaf lettuce for the pretty color.
HOW TO STORE LEFTOVER APPLE WALNUT SALAD WITH CHEDDAR CROUTONS:
It will be hard to keep leftovers of this salad once it has the dressing on it. If you do not plan to serve it all at once, keep the ingredients separate. You should keep everything in the refrigerator in airtight containers to be used within 2-3 days.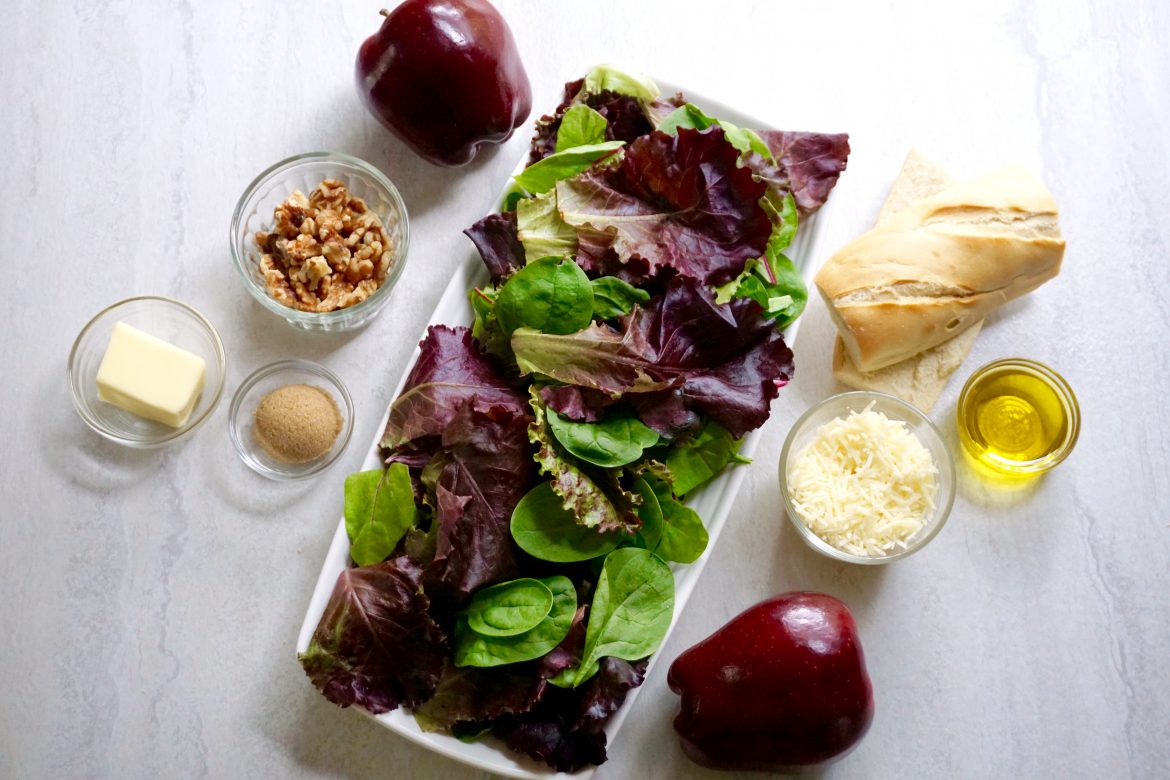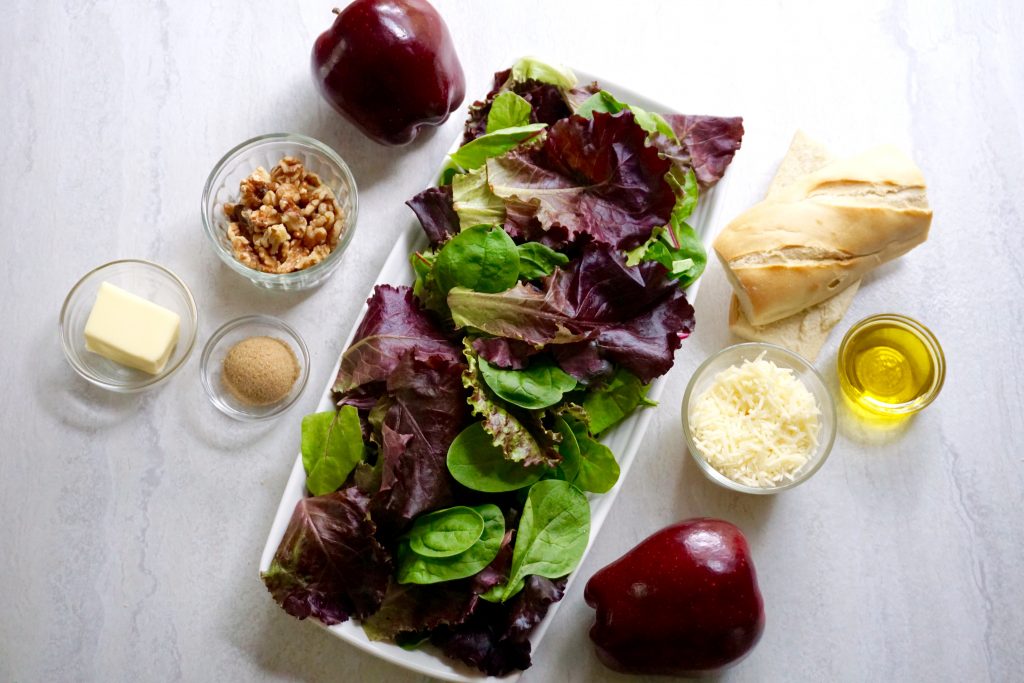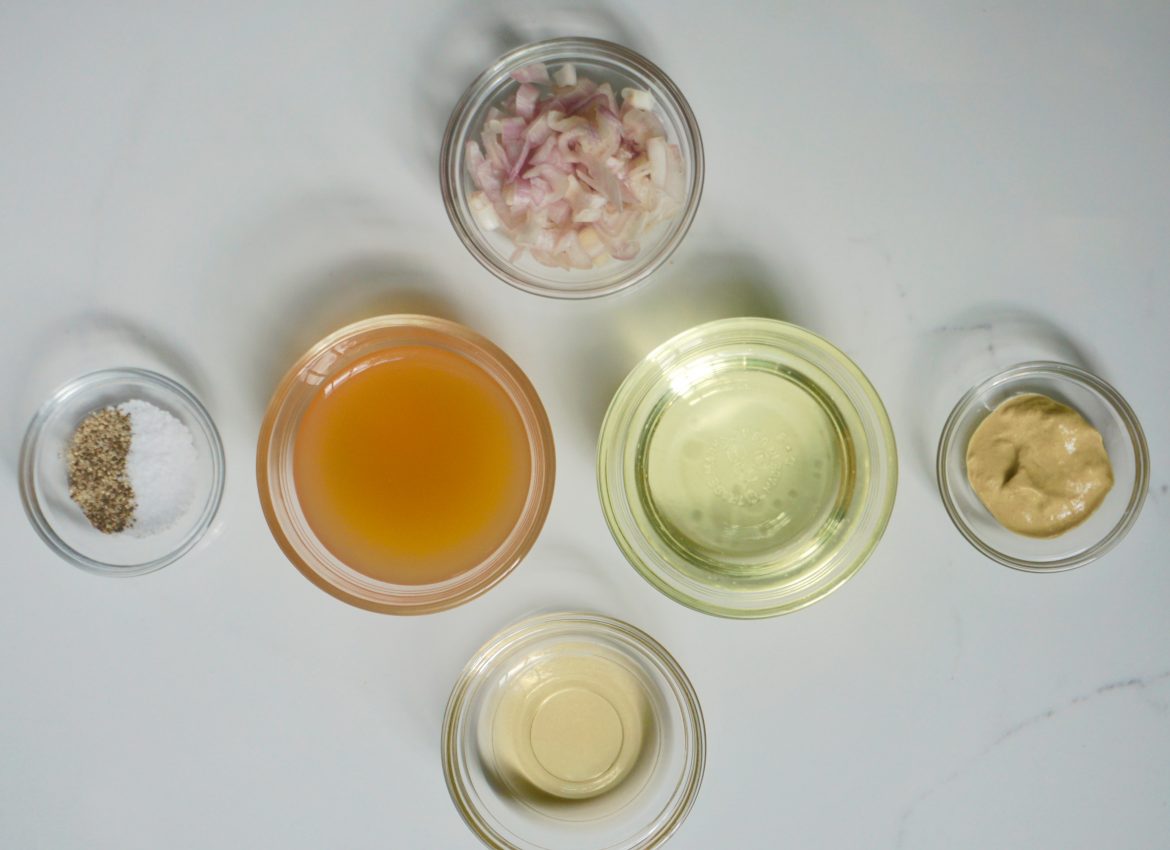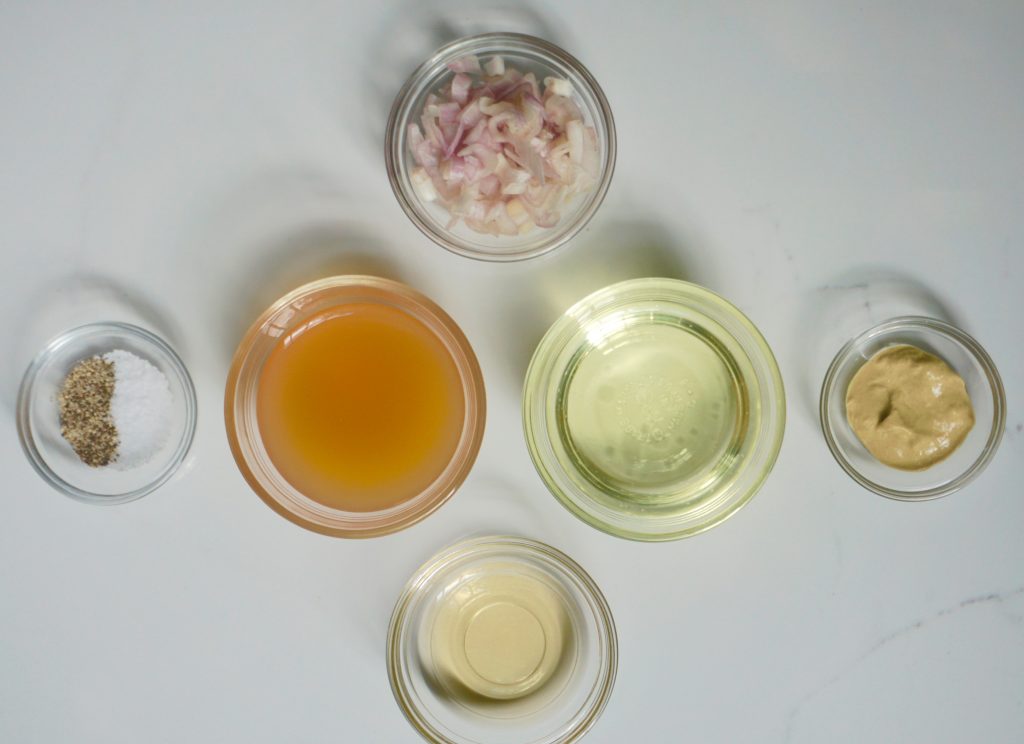 Apple Walnut Salad with Cheddar Croutons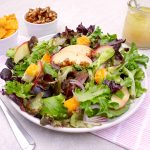 Print This
Ingredients
1- 6 inch piece French baguette, sliced in half lengthwise
2 tablespoons olive oil
1/4 cup shredded cheddar cheese
2 tablespoons salted butter, divided
1/2 cup walnut pieces
1 tablespoon brown sugar
1 large sweet apple sliced with the peel on, cut into thin slices
5 tablespoons fresh apple cider
1 tablespoon plus 1- 1/2 teaspoons apple cider vinegar
1 teaspoon Dijon mustard
1/2 cup canola oil
1 tablespoon shallots, minced
1/4 teaspoon kosher salt
pinch black pepper, or to taste
6 cups Spring Mix salad greens
Instructions
Preheat the oven to 350 degrees
Croutons:
Brush each of your baguette halves with a tablespoon of olive oil. Sprinkle the cheddar cheese evenly over each half. Place them onto a baking sheet and bake for 15 minutes until the cheese is melted and slightly browned. Remove from the oven and cool completely. Cut into one inch cubes. Set aside.
Walnuts:
Melt 1 tablespoon of the butter in a skillet over medium low heat. Add the walnuts and cook, stirring until they are lightly toasted, about 3 minutes. Add the brown sugar and continue to cook, stirring until the nuts are evenly coated and lightly caramelized on both sides, about 2 minutes. Remove and place on a wax paper lined plate.
Apples:
Melt the remaining tablespoon of butter in a skillet over medium heat. Add the apples slices. Cook, stirring carefully until both sides are caramelized, about one and a half minutes per side, 3 minutes total. Do not overcook or they will be mushy. Remove from the pan and set aside.
Dressing:
In a small bowl, whisk together the apple cider, apple cider vinegar, and Dijon mustard. Slowly drizzle in the oil, whisking constantly. Add the shallots, salt and pepper. Stir to thoroughly combine the dressing ingredients.
To assemble the Apple Walnut Salad with Cheddar Croutons:
In a large bowl or salad bowl, combine the lettuces, walnuts, and croutons and toss with enough dressing to coat lightly. Arrange the apple slices on top.
Notes
If you prepare the dressing in advance make sure it is covered and refrigerated. It should be set out and brought back to room temperature before use.