Sweet Potato Latkes make a great fall dish. They would be a wonderful addition to your holiday meals. They would go nicely with just about anything you may be roasting. They are also hearty enough that they can be eaten on their own as a vegetarian meal. Served with a dollop of sour cream and applesauce they are delicious.
Like white potatoes, sweet potatoes will turn dark once peeled. The enzymes in them react with the air and turn them brown. If you follow the steps in the recipe, this can be avoided. The eggs and flour are mixed first and the shredded potatoes are added to them. They are stirred in and coated so they retain their bright color.
You also make these ahead of time and keep them in the refrigerator for a day or two or freeze them. Instructions for freezing and reheating them are given in the recipe.
Sweet Potatoes make a wonderful addition to fall meals. If you want to try another sweet potato recipe that you can make ahead of time, check out Twice Baked Sweet Potatoes. Also check out Cheesy Cauliflower Fritters,  Boxty and Potato Fritters for some other side dish options in a little cake form.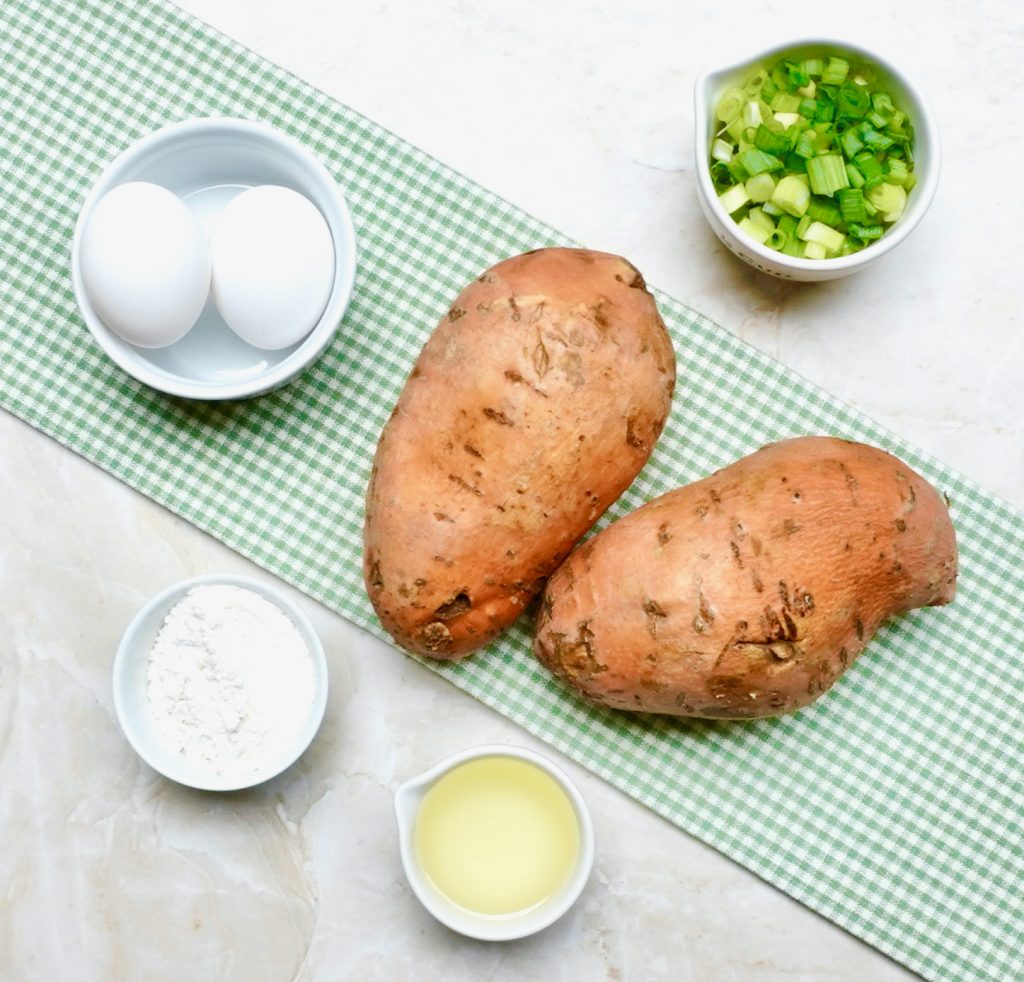 Sweet Potato Latkes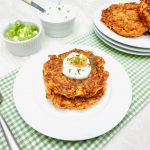 Print This
Ingredients
2 large eggs, beaten

1⁄3 cup all purpose flour

½ teaspoon salt

¼ fresh ground pepper

2 large sweet potatoes (2 pounds total)

½ cup green onion, chopped

¼ cup canola oil
Instructions
In large mixing bowl combine the beaten eggs,  flour, salt and pepper.
Peel and grate the sweet potatoes. This is easily done using the side of a box grater.
Place grated potatoes on paper towels and squeeze all of the moisture out.
Immediately place the shredded potatoes into the egg mixture in the bowl and stir them together so the potatoes are coated. This helps to avoid the potato browning.
Stir in the green onions.
Heat a griddle or large skillet over medium low heat.
Lightly coat a griddle or large skillet with half of the canola oil. If you are cooking these in batches, use the remainder of the oil for the second batch.
Use a 1⁄3  cup size measuring cup to scoop the potato mixture from the bowl. It should be level to the top of the cup.
Place the measuring cup over the griddle or skillet and turn it upside down. to drop the mixture onto the surface of the pan. You will have a nice round. Gently pat it down a bit with a rubber spatula so you have a latke that is about 3½ inches round.
Cook on the first side for about 5 minutes until it is lightly browned.
Turn the latkes over and cook for an additional 5 minutes until they are cooked completely through and there is no resistance when inserting a knife into it.
Serve with sour cream and apple sauce.
If you would like to make these ahead of time, you can keep them in the refrigerator for a day or two. They can also be frozen for up to a month.
To freeze the latkes, place them in a single layer on a baking sheet and place them into the freezer. Once they are frozen solid, place them into an airtight freezer container and return them to the freezer.
To reheat the latkes from the refrigerator or the freezer, preheat the oven to 350 degrees.
Place the latkes on a baking rack that has been placed on a baking sheet.
Reheat the latkes from the refrigerator for about 10 minutes until they are crisp again. Add another 5 minutes cooking time to reheat them if they were frozen.
Make sure to check in on them while they are reheating. Oven temperatures vary and you want them to be heated through but not overly browned.