Broccoli Curry Recipe is not just a burst of flavors but it also has a lot of nutrients. It's vegan-friendly, gluten-free, and absolutely delicious. Cooking at home doesn't have to be mundane. With this easy curry recipe, you can bring a world of flavors to your dining table. You could serve this as a healthy side dish or as a vegan main dish with some white rice.
 A harmonious blend of the East's most loved spices and the West's beloved vegetables, this Broccoli Curry Recipe is a combination that brings together the rich, creamy texture of coconut milk and the earthy tones of broccoli, cooked in a flavorful curry sauce. Fresh ginger and fresh garlic really brighten the flavor as well. This is a dish that's not only packed with intense flavors, but also boasts an array of health benefits from its star ingredient, broccoli.
If you are a fan of curry seasoning, you might also like Curried Apple Rice.
If you would like to try some other broccoli recipes, check out Broccoli Salad, Tomato Broccoli One Pot Pasta and Chicken Broccoli Ziti.
SOME THINGS TO KNOW (FAQ)
WHAT ARE THE HEALTH BENEFITS OF BROCCOLI?
Broccoli contains compounds that can protect against cancer.
Its is good for heart health, eye health and bone health.
It helps to support the immune system.
It contains Beta Carotene, B vitamins, Vitamin K, Iron and Magnesium.
WHAT ARE THE SPICES FOUND IN CURRY POWDER?
Curry Powder contains Coriander, Fenugreek, Turmeric powder, Cumin, Black Pepper, Bay Leaves, Celery Seed, Nutmeg, Clove, Onion, Ginger, and Red Pepper.
WHAT SPECIAL EQUIPMENT IS NEEDED?
SUBSTITUTIONS:
If you do not have baby red potatoes, you can use red potatoes or Yukon gold potatoes in this broccoli curry recipe. You will need 8 ounces of potato cut into 1″ cubes. You could also use sweet potatoes.
The sweet onion can be substituted with yellow onion, Spanish onion or red onion.
Coconut milk is made with the white flesh of coconuts and has a creamy texture. Coconut cream is a higher fat version and can be substituted 1.1.  Oat milk would be another good option as it too, has a creamy texture and could be substituted 1.1.
HOW CAN I STORE THE LEFTOVERS? 
Place any leftover Broccoli Curry into the refrigerator in an airtight container for 3- 5 days.
Coconut milk separates when frozen and becomes grainy. While the other ingredients in the recipe may help to balance this, there is a risk in freezing. If you chose to freeze it, make sure that it is in an airtight freezer container. It can stay in the freezer for 2-3 months.
WHAT IS THE BEST WAY TO REHEAT THE CURRY?
If you make this ahead of time and are reheating a large portion, it is best to reheat it on the stovetop over medium low heat until heated through.
If you are reheating an individual portion, place it covered into the microwave for 1-2 minutes.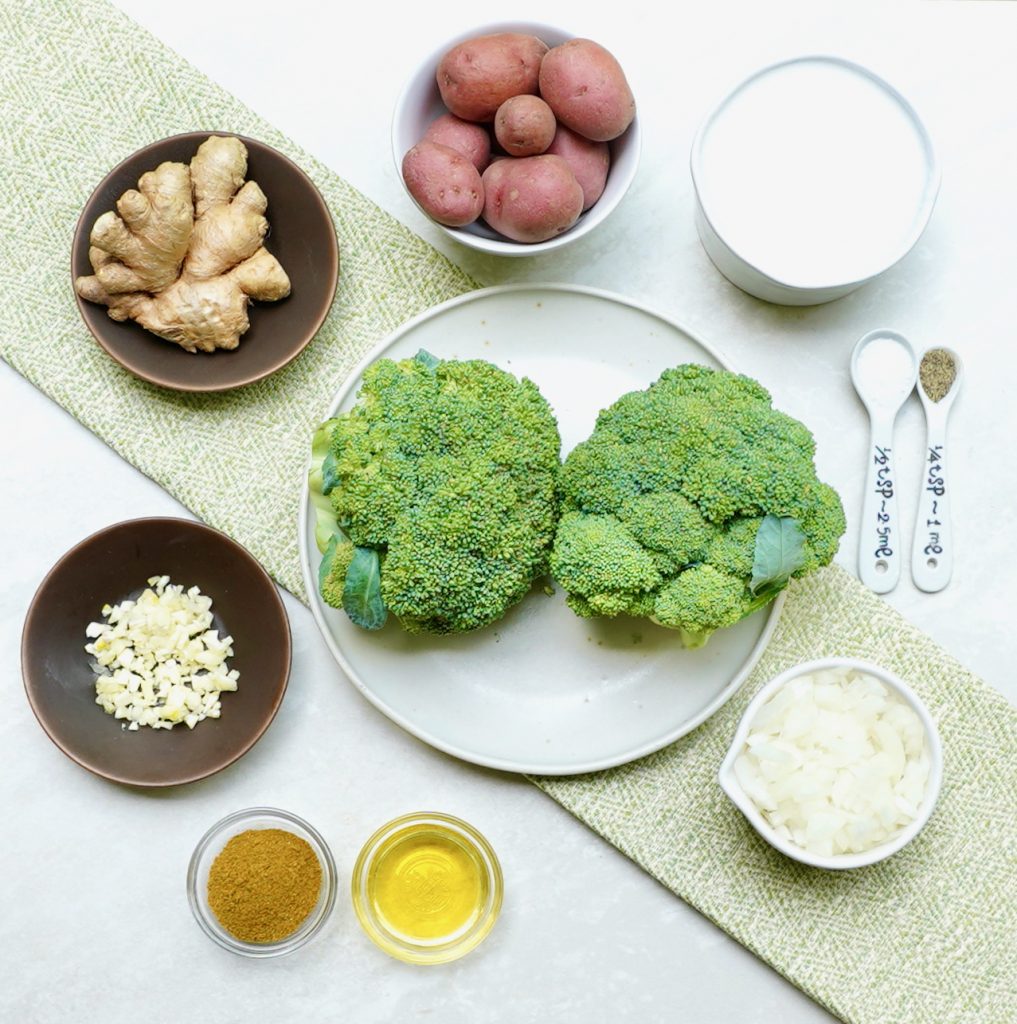 Broccoli Curry Recipe
Print This
Ingredients
1 cup baby red potatoes

1 tablespoon olive oil

½ cup sweet onions, diced

2 garlic cloves, minced

1 teaspoon fresh ginger, grated

14 ounce can coconut milk

2 teaspoons curry powder

16 ounces broccoli florets (2 broccoli crowns)

kosher salt and black pepper to taste
Instructions
Start by washing the baby red potatoes thoroughly. Cut them into halves.
Prepare your broccoli by cutting it into bite-sized small florets.
Heat a tablespoon of olive oil in a large skillet over medium heat.
Add the diced sweet onions, stirring until they become soft and translucent. This should take about 2 minutes.
Follow this by adding minced garlic and grated ginger. Sauté for another minute until the aroma fills your kitchen.
Add the baby red potatoes to the pan. Sauté them for a couple of minutes until they start to turn golden.
Sprinkle the curry powder, kosher salt, and black pepper over the potatoes. Mix well, ensuring the potatoes are well coated with the spices.
Pour the can of coconut milk into the pan. Stir well to mix the spices, onions, and garlic with the milk. Raise the burner to medium-high heat until the coconut milk starts to boil.
Let this simmer for about 10 minutes on low heat until the potatoes start to become tender.
Add the broccoli florets to the pan. Cover and cook for another 5-10 minutes, or until the broccoli is tender and the flavors are well infused.
Serve the broccoli curry hot with a side of steamed rice or warm naan bread for a complete meal. f you want some extra toppings add sesame seeds and crushed red pepper flakes.