Tomato Broccoli One Pot Pasta is a great Meatless Monday meal. This simple recipe with a cooking time of under 15 minutes will get dinner on the table fast and the whole family will love it.
This easy recipe is creamy and flavorful. Ricotta and Parmesan cheeses add some extra protein and when they are combined with the reserved pasta cooking water, create a creamy pasta sauce similar to a heavy cream sauce. The combination of fresh broccoli and sun dried tomatoes work really nicely together.
The best part though is that it is super easy to make in one pot so you have minimal clean up!
Tomato Broccoli One Pot Pasta is a great weeknight dinner option. It will come together from start to finish in under 25 minutes and you will only have one pot to wash. A comforting meal with very little effort.
If you'd like another easy one-pot pasta dish, check out Lemon Asparagus Pasta. It has a creamy sauce made with ricotta cheese too.
If you are a fan of broccoli and like simple recipes, check out this Broccoli Curry Recipe, Broccoli Salad, and Chicken Broccoli Ziti which is another creamy broccoli pasta recipe.
SOME THINGS TO KNOW: (FREQUENTLY ASKED QUESTIONS)
SPECIAL EQUIPMENT NEEDED:
Large pot to cook the pasta
Colander to drain the pasta
IMPORTANT INGREDIENT INFORMATION:
The reserved pasta water is a key ingredient in this recipe to create the sauce.Make sure that you save it before draining your pasta. If you are making this ahead of time, reserve more than the recipe calls for as it will be needed to add in small amounts to keep the pasta creamy when reheating. If you plan to reheat it, reserve 2 cups of water.
Read How to Select Broccoli so you start with the best ingredients.
SUBSTITUTIONS:
If you do not have sun-dried tomatoes, you can use cherry tomatoes or grape tomatoes instead. Cut ½ cup of the  tomatoes in half to add to the pasta. If you are using fresh tomatoes, add them to the olive oil in the pot and let them cook for 3 minutes before you add the ricotta cheese, parmesan cheese and parsley.
Cavatappe pasta is a corkscrew shaped  dry pasta. If you can not find it there are other types of dried pasta you can use. Fusilli or Rotini Pasta would be good options that are similar. You could also use a tubular pasta like Penne pasta, Ziti, or Rigatoni as well as a tubular whole wheat pasta.
STORAGE:
You can store any leftover Tomato Broccoli One Pot Pasta in the refrigerator in an airtight container for 3-5 days.
This will also freeze well. Place the pasta into an airtight freezer container. You can freeze it for 2-3 months.
Defrost the frozen pasta overnight in the refrigerator.
REHEATING:
You can reheat this pasta in the microwave covered. The timing will depend on the amount of pasta that you are reheating. Try 2-3 minutes to start then stir the pasta to check if it is heated through. Add additional minutes 2 at a time until it is thoroughly heated.
You can also heat this on the stovetop in a medium saucepan over medium low heat. You may need extra liquid to keep the creamy texture of the sauce while reheating. If you have reserved the pasta cooking water, add a few tablespoons at a time until you have a creamy texture. If you do not have the pasta water, add small amounts of vegetable broth. If you are not concerned with the recipe being vegetarian and you have chicken broth on hand, add a bit of that, a few tablespoons at a time.
WHAT TO SERVE WITH TOMATO BROCCOLI ONE POT PASTA:
Garlic Bread or these simple Garlic Knots would be a good addition.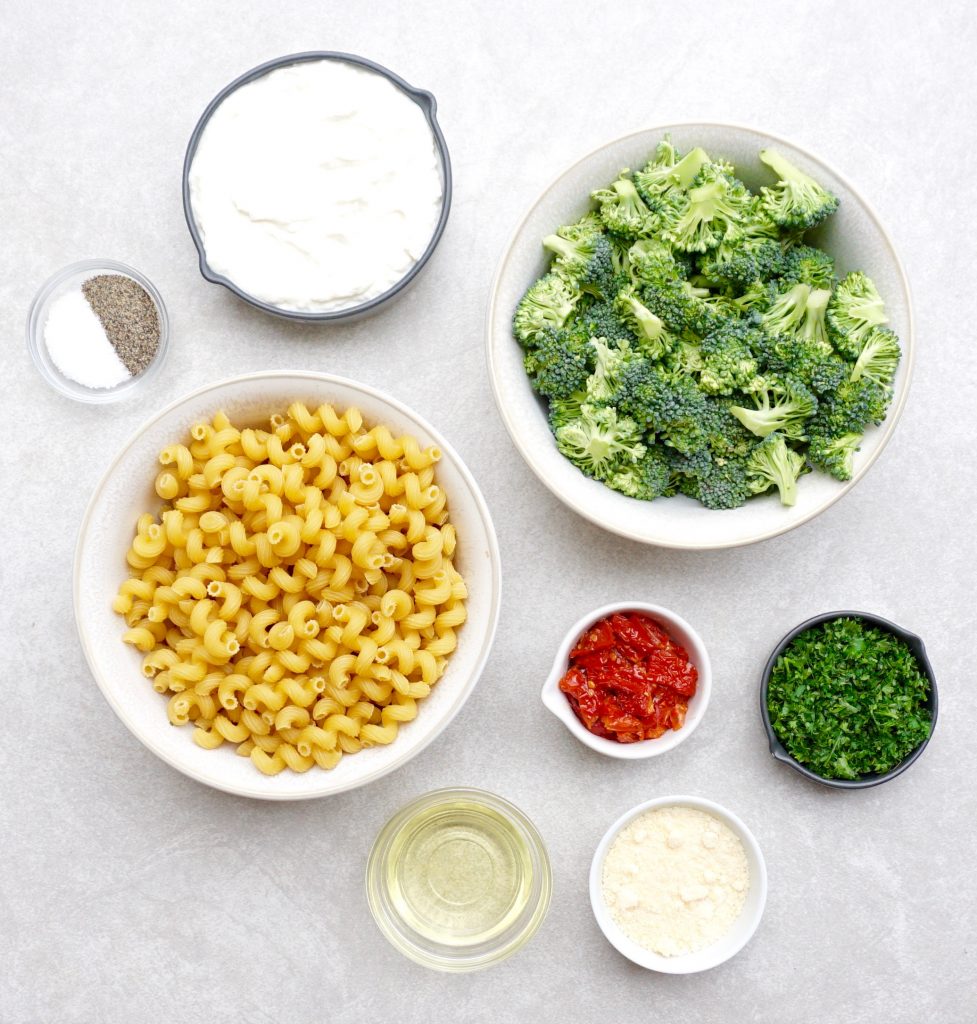 Tomato Broccoli One Pot Pasta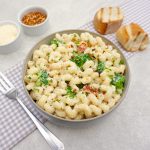 Print This
Ingredients
1 pound Cavatappe pasta or any short, tubular pasta

2 tablespoons olive oil

3 cups fresh broccoli cut into florets

¼ sun dried tomatoes packed in oil, chopped

1 cup ricotta cheese

1 tablespoon fresh parsley, chopped fine

¼ cup parmesan cheese

1 cup reserved pasta water (very important)

Salt and black pepper to taste
Instructions
Bring a large pot of salted water to a boil. Cook the pasta for al dente texture, according to package instructions.
2 minutes before the pasta is fully cooked, add the broccoli florets to the pot and cook with the pasta so you will have tender broccoli.
Reserve 1 cup of the pasta cooking water for finishing. Reserve two cups if you are planning on reheating this later.
Drain the cooked pasta and broccoli.
Return the drained pasta and broccoli to the pan.
Add the olive oil, ricotta, parsley and parmesan cheese. Combine well.
Turn the burner to medium heat and stir in the reserved pasta water. Heat through for 2-3 minutes, stirring until creamy.
Season with salt and pepper to taste.
Serve at once with some additional parmesan cheese and red pepper flakes.