Chicken Broccoli Ziti is a simple pasta dish that is ready in about 20 minutes. In the time that it takes to heat the water and cook the ziti, you can have the chicken cooked and ready to go. The broccoli is cooked right along with the ziti and a simple delicious sauce is created right in the pasta pot.
This easy chicken broccoli pasta dish is a great meal for busy weeknights as it ready from start to finish in 20 minutes of cooking and prep.
For some other easy and tasty pasta dishes check out Sausage Cacciatore, Tomato Chicken Bowtie Pasta, Mushroom Gemelli, Tomato Broccoli One Pot Pasta, Lemon Asparagus Pasta, Shrimp Tomato Wine Sauce,  Creamy Mushroom Sausage Rigatoni and Chipotle Chicken Pasta.
If you want to try another broccoli recipe that makes a great side dish, check out Broccoli Salad and this Broccoli Curry Recipe.
If you are looking for a white wine to pair with this meal, check out The Best Wines to Serve with Pasta.
SOME THINGS TO KNOW:
RECIPE TIP:
SPECIAL EQUIPMENT NEEDED:
SUBSTITUTIONS YOU CAN MAKE:
If you do not have fresh garlic, you can substitute a teaspoon of garlic powder.
If you prefer white meat chicken, use boneless chicken breasts in place of the chicken thighs.
If you do not have penne pasta, there are different types of pasta you can use. Rigatoni, Penne and Mostacioli are all tube-shaped pastas that would work well in the recipe.
If you do not have olive oil you can use vegetable oil or canola oil.
HOW TO STORE THE LEFTOVERS:
You can store any leftover Chicken Broccoli Ziti in the refrigerator in an airtight container for 3-5 days.
You can freeze the leftovers in an airtight freezer container for 2-3 months. It does contain a small amount of cream so the texture may change slightly during the freezing process.
HOW TO REHEAT THE LEFTOVER PASTA: 
Place the leftover Chicken Broccoli Ziti into a large sauce pan. Pour a small amount of chicken broth, chicken stock or reserved pasta cooking water into the pan. The amount you add will depend on how much pasta you are reheating. Add a couple tablespoons at a time to moisten the pasta and ensure that you have a creamy sauce.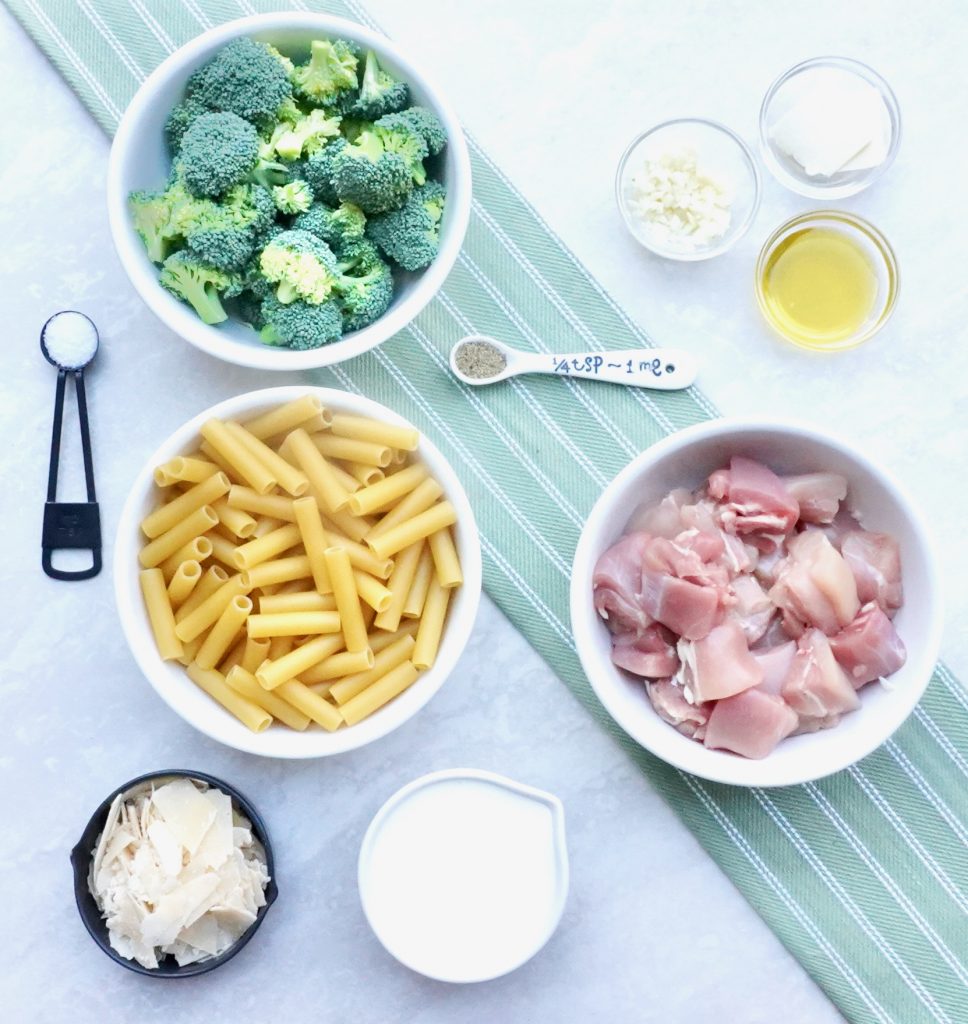 Chicken Broccoli Ziti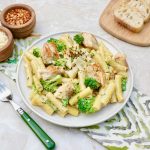 Print This
Ingredients
1 tablespoon extra- virgin olive oil

½ pound boneless chicken thighs, cut into 1" cubes

½ teaspoon kosher salt

¼ teaspoon black pepper

2 garlic cloves, minced

8 ounces dry ziti pasta

2 cups fresh broccoli florets

1 ½ tablespoons unsalted butter

½ cup heavy cream

½ cup parmesan cheese
Instructions
Fill a large stock pot with water and bring to a boil over medium-high heat. 
Heat the tablespoon of olive oil in a skillet over medium heat. Add the small pieces of  chicken and sprinkle the with the salt and pepper.
Cook on one side for 5 minutes. Stir in the garlic and continue cooking the chicken on the opposite side for 2-3 minutes until it is lightly browned and cooked through.
Add the ziti to the boiling water and cook according to the package directions for al dente or the tenderness that you want. When the ziti has only one minute of cooking time left, add the broccoli florets and boil for 1 additional minute.
Reserve a cup of pasta water if you plan on reheating the meal again later.
Drain the pasta.
In the stock pot ,heat butter, over medium low heat.  Add the cream and bring it to a simmer. Add the parmesan cheese and stir. Add the chicken mixture, broccoli and ziti to the pot and stir until heated thoroughly.
Serve with some additional parmesan cheese and red pepper flakes.