Chicken Broccoli Ziti is a simple pasta dish that is ready in about 20 minutes. In the time that it takes to heat water and cook the ziti, you can have the chicken cooked and ready to go. The broccoli is cooked right along with the ziti and a simple sauce is created right in the pasta pot.
This is a creamy, cheesy and flavorful dish that is perfect for an easy dinner. 
For some other easy and tasty pasta dishes check out Sausage Cacciatore, Tomato Chicken Bowtie Pasta, Mushroom Gemelli, Tomato Broccoli One Pot Pasta, Lemon Asparagus Pasta, Shrimp Tomato Wine Sauce,  Creamy Mushroom Sausage Rigatoni and Chipotle Chicken Pasta.
You might also like Broccoli Salad.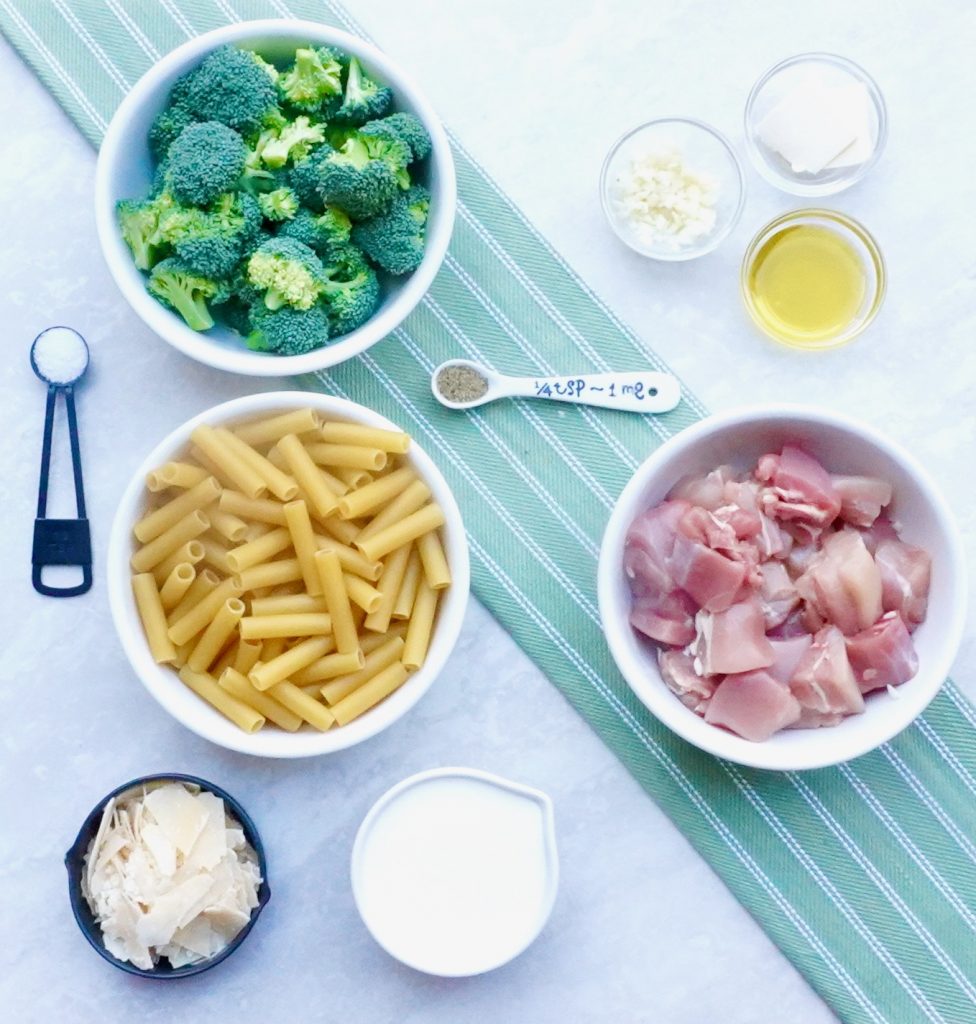 Chicken Broccoli Ziti
Print This
Ingredients
1 tablespoon olive oil

½ pound boneless chicken thighs, cut into 1" cubes

½ teaspoon kosher salt

¼ teaspoon black pepper

2 cloves garlic, minced

8 ounces dry ziti pasta

2 cups fresh broccoli, cut into florets

1 ½ tablespoons butter

½ cup heavy cream

½ cup parmesan cheese
Instructions
Fill a large stock pot with water and bring to a boil over high heat. 
Heat the olive oil in a skillet over medium low heat. Add the chicken and sprinkle it with the salt and pepper.
Cook on one side for 5 minutes. Stir in the garlic and continue cooking the chicken on the opposite side for 2-3 minutes until it is lightly browned and cooked through.
Add the ziti to the boiling water and cook according to the directions on the package for the tenderness that you want.  When ziti has one minute of cooking time left, add the broccoli florets and boil for 1 minute. Drain.
In the stock pot melt the butter, then add the cream and bring to a simmer. Add parmesan cheese and stir. Add the chicken, broccoli and ziti to the pot and stir until heated thoroughly.