Tomato Chicken Bowtie Pasta is a simple pasta dish that combines the rich flavors of chicken, tomatoes, and spinach into a delightful Italian-inspired meal. It is one of those fast and easy recipes that you can have on the table in very little time. By the time that you get your water boiling and cook the pasta, the chicken and creamy sauce will be ready as well. This easy dinner has a cooking time of only 20 minutes which makes it perfect for a busy weeknight dinner.
This recipe doubles up on tomatoes using both diced tomatoes and sun dried tomatoes in the sauce. Chicken, spinach and fresh grated parmesan cheese make this into a complete meal in a creamy tomato sauce. For the best flavor make sure you use the sun dried tomatoes in oil and the best parmesan cheese you can afford. Adding the reserved oil to the finished dish is key to the flavor.
If you like pasta and simple, fast meals you should check out Creamy Mushroom Sausage Rigatoni, Tomato Broccoli One Pot Pasta, and Lemon Asparagus Pasta and Chipotle Chicken Pasta which is a spicy chicken pasta recipe.
SOME THINGS TO KNOW:FAQ'S
INGREDIENT TIPS:
SPECIAL EQUIPMENT NEEDED:
Large pot to cook the pasta.
Large skillet or large nonstick skillet
SUBSTITUTIONS:
 If you prefer a different protein in place of the chicken or have dietary restrictions, you can substitute it with turkey, shrimp, or even tofu for a vegetarian option.
​ Any vegetable oil or even butter can be used as a substitute for olive oil.
Regular table salt is an adequate replacement for kosher salt.
Canned Diced Tomatoes can be substituted with fresh tomatoes but make sure to peel and dice them, or canned crushed tomatoes as an alternative.
Vegetable broth or chicken stock can be used if you don't have chicken broth on hand.
​ Adjust the amount of crushed red pepper to your spice preference, or omit it if you prefer a milder dish.
 Swap out the  spinach for kale, Swiss chard, or arugula if you prefer different greens.
Use fresh grape tomatoes or cherry tomatoes if you don't have sun-dried tomatoes. They will add a different but equally delicious dimension to the dish.
If Bowtie pasta is not available, feel free to use any short pasta shape you like. Penne, Rigatoni or Ziti work well.
The best substitutes for Parmesan cheese are Asiago or Romano cheese.
If fresh garlic is not available, substitute a teaspoon of garlic powder.
HOW TO STORE LEFTOVER TOMATO CHICKEN BOWTIE PASTA:
Leftover Tomato Chicken Bowtie Pasta can be stored in the fridge for up to 3-4 days. Transfer the pasta to an airtight container or a resealable plastic bag. Make sure you remove as much air as possible to prevent moisture buildup, which can lead to sogginess.Allow the leftover pasta to cool down to room temperature before placing it into the refrigerator.
Tomato Chicken Bowtie Pasta can be safely stored in the freezer for up to 2-3 months. Allow the pasta to cool down completely to room temperature before placing it into the freezer. Place the pasta into airtight freezer-safe containers or resealable freezer bags.
Defrost the pasta overnight in the refrigerator.
HOW TO REHEAT TOMATO CHICKEN BOWTIE PASTA:
To reheat the pasta on the stovetop, Place a non-stick skillet or saucepan on medium-low heat.Add a splash of water  (reserved pasta cooking water) or a little chicken broth to the pan to prevent the pasta from drying out.Add the leftover pasta to the pan and cover it with a lid.Stir occasionally to heat the pasta evenly. This should take about 5-7 minutes.
To reheat the pasta in the microwave, Place a portion of the pasta into a microwave-safe dish.Cover the dish with a microwave-safe lid or microwave-safe plastic wrap, leaving a small vent for steam to escape. Microwave on high in 30-second intervals, stirring in between, until the pasta reaches the desired temperature.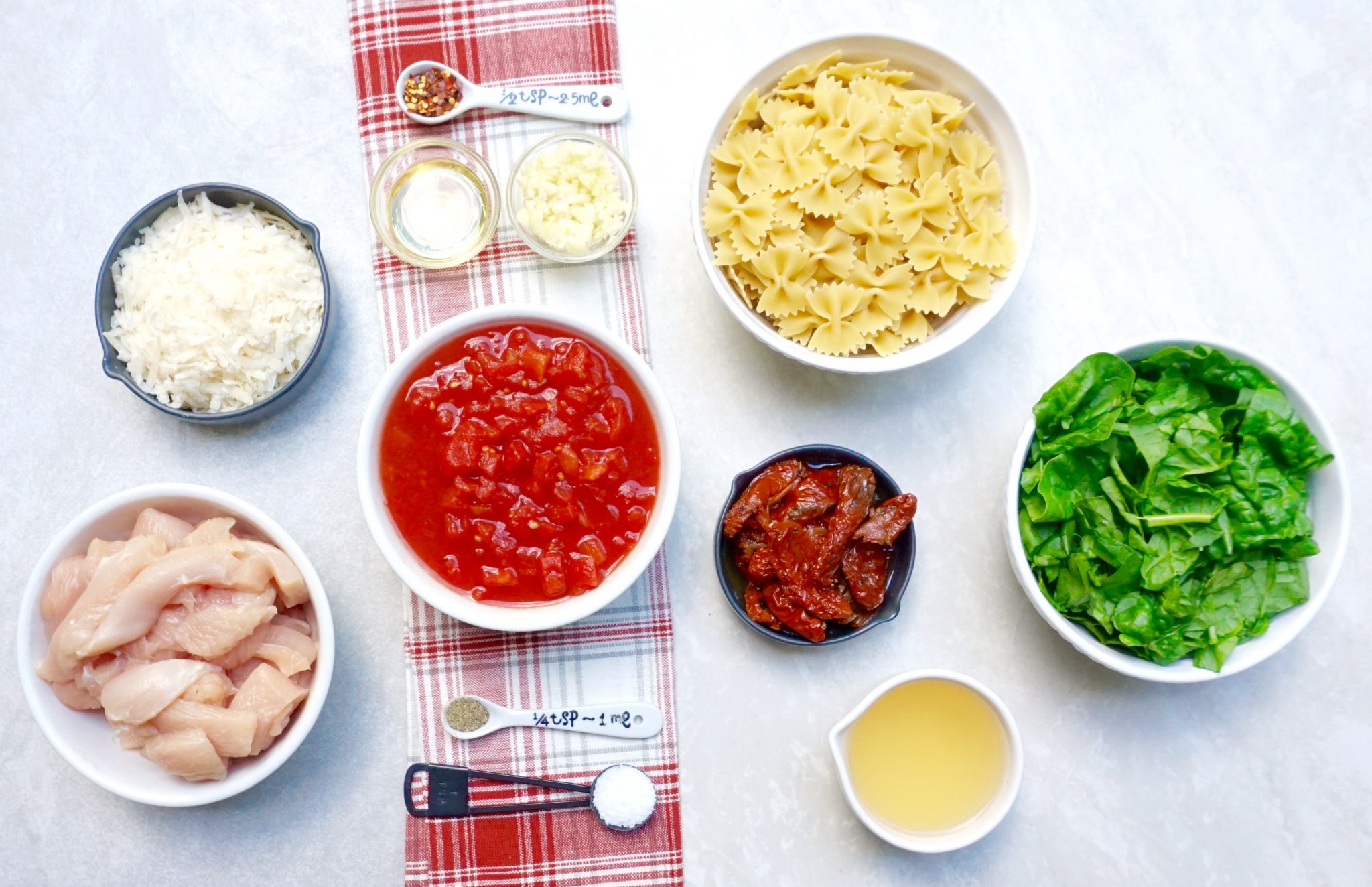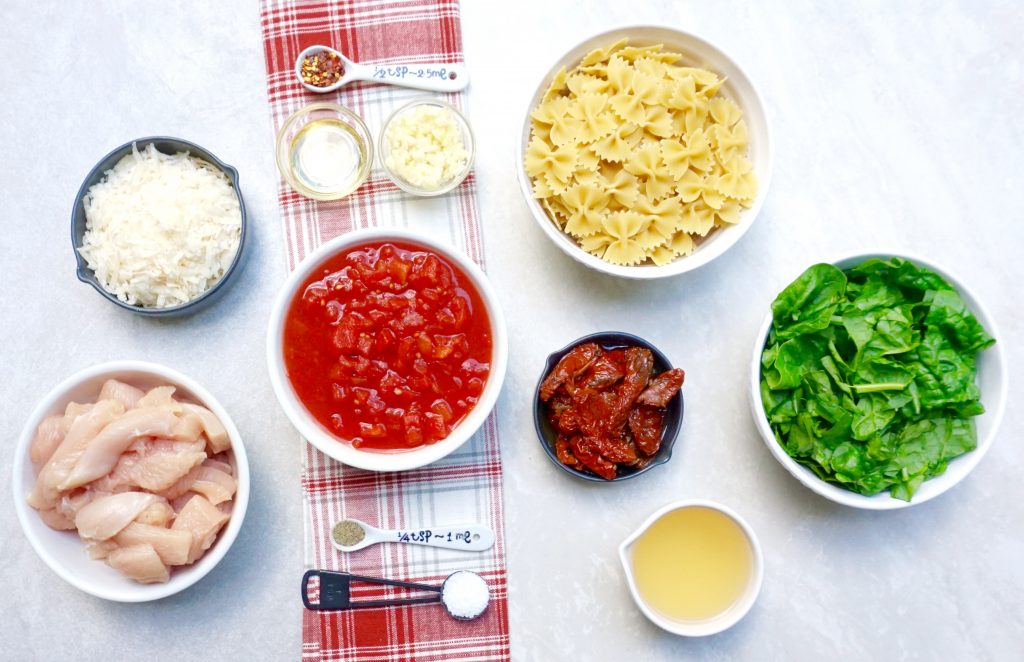 Tomato Chicken Bowtie Pasta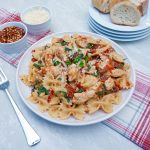 Print This
Ingredients
1 pound boneless skinless chicken breasts or chicken tenders cut into ½ " x 2" strips

2 tablespoons extra virgin olive oil

1 teaspoon salt( Kosher)

½ teaspoon black pepper

3 cloves garlic, minced

15 ounce can diced tomatoes

½ cup chicken broth

½ teaspoon crushed red pepper

5 ounce bag spinach, stems removed and chopped

½ cup sun-dried tomatoes in oil, chopped. (Reserve the oil)

12 ounce bowtie pasta (farfalle pasta)

1 cup freshly grated parmesan cheese

½ cup pasta water reserved for re-heating the pasta.
Instructions
Bring a large pot of water to a boil over medium-high heat. Add the bow tie pasta and cook pasta according to the package directions for al dente.
While the pasta cooks heat the olive oil in a large skillet over medium heat.
Add the chicken strips to the skillet. Sprinkle the salt and pepper over them evenly.
Cook the chicken strips, stirring occasionally until they are cooked through and lightly browned. This will take about 5 minutes.
Remove the cooked chicken from the skillet to a plate.
Add the minced garlic to the skillet and cook it for one minute while stirring.
Add the diced tomatoes, chicken stock and crushed red pepper to the pan. Heat over medium low heat until it starts to simmer. Let it simmer for 10 minutes.
Add the spinach to the sauce and stir it until it wilts.
Add the chicken to the sauce and let it heat through for 1-2 minutes.
Cook and drain pasta then return it to the pot. Pour the sauce over the pasta and stir in the sun dried tomatoes, parmesan cheese and 2- 3 tablespoons of the reserved sun dried tomato oil.
Serve the pasta with some additional parmesan cheese and red pepper flakes.