Tomato Chicken Bowtie Pasta is one of those fast and easy pasta recipes that you can have on the table in very little time. By the time that you get your water boiling and cook the pasta, the chicken and sauce will be ready as well.
This recipe doubles up on tomatoes using both diced tomatoes and sun dried tomatoes in the sauce. Chicken, spinach and fresh grated parmesan cheese make this into a complete meal. For the best flavor make sure you use the sun dried tomatoes in oil and the best parmesan cheese you can afford. Adding the reserved oil to the finished dish is key to the flavor.
If you like pasta and simple, fast meals you should check out Creamy Mushroom Sausage Rigatoni, Tomato Broccoli One Pot Pasta, and Lemon Asparagus Pasta and Chipotle Chicken Pasta.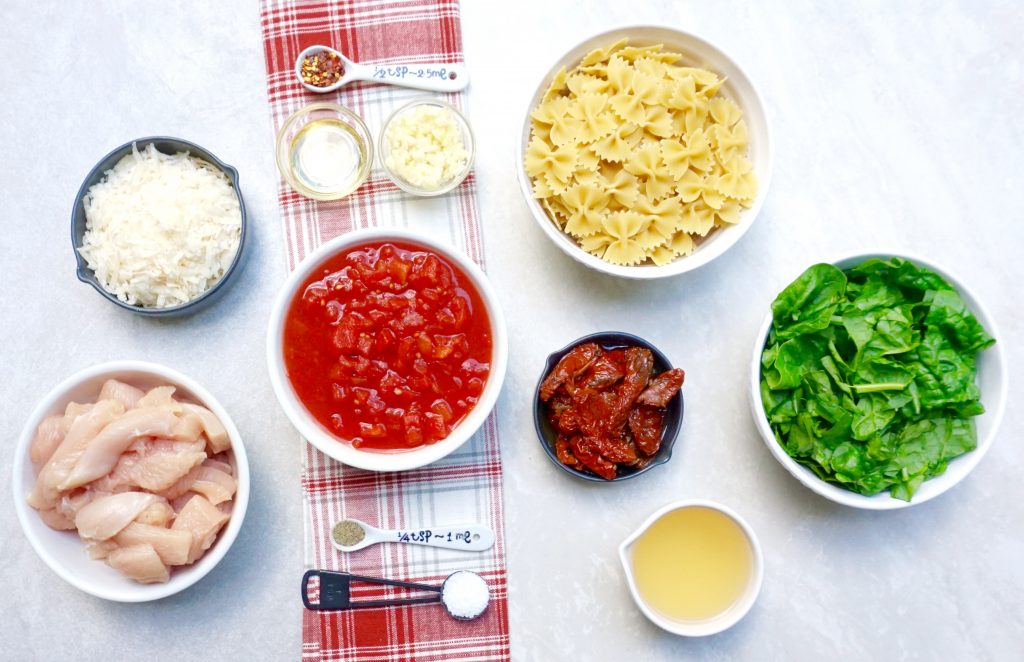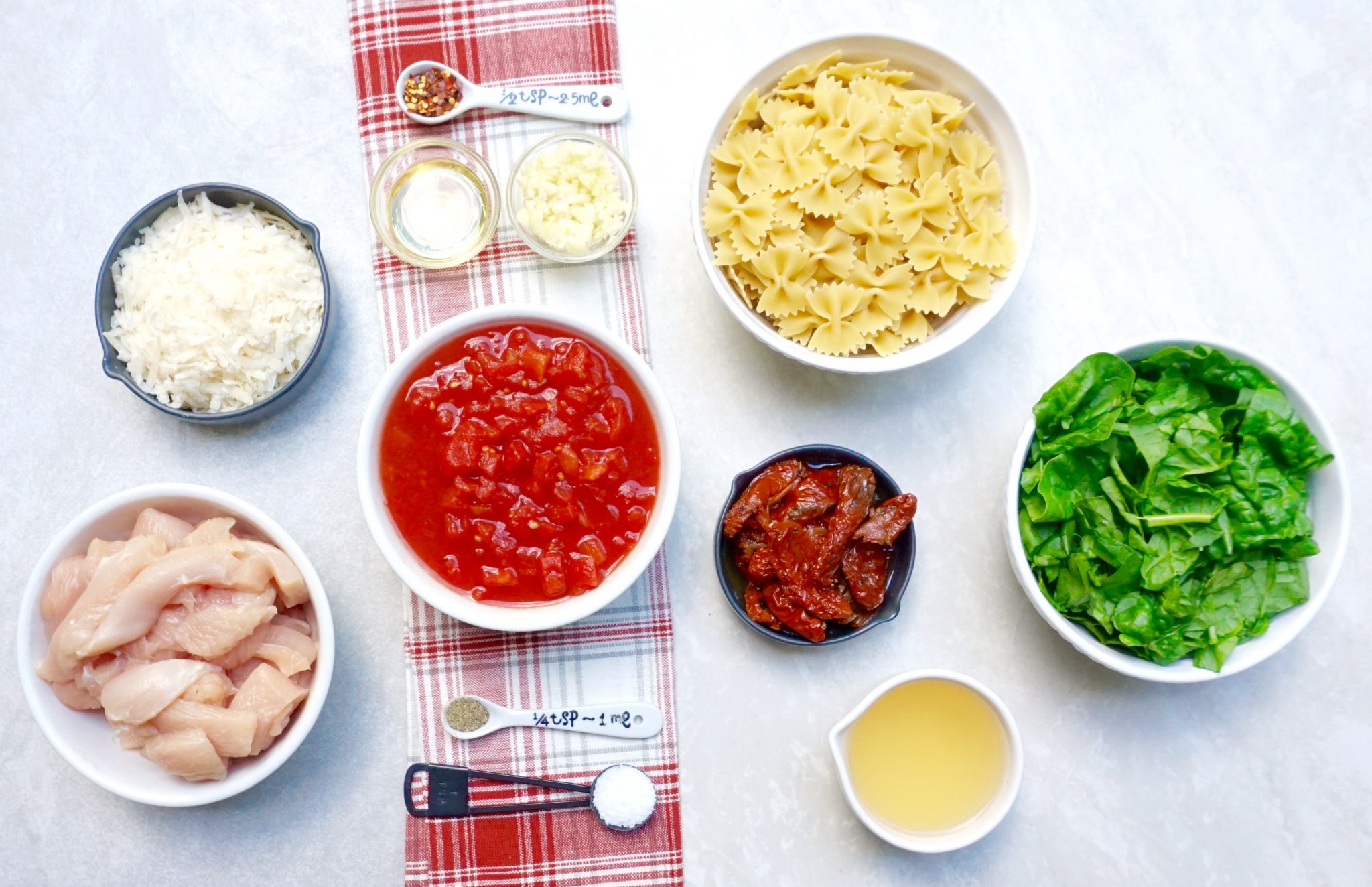 Tomato Chicken Bowtie Pasta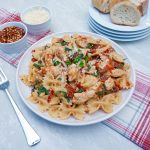 Print This
Ingredients
1 pound boneless chicken breast cut into ½ " x 2" strips

2 tablespoons olive oil

1 teaspoon kosher salt

½ teaspoon black pepper

3 cloves garlic, minced

15 ounce can diced tomatoes

½ cup chicken broth

½ teaspoon crushed red pepper

5 ounce bag spinach, stems removed and chopped

½ cup sun dried tomatoes in oil, chopped. Reserve oil

12 ounce bowtie pasta

1 cup freshly grated parmesan cheese
Instructions
Bring a large pot of water to a boil over high heat. Add the bow tie pasta and cook according to the package directions for the firmness you prefer.
While you are heating the water, heat the olive oil in a large skillet over medium heat.
Add the chicken strips to the skillet. Sprinkle the salt and pepper over them evenly.
Coo the chicken strips,  stirring occasionally until they are cooked through and lightly browned. This will take about 5 minutes. 
Remove the chicken from the skillet to a plate.
Add the garlic to the skillet and cook it for one minute while stirring.
Add the diced tomatoes, chicken stock and crushed red pepper to the pan. Heat over medium low heat until it starts to simmer. Let it simmer for 10 minutes.
Add the spinach to the sauce and stir it until it wilts.
Cook the pasta, drain it and return it to the pot. Pour the sauce over the pasta and stir in the sun dried tomatoes, parmesan cheese and 2- 3 tablespoons of the reserved sun dried tomato oil.