Bailey's Bread Pudding would make a great dessert at any time of the year and it's fun to serve on St. Patrick's Day.
This bread pudding and the sauce that it is served with are made with Bailey's Irish Cream. Bailey's is a combination of Irish Whiskey, Irish dairy cream and a chocolate blend. It is a sweet and delicious mixture which adds a lot of flavor to both.
Bread pudding is a great make ahead dessert. You can serve it straight from the refrigerator, at room temperature or you can warm it in the oven before serving.
If you are interested in some other bread pudding combinations, check out Pumpkin Rum Bread Pudding, Chocolate Brioche Bread Pudding, Mint Julep Bread Pudding and Strawberry Bread Pudding.
If you are a fan of Bailey's Irish Cream, you might also like Bailey's Glazed Chocolate Donuts.
You might also like Baileys Irish Cream Frosting.
SOME THINGS TO KNOW:
This bread pudding will be the best with a dense, sturdy bread. Challah, Brioche or a Baguette are the best choices.
The evaporated milk in the recipe can easily be replaced with whole milk. The sweetened condensed milk cannot be replaced as it provides the sweetness to the recipe.
This should be considered an adult dessert. While there are conflicting opinions as to whether alcohol dissipates during the cooking process, it is better to use caution and not serve it to children.
This can be prepared a day or two in advance and stored tightly wrapped in the refrigerator. Directions for reheating both the bread pudding and the sauce can be found in the instructions section.
Bread pudding can be frozen for 2-3 months. Make sure that you wrap it tightly, then place it into an airtight freezer bag or container.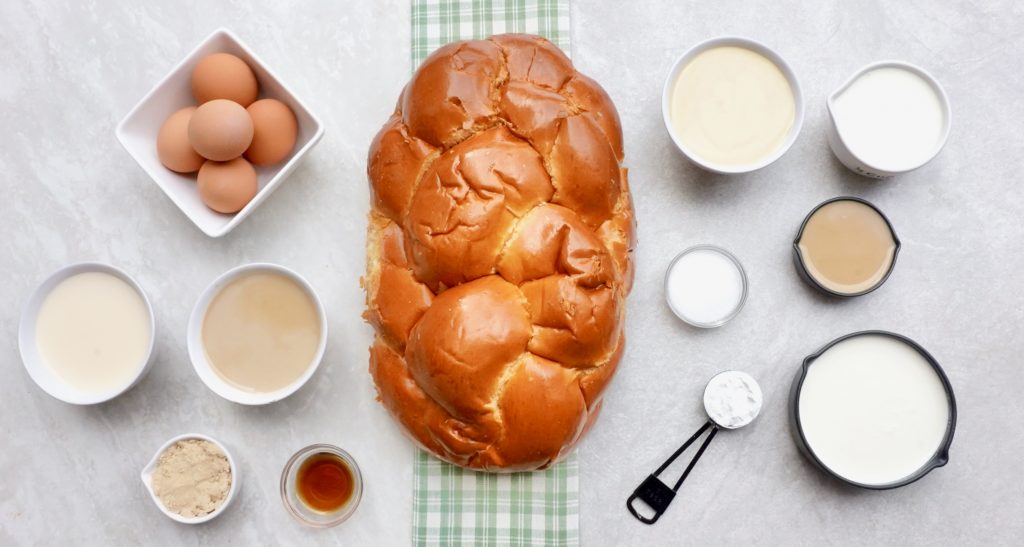 Bailey's Bread Pudding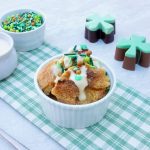 Print This
Ingredients
6 cups 1" bread cubes, either challah bread, brioche or baguette

5 large eggs

14 ounce can sweetened condensed milk

12 ounce can evaporated milk

1 cup Bailey's Irish Cream

½ cup heavy cream

1 teaspoon vanilla extract

¼ cup dark brown sugar

cooking spray

.

BAILEY'S SAUCE:

1 cup heavy cream

2 tablespoons granulated sugar

1 tablespoon cornstarch

2 tablespoons water

¼ cup Bailey's Irish Cream
Instructions
BREAD PUDDING:
Pre-heat the oven to 350 degrees
Spray a 9" x 9″ pan with cooking spray.
Spread the bread cubes evenly in the pan.
Whisk the eggs in a large bowl. Add the sweetened condensed milk, evaporated milk, Bailey's Irish Cream,  heavy cream,  and vanilla extract. Combine well.
Stir in the brown sugar. Combine well.
Pour the wet mixture evenly over the bread cubes. You want to make sure that everything is evenly moistened.
Let the pan sit for 10- 15 minutes until all of the liquid has been completely absorbed.
Bake for 50-60 minutes. You will know it is done when you press the center and it is firm.
This can be served either warm or at room temperature with Bailey's Sauce.
BAILEY'S SAUCE:
Pour the cream into a medium sized saucepan.  Add the sugar. Bring it just to the boiling point over medium heat. Do not let it boil.
Add the cornstarch and water to a small bowl. Combine well.
Add the cornstarch mixture to the pan and cook over medium heat, whisking constantly for 30 seconds. This will thicken the mixture.
Remove from the heat and stir in the Bailey's .
Serve either warm or at room temperature over the bread pudding.
TO MAKE AHEAD OF TIME:
Both the bread pudding and Bailey's  sauce can be made a day or two ahead of time and reheated. Store both the bread pudding and the rum sauce, covered in the refrigerator.
Preheat the oven to 350 degrees.
Cover the bread pudding with foil and place into the oven for 15-20 minutes until warmed through.
Place the Bailey's sauce into a small saucepan and heat over low heat for 3-5 minutes until it is warm but not bubbling.