Bailey's Glazed Chocolate Donuts make a perfect breakfast for St Patrick's Day. These baked chocolate donuts are easy to make and have an extra rich flavor with the addition of Guinness Stout.
Guinness Stout is a dark brown beer that has a slight coffee flavor. It is a wonderful addition to chocolate when baking as it intensifies the chocolate flavor. In case you are worried, you will not have any hint that there is beer added to these donuts.  It is also amazing in chocolate cake. Check out Chocolate Guinness Cake for a moist and rich recipe.
Guinness is also a good addition to a couple of savory St. Patrick's Day recipes. Dubliner Cheese Dip and Guinness Beef Stew both get some extra flavor with the addition of the stout.
Bailey's Glazed Chocolate Donuts can be made festive by adding green sugar and sprinkles for St Patrick's Day but they do taste amazing without them as well.
You might also like Bailey's Bread Pudding.
SOME THINGS TO KNOW:
Silicone Donut Baking Pans will brown the donuts evenly so they come out  nice and consistent. They have a non stick surface so the donuts pop right out. I spray a bit of cooking spray on them just to be sure! A set of 2-3  pans costs about 10 dollars and makes a good investment.
These are grown up donuts if you add the Bailey's to the glaze. There is no cooking involved with the glaze so the alcohol in the Bailey's is present.
You can substitute 2-3 tablespoons whole milk and a teaspoon of vanilla extract to make the glaze non alcoholic.
These donuts are best eaten on the day that they are baked. Once the donuts are cooled, the glaze can be applied and it will dry in about 10 minutes.
If you are not going to eat them all, you can freeze them on the day that they are baked and they will remain fresh for 2 months. Place the donuts onto a baking sheet to freeze them. Once they are frozen, place them into an airtight freezer container.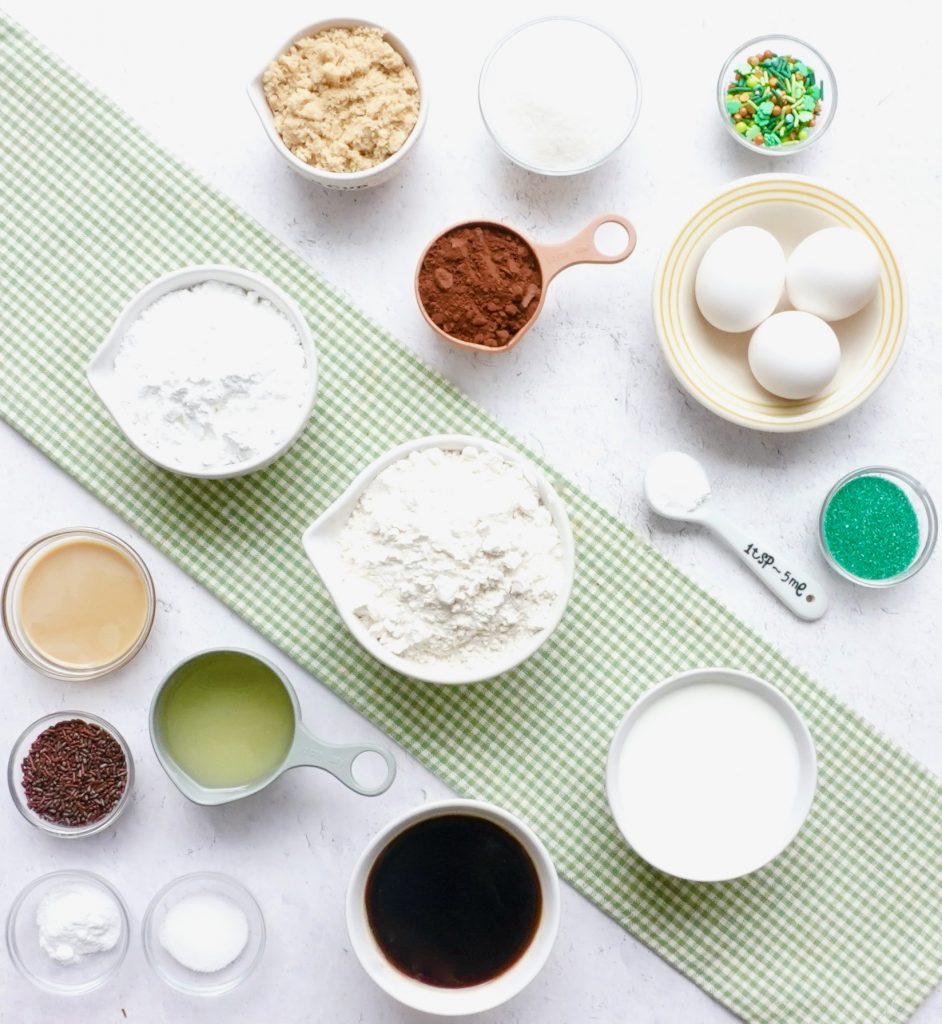 Bailey's Glazed Chocolate Donuts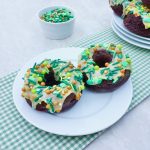 Print This
Ingredients
DONUTS:

3 large eggs

½ cup canola oil

3⁄4 cup Guinness Stout

3⁄4 cup whole milk

1 teaspoon vanilla extract

½ cup granulated sugar

½ cup light brown sugar

1 3⁄4 cups all purpose flour

1⁄3 cup dark cocoa powder

1 teaspoon baking powder

1 teaspoon baking soda

1 teaspoon iodized salt

* cooking spray for pans

* donut baking pans

.

GLAZE:

1 cup powdered sugar

2-3 tablespoons Bailey's Irish Cream

.

OPTIONAL:

sprinkles and sugars for decorating
Instructions
DONUTS:
Preheat the oven to 350 degrees
Whisk the eggs in a large bowl. Add the canola oil, Guinness Stout, milk and vanilla extract. Combine well.
Add the granulated sugar and the brown sugar to the bowl and whisk it into the wet ingredients.
Add the flour,  cocoa powder, baking powder, baking soda, and salt to the bowl.
Whisk the dry ingredients into the wet ingredients. Continue until the ingredients are completely mixed in and the batter is free of any lumps.
Spray your donut molds with cooking spray.
Spoon the batter into the molds evenly so they are ¾ full. If you will need to bake the donuts in batches, place the batter into the refrigerator until the first batch is completed.
Bake the donuts for 16-17 minutes on a rack placed at the top of the oven. Make sure that the tops are completely dry and lightly browned.
Let them cool in the pans for 5 minutes then remove them to a wire rack to cool completely.
GLAZE:
Combine the powdered sugar  and 2 tablespoons of the Bailey's Irish Cream. Stir it well. If it is too thick, add the additional tablespoon of  the Bailey's, a little at a time. You want the glaze to be easily pourable but not runny.
Use a spoon to drizzle the glaze over the tops of the cooled donuts. This is done by slightly turning the spoon down and moving your hand back and forth over the donut letting the glaze drizzle down. You can also use a knife to evenly spread it over the top of the donut.
Optional toppings are sprinkles and sugars. If you are using these make sure that you sprinkle them over each donut as soon as you apply the glaze. The glaze needs to be wet in order for them to stick and this glaze dries rapidly.
These donuts can be frozen for up to 2 months. Place them into the freezer on a baking sheet to freeze. Once they are frozen, place them into an airtight freezer container.