Bailey's Glazed Chocolate Donuts make a perfect breakfast for St Patrick's Day. These baked chocolate cake donuts are easier to make than fried donuts and have an extra rich flavor with the addition of Guinness Stout and Irish cream glaze. They would be the perfect treat for a weekend breakfast as well.
Guinness beer is a dark stout beer that has a slight coffee flavor. It is a wonderful addition to chocolate when baking as it intensifies the chocolate flavor. In case you are worried, you will not have any hint that there is beer added to these Bailey's Glazed Chocolate Donuts .  Bailey's is also amazing in chocolate cake. Check out Chocolate Guinness Cake for a moist and rich recipe.
Guinness is also a good addition to a couple of savory St. Patrick's Day recipes. Dubliner Cheese Dip and Guinness Beef Stew both get some extra flavor with the addition of the stout.
Bailey's Glazed Chocolate Donuts can be made festive by adding green sugar and sprinkles for St Patrick's Day but they do taste amazing without them as well.
If you like the Bailey's Glazed Chocolate Donuts you might also like Bailey's Bread Pudding and Baileys Irish Cream Frosting.
If you want to try another donut recipe baked in the silicone donut pan check out Baked Buttermilk Donuts, Orange Olive Oil Donuts and Pumpkin Baked Donuts.These homemade donuts would be great with your morning coffee.
SOME THINGS TO KNOW: FAQ'S
INGREDIENT TIPS:
These  Bailey's Glazed Chocolate Donuts are grown up donuts if you add the baileys glaze. There is no cooking involved with the glaze so the alcohol in the Bailey's is present.
 Always use room-temperature eggs when baking. Read Do You Really Need to Bake with Room Temperature Eggs?To quickly bring eggs to room temperature, place them in a bowl of warm water for about 10 minutes.
Guinness Stout contributes to the depth of flavor. When measuring, allow the foam to settle, so you're getting an accurate measurement of the liquid.
SPECIAL EQUIPMENT NEEDED FOR BAILEY'S GLAZED CHOCOLATE DONUTS:
Silicone Donut Baking Molds will brown the donuts evenly so they come out nice and consistent. They have a non stick surface so the donuts pop right out. Spray a bit of nonstick spray on them just to be sure! A set of 2-3  pans costs about 10 dollars and makes a good investment. You can also use a donut pan.
Wire Rack: This is used to let the donuts cool off evenly after baking.
Whisk: This tool is ideal for combining the  wet ingredients smoothly and for making the glaze. It ensures there are no lumps in your mixture.
Mixing Bowls: Two bowls are needed. A large mixing  bowl is needed for the donut batter and a small separate bowl is needed to mix the glaze.
Spatula: Useful for scraping down the sides of the bowl to ensure all ingredients are well-mixed.
Toothpick: Handy for testing the doneness of the donuts. When inserted, it should come out clean or with a few crumbs when the donuts are done.
SUBSTITUTIONS:
If you do not have canola oil you can use vegetable oil, sunflower oil, or melted coconut oil in equal amounts.
You can replace the Guinness Stout with another dark beer or stout of your choice. If you're avoiding alcohol, use a strong brewed coffee or decaffeinated coffee for a deep flavor.
Any non-dairy milk like almond, soy, or oat milk can be used in equal amounts. For a richer taste, you can also consider using half-and-half or ¾ cup buttermilk.
You can use dark brown sugar in place of light brown sugar.
You can substitute cane sugar or golden (less processed) for the granulated sugar.
Dark Cocoa Powder can be replaced with regular unsweetened cocoa powder, but the flavor and color might be lighter.
If you do not have Bailey's Irish Cream you can use Irish Cream flavored coffee creamer. You can also mix together heavy cream with a splash of vanilla extract and a hint of coffee or espresso powder to mimic the flavor.
HOW TO STORE BAILEY'S GLAZED CHOCOLATE DONUTS:
These donuts are best eaten on the day that they are baked. Once the donuts are cooled, the glaze can be applied and it will dry in about 10 minutes.
To store the donuts at room temperature place them into an airtight container, resealable plastic bag or cover them on a plate with plastic wrap. Donuts stored this way will remain fresh for 1-2 days. Note that the glaze may soften, affecting the texture of the donut slightly.
The donuts can last up to 5 days in the fridge. Store them in an airtight container or ziploc bag to prevent them from drying out or absorbing odors from other foods. Before eating, you can let them come to room temperature or warm them slightly in the microwave for a few seconds.
If you are not going to eat them all, you can freeze them on the day that they are baked and they will remain fresh for 2 months in the freezer.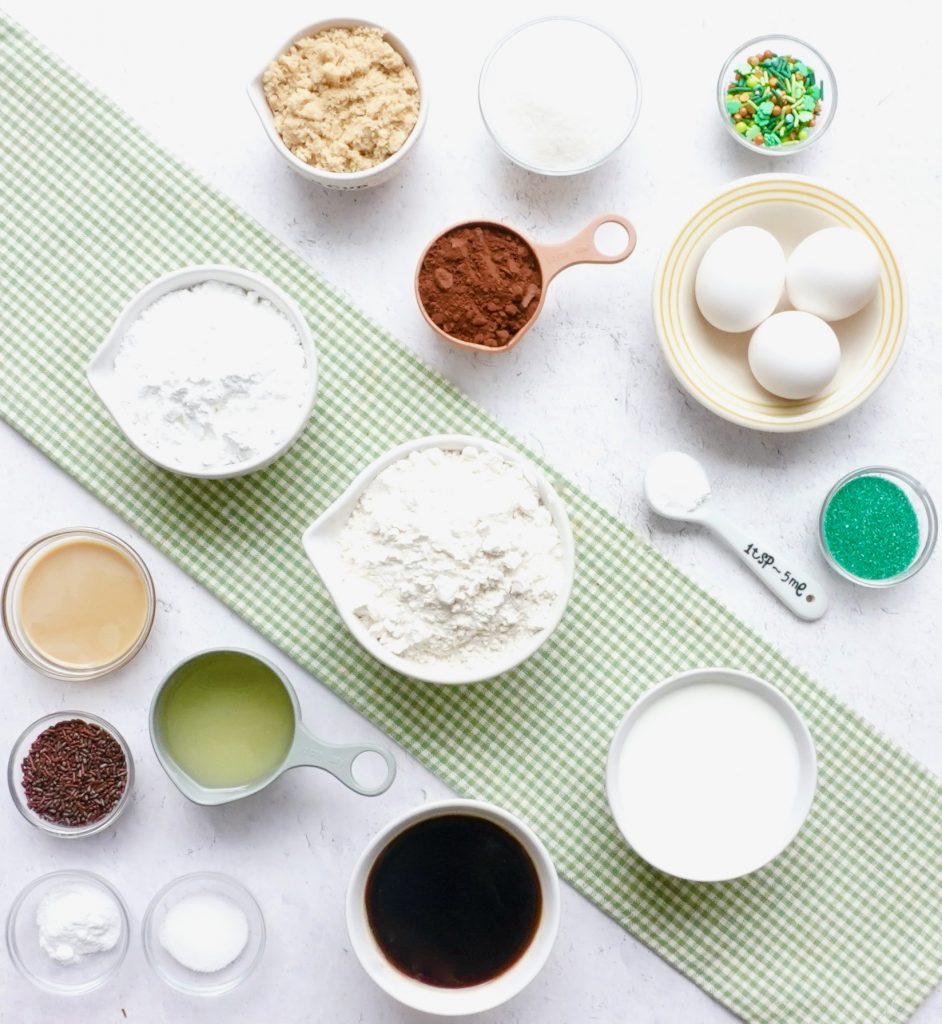 Bailey's Glazed Chocolate Donuts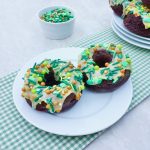 Print This
Ingredients
DONUTS:

3 large eggs

½ cup canola oil

¾ cup Guinness Stout

¾ cup whole milk

1 teaspoon vanilla extract

½ cup granulated sugar

½ cup light brown sugar

1 ¾ cups all purpose flour

⅓ cup dark cocoa powder

1 teaspoon baking powder

1 teaspoon baking soda

1 teaspoon iodized salt

* cooking spray for pans

* donut baking pans

.

GLAZE:

1 cup powdered sugar

2-3 tablespoons Bailey's Irish Cream

.

OPTIONAL:

sprinkles and sugars for decorating
Instructions
DONUTS:
Preheat the oven to 350 degrees
Whisk the eggs in a large bowl. Add the canola oil, Guinness Stout, milk and vanilla extract. Combine the milk mixture well.
Add the granulated sugar and the brown sugar to the bowl and whisk it into the wet ingredients.
Add the flour,  cocoa powder, baking powder, baking soda, and salt to the bowl.
Whisk the dry ingredients into the wet ingredients. Continue until the ingredients are completely mixed in and the batter is free of any lumps. (You could also do this with an electric mixer.)
Spray your donut molds with cooking spray.
Spoon the batter into the molds evenly so they are ¾ full. If you will need to bake the donuts in batches, place the batter into the refrigerator until the first batch is completed.
Bake the donuts for 16-17 minutes on a rack placed at the top of the oven. Make sure that the tops are completely dry and golden brown.
Let the donuts cool in the pans for 5 minutes then remove them to a cooling rack to cool completely.
GLAZE:
In a medium bowl mix together the powdered icing sugar and 2 tablespoons of the Bailey's Irish Cream. Stir the glaze ingredients well. If it is too thick, add the additional tablespoon of  the Bailey's, a little at a time. You want the glaze to be easily pourable but not runny.
Use a spoon to drizzle the glaze over the tops of the donuts. This is done by slightly turning the spoon down and moving your hand back and forth over the donut letting the glaze drizzle down. You can also use a knife or a pastry brush to evenly spread the glaze over the top of the donut.
OPTIONAL TOPPINGS:
Optional toppings are sprinkles and sugars. If you are using these make sure that you sprinkle them over the top of the donuts as soon as you apply the glaze. The glaze needs to be wet in order for them to stick and this glaze dries rapidly.