Creamy Mushroom Spinach Bowties is a quick fix, vegetarian pasta dish that makes a great weeknight dinner. With a cooking time of 20 minutes or less, you can have a flavorful and hearty meal on the table.
Easy quick fix pasta dishes are always a good choice when you want a home cooked meal and are short on time. Check out these other quick fix options. Tomato Chicken Bowtie Pasta, Chicken Broccoli Ziti, Sicilian Chicken, Creamy Mushroom Sausage Rigatoni, Creamy Mushroom Pappardelle, Green Vegetable Pasta Primavera, One Pot Chicken Penne, Red Pepper Pesto Penne, Farfalle Primavera, Mushroom Asparagus Tortellini, Lemon Asparagus Pasta, and Creamy Pea Shell Pasta are all simple recipes with a cook time of 20 minutes or less.
SOME THINGS TO KNOW:
The actual name of bowtie pasta is Farfalle in Italian. It is called bowtie because of its shape. It should be easy to find at major grocery chains.
If you are unable to locate the bowtie pasta, Fusilli ( cork shape) and Conchiglie (small shells) make good substitutes as like bowties, they have little pockets to hold the sauce. You can also use the tubular pastas Penne, Ziti, and Rigatoni.
You can store any leftovers in the refrigerator for up to 5 days.
Sauces that contain cream can become grainy and separate in the freezer. I do not recommended  for you to freeze this.
Baby Bella Mushrooms are also called Cremini Mushrooms. They are dark brown and firmer that a white button mushroom. Cremini mushrooms are Portobello mushrooms that are not mature and therefore much smaller. If you can not find them, white mushrooms are a good substitute.
Marsala wine is an Italian fortified wine that is similar to Sherry and is used in cooking. If you do not have Marsala, you could use Sherry. Madiera is another fortified wine that tastes similar to Marsala. Vermouth is yet another choice.
If you prefer to not use Marsala or any wine in the recipe, simple increase the vegetable broth by 2 tablespoons to replace the Marsala.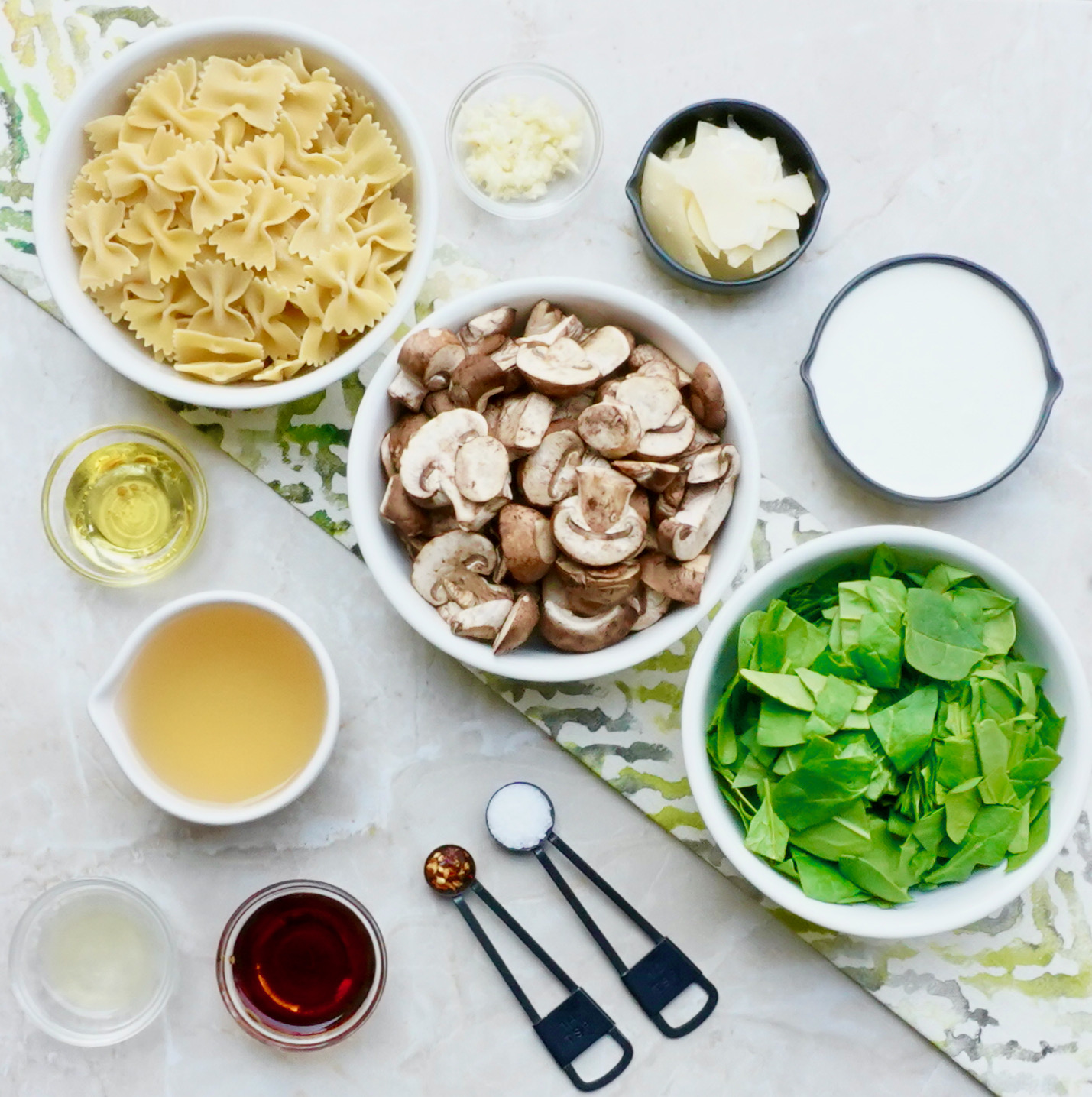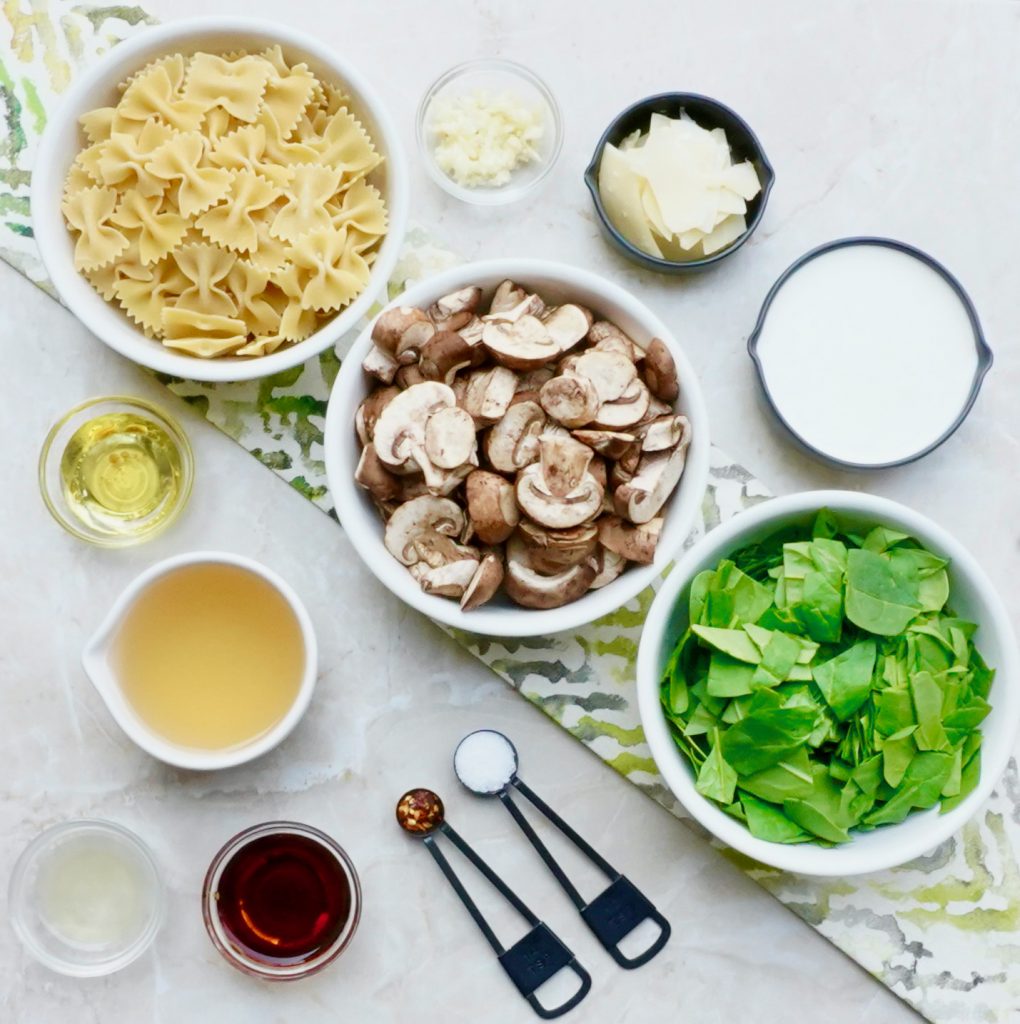 Creamy Mushroom Spinach Bowties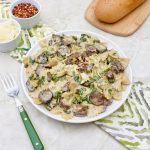 Print This
Ingredients
8 ounces bowtie pasta

2 tablespoons olive oil

8 ounces Baby Bella mushrooms, sliced

2 garlic cloves, minced

1 tablespoon lemon juice

2 tablespoons marsala wine

½ vegetable broth

½ heavy cream

½ teaspoon kosher salt

¼ teaspoon crushed red pepper

5 ounces baby spinach, stems removed and chopped

¼ cup grated parmesan cheese
Instructions
Bring a large pot of water to a boil. Add the bowtie pasta and cook according to the directions on the package for the tenderness you prefer. Drain the pasta and set aside until the sauce is finished.
While the water is heating and the pasta is cooking, prepare the sauce.
Add the olive oil to a large skillet over medium low heat.
Add the mushrooms and cook, stirring often until they have released all of their liquid. This should take about 5-6 minutes.
Add the garlic and let it cook, stirring occasionally for an additional minute.
Add the lemon juice, Marsala wine, vegetable broth, cream, salt and crushed red pepper. Stir to combine everything together well.
Raise the heat on your burner to the  high setting and bring the mixture to a boil. Once it boils, return the heat setting back to medium low and let the mixture simmer uncovered until it begins to thicken. This will only take 2-3 minutes.
Add the spinach into the sauce and stir until it wilts.
Stir the parmesan cheese into the sauce and add the cooked bowties pasta.
Simmer the mixture for an additional 1-2 minutes until the bowties are heated through.  Serve.