Lentil Chili is a thick and hearty vegan chili. Made with lentils, beans and corn, it is satisfying and healthy. While most of the chili recipes I have made in the past contain either beef of chicken, this recipe proves that you can have all the wonderful flavors in a chili while eating plant based.
Lentil Chili would be a great dish if you need to feed a crowd. It is also something that you could make on a Sunday to prep healthy lunches for the work week.
This chili will freeze well if you want to put some away and have something ready in your freezer for a quick meal. Just make sure that it is in an airtight freezer container and it can be frozen for 2 to 3 months. 
This is an economical, delicious recipe for cold weather cooking.
Lentils are a great meat replacement. If you want to try some other recipes that use them check out Lentil Brown Rice Soup, Lentil Bolognese, Lentil Soup, and Lentil Spinach Salad.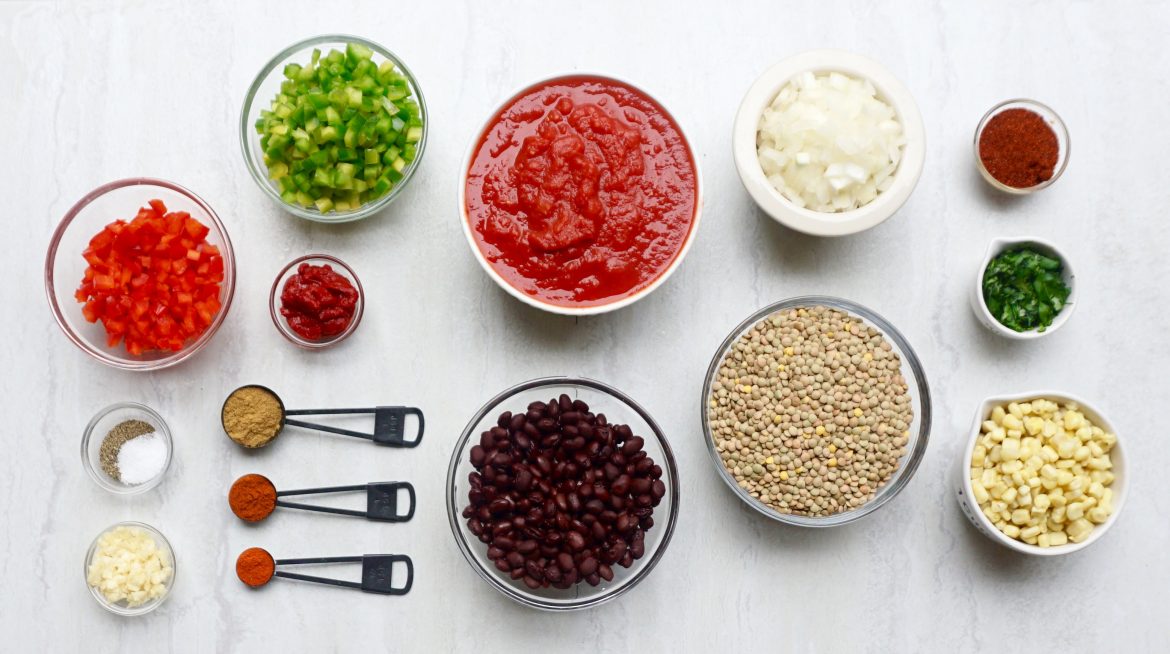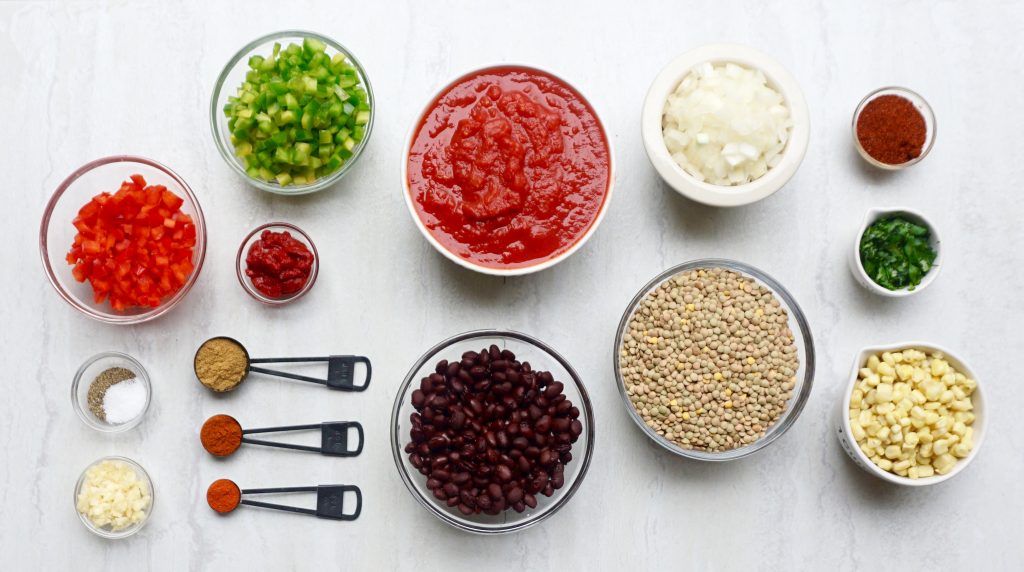 Lentil Chili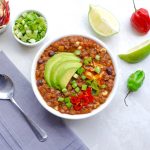 Print This
Ingredients
1 tablespoon vegetable oil

1 large onion, chopped

1 green bell pepper, chopped

1 red bell pepper, chopped

3 garlic cloves, diced

28 ounce can crushed tomatoes

2 tablespoons chili powder

1 tablespoon tomato paste

1 teaspoon salt

1 teaspoon black pepper

½ teaspoon cayenne pepper

¼ cup fresh cilantro, chopped

2 cups lentils ( I used Bob's Red Mill Heritage Beans)

15 ounce can black beans, drained and rinsed

1 cup frozen corn kernels

Water as needed

Optional garnishes: green onion, avocado, hot peppers
Instructions
In a large stock pot, heat the vegetable oil over medium low heat. Add the onions, green bell pepper, and red bell pepper. Cook for 3 minutes. Add the garlic and cook for an additional 2 minutes.
Add the crushed tomatoes, chili powder, tomato paste, salt, pepper, and cayenne pepper. Bring to a boil. Add the lentils. Reduce the heat to low and simmer for 15- 20  minutes until the lentils are softened. Lentils tend to absorb a lot of moisture while cooking. If the mixture becomes too thick, add water ½ cup at a time, stirring well after each addition. You are looking for the consistency of a very thick soup.
Add the cilantro, black beans and corn. Simmer an additional 10 minutes to heat through.
Garnish with green onions, avocado and peppers if desired.