Loaded Chicken Quesadilla have a lot of ingredients and just as much flavor.  Shredded cooked chicken is combined with black beans, corn, bell pepper, onion, cheese and seasonings to create a hearty and flavorful quesadilla.
Quesadillas are super versatile. You can serve them for lunch, dinner or simply as appetizers. Crunchy and browned on the outside and warm and cheesy on the inside, what is not love love about them? Loaded Chicken Quesadilla would also be a good recipe to make for Cinco de Mayo which is just around the corner.
Check out the Cinco de Mayo Meal plan for other Mexican recipes.
If you are a quesadilla fan, check out Chicken Enchilada Quesadilla, Black Bean Pepper Quesadilla, and Summer Shrimp Quesadilla and Leftover Turkey Quesadilla and Corn Tortilla Quesadilla.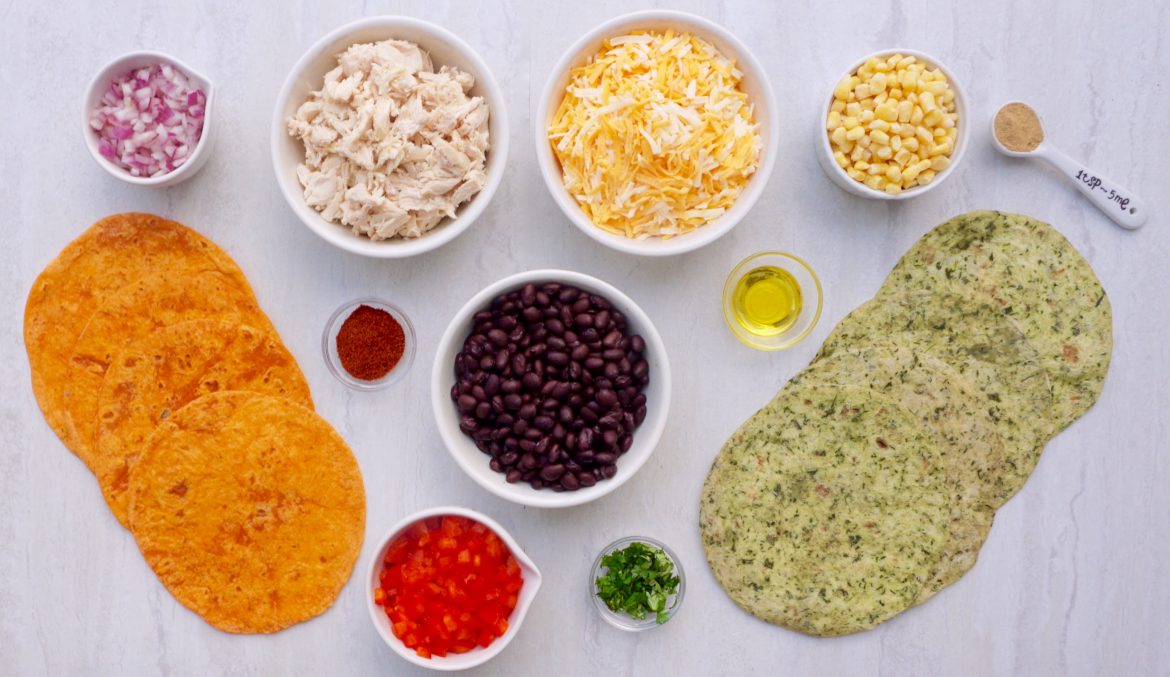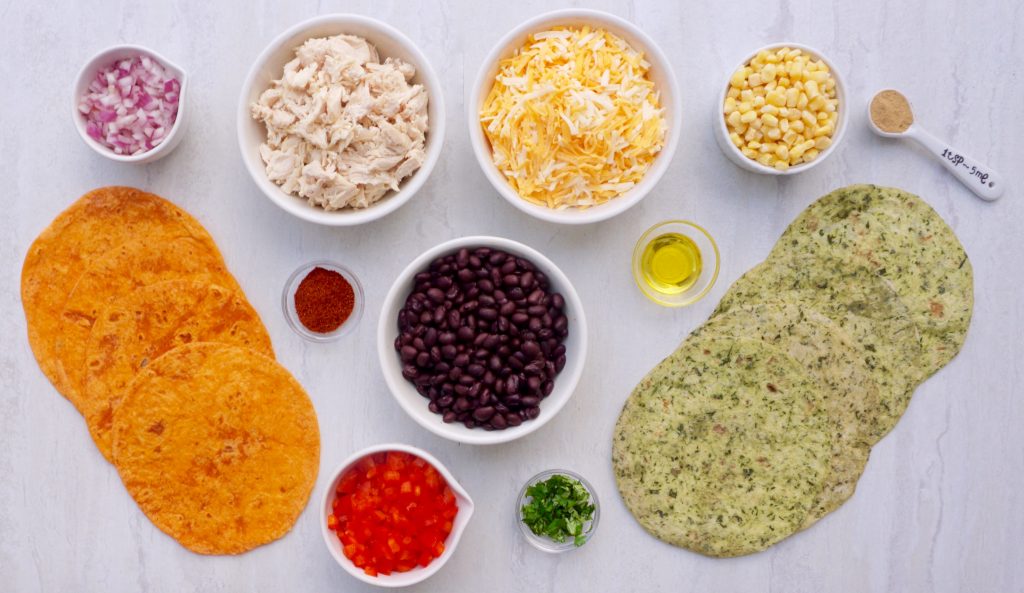 Loaded Chicken Quesadilla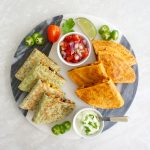 Print This
Ingredients
2 cups cooked and shredded boneless chicken breast, ¾ pound

1 tablespoon olive oil

½ cup red onion, diced

1 red bell pepper, diced

15 ounce can black beans, drained and rinsed

1 cup frozen corn, defrosted or fresh corn

2 cups shredded Mexican blend cheese

2 teaspoons chili powder

1 teaspoon cumin

2 tablespoons fresh cilantro, chopped

8 soft tortillas
Instructions
To cook the boneless chicken, place the breasts in a medium size sauce pan and cover with water. Bring to a boil, then reduce the heat to low. Simmer for 10 minutes until the chicken is no longer pink in the middle. Remove from the pan, and cool slightly. Shred the chicken with a fork.
Heat the olive oil in a skillet over medium, low heat. Add the bell pepper and red onions and cook until they become tender, about 5 minutes. Remove from the heat and cool slightly.
In a large bowl, combine the chicken, peppers, onion, black beans, corn, cheese, chili powder, cumin and cilantro. Make sure it is all mixed together well.
Lay the tortillas flat and add 1 cup of the filling to one side of the tortilla only. Fold the other side over the top of the filled side.
Heat a skillet or a griddle over medium low heat. You can either lightly brush a little olive oil or spray cooking spray over the surface. Add the quesadillas to the pan. Cook for 2 minutes on each side until lightly browned. Make sure that the cheese is completely melted inside.