Pomegranate Quinoa Salad is a festive yet healthy salad for the holidays. Pomegranate seeds give it a wonderful color pop and add fresh flavor and texture.
The salad gets some heartiness from the quinoa, and some freshness from the greens, and shallots. The dressing has an  olive oil base with apple cider vinegar and dijon mustard. Topped with a bit of feta cheese the combination is great!
Pomegranate Quinoa salad would make a wonderful lunch or a pretty salad for your holiday parties and meals. If you are looking for another seasonal pretty salad check out Apple Walnut Salad with Cheddar Croutons.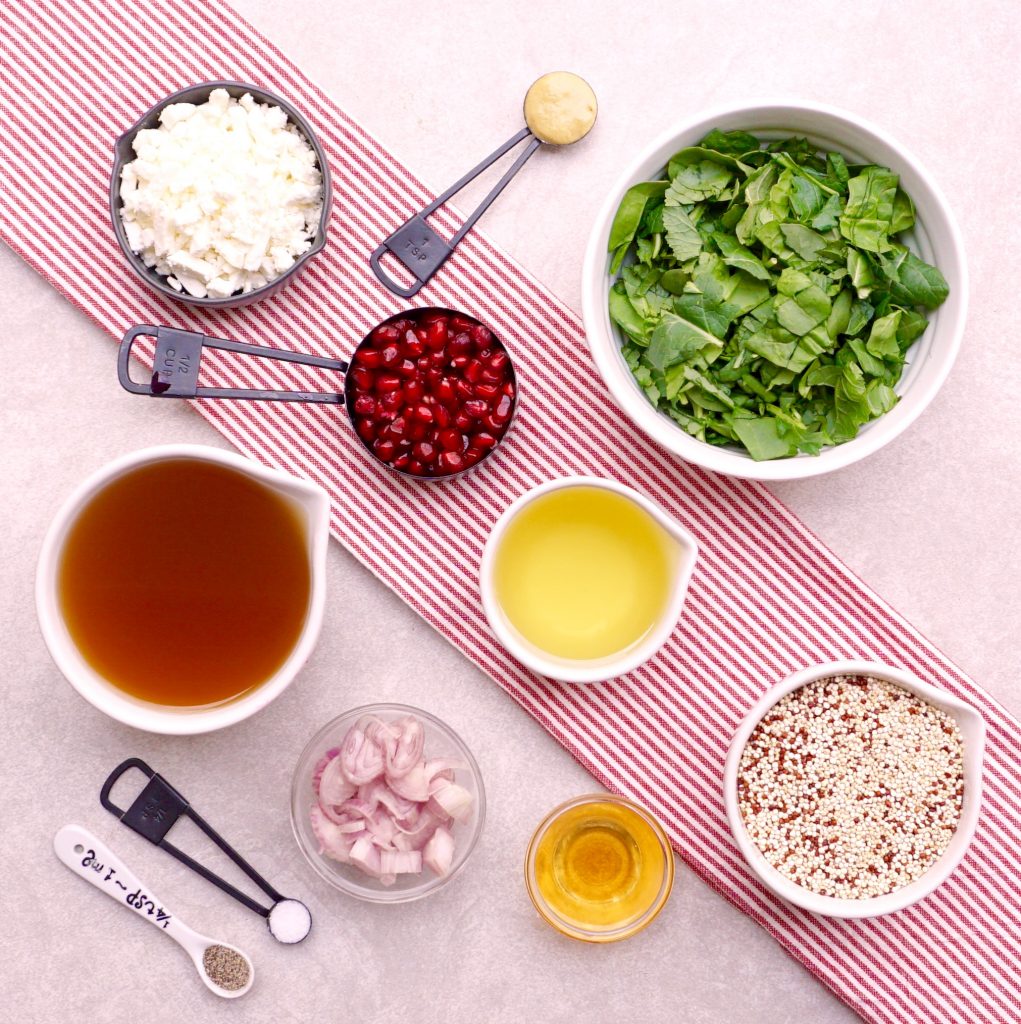 Pomegranate Quinoa Salad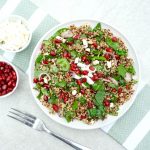 Print This
Ingredients
SALAD:

1 cup rainbow quinoa

2 cups vegetable broth

2 cups baby spinach/kale mix, chopped

1 cup pomegranate seeds

½ cup feta cheese, crumbled

1 large shallot,sliced

.

.

DRESSING:

½ cup olive oil

2 tablespoons apple cider vinegar

1 teaspoon dijon mustard

¼ teaspoon kosher salt

¼ teaspoon black pepper
Instructions
Combine the quinoa and vegetable broth in a small saucepan. Turn your burner to high and bring it to a boil. Once it starts to boil, reduce the heat to low and cover the pan. Let is simmer until all of the broth has been absorbed. This will take 15-20 minutes. Turn off the heat and let it sit for 5 minutes. Fluff the quinoa with a fork. Set it aside to cool.
In a large bowl, combine the quinoa, spinach/kale mix, pomegranate seeds, feta cheese and shallots.
In a small bowl, combine the olive oil, apple cider vinegar, dijon mustard, salt and pepper. Whisk together well.
Pour the dressing over the salad and mix together well.